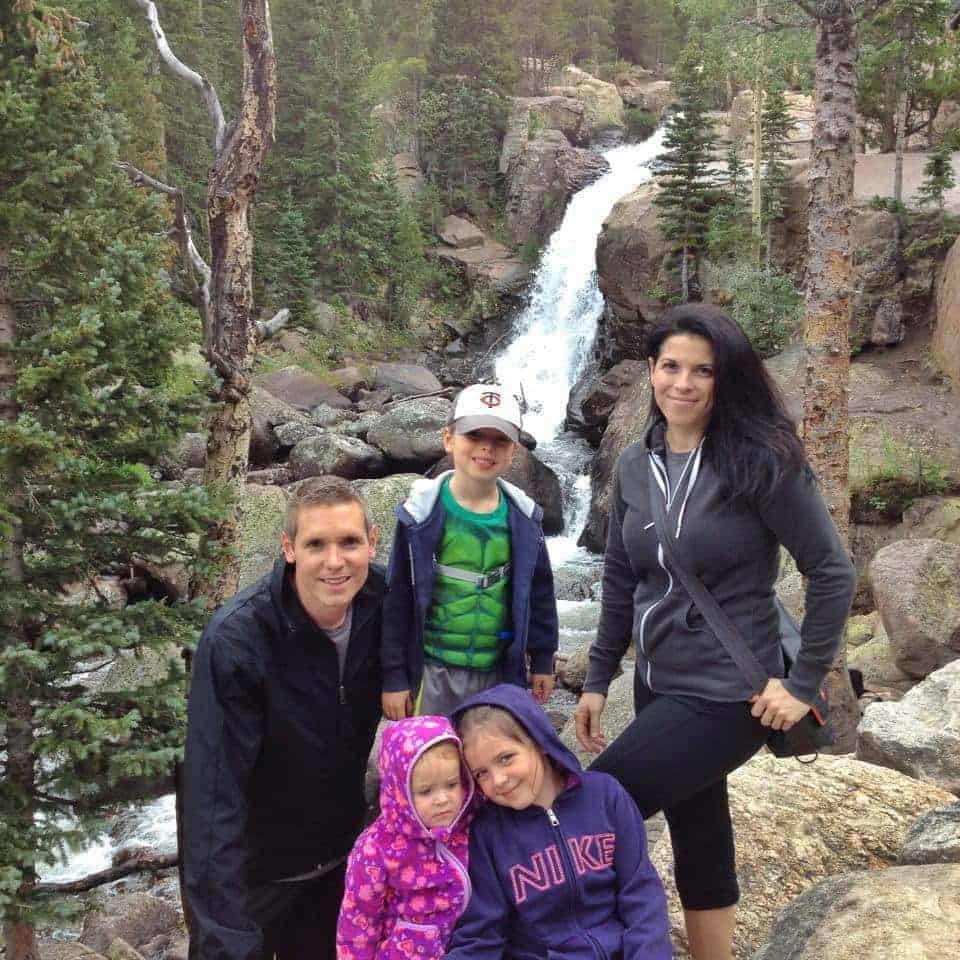 Hi there! I'm Kendra, the chef/baker/photographer/taste tester of Our Paleo Life. I am married to a wonderful guy, Rob, and we have 3 kind of weird kids. They take after their dad. We live in the foothills of Colorado, where we settled in 2012 after starting our family in Florida and briefly living in Minnesota. We have officially lived in every climate, from 120°F summers to -40°F winters. We love to explore, hike, camp, and take in the beauty of our state.
For most of my adult life, I have had a very strong interest in improving my skills in the kitchen. Starting with a brief stint as a Pampered Chef consultant (gosh, that seems like a million years ago!), I learned to love cooking and baking (but mostly baking, because dessert). I spent many hours in the kitchen creating new dinners to try out on my unsuspecting family. After a while, I got better and better. I had pretty much mastered many of our favorite recipes, and could probably make them blindfolded.
Then we decided to throw a wrench in everything and start from square one.
In 2009, Rob's friend introduced him to CrossFit. Rob took an interest and shortly after, we began following the workouts on the main CrossFit website in our small gym. We had been going to the gym before, but doing the regular stuff: free weights, machines, elliptical (you know the drill). We were not fortunate enough to live near an affiliated CrossFit gym so we were on our own. We watched videos on YouTube to learn how to do the lifts and movements and stayed fairly consistent (with me taking a hiatus every now and then).
During this time, we learned about 'paleo'. In 2011 (around the time our 3rd child was born), I decided we should probably give it a shot. None of us have any serious medical conditions that necessitated this change, but Rob and I believed that the dietary path we were heading down wasn't the best one for us and a change in course was needed. Sadly, that first attempt was not successful. I was ill-prepared and uninformed, a recipe for sure disaster.
It wasn't until we moved to Fort Collins, Colorado in June 2012 and joined CrossFit Evolve that we really began CrossFit and felt the need again to give it a shot. On our very first day at CrossFit Evolve, the owner, told us "If I had the choice of you coming to the gym and eating crap at home or staying home and eating healthy, I would tell you to stay home. Nutrition is that important". In January 2013, Rob and I decided to try it again. A large part in our decision to go paleo had to do with our son. You can read about his story and our reasoning here.
We jumped in to paleo with both feet, restocking our entire pantry with new and strange ingredients, planning weekly meals, canceling our milk delivery, and making kids lunches that didn't include bread. It was a complete 180° from how we had ever lived before.
After 2 months of following a fairly strict Paleo diet (with the occasional treat or dining out), my friend Tracee invited me to join her and a group of women from the gym to do a Whole30 challenge. My first reaction was "No thanks, I'm doing fine on the paleo thing", but Rob suggested I give it a try. And come to find out, there is no "try" on the Whole30, there is only "do". So I did it. And have done it a few more times since then.
The Whole30 completely changed my perspective on food. That result took me by surprise. I really only wanted to do the Whole30 to lose a few pounds and maybe perform better at the gym. But I took away so much more then that. I learned that artificial, heavily processed foods, sugars, dairy, and grains are absolutely not necessary in any human's diet (which should be obvious, but completing a Whole30 really hammered the point home). If you want to be healthy and feel great about yourself, eat whole foods and go back to the basics: fruit, vegetables, animals. Plain and simple. I also learned that food relationships can be broken. So-called "cravings" disappeared. I really didn't desire to eat that cupcake or cookie anymore. Although I found paleo-friendly substitutes for my sweet treats, I was far more content with fresh fruit for the sweets.
There are definitely times that I slip and eat that cupcake, but I feel much more comfortable in my relationship with and knowledge of food now, and I hope to be able to impart some of that to my children as well, so they can have a healthy start early in their lives instead of waiting until they are in their 30's to discover this.
I created this site as a means to document all of my family's favorite recipes and to motivate me to stay on track. Eating right shouldn't be a chore, it shouldn't take you all day and keep you from the people and activities you love, and most of my recipes are simple because of that. My hope is that these recipes can help you and your family eat healthy, and still have time to enjoy your life.