There's so many benefits to owning a freeze dryer. Lock in nutrients, keep the flavor, and increase the shelf life of food for 25 years! In this post, we will give you an overview of Home Freeze Dryers, the benefits, and your options to purchase one.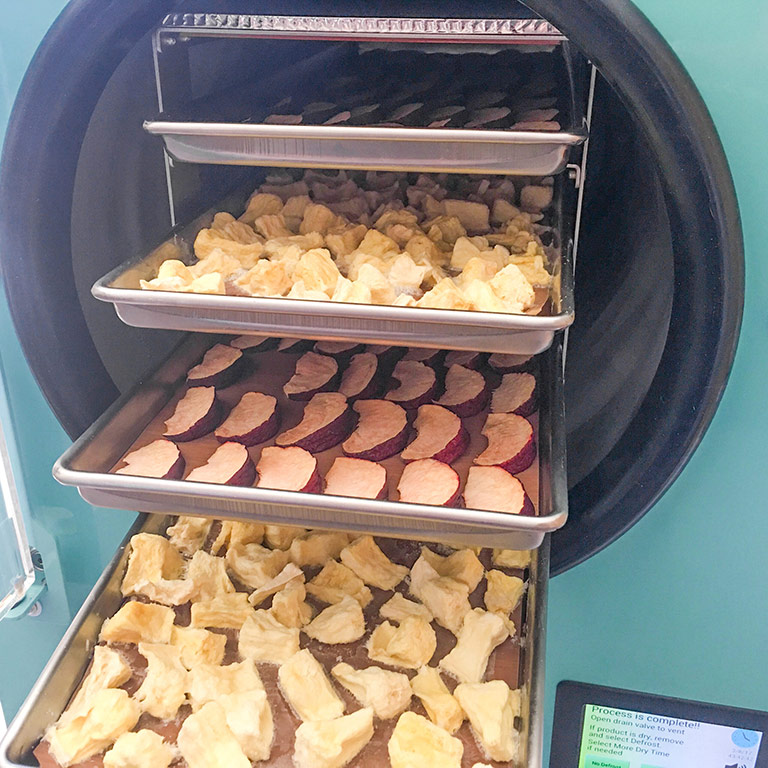 What is a Freeze Dryer?
A freeze dryer is a machine that removes water from food by freezing it and then turning it into vapor. This process preserves the food and makes it easier to store in a container. Freeze-drying preserves food by preventing the growth of bacteria, mold, and yeast on raw foods. It goes to a sublimation process (primary drying) which turns solid to a gas and desorption (secondary drying) the process of decreasing oxygen content.
This makes it possible to store fruits, vegetables, and other foods for a long duration of time without them going bad. With freezing and vacuum drying, the freeze dried food can be stored for long period and does not need to be refrigerated. The food is safe as it preserves the nutritional value of foods, making it a healthy way to store your food.
Is Freeze Dried Food Safe?
Yes, freeze dried food is safe to consume. The process of freeze drying removes moisture from food, which makes it very shelf-stable and prevents the growth of bacteria. Freeze dried foods also retain most of their nutritional value, vitamins, minerals, and other nutrients.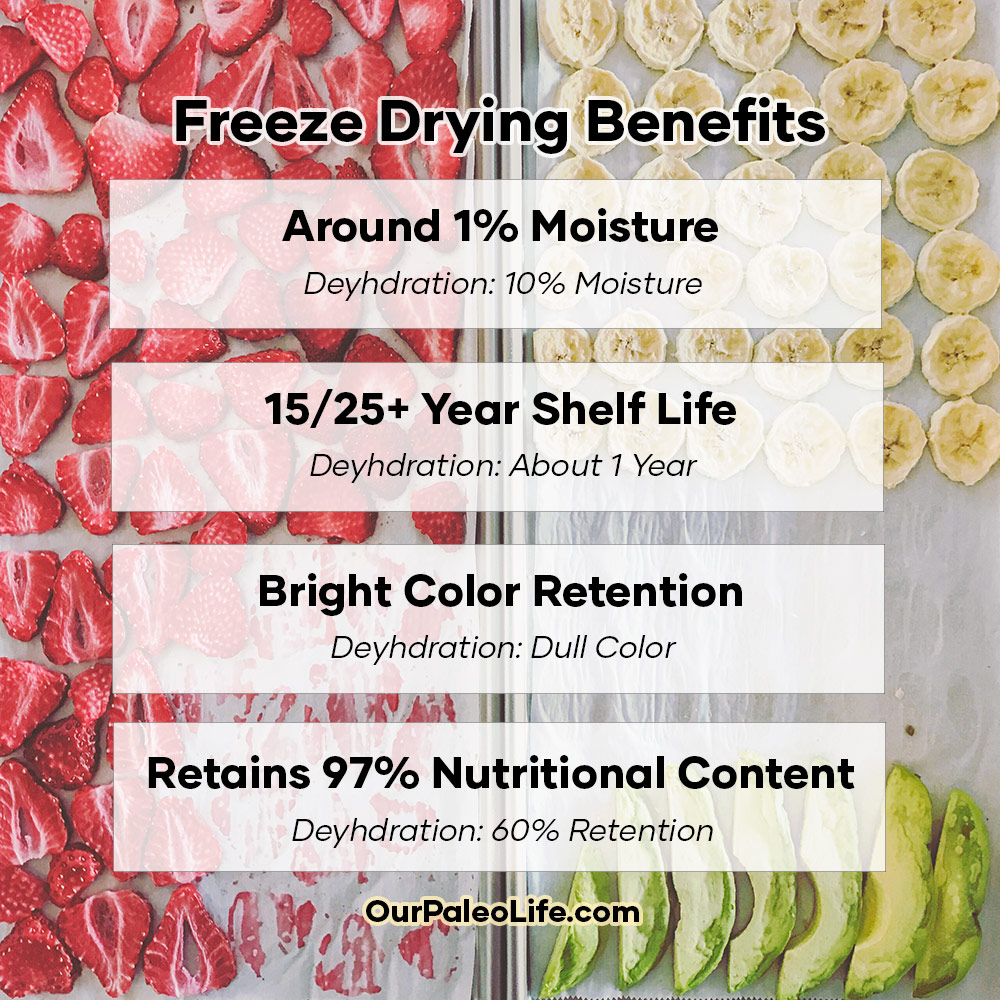 Freeze dried foods make an excellent choice for those looking to retain the nutritional value of long term food storage. Essential nutrients in the food remain for years and years. Not only is freeze dried food safe to eat but it also has a long shelf life, making it a great option for camping trips or long-term storage.
Benefits Of Freeze Drying
One of the benefits of having a way to preserve your food is that you can extend the shelf life of perishable items.
Extended Shelf Life of Food
This can be helpful if you want to stock up on items when they are on sale, or if you need to ration your food supply. Another benefit is that you can prepare food in advance and have it ready to eat when you want it. This can be helpful for busy families or individuals who don't have time to cook every day.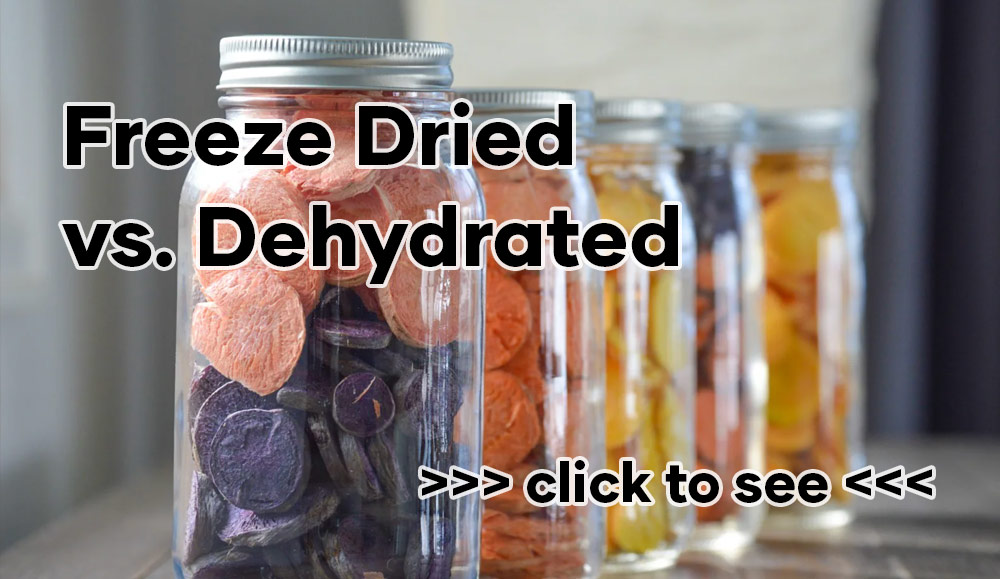 Create Your Very Own Pet Food
It can also be a great way to store your pet's food. Having a frozen-dried pet food can be a healthy, less expensive, last longer, and easy way to feed your pet. Home freeze drying lets you explore what kinds of freeze-dried foods your pet enjoys most. Since you decide what goes into the food, you can be confident in its safety and nutrition. Freeze-drying your own pet food will surely help you save money.
Less Garden Waste
If you've gardened you know well the frantic pace to preserve all of your hard work in the fall. It's hard to know what to do other than just eat it all right away. However, with a freeze dryer you can preserve your harvested vegetables for years and years. Not only that but you'll have an emergency food supply.
The Best Home Freeze Dryer: Harvest Right Freeze Dryers
Thinking about getting a freeze dryer? Then Harvest Right is one of the best providers of Home Freeze Dryers. A company from Utah that provides top-quality appliances which are also (relatively speaking) very affordable. They have a great selection of freeze dryers to choose from and their customer service is excellent. I highly recommend Harvest Right to anyone looking for a home freeze dryer. They offer a variety of freeze dryers that are compatible with any type of use.
Home Freeze Dryer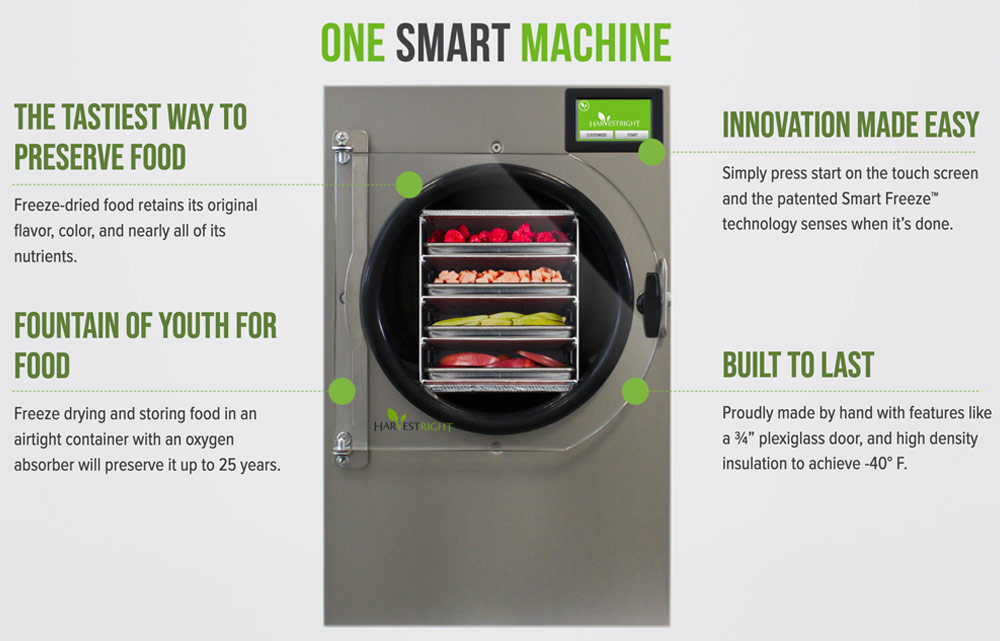 Interested in buying a home freeze dryer for family use? Harvest Right has you covered! A Home Freeze Dryer is perfect for preserving food for your family, whether you're preserving your garden harvest, emergency food storage, going outdoor camping, preserving food for your dietary needs, and even your pet's favorite food. The food preserved via the freeze drying process will last for many many years while maintaining its nutrition and flavor profiles.
Pharmaceutical Freeze Dryer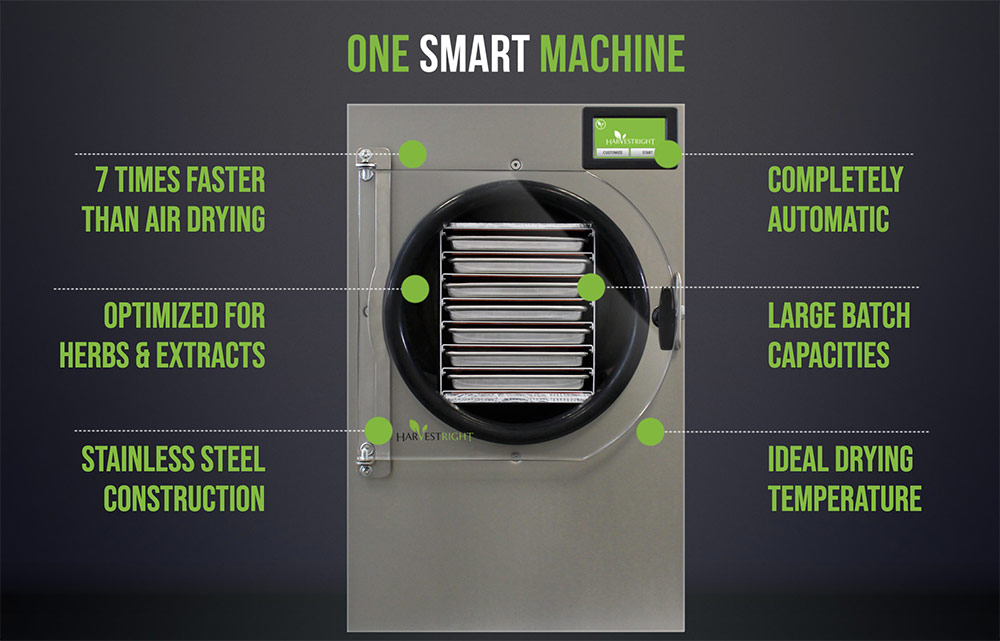 Harvest Right also has Pharmaceutical Freeze Dryer that uses a process called lyophilization or cryodesiccation (or simply freeze drying) to remove water from plants and other organic compounds while they are frozen. This helps to preserve the integrity of the dried products, herbs, and plants. It is used to preserve delicate compounds and plant extracts that would be damaged by other drying methods.
The tray layout is different with the pharmaceutical freeze dryer (smaller height, fits more trays).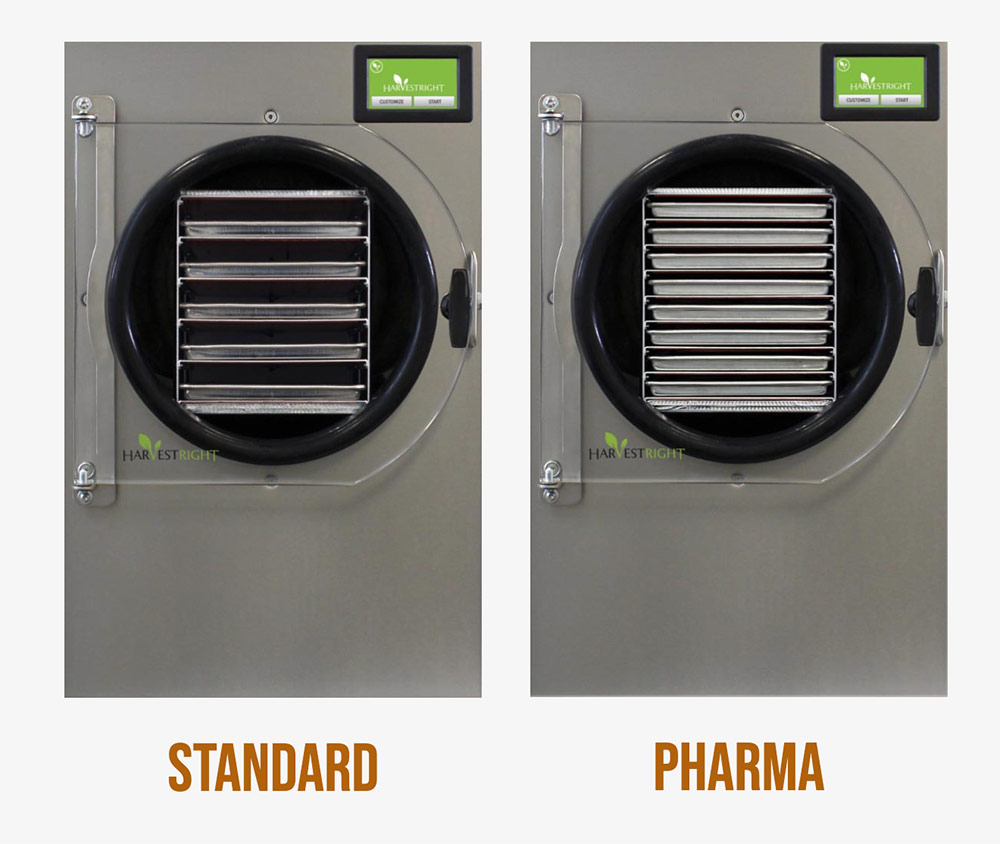 Commercial Freeze Dryer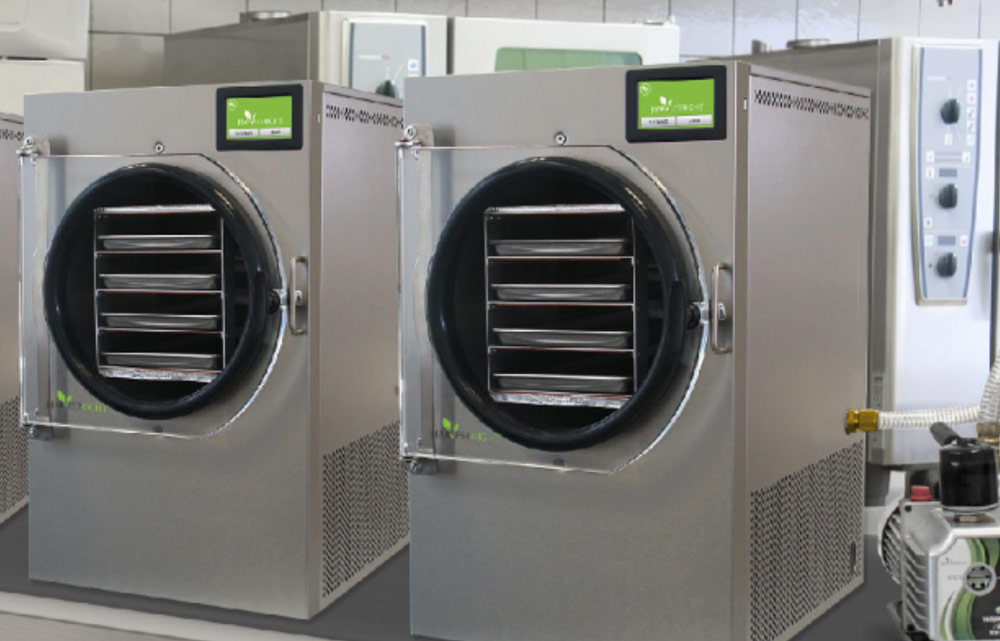 Looking for a freeze dryer for your business? A great way to preserve food stocks for your business is with the use of a Freeze Dryer. If you don't want to waste money on food that will just end up going bad, or you're planning on selling freeze dried foods, then you need to get Harvest Right's Commercial Freeze Dryer.
Benefits Of Owning a Home Freeze Dryer
Prior to our initial purchase years ago, we were hesitant because of the steep initial price and the unknowns about the longevity of the equipment. However, it's been years of continual use and it keep working exactly like it should. Over the years there have been massive improvements with the pump technology (which is our only complaint about the aging model we have).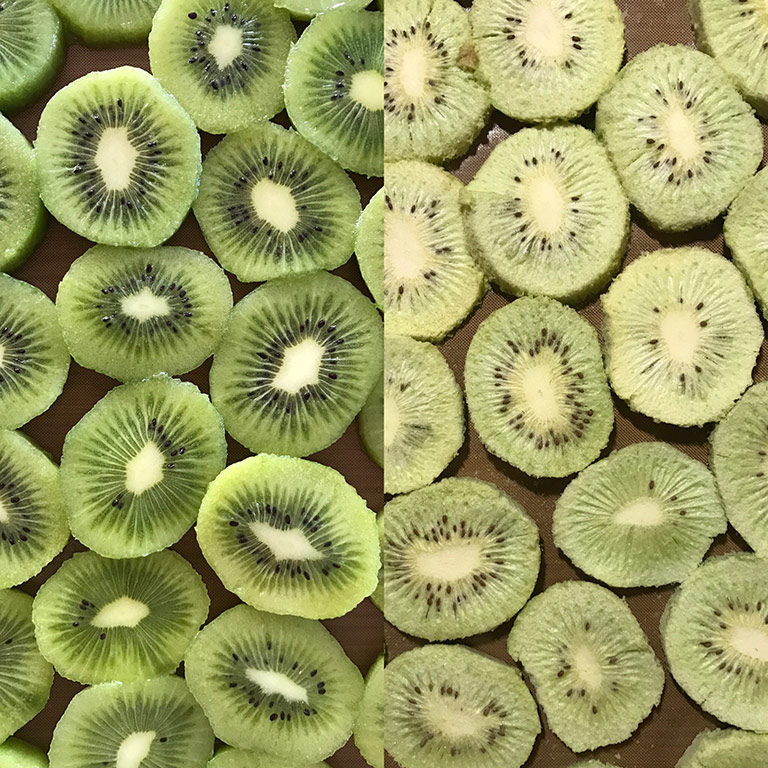 Look at how pretty those little Kiwi slices are… very limited moisture, huge shelf life!
Preserves Taste and Nutrition – Harvest Right's freeze dryers will maintain the food's flavor, nutrients, color, and freshness.
Shelf Life – Freezed-dried food can last up to 25 years or more! That's pretty impressive.
Versatility – You can freeze dry any type of food items with Harvest Right. From different type of meats, dairy, poultry, dehydrated fruits, vegetables, and complete meals.
Easy to Use – Harvest Right's freeze dryers are equipped with cutting edge technology making it easy and making everything automatic.
Saves Money -You can save money and have tastier, better-looking food by freeze drying your leftovers at home instead of buying store-bought freeze-dried options. Rather than buying a cheap dehydrator or oxygen absorber machine, it's better to invest in a more dependable machine.
Getting a Freeze Dryer: Which Home Freeze Dryer Is Right for You?
The perfect home freeze dryer will vary on your needs and budget. If you're using it for home, you can either have a small or medium size freeze dryer. But if you have a lot of food to preserve then the large one is highly recommended. Below are the information you needed to make a decision.

Price: $2,695+
Food Batch Size: Up to 4 to 7 lbs of fresh food and 1 to 1.5 gal freeze dried.
Annually: Up to 840 LBS of fresh food and 195 gal of freeze dried.
Dimensions: 16.5″ W x 18.5″ D x 25″ H
Weight: 61 lbs
Price: $3,195+
Food Batch Size: Up to 7 to 10 lbs of fresh food and 1.5 to 2.5 gal of freeze dried.
Anually: Up to 1,450 lbs of fresh food and 312 gal of freeze dried.
Dimensions: 18″ W x 21.25″ D x 28.5″ H
Weight: 112 lbs
Cost: $3,895+
Food Batch Size: Up to 12 to 16 lbs of fresh food and 2 to 3.5 gal of freeze dried.
Anually: Up to 2,500 lbs of fresh food and 546 gal of freeze dried.
Dimensions: 20.25″ W x 23.75″ D x 30.75″ H
Weight: 112 lbs
What's included with each size of freeze dryer:
Freeze Dryer
Vacuum Pump Oil
Premier Vacuum Pump
Stainless Steel Trays
Oil Filter
Impulse Sealer
Mylar Bags
Oxygen Absorbers
Guide to Freeze Drying
How Different Industries Use Freeze Dryers
Freeze dryers are used in a number of different industries to preserve food and other products. These includes:
Food Service – Freeze dryers are used to cut down on food waste and preserve items for reuse. Some chefs also freeze dry ingredients to be used in future dishes to improve their recipes as raw foods will remain fresh until used.
Universities/Labs – Freeze dryers are the preferred choice for universities, labs, and research institutions because they are more affordable, easier to use, more reliable, and have many features that more expensive scientific freeze drier units don't have.
Growers – Farmers and fruit growers use freeze dryers to extend the shelf life of fruits, vegetables, eggs, and more. By drying these foods at home, they can be stored for longer periods of time and sold at a later date.
Pet Food – Many pet owners use freeze-dried food to feed their pets. It retains all of the nutrients of fresh food, they are shelf-stable and easy to store. It's also simple to prepare – just add water and let it sit for a few minutes. This makes it a convenient option for busy pet owners.
Pharmaceutical – The freeze-drying process is effective in preserving enzymes and terpenes in herbal products. This process does not use heat to remove water, so the appearance, nutritional content, and potency of the herb remain the same as when it was fresh.
Snacks and Treats – People have discovered that freeze-dried desserts and snacks can be both fun and delicious. Businesses specializing in freeze-dried sweets, such as Skittles, ice cream, and strawberries, are becoming increasingly popular.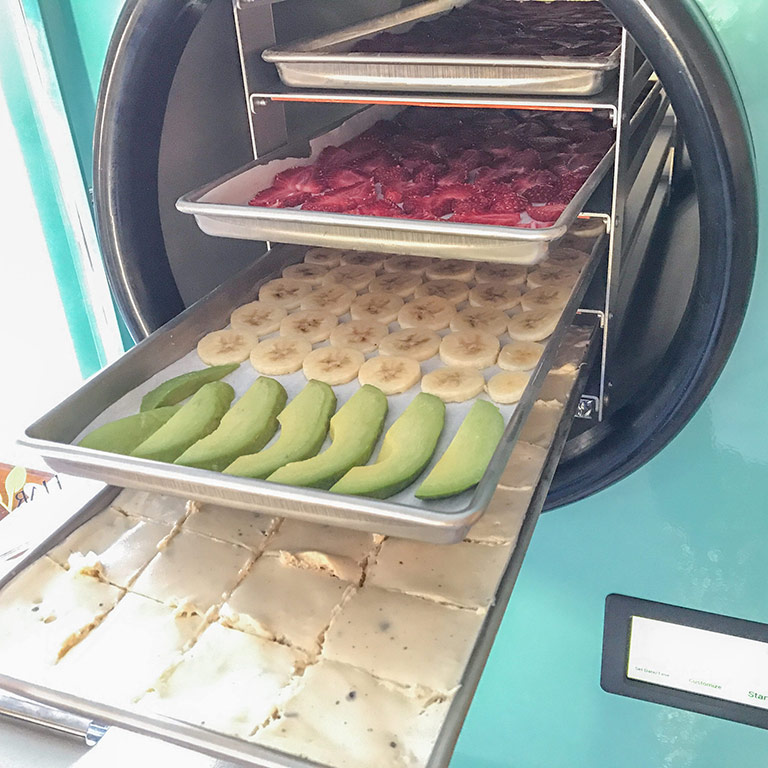 Business Ideas From Freeze Drying
Speaking of business, did you know that purchasing a Harvest Right Freeze Dryer can be a great investment for a business?
A Freeze Dryer is all you need to start making your own products and brand. As small businesses grow, you can upgrade and add more units depending on the size of your product and its production.
Here are freeze-dried products ideas:
Candy
Meats
Fish
Eggs
Homeopathic Remedies
Pet Food
Camping Food
Mushrooms
Coffee
Herbs
Guacamole/Salsa
Fruits & Veggies
Ice Cream
Baby Food
Soups
Pharmaceuticals
Easy-to-make Meals
Cannabis & Related Products
Frequently Asked Questions
What is a home freeze dryer?
A freeze dryer is a machine that removes water from food by freezing it and then turning it into vapor. This process preserves the food and makes it easier to store and preserving all kinds of food. Freeze drying preserves food by preventing the growth of bacteria, mold, and yeast. Freeze-dried items rehydrate more fully than dehydrated products and can be stored for long periods of time and do not need refrigeration. Using a vacuum pump throws out heat inside the dryer and freeze drying takes advantage of this and acts as dehydrators for the food.
Is a home freeze dryer worth it?
Owning a home freeze dryer is a worthwhile investment for anyone who wants to have a wide variety of shelf-stable foods available, especially in big quantities. Freeze drying a food preservation method that maintains your food's color, flavor, and nutrition.
Do freeze dryers use a lot of electricity?
Depending on where you live, like most machines, it will cost you approximately one to two dollars and eighty cents per day to run your Harvest Right freeze dryer using a standard 110-volt outlet.
How do home freeze dryers work?
A freeze dryer is a machine in which an amount of water is removed from food by freezing it and then turning it into vapor, the food is frozen and carefully placed on a tray inside the dryers. In this phase, the process of food handling techniques preserves the food and makes it easier to store at a room temperature. Freeze drying preserves food by preventing the growth of bacteria, mold, and yeast.
Final Thoughts
Freeze drying has many benefits and has becoming popular in recent years. Freeze drying locks in nutrients and flavor, and food will keep its original color, shape, and texture. Freeze dried food also has a long shelf life – typically up to 25 years! When rehydrated, freeze dried food retains its original flavor and texture, making it perfect for camping, backpacking, and emergency situations.
So, if you're looking for an easy-to-use and reliable freeze dryer, we would highly recommend the Harvest Right for best results. The unit is well-built and designed, and has performed flawlessly via various tests. We also like the fact that it's very easy to set up and use, and that it comes with a wide range of features. Thanks for reading!