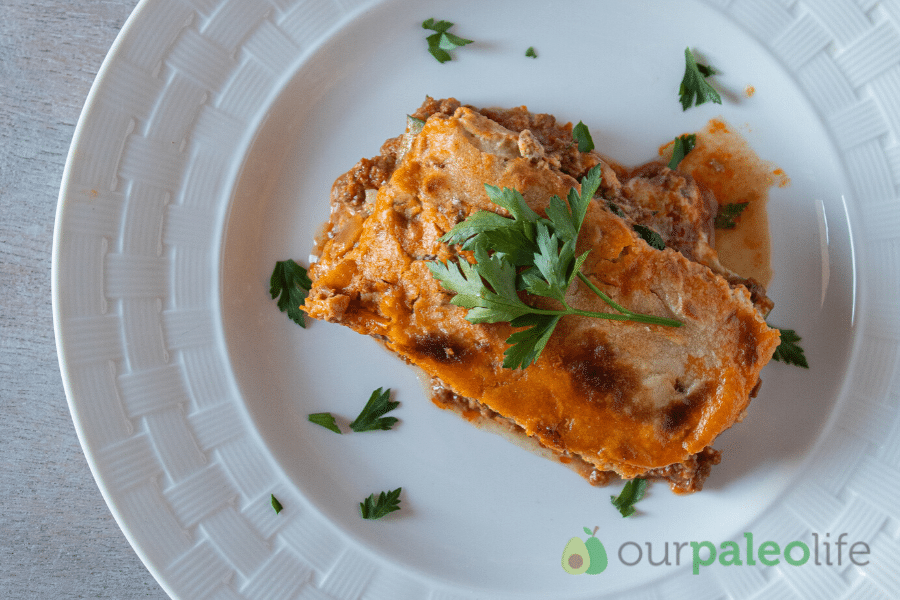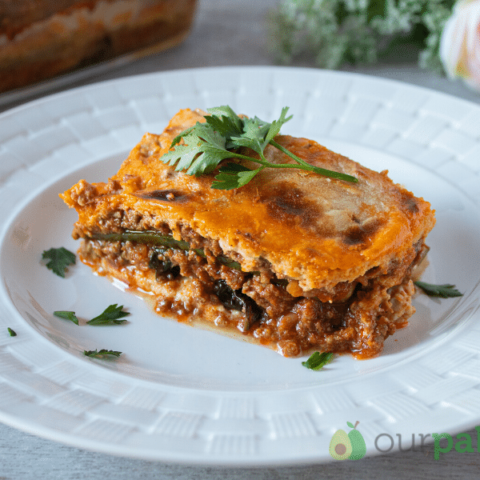 Paleo Lasagna
A combination between beef ragú, cashew 'béchamel' sauce, and zucchini sheets—surprisingly tasty! And the best thing about it is, it might be the easiest lasagna recipe you will ever make.
Ingredients
1 lb Ground Beef
1/4 cup Onion, chopped
1/4 cup Tomato Sauce
2 tbsp Tomato Paste
1/2 cup Diced Tomatoes and Sauce
1/4 cup Beef Broth
1 cup Sliced Mushrooms
1 cup Spinach
2-3 Zucchini, medium-sized
Seasonings for Beef Ragú
1 tsp Dried Thyme
1 tsp Dried Oregano
1 tsp Curry Powder
1 tbsp Garlic Powder
1 tbsp Paprika powder
1/2 tsp Cumin
Pinch of Salt, If needed
Pinch of Pepper, If needed
For Bechamel Cashew Sauce
1 cup Cashews, soaked in water overnight
1/3 cup Almond Milk
2 tbsp Cream Cheese
1 tsp Garlic Powder
Pinch of Salt
Pinch of Ground Black Pepper
Instructions
Slice zucchinis lengthwise about 1/4-inch-thick, we're going to use this as a substitute for lasagna noodles. Try to cut as many as you can and not to worry about them all being the same thickness. Set aside.
In a large skillet, add 2 tsp of olive oil and onion, sauté until onion is fragrant and translucent. Add ground beef in, cook until meat is browned.
Add in meat sauce seasonings, diced tomatoes, tomato sauce, tomato paste, beef broth. Let it simmer for 15 minutes before adding mushroom and spinach, continue cooking until mushroom is tender. Do a taste test to know if you need to add more spices. Remove from heat. Set aside.
Preheat the oven for 350F
Drain water from cashew, then add cashew to the food processor along with the rest of 'béchamel' ingredients, process it until smooth and creamy. Set aside.
To assemble the lasagna
Place 1 layer of zucchini sheets on the bottom of the pan lengthwise.
Add meat sauce mixture on top of zucchini sheets, spreading out evenly followed by another layer of zucchini sheets.
Top with cashew sauce spreading out evenly.
Repeat the same layers; zucchini, meat sauce, zucchini, cashew sauce, etc. Top the whole dish with cashew sauce.
Bake for 30 minutes or until the edges browned and bubbly.