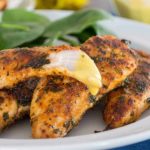 Print
Easy Pan-Fried Chicken Tenders {grain-free; dairy-free}
These fast and easy chicken tenders are kid-approved. Delicious all on their own or cut up in a salad, they make the perfect lunch or dinner.
Rinse chicken tenders and pat dry.

Sprinkle each herb/spice onto one side of the chicken tenders individually. How much you use is up to your personal preferences. We prefer to go light on the onion and garlic powders and heavy on the rest.

Heat the ghee/butter and oil in a large skillet over medium heat. Once hot, add the chicken, seasoned side down. Once you add them to the skillet, don't move them. Cook until the edges turn opaque and white, about 3-5 minutes.

While the chicken is in the skillet cooking, season the other side of them.

Once the edges are white, flip the chicken tenders and cook on the other side for another 3-5 minutes, or until completely cooked through and no pink remains. Thinner tenders will take closer to 3 minutes, while thicker ones will take longer.

Remove from the skillet and serve hot with a side of Honey Mustard or Ranch dipping sauce.

Leftovers can be stored in an airtight container in the fridge for up to a week. To reheat, add some more ghee/butter and oil to a skillet, slice the tenders into bite-size pieces, and pan-fry until crispy and heated through.
Addition Serving Suggestion