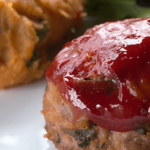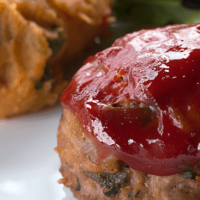 Print Recipe
Mini Paleo Turkey Meatloaves {by Merit + Fork}
Meatloaf is good, but you know what makes it great? Making them miniatures and packing them with veggies. They're cute and sneaky, and best of all, they're delicious!
1

tbsp

ghee/bacon fat/olive oil

1

lb

ground turkey

1

egg

1/4

cup

almond flour

3

cloves

garlic

minced/grated

1/2

tsp

each of fresh herbs

use any combination of fresh/dried rosemary, basil, thyme, oregano, or sage, chopped OR 1/4 tsp each of dried herbs

1/3

cup

chicken broth

1/2

cup

diced onion

1/2

cup

chopped fresh baby spinach/baby kale

optional

1/4

cup

diced carrot

1/4

cup

diced celery

1

tbsp

tomato paste

1

tbsp

worcestershire

1/2

tsp

sea salt

1/2

tsp

black pepper

1/2

cup

homemade paleo ketchup
Preheat oven to 350°F and line a baking sheet with lightly greased aluminum foil.

Heat a skillet over med-high heat. Saute diced carrots for 3 mins. Add celery & onion and saute another 5 mins.

Add baby spinach/baby kale, tomato paste, worcestershire, broth, garlic, herbs, salt & pepper.

Saute another 1-2 mins until liquid has mostly evaporated, remove from heat and set aside.

Place ground turkey in a large mixing bowl. Add egg, almond flour, and sauteed veggie mixture and gently mix. (I use my hands for this.)

Lightly grease a 1/3 cup measuring cup and evenly pack meatloaf mixture into measuring cup. Flip onto greased-foil baking sheet and repeat until you have 8 mini meatloaves.

Gently flatten the tops and spoon 1-1/2 to 2 tsp homemade paleo ketchup on top of each mini turkey meatloaf.