Winter in Colorado means dry skin that needs boat loads of moisturizer. It's been years since I've used any commercially-produced moisturizer on my face, in an attempt to cleanup my skincare and take care of my ever-aging skin.
About 5 years back, I created an all-natural sunblock for those long days outside where I wanted to avoid a sunburn. But in the end, I was too afraid to test it out to see if it actually worked so I just used it as an evening moisturizer. It was good, but was a bit too melty and oily.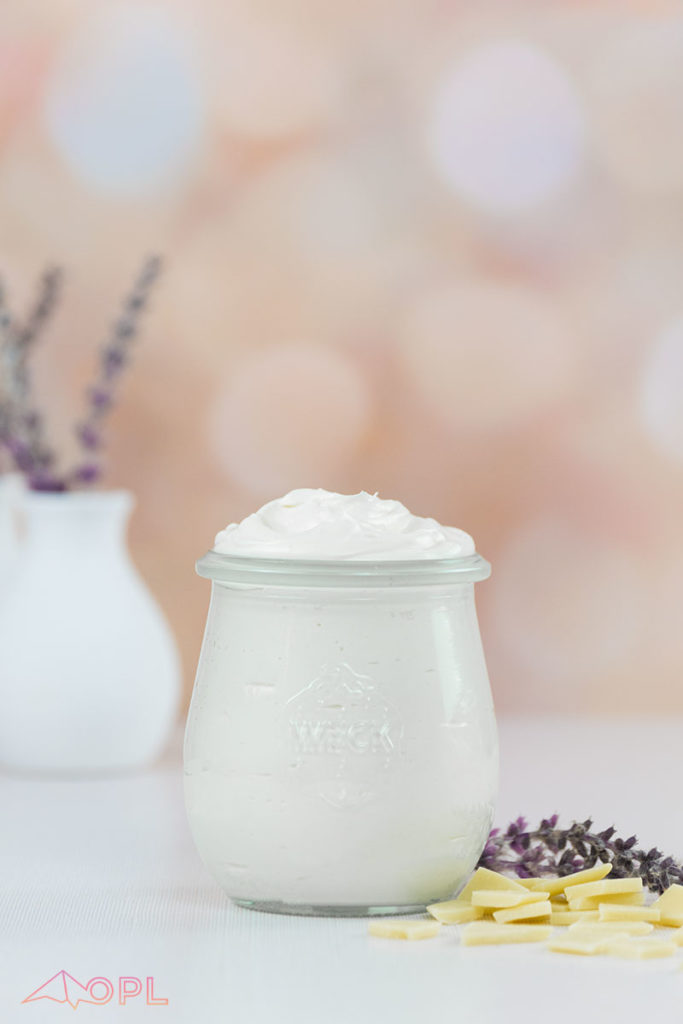 For the last 2 years, I've been using pure shea butter on my face each night before bed. If you've never used shea butter before, it's a pretty solid butter that needs to be softened with warm hands in order to spread and absorb into the skin. Although I love the end results, it required too much rubbing and tugging on my sensitive facial skin.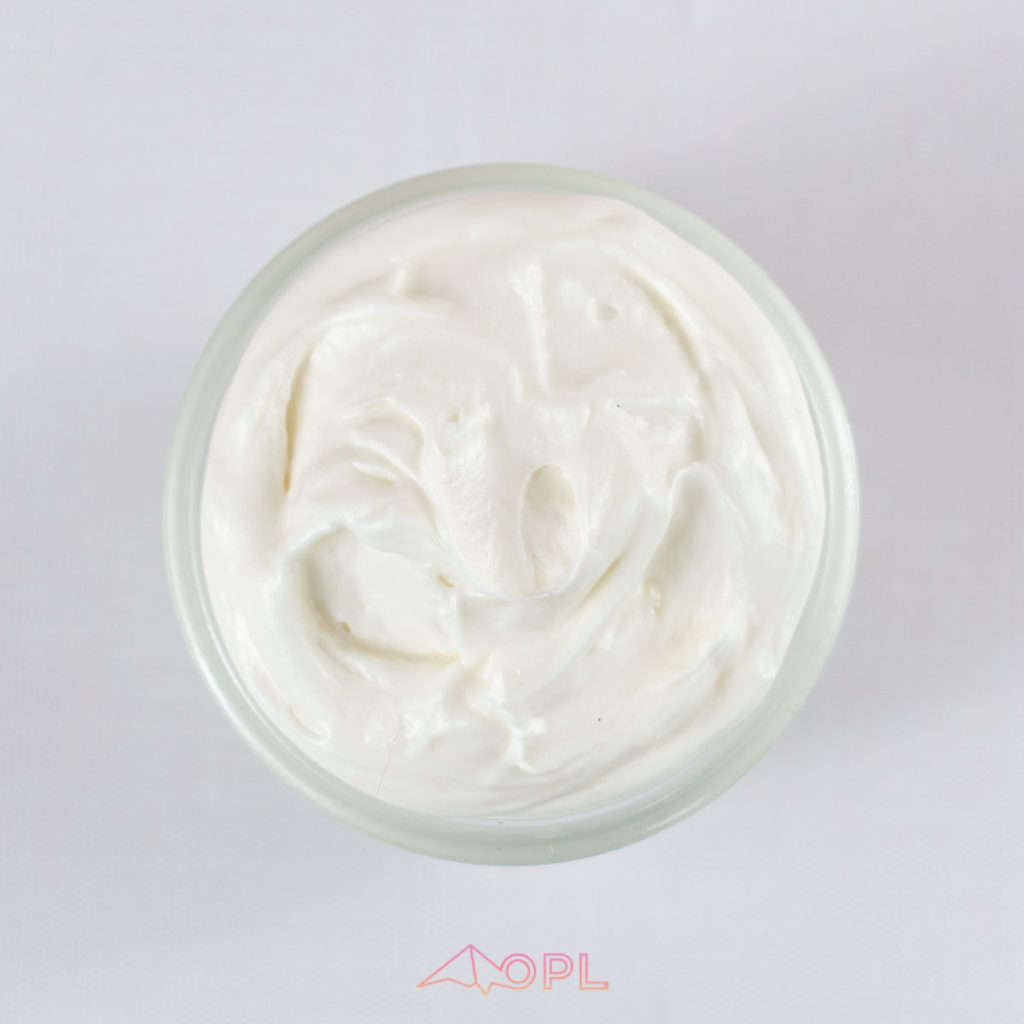 This Whipped Body Butter has been on my mind for no less than 6 months and when I finally put it together, I was frustrated with myself for taking so long. It was so easy to make! And even easier to put on my face!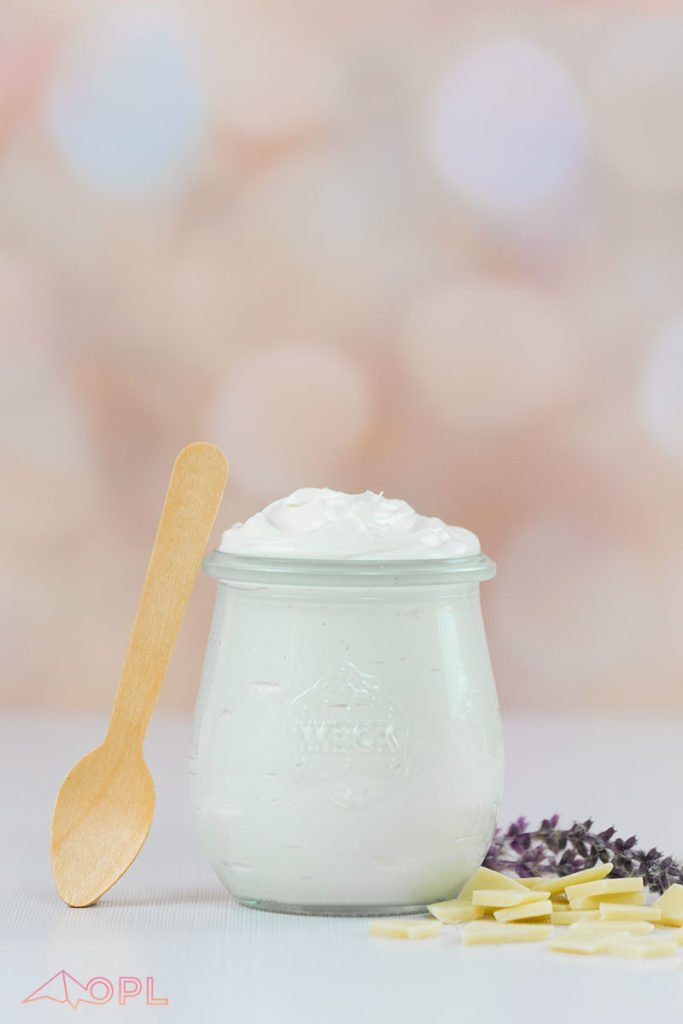 This amazingly soft and effective moisturizer has only 4 ingredients (5 if you add essential oils for fragrance):
Shea Butter
Cocoa Butter
Almond or Jojoba Oil
Vitamin E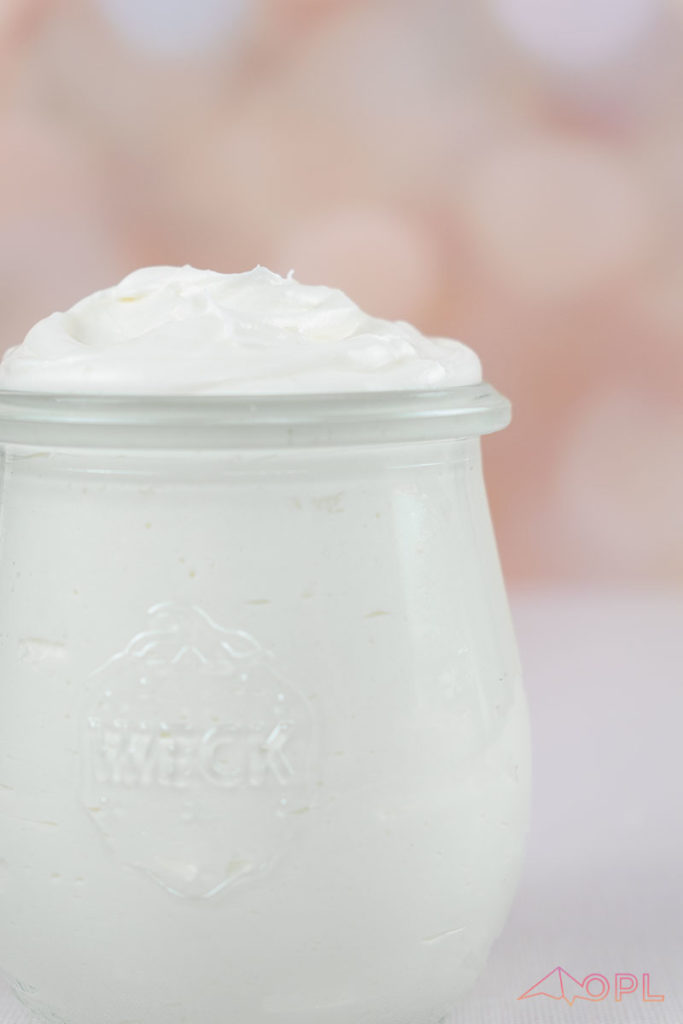 The shea butter has a fragrance all on it's own, which is muted a bit by the light cocoa undertones of the cocoa butter. I really enjoy the natural scent, but like to add some essential oils to change it up a bit.
My go-to options are lavender or a French Vanilla/Winter Mint combo. Trust me on that one. I do 6 drops Winter Mint, 20 drops French Vanilla. A little more than the suggested 10-20 drops in this recipe, but the French Vanilla scent is a bit muted so I added more.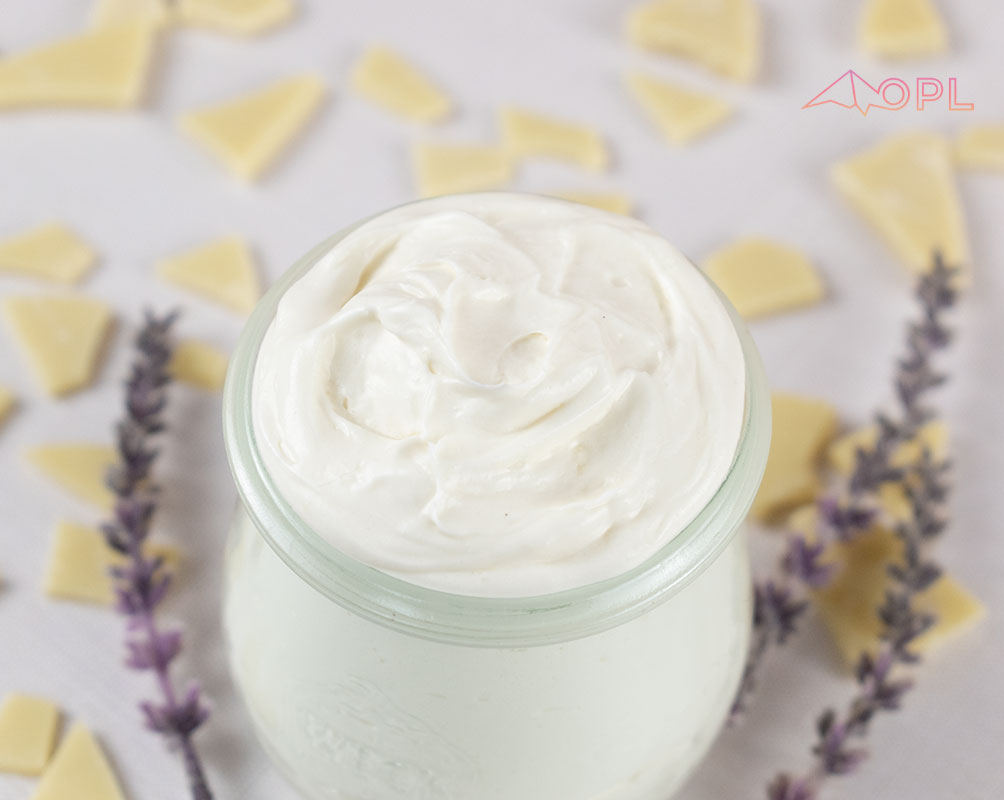 For the Vitamin E, you can buy either the softgels or just a bottle of the oil itself. I've used both, depending on what was available at the store. The oil is definitely easier to use, since you don't have to pierce and squeeze the tiny softgels, but in the end it's all the same.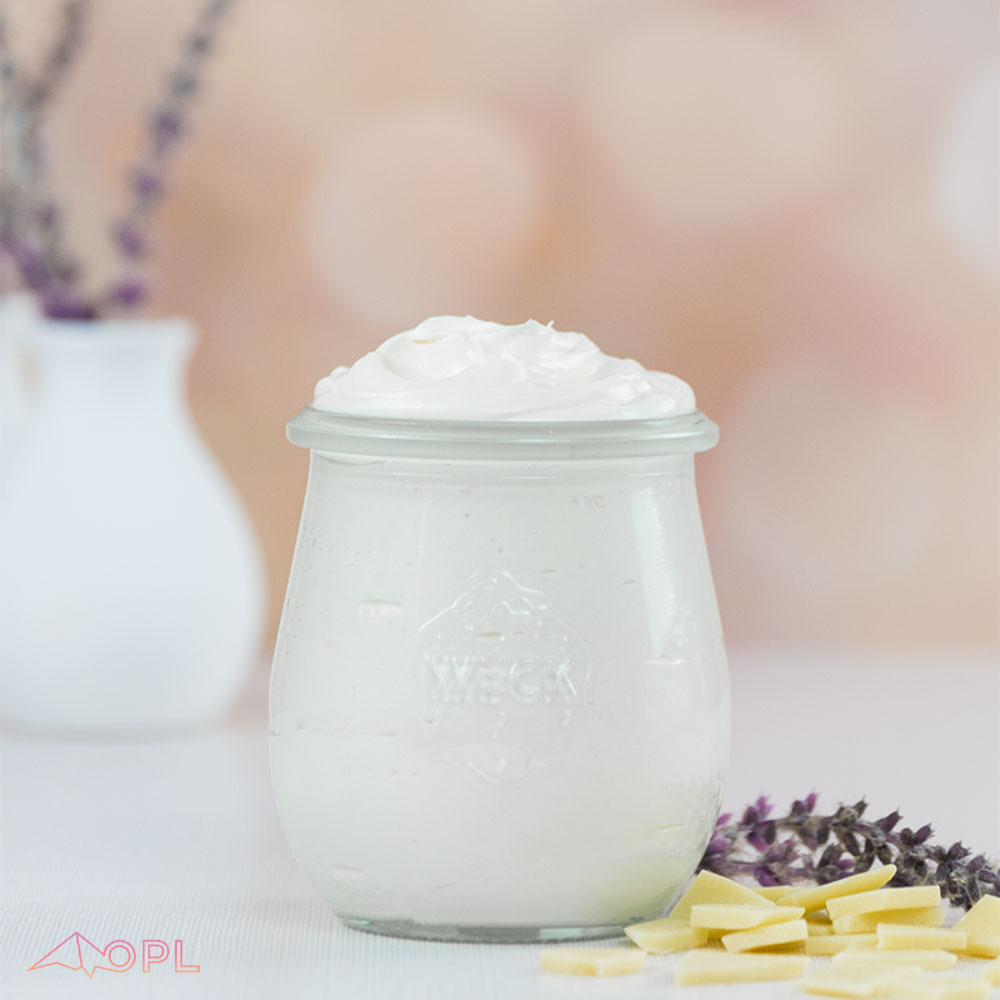 I rarely have Jojoba Oil on hand, but always have Almond Oil so this is what I used in this recipe. Both are interchangeable and can be used based on your preference. I definitely wouldn't say to go out and buy one if you already have the other. Just use what lightweight oil you already love.
And a little of this Whipped Body Butter moisturizer goes a long way, so go light. I don't even scoop it out, I just dab my finger on the top and put a few dabs on my face (generally the T-zone for me) and massage it in.
Your skin is going to loooove you ?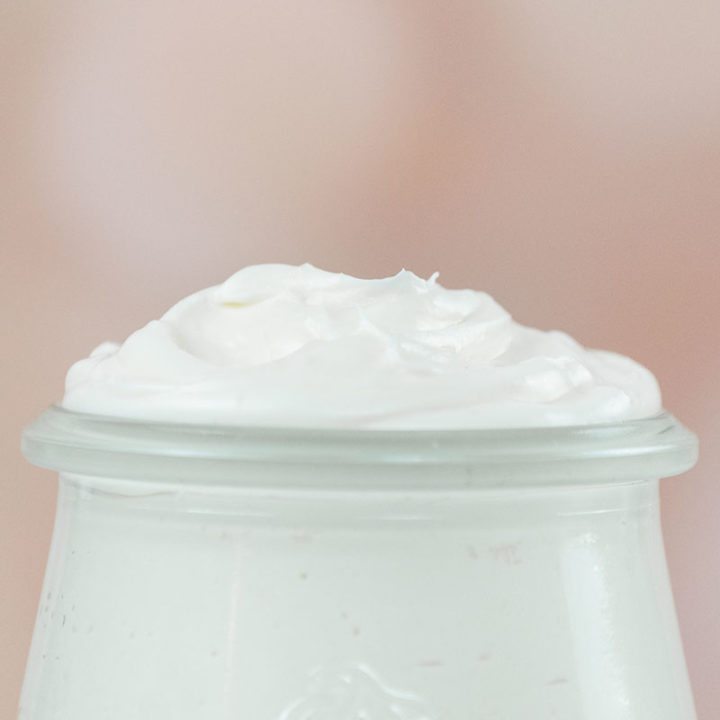 Whipped Body Butter
Ingredients
100g (about 1/2 cup packed) Shea Butter
30g (2 Tbsp) Almond Oil (see notes)
10 (about 2-3g) Vitamin E Softgels
10-20 drops Essential Oil of your choice (see notes)
Instructions
In a microwave-safe glass or ceramic bowl (not plastic!), melt the Cocoa Butter on high for 2 minutes. It will most likely not be completely melted. Set aside and let it finish melting on it's own.
Whip the Shea Butter in a mixing bowl with an electric hand mixer until soft, fluffy, and slightly lightened in color.
Add the melted cocoa butter to the whipped shea butter and beat on low to incorporate fully without splattering.
Add in the remaining ingredients and beat on low to incorporate fully, then switch to high and whip until creamy, smooth, fluffy, and your body butter holds stiff peaks when the beaters are lifted out.
Let sit for about an hour. If the body butter firms up more than you like, add a bit more almond oil and whip up again. Let sit again to see if it's still too firm. You can continue this with up to an extra 30g of almond oil. I prefer a firmer, less oily body butter.
Store in a tightly sealed glass jar at room temp.
A little goes a long way, so apply it lightly to avoid greasy results.
Notes
If you don't have almond oil, you can use another lightweight oil like jojoba.
Start with 10 drops of your preferred essential oils, and add more if needed to acheive your desired scent.