Last Updated on October 13, 2021
We're Kendra & Rob Benson, creators of Cardnl (Low Carb & Gluten Free) – this page highlights our current available menu at our Fort Collins, Colorado bakery location.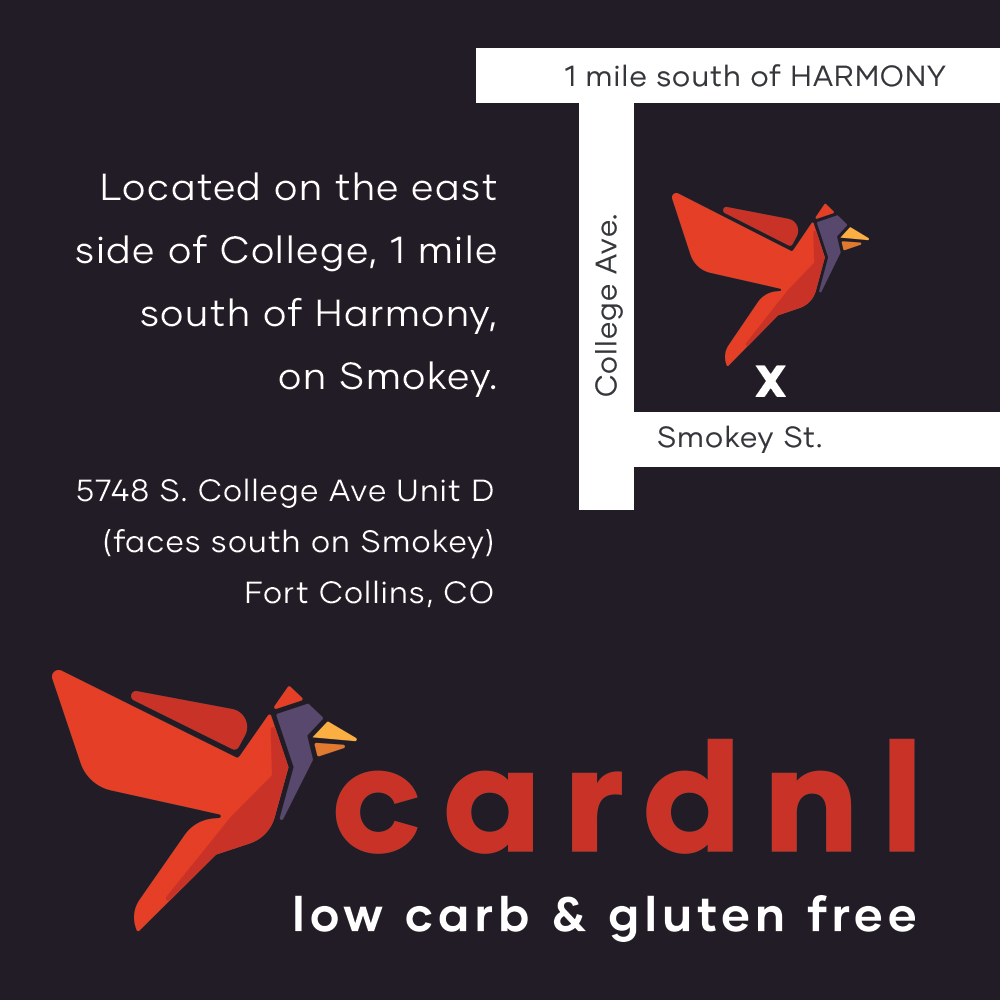 Cardnl is located in Fort Collins, Colorado. Everything we make is 100% gluten free. We specialize in creating treats that DO NOT raise blood sugar (safe for diabetics and people on a Ketogenic Diet).
Hours: 10am to 5pm, Monday thru Saturday (closed on Sunday).
Address:
5748 S. College Ave Unit D
Fort Collins, CO 80525
Current Available Menu (October 11th – 16th)
Keto Cake Pops (Double Chocolate, Vanilla White Chocolate)
Keto Donuts (Pumpkin Chocolate Chip, Maple Glazed, Double Chocolate)
Keto Cupcakes (Chocolate, Vanilla)
Keto Bread
Keto Bagels (Everything, Plain)
Keto Caramel Swirl Fudge
Keto Champion Bar (Blueberry Crunch, Chocolate)
Keto Boone Bars
Paleo Brown Butter Cookies
Keto Cheesecakes (Pumpkin, Cookie Dough, Lemon Curd, Pecan Pie, Classic)
Keto Cookies (Chocolate Chip, Double Chocolate, Cranberry Orange, Cinnamon Roll, Sugar)
Keto Candied Pecans (Pumpkin Spice, Cinnamon, Strawberry)
Keto Brownie Cups (Walnut)
Helpful Keto Information
Cardnl offers a simple guarantee: great taste, texture, with no blood sugar spike with all Keto Bakery Recipes. All of the prepackaged and bakery goods produced at cardnl contain ingredients that won't cause major blood sugar fluctuations, no unnecessary fillers, and absolutely no grains or gluten.
In addition to our bakery, we create and sell prepackaged Keto foods that are available online.
Useful Links to help you better understand managing blood sugar: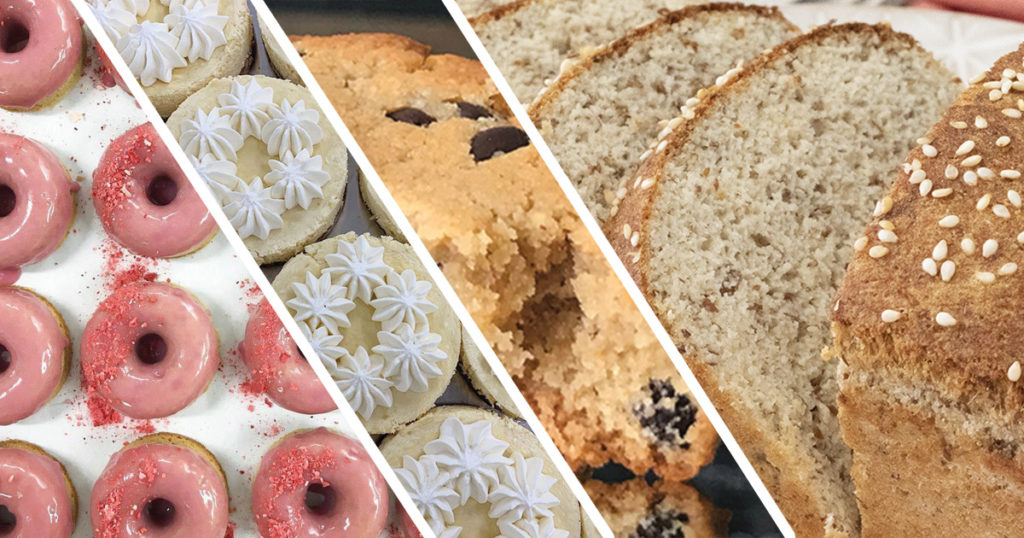 This page outlines all of Cardnl's bakery Macros (Nutrition Facts) and Ingredients. Know exactly what you're eating.
Cardnl is a 100% Gluten, Soy, Corn, Peanut Free Kitchen.
Click on any of the buttons to view macros / ingredients / recipes / nutrition facts for any of our baked goods.
For all prepackaged goods visit cardnl product pages.
---
Blueberry Champion Bar
3g Net Carbs
Ingredients: Almond Butter, Pecans, Almond Flour, Coconut Oil, Allulose, Freeze-Dried Blueberries, Unsweetened Coconut, Vanilla, Redmond Salt
Buy Blueberry Champion Bars Online
Blueberry Crunch Champion Bar Recipe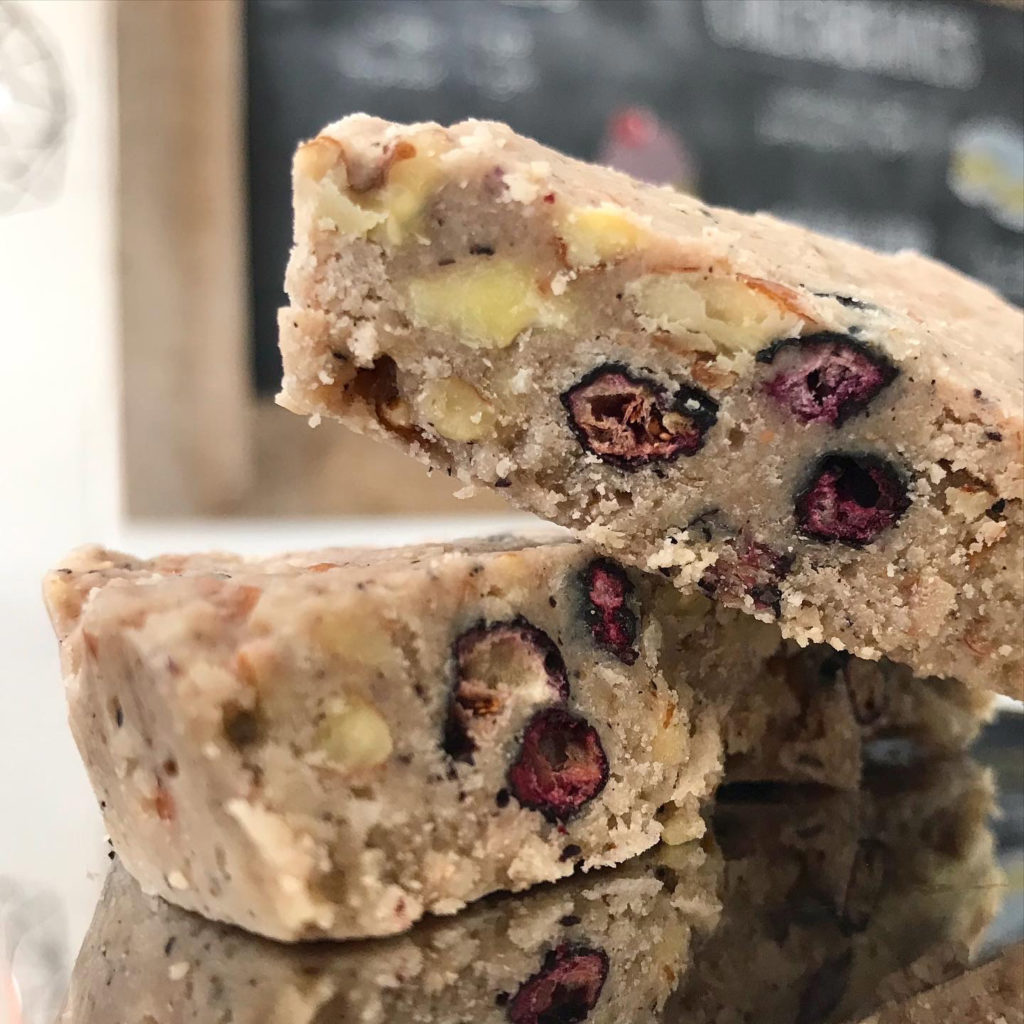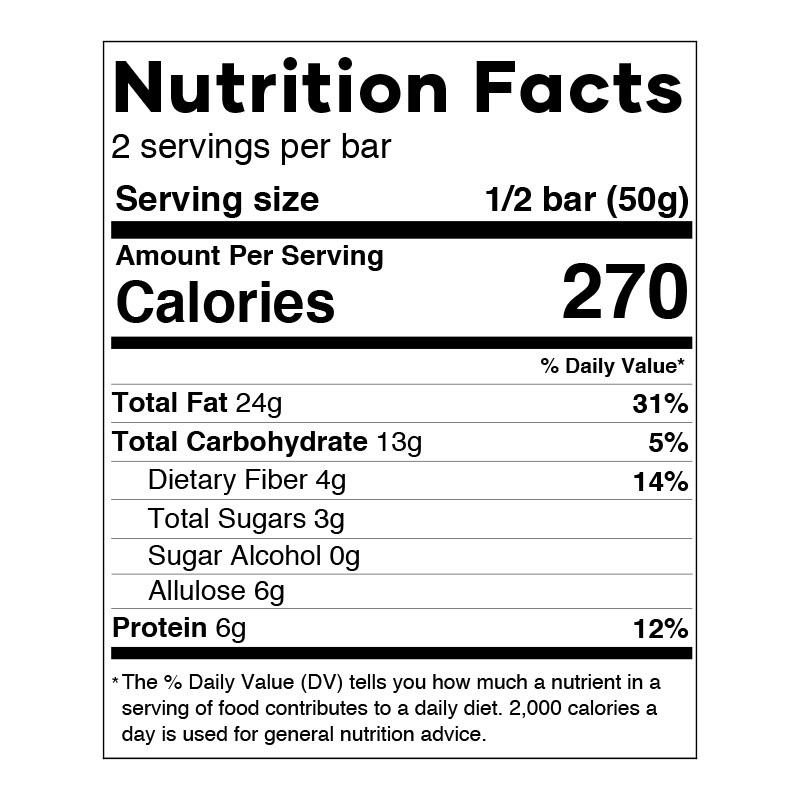 ---
Chocolate Champion Bar
2g Net Carbs
Ingredients: Almond Butter, Pecans, Almond Flour, Coconut Oil, Allulose, cardnl Chocolate Chips, Unsweetened Coconut, Cocoa Powder, Vanilla, Redmond Salt
Buy Chocolate Champion Bars Online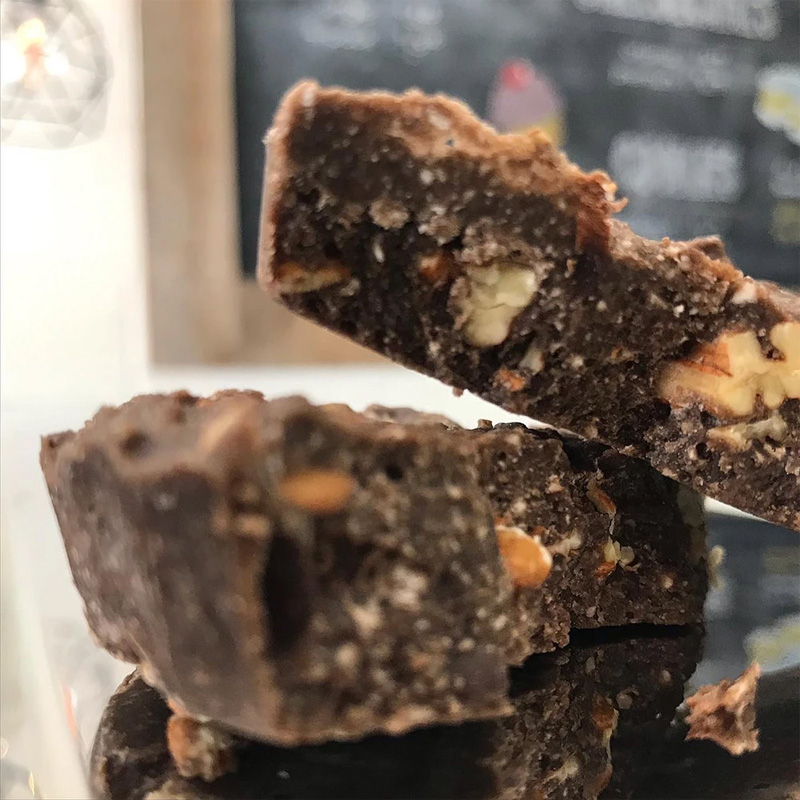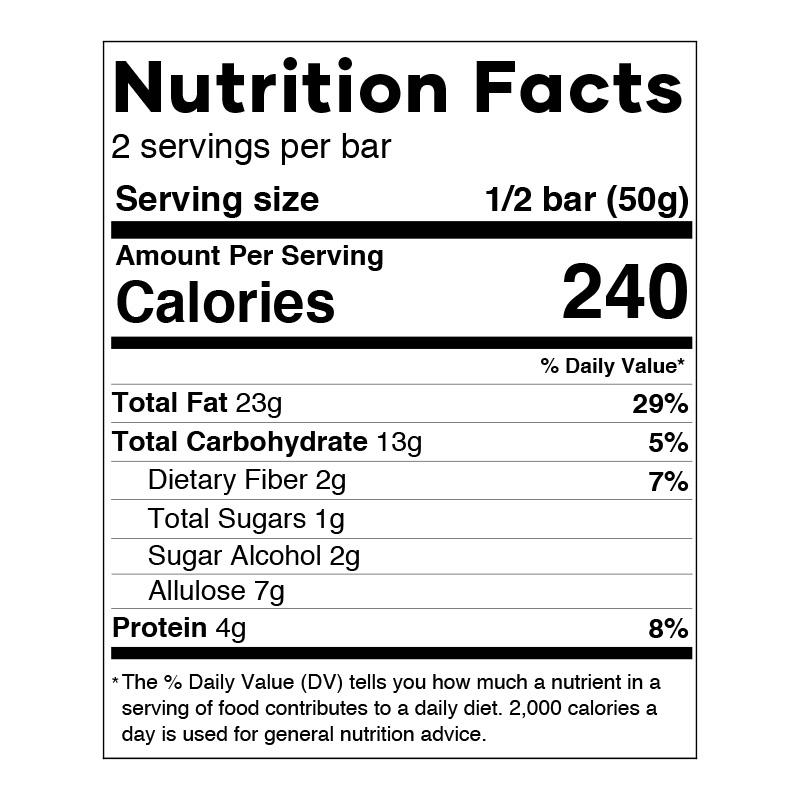 ---
Boone Bar
4g Net Carbs
Ingredients: Cocoa Butter (fair trade), Freeze-Dried Blueberries, Whey Protein Isolate (with sunflower lecithin), Blanched Almond Butter, Unsweetened Coconut, Hydrolyzed Collagen (bovine), Alkalized Cocoa Powder, Non-Alkalized Cocoa Powder (organic), Redmond Real Salt, Stevia (Reb M)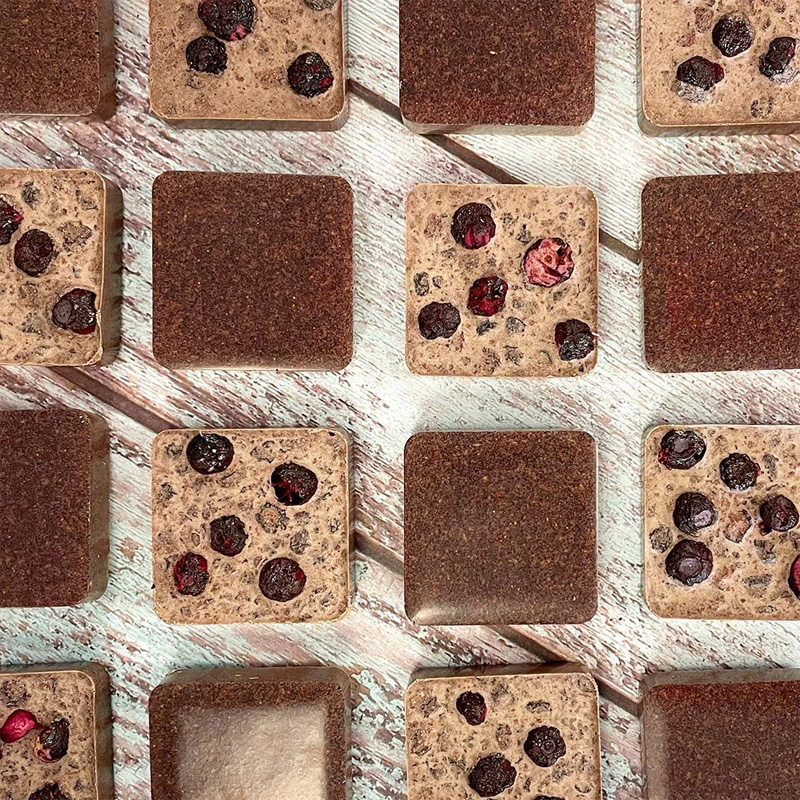 ---
Classic Cheesecake
3g Net Carbs
Ingredients: Cream Cheese, Almond Flour, Eggs, Sweetener Blend [erythritol, monk fruit], Sour Cream, Butter, Heavy Cream, Vanilla Extract, Ceylon Cinnamon
Topping: Heavy Cream, Sweetener Blend [erythritol, monk fruit]
Online Order & Local Pickup Keto Cheesecakes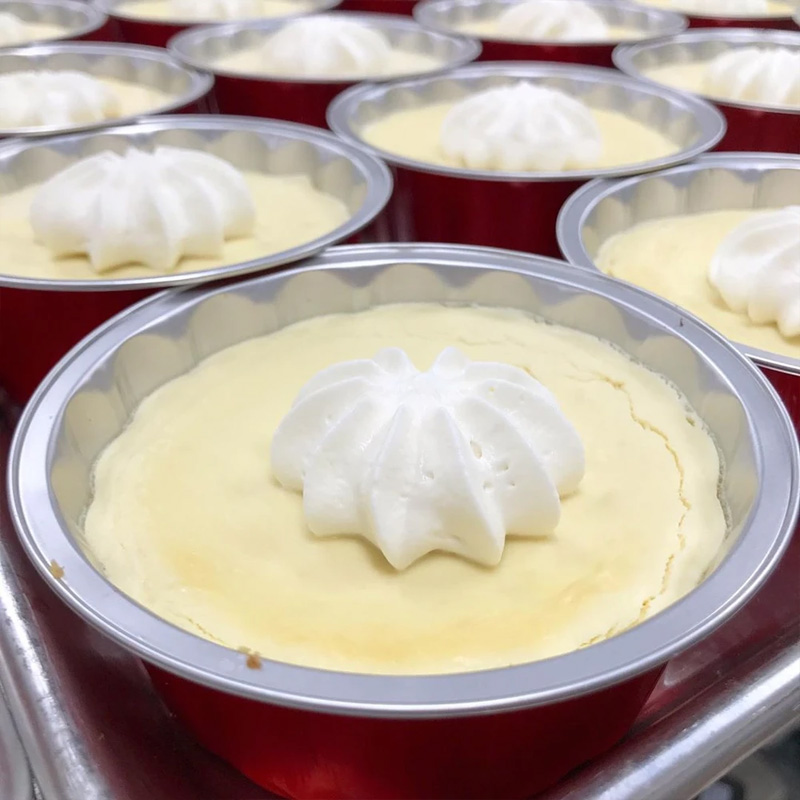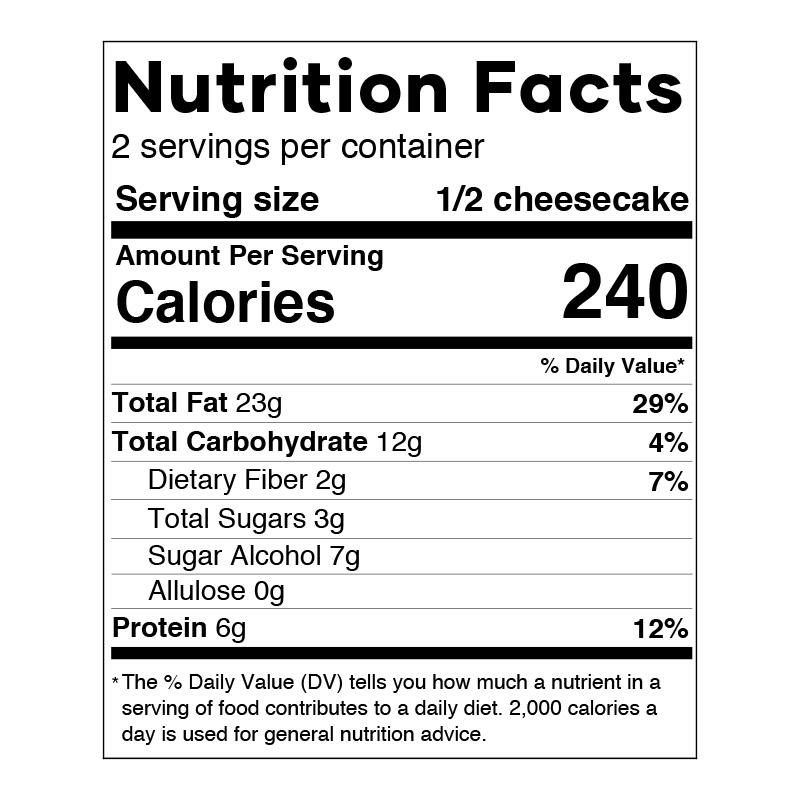 ---
Cookie Dough Cheesecake
4g Net Carbs
Ingredients: Cream Cheese, Almond Flour, Sweetener Blend [erythritol, monk fruit], cardnl Chocolate Chips [unsweetened chocolate, erythritol, cocoa butter, stevia extract, sunflower lecithin], Eggs, Sour Cream, Heavy Cream, Butter, Vanilla, Ceylon Cinnamon
Topping: cardnl Chocolate Chip Soft Batch Cookie, cardnl Chocolate Chips
Online Order & Local Pickup Keto Cheesecakes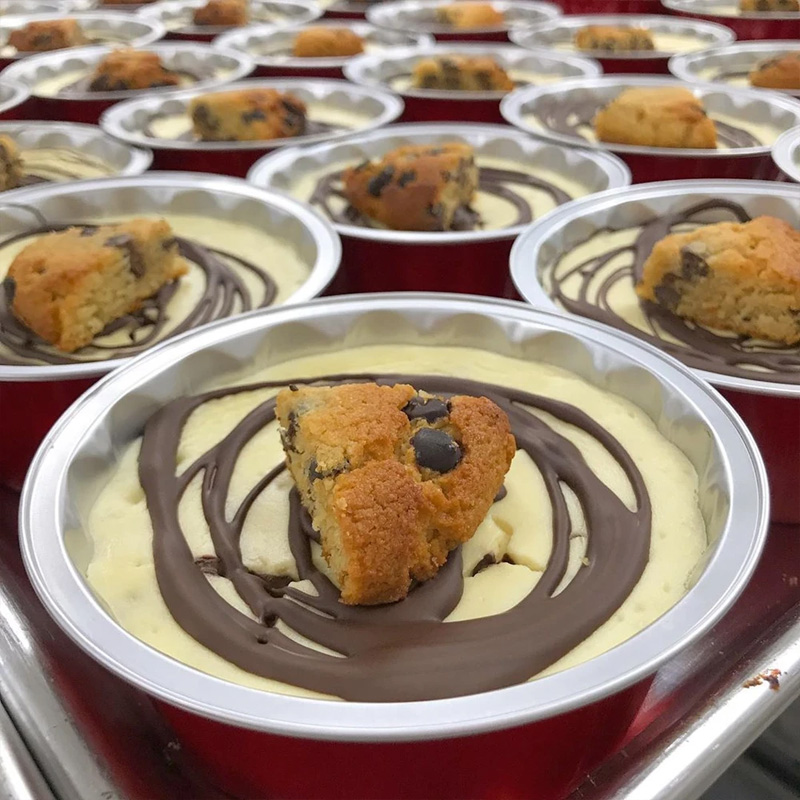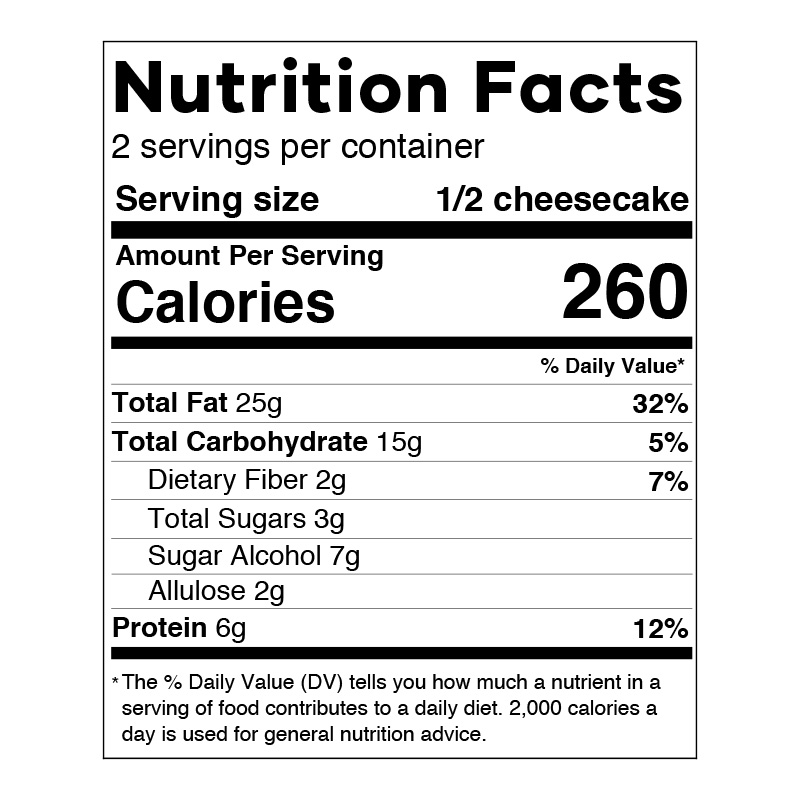 ---
Hot Cocoa Cheesecake
5g Net Carbs
Ingredients: Cream Cheese, Almond Flour, Eggs, Sweetener Blend [erythritol, monk fruit], Sour Cream, Butter, Heavy Cream, Vanilla Extract, Cocoa Powder, Ceylon Cinnamon
Topping: Heavy Cream, cardnl Chocolate Chips, Sweetener Blend [erythritol, monk fruit], Vanilla
Online Order & Local Pickup Keto Cheesecakes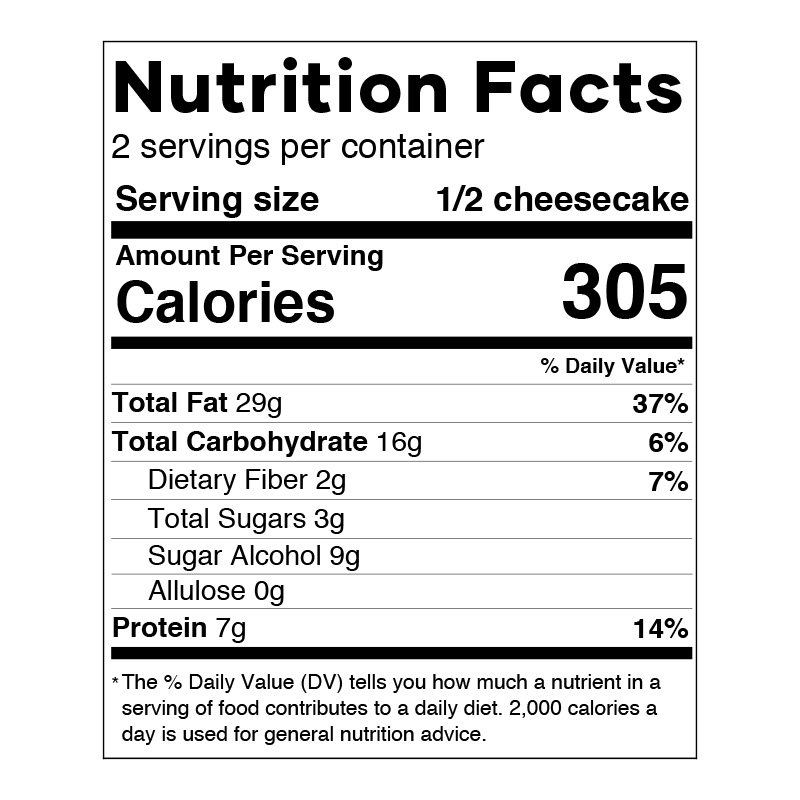 ---
Pecan Pie Cheesecake
4g Net Carbs
Ingredients: Cream Cheese, Almond Flour, Eggs, Sweetener Blend [erythritol, monk fruit], Sour Cream, Butter, Heavy Cream, Vanilla Extract, Ceylon Cinnamon
Topping: Pecans, Allulose, Heavy Cream, Butter, Cinnamon
Online Order & Local Pickup Keto Cheesecakes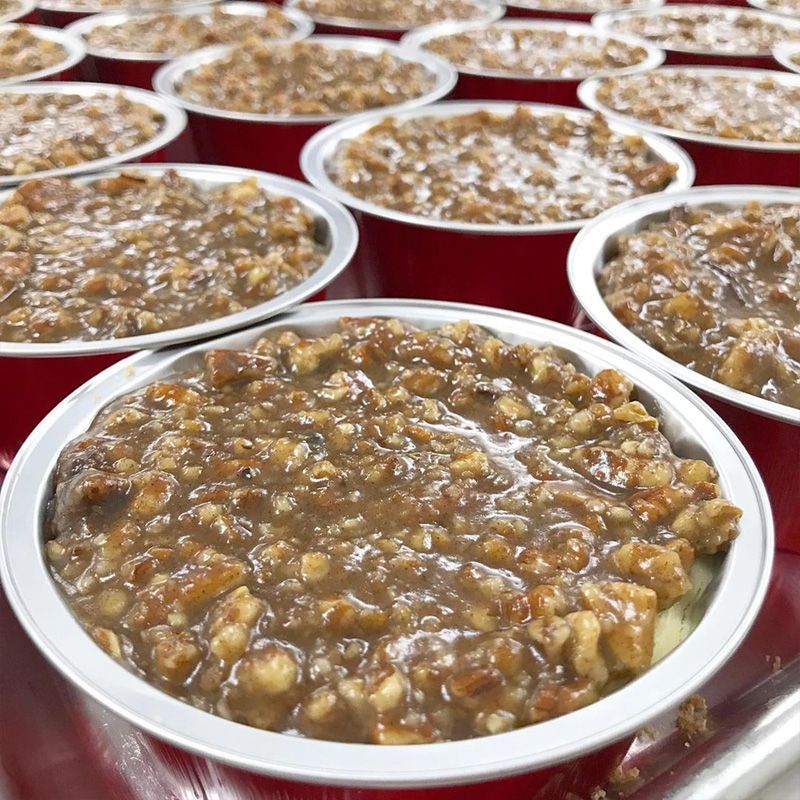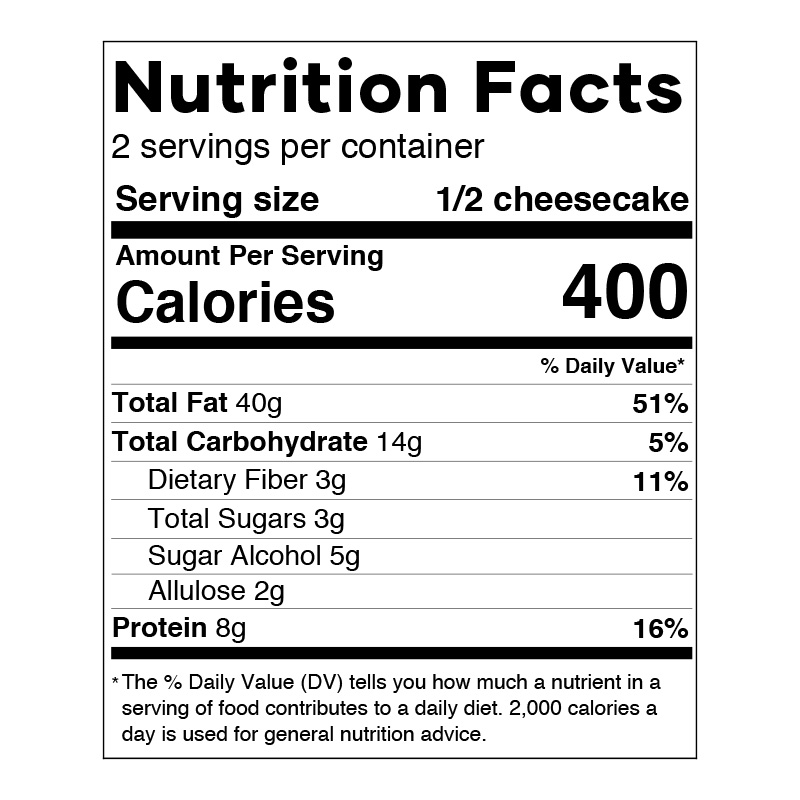 ---
Pumpkin Pie Cheesecake
5g Net Carbs
Ingredients: Cream Cheese, Eggs, Sweetener Blend [erythritol, monk fruit], Almond Flour, Sour Cream, Pumpkin Puree, Cream, Butter, Vanilla, Pumpkin Pie Spice, Ceylon Cinnamon
Topping: Heavy Cream, Sweetener Blend [erythritol, monk fruit]
Online Order & Local Pickup Keto Cheesecakes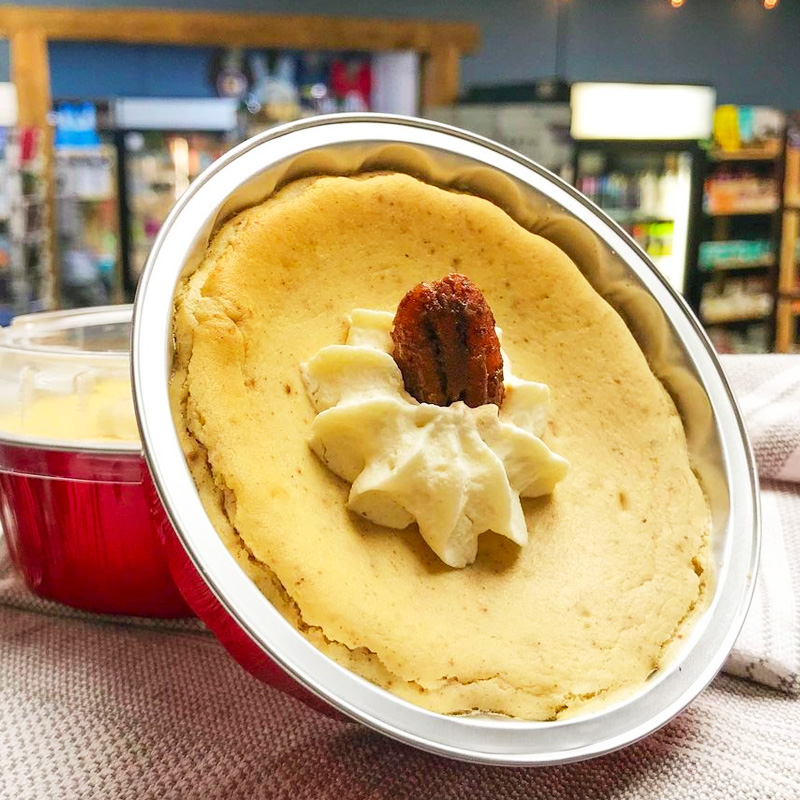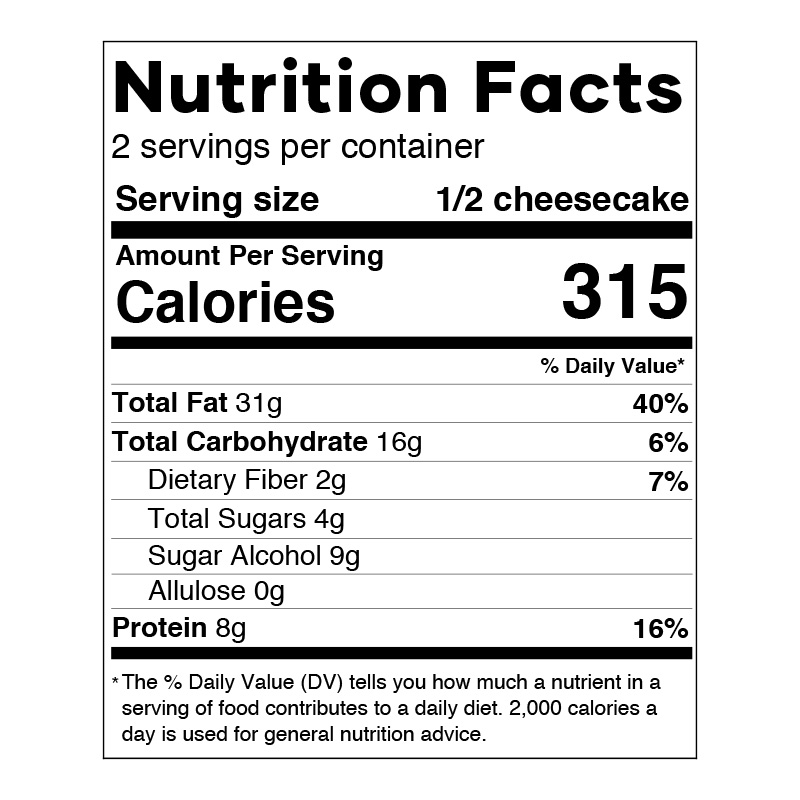 ---
Lemon Curd Cheesecake
4g Net Carbs
Ingredients: Cream Cheese, Eggs, Almond Flour, Sweetener Blend [erythritol, monk fruit], Butter, Sour Cream, Cream, Vanilla, Ceylon Cinnamon
Topping: Allulose, Lemon Juice, Eggs, Heavy Cream, Sweetener Blend [erythritol, monk fruit]
Online Order & Local Pickup Keto Cheesecakes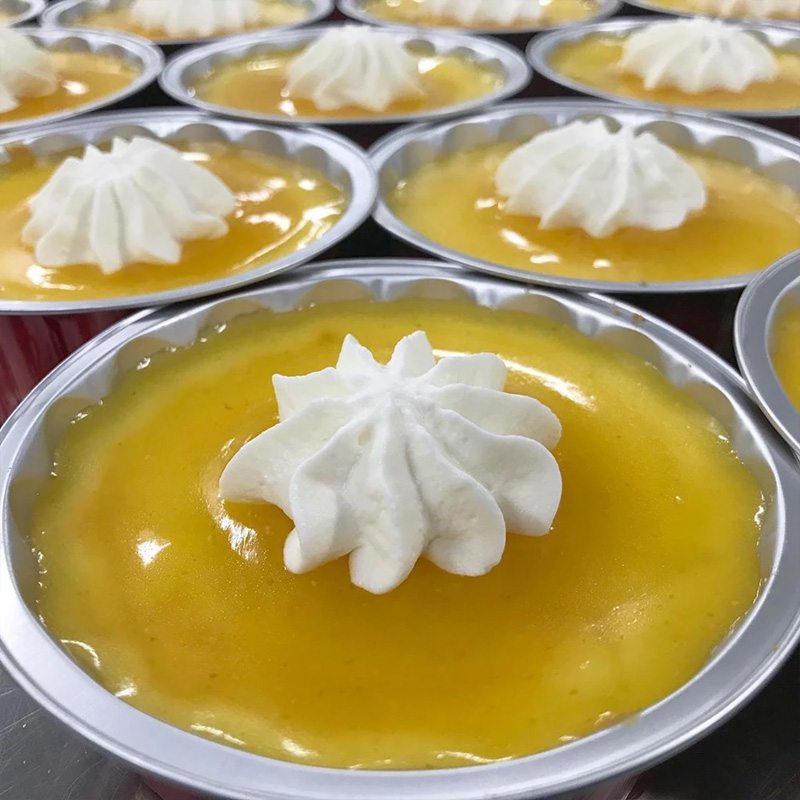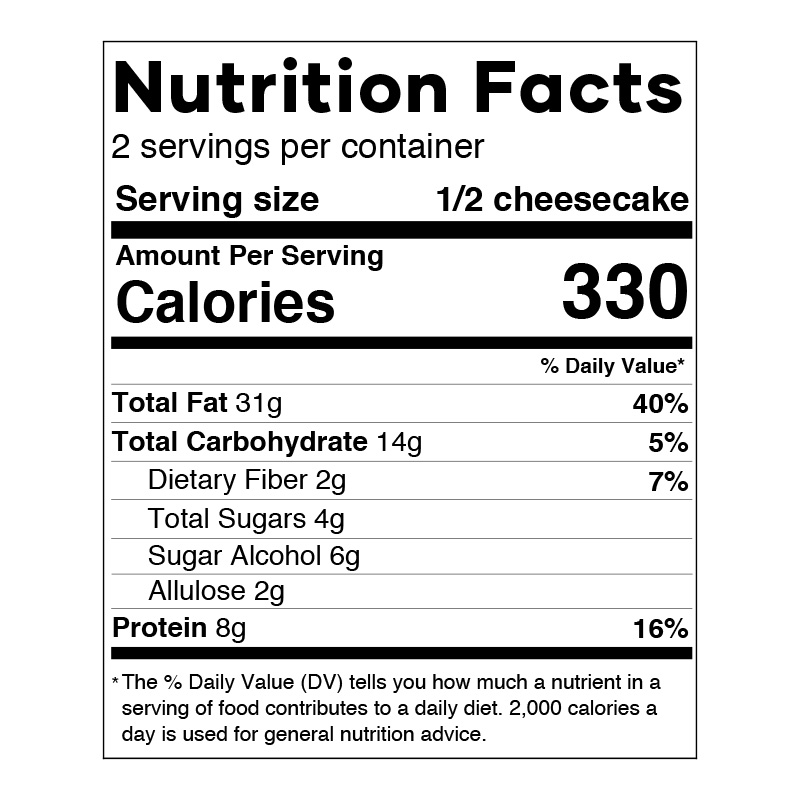 ---
Cranberry Curd Cheesecake
4g Net Carbs
Ingredients: Cream Cheese, Eggs, Almond Flour, Sweetener Blend [erythritol, monk fruit], Butter, Sour Cream, Cream, Vanilla, Ceylon Cinnamon
Topping: Allulose, Cranberries, Eggs, Heavy Cream, Sweetener Blend [erythritol, monk fruit]
Online Order & Local Pickup Keto Cheesecakes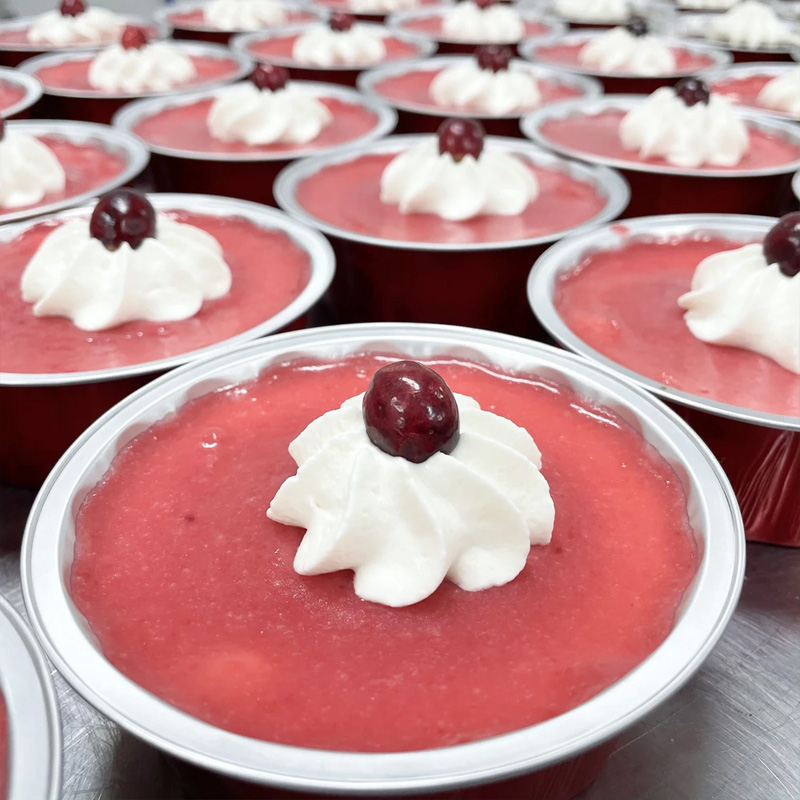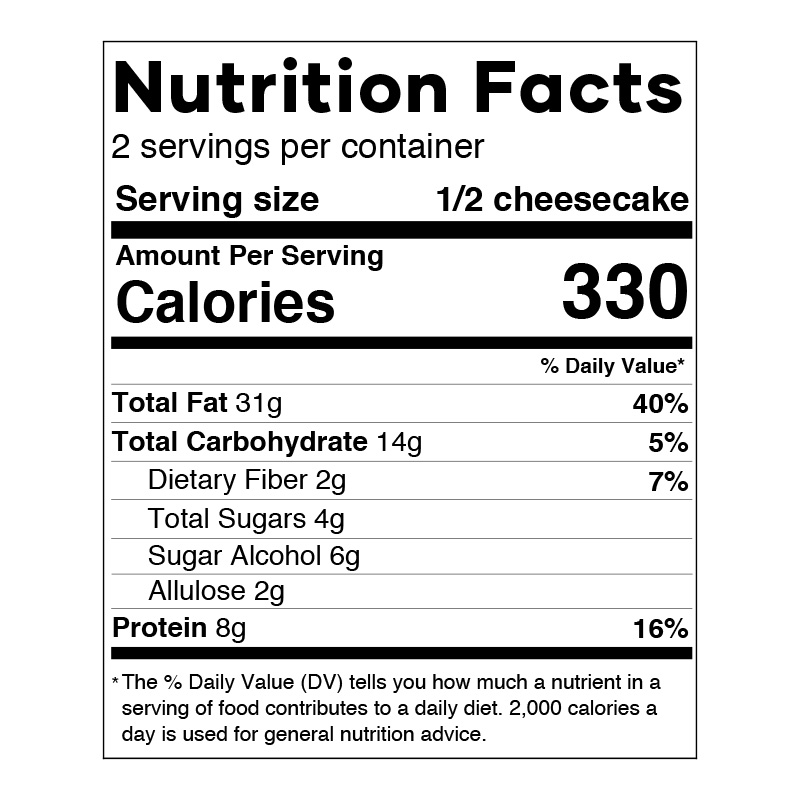 ---
Funfetti Cheesecake
4g Net Carbs
Ingredients: Cream Cheese, Almond Flour, Sweetener Blend [erythritol, monk fruit], Eggs, Sour Cream, cardnl Sprinkees, Cream, Butter, Vanilla, Ceylon Cinnamon
Topping: Heavy Cream, cardnl Sprinkees, Sweetener Blend [erythritol, monk fruit]
Online Order & Local Pickup Keto Cheesecakes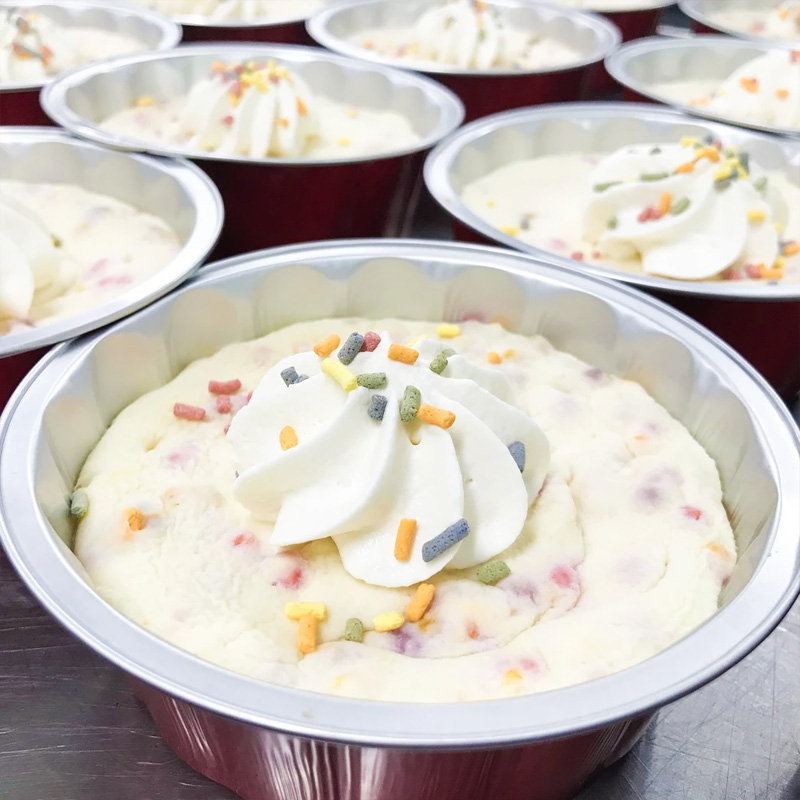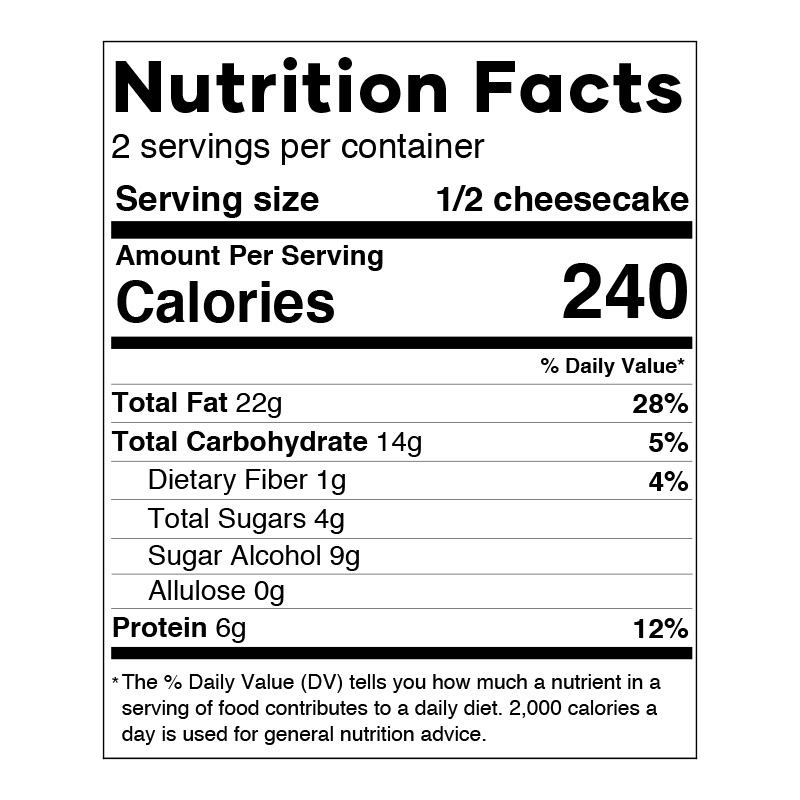 ---
Coconut Lime Cheesecake
3g Net Carbs
Ingredients: Cream Cheese, Almond Flour, Eggs, Sweetener Blend [erythritol, monk fruit], Sour Cream, Butter, Heavy Cream, Vanilla Extract, Ceylon Cinnamon, Lime Oil, Natural Color
Topping: Heavy Cream, Unsweetened Coconut, Sweetener Blend [erythritol, monk fruit]
Online Order & Local Pickup Keto Cheesecakes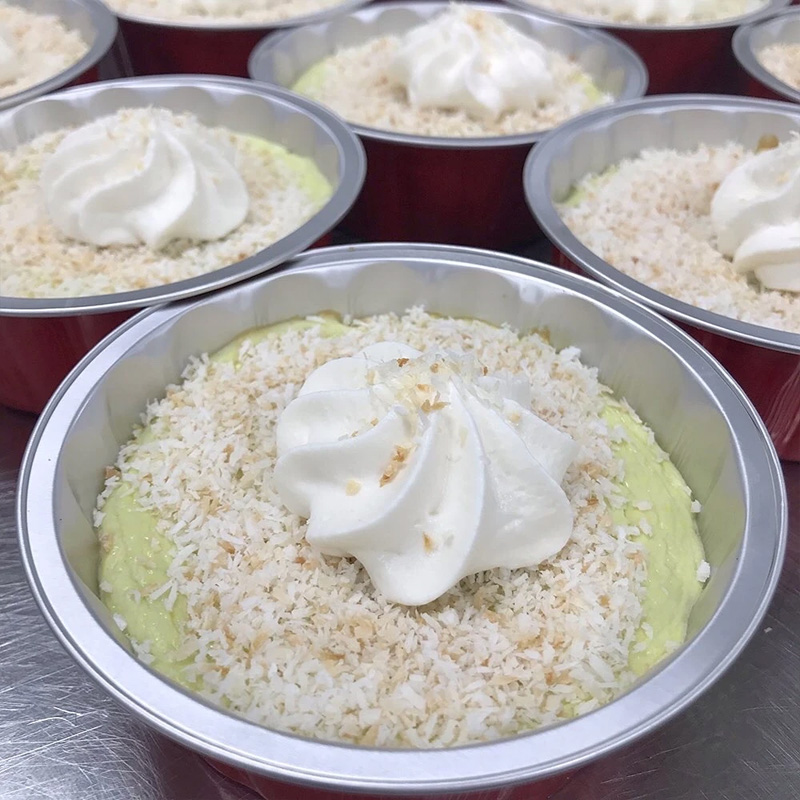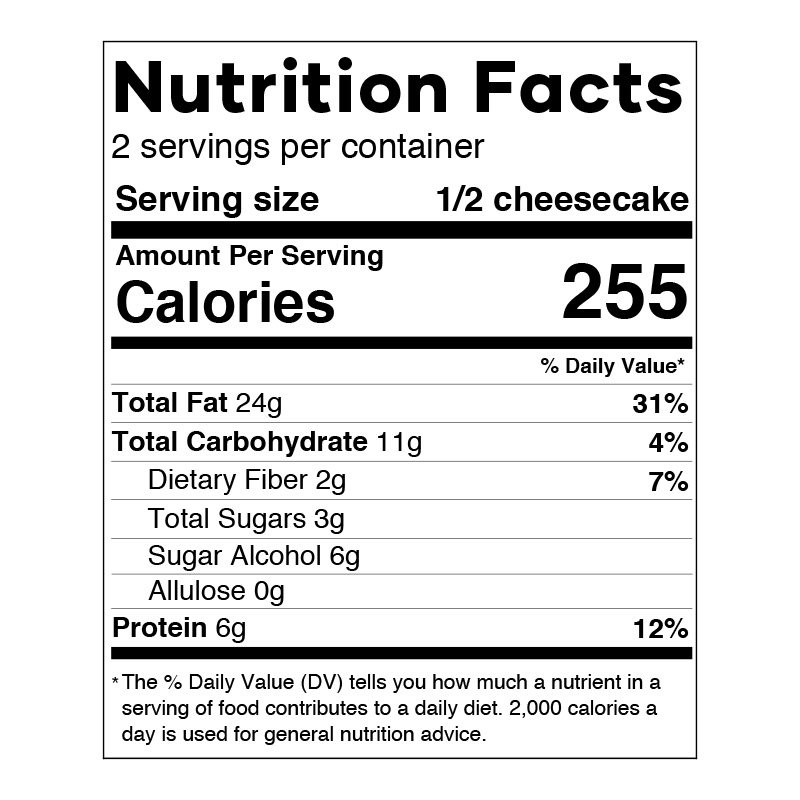 ---
Blueberry Cheesecake
5g Net Carbs
Ingredients: Cream Cheese, Almond Flour, Eggs, Sweetener Blend [erythritol, monk fruit], Sour Cream, Butter, Heavy Cream, Blueberries, Vanilla Extract, Ceylon Cinnamon
Topping: Heavy Cream, Sweetener Blend [erythritol, monk fruit]
Online Order & Local Pickup Keto Cheesecakes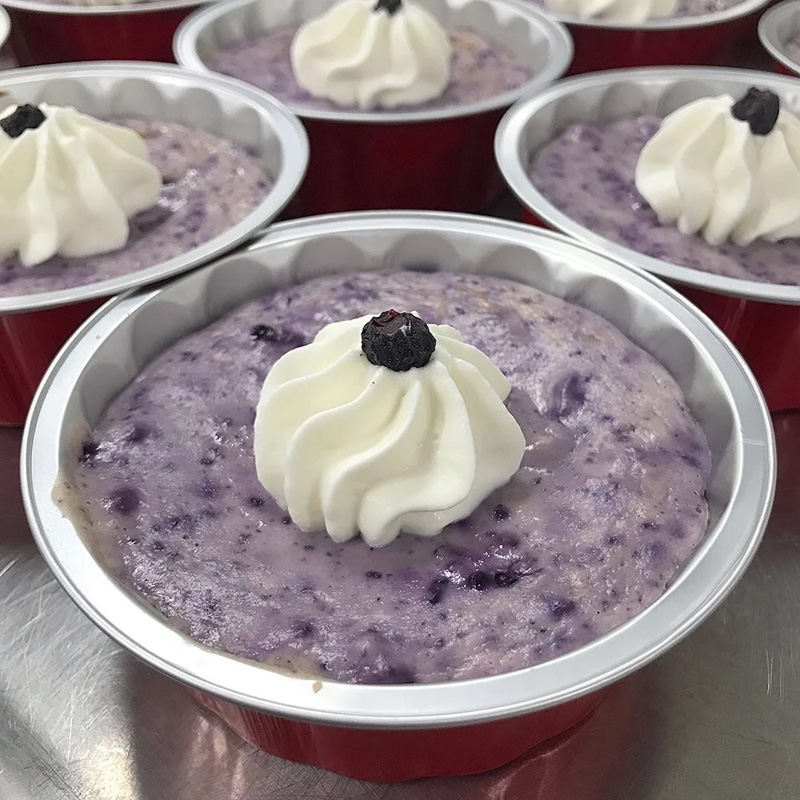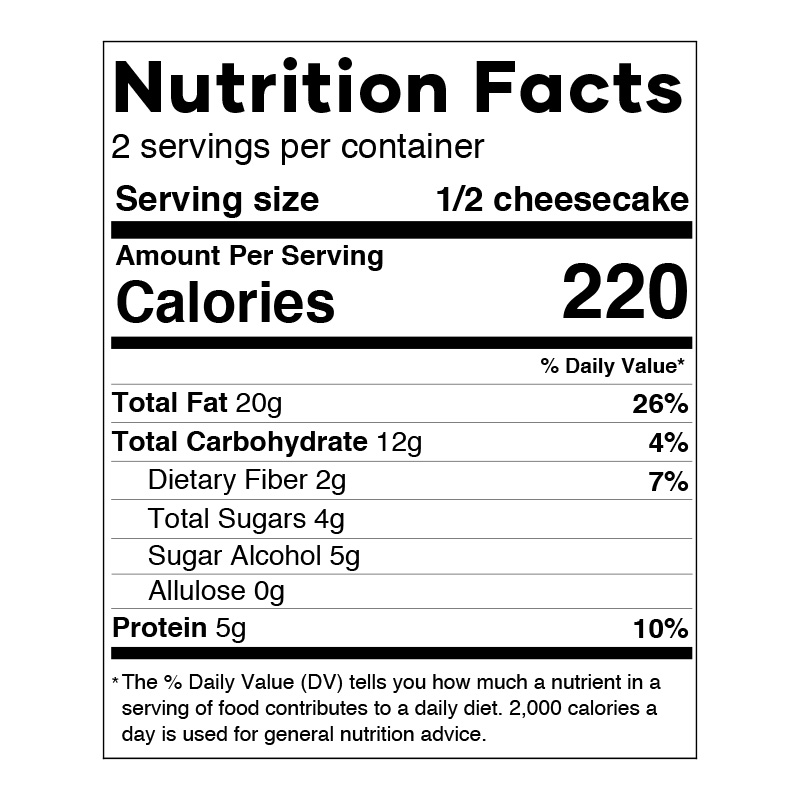 ---
Apple Pie Spice Donut
3g Net Carbs
Ingredients: Almond Flour, Eggs, Coconut Milk, Sweetener Blend [erythritol, monk fruit], Coconut Oil, Coconut Flour, Apple Pie Spice, Vanilla, Redmond Salt, Baking Soda
Glaze: Lily's White Chocolate Chips, Cream, Butter, Allulose, Apple Pie Spice
Online Keto Donut Order (weekly flavor option)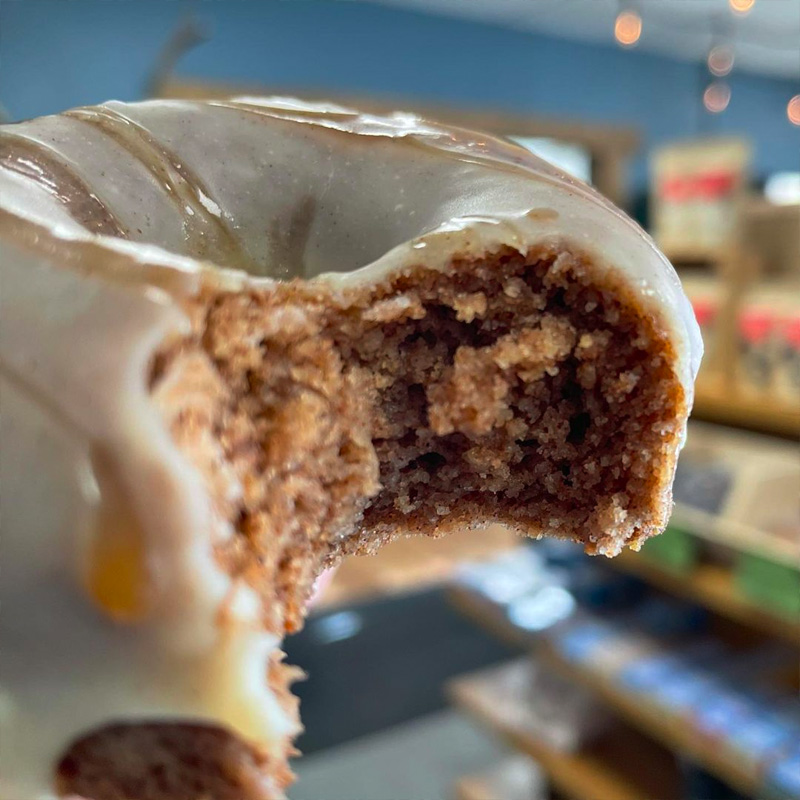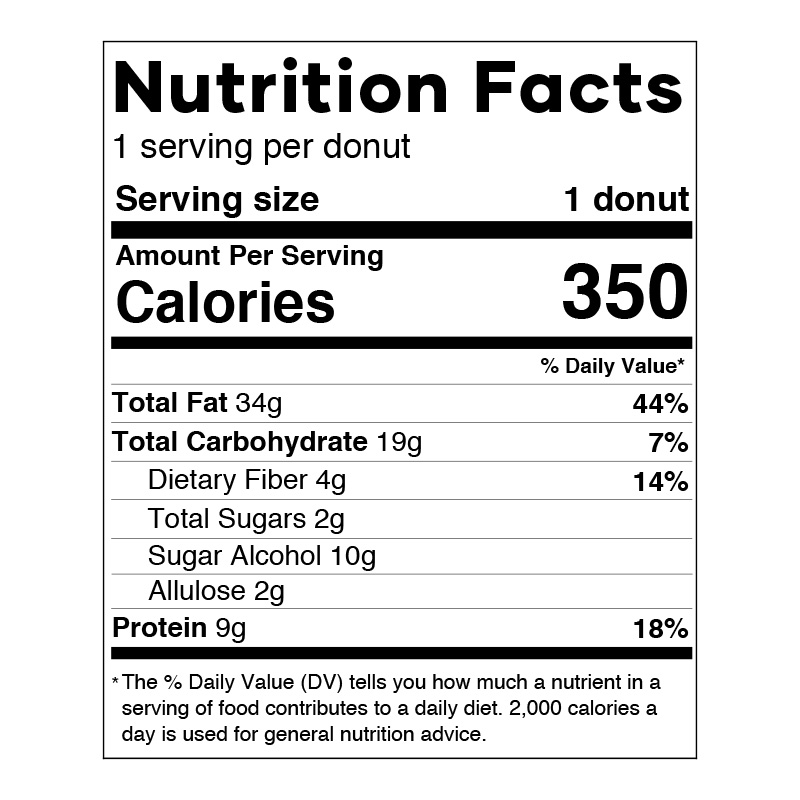 ---
Pumpkin Chocolate Chip Donut
5g Net Carbs
Ingredients: Almond Flour, Pumpkin Puree, Eggs, cardnl Chocolate Chips, Sweetener Blend [erythritol, monk fruit], Coconut Milk, Coconut Oil, Coconut Flour, Pumpkin Pie Spice, Vanilla, Redmond Salt, Baking Soda
Glaze: cardnl Chocolate Chips, Cream, Butter, Allulose
Online Keto Donut Order (weekly flavor option)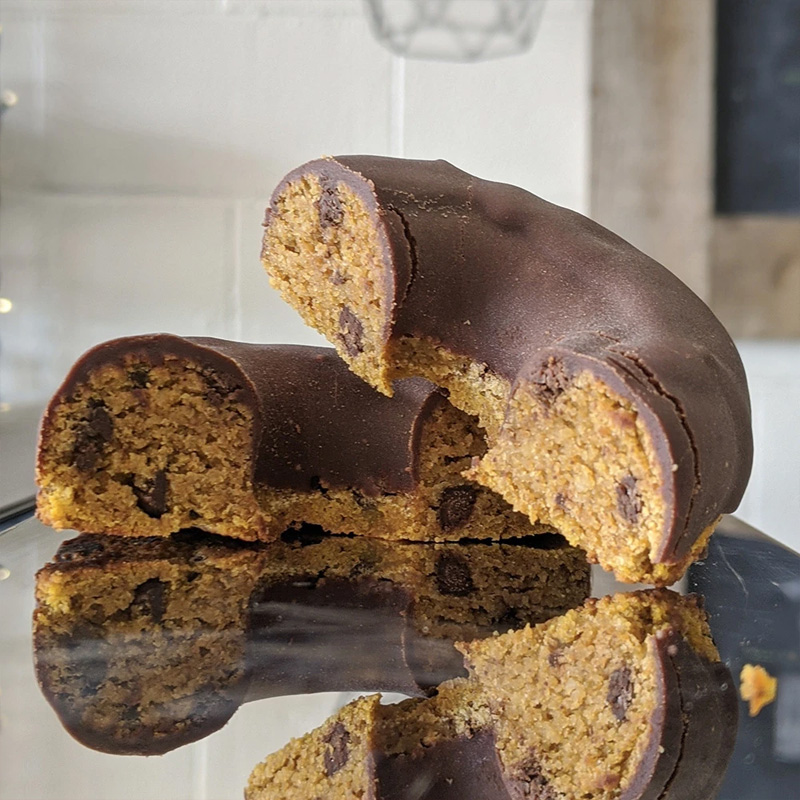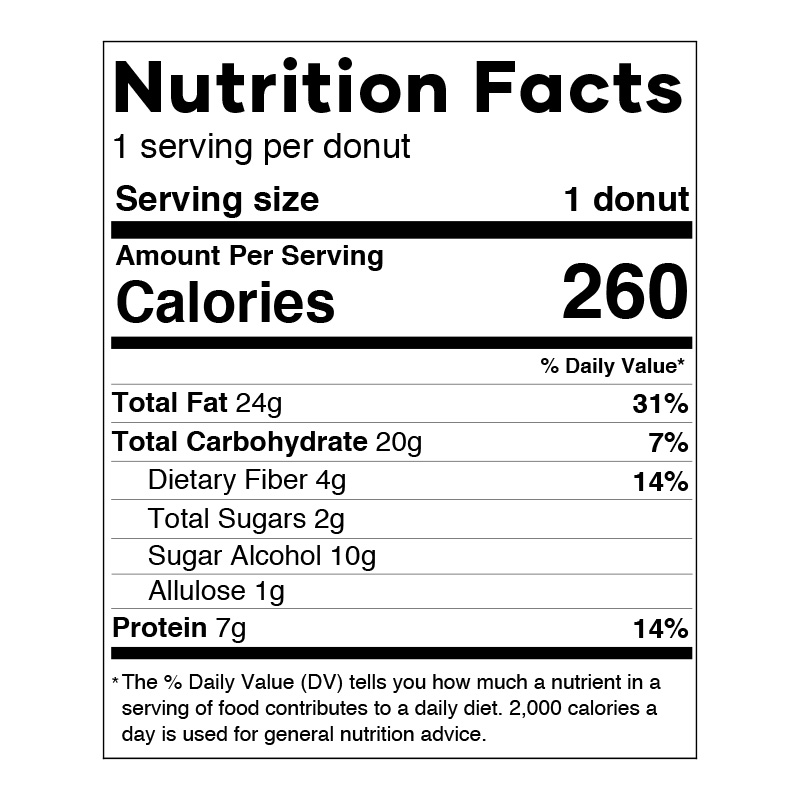 ---
Vanilla Donut w/ Blueberry Glaze
3g Net Carbs
Ingredients: Almond Flour, Eggs, Coconut Milk, Sweetener Blend [erythritol, monk fruit], Coconut Oil, Coconut Flour, Vanilla, Redmond Salt, Nutmeg, Baking Soda
Glaze: Lily's White Chocolate Chips, Cream, Butter, Allulose, Natural Flavor, Natural Color
Online Keto Donut Order (weekly flavor option)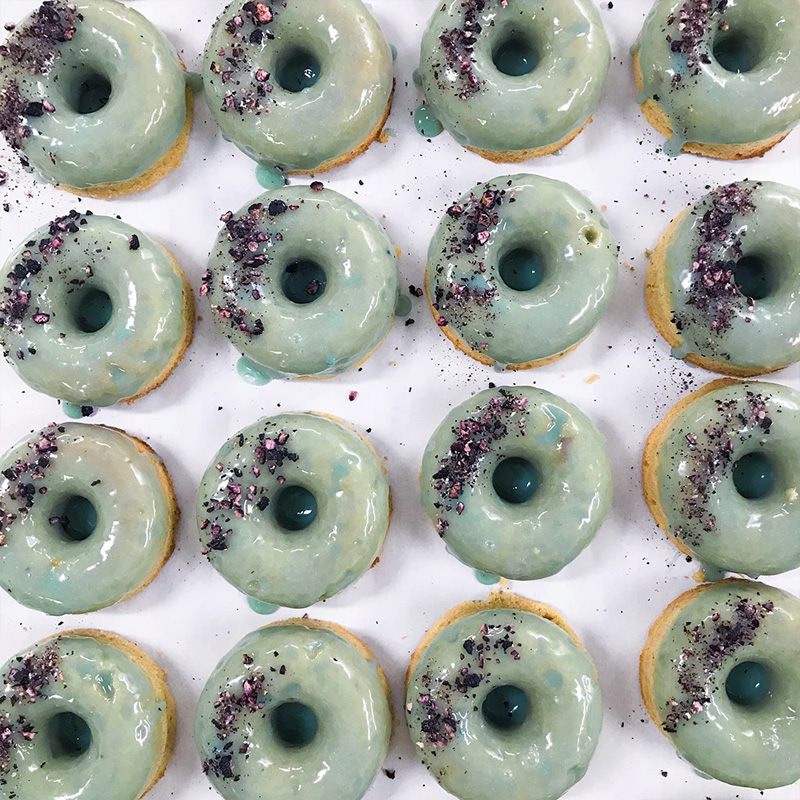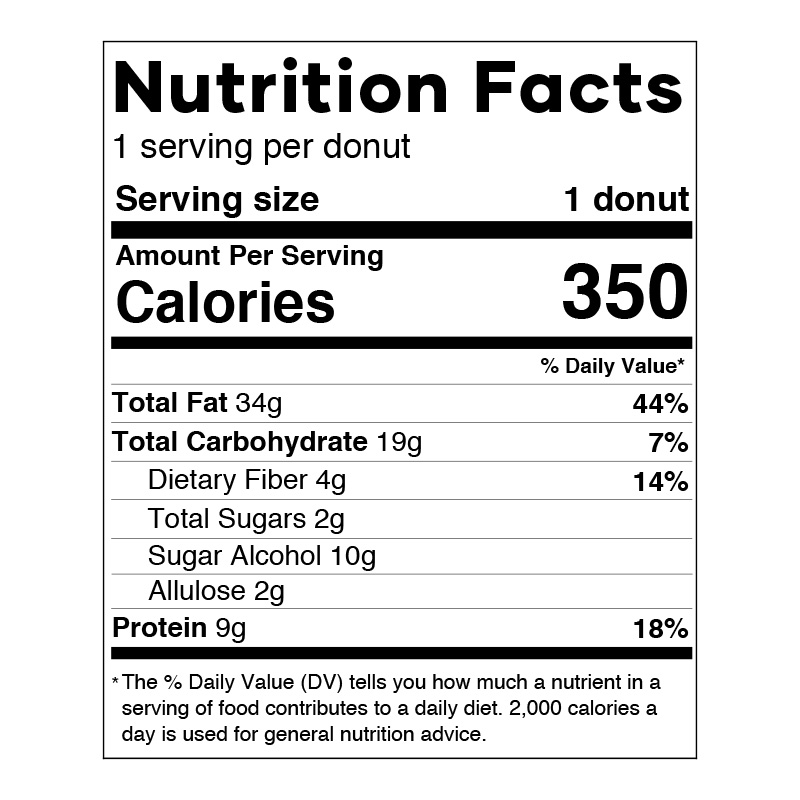 ---
Vanilla Donuts w/ Strawberry Glaze
3g Net Carbs
Ingredients: Almond Flour, Eggs, Coconut Milk, Sweetener Blend [erythritol, monk fruit], Coconut Oil, Coconut Flour, Vanilla, Redmond Salt, Nutmeg, Baking Soda
Glaze: Lily's White Chocolate Chips, Cream, Butter, Allulose, Natural Flavor, Natural Color
Online Keto Donut Order (weekly flavor option)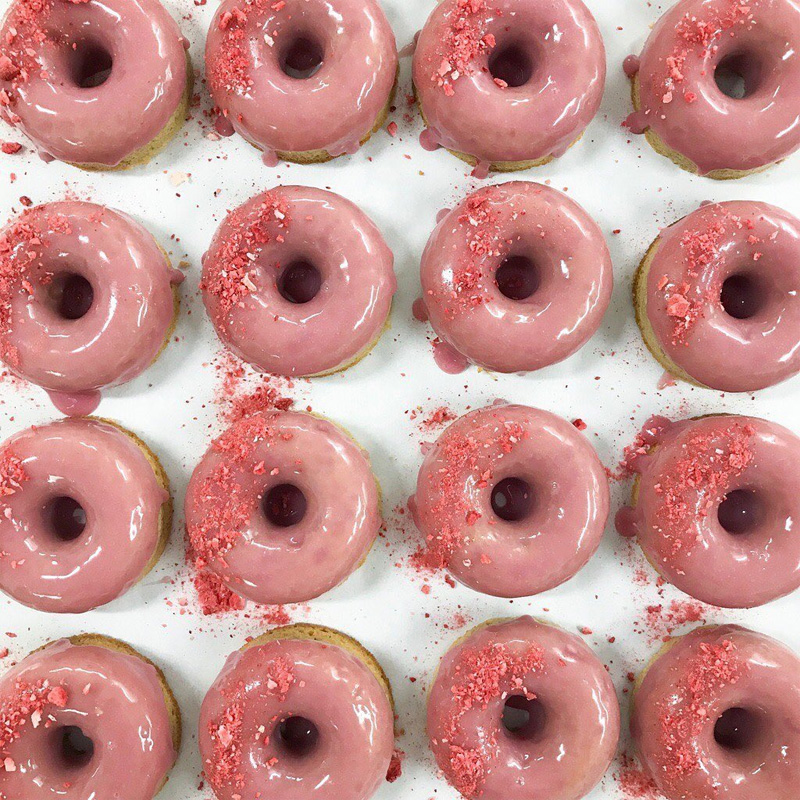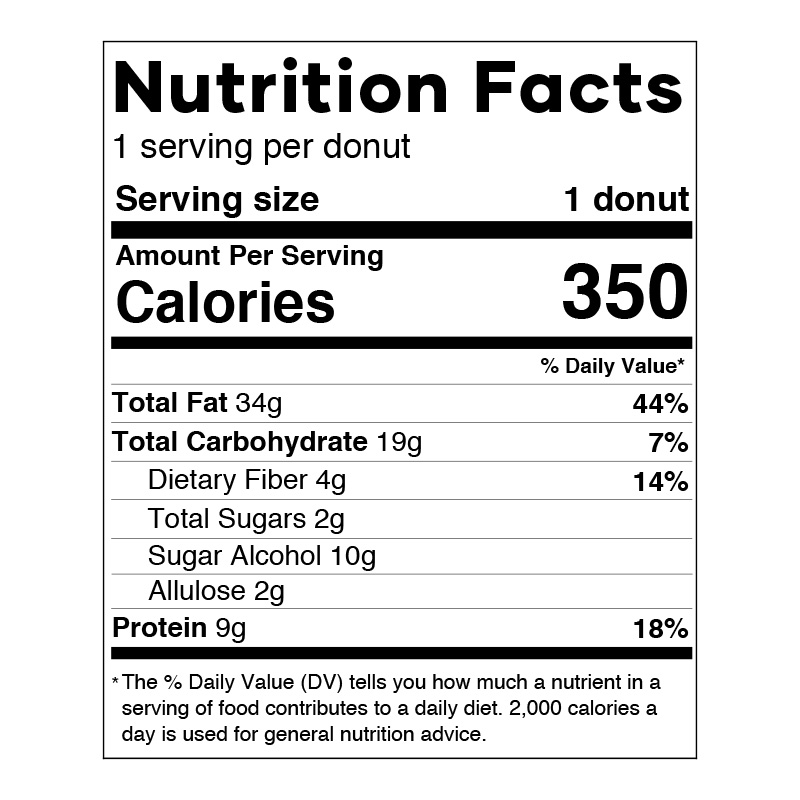 ---
Double Chocolate Donut
4g Net Carbs
Ingredients: Almond Flour, Eggs, Coconut Milk, Sweetener Blend [erythritol, monk fruit], Coconut Oil, Cocoa Powder, Coconut Flour, Vanilla, Redmond Salt, Baking Soda
Glaze: cardnl Chocolate Chips, Cream, Butter, Allulose
Online Keto Donut Order (weekly flavor option)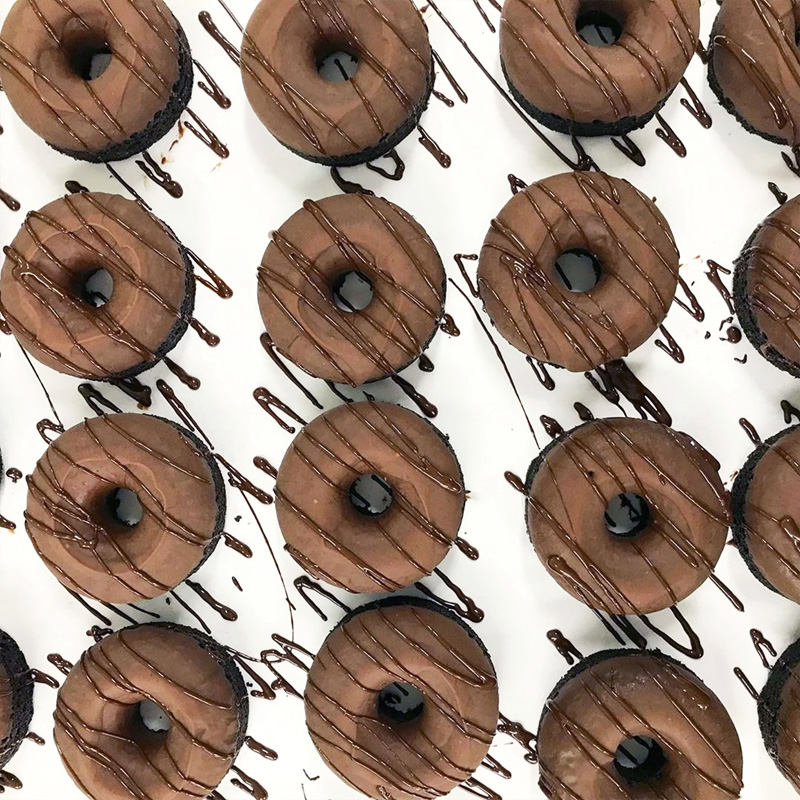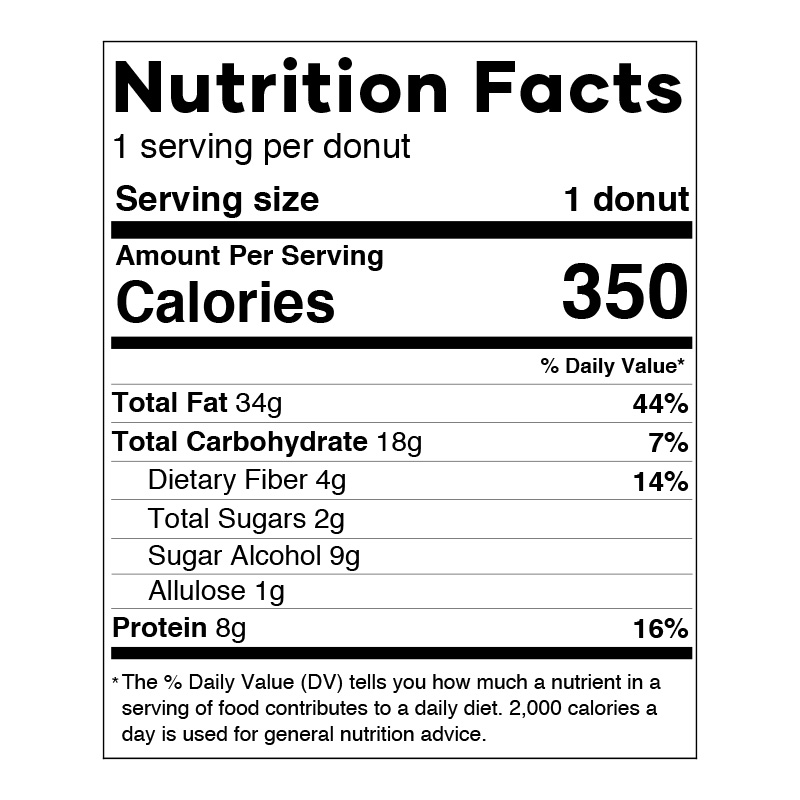 ---
Vanilla Donut w/ Chocolate Glaze
4g Net Carbs
Ingredients: Almond Flour, Eggs, Coconut Milk, Sweetener Blend [erythritol, monk fruit], Coconut Oil, Coconut Flour, Vanilla, Redmond Salt, Nutmeg, Baking Soda
Glaze: cardnl Chocolate Chips, Cream, Butter, Allulose
Online Keto Donut Order (weekly flavor option)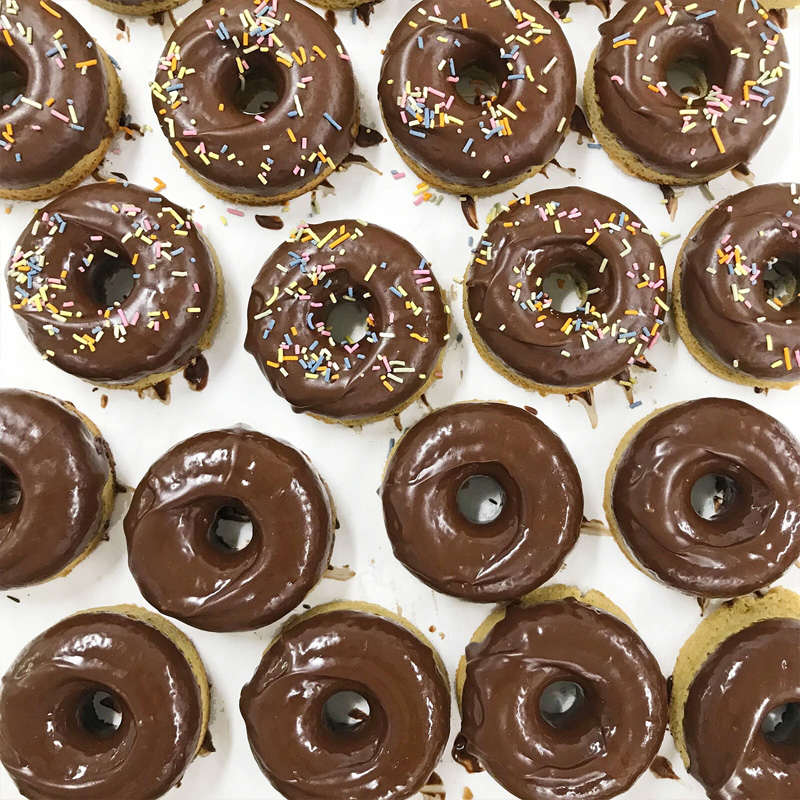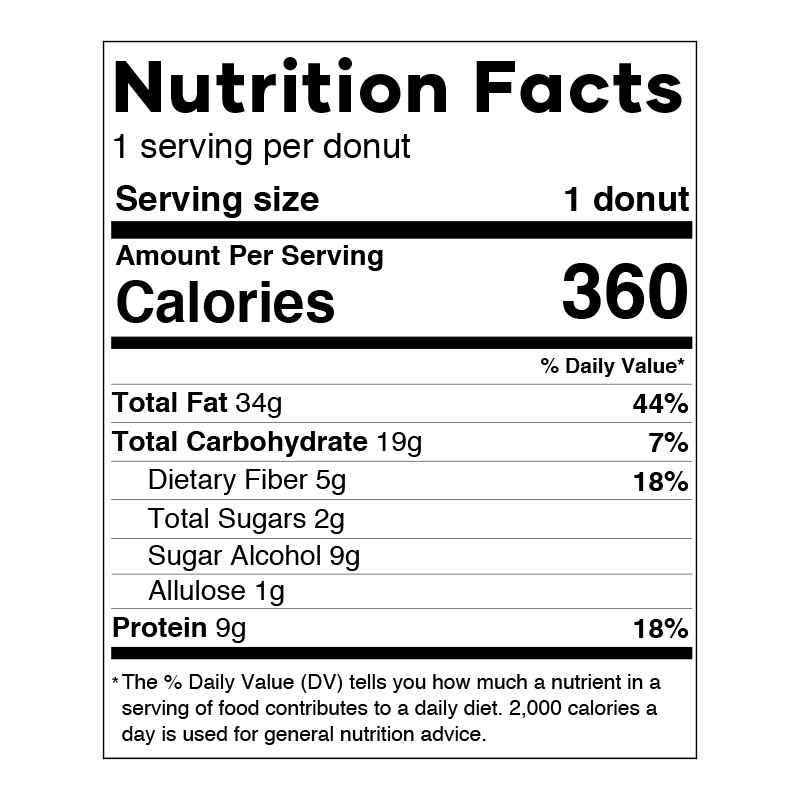 ---
Vanilla Donut w/ Maple Glaze
3g Net Carbs
Ingredients: Almond Flour, Eggs, Coconut Milk, Sweetener Blend [erythritol, monk fruit], Coconut Oil, Coconut Flour, Vanilla, Redmond Salt, Nutmeg, Baking Soda
Glaze: Lily's White Chocolate Chips, Cream, Butter, cardnl Chocolate Chips, Allulose
Online Keto Donut Order (weekly flavor option)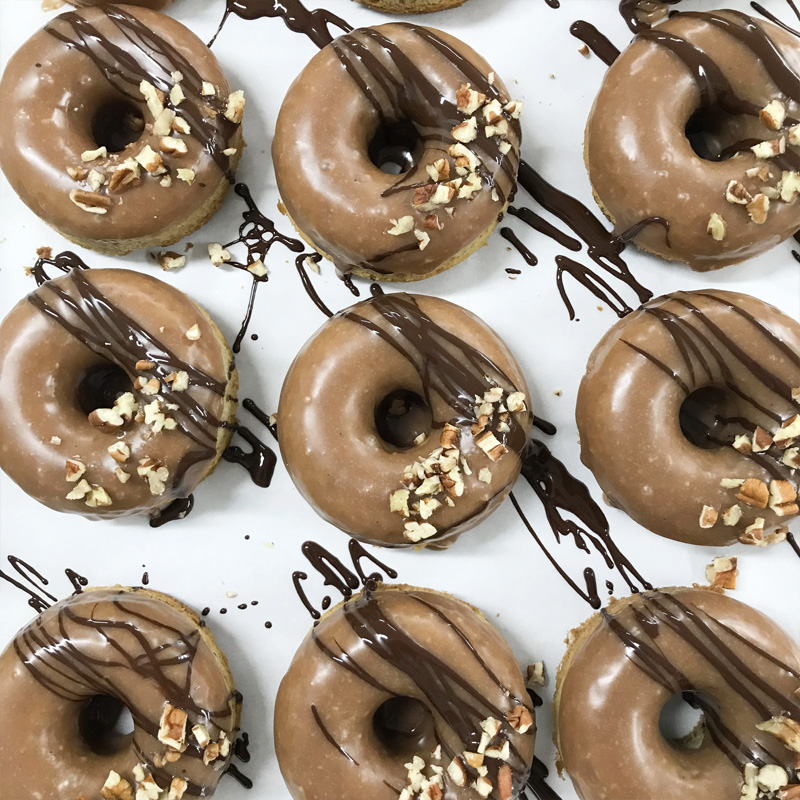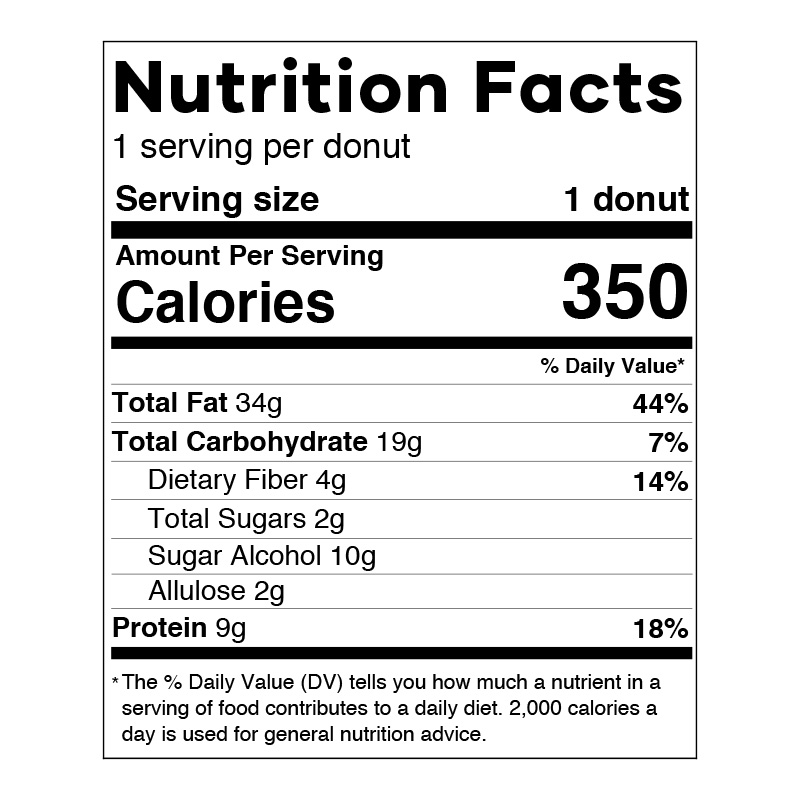 ---
Thin Mint Donuts
4g Net Carbs
Ingredients: Almond Flour, Eggs, Coconut Milk, Sweetener Blend [erythritol, monk fruit], Coconut Oil, Cocoa Powder, Coconut Flour, Vanilla, Redmond Salt, Baking Soda
Glaze: cardnl Chocolate Chips, Cream, Butter, Allulose, Peppermint Oil
Online Keto Donut Order (weekly flavor option)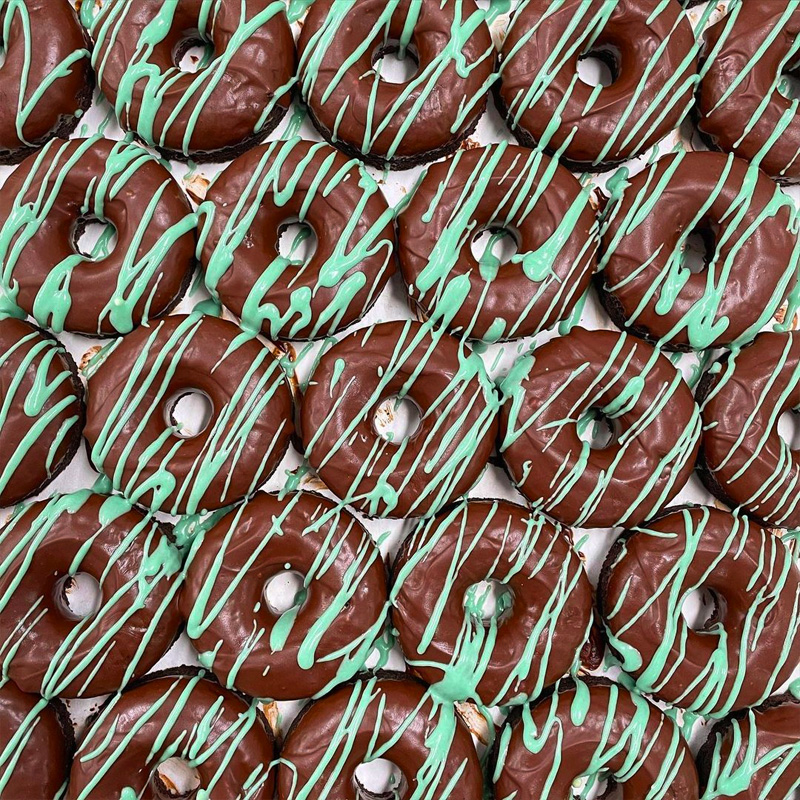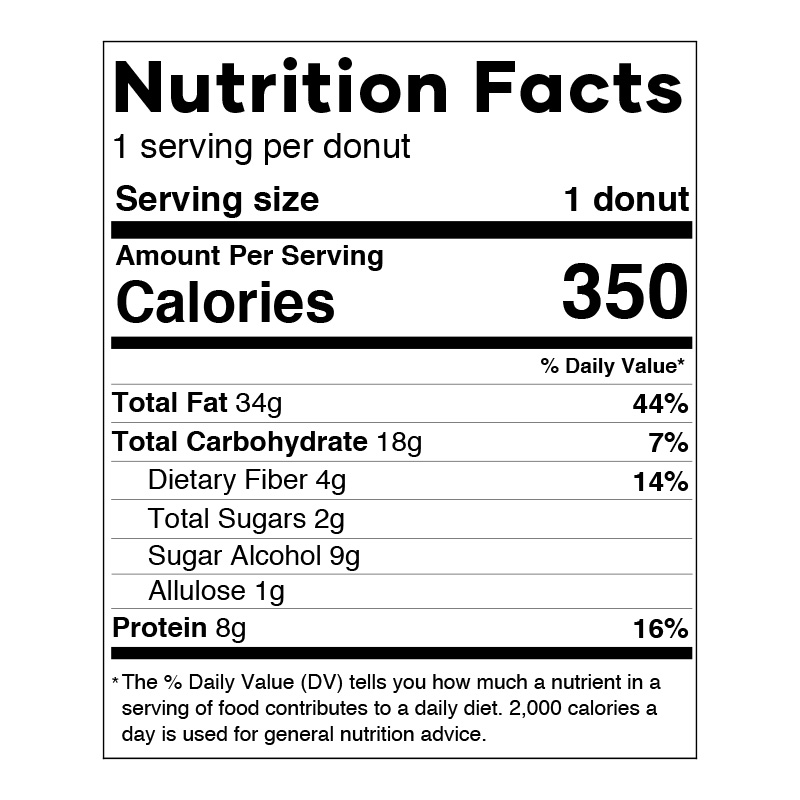 ---
Cinnamon Roll Cupcakes w/ Cream Cheese Frosting
4g Net Carbs
Ingredients: Eggs, Almond Flour, Sweetener Blend [erythritol, monk fruit], Coconut Milk, Explorado Market Cinnamon Toast Sprinkle, Vanilla, Redmond Salt, Baking Soda
Frosting: Cream Cheese, Butter, Allulose, Vanilla
Online Keto Cupcake Order (weekly flavor option)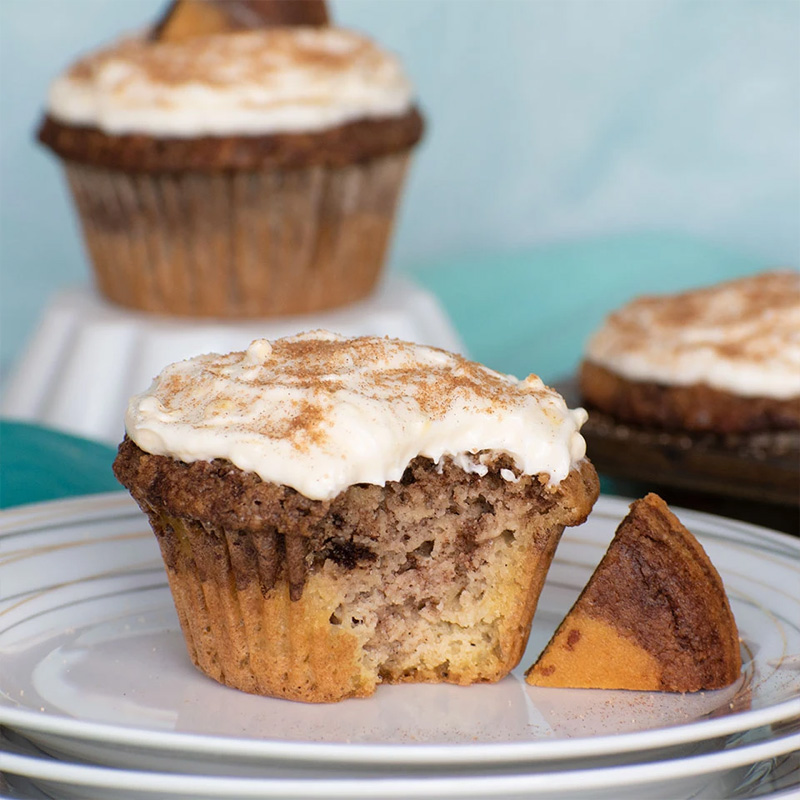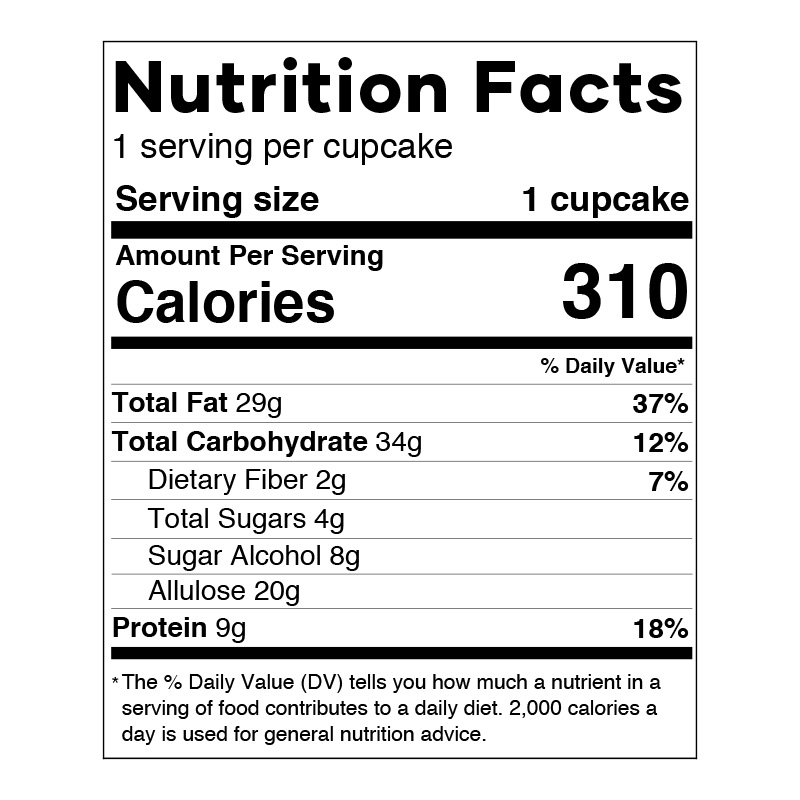 ---
Chocolate Cupcakes w/ Chocolate Frosting
2g Net Carbs
Ingredients: Eggs, Almond Flour, Sweetener Blend [erythritol, monk fruit], Coconut Milk, Cocoa Powder, Vanilla, Redmond Salt, Baking Soda
Frosting: Allulose, Organic Palm Shortening, Cocoa Powder, Vanilla
Online Keto Cupcake Order (weekly flavor option)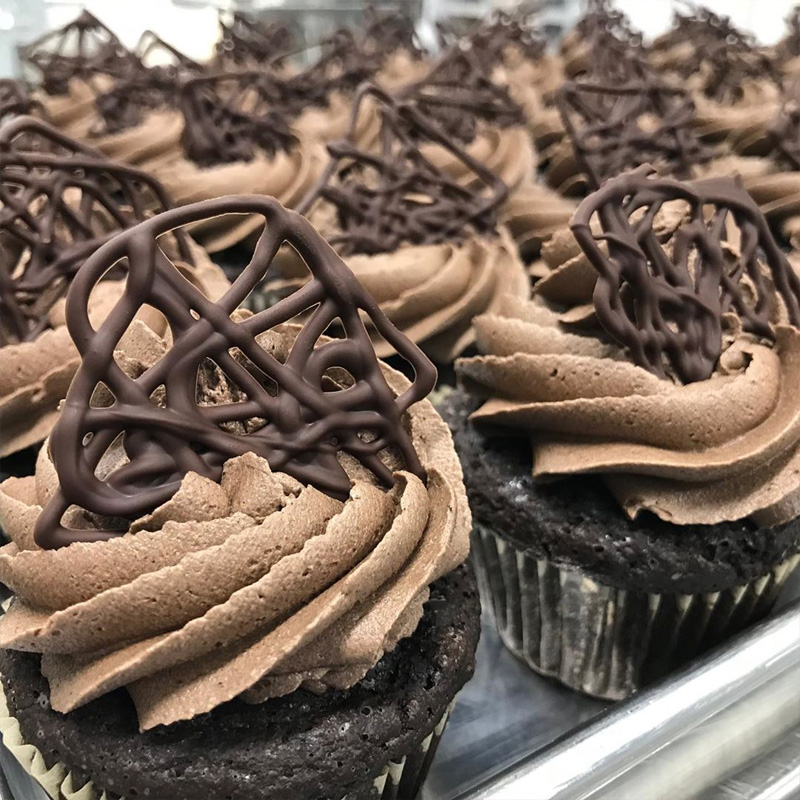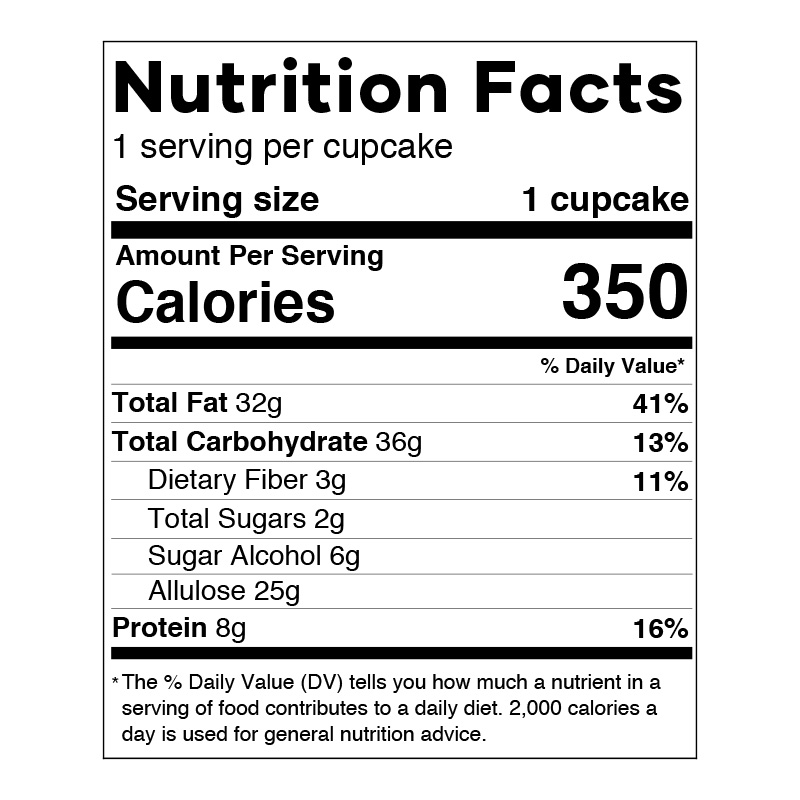 ---
Funfetti Cupcakes w/ Vanilla Frosting
3g Net Carbs
Ingredients: Eggs, Almond Flour, Sweetener Blend [erythritol, monk fruit], Coconut Milk, cardnl Sprinkees, Vanilla, Redmond Salt, Baking Soda
Frosting: Allulose, Organic Palm Shortening, Vanilla
Online Keto Cupcake Order (weekly flavor option)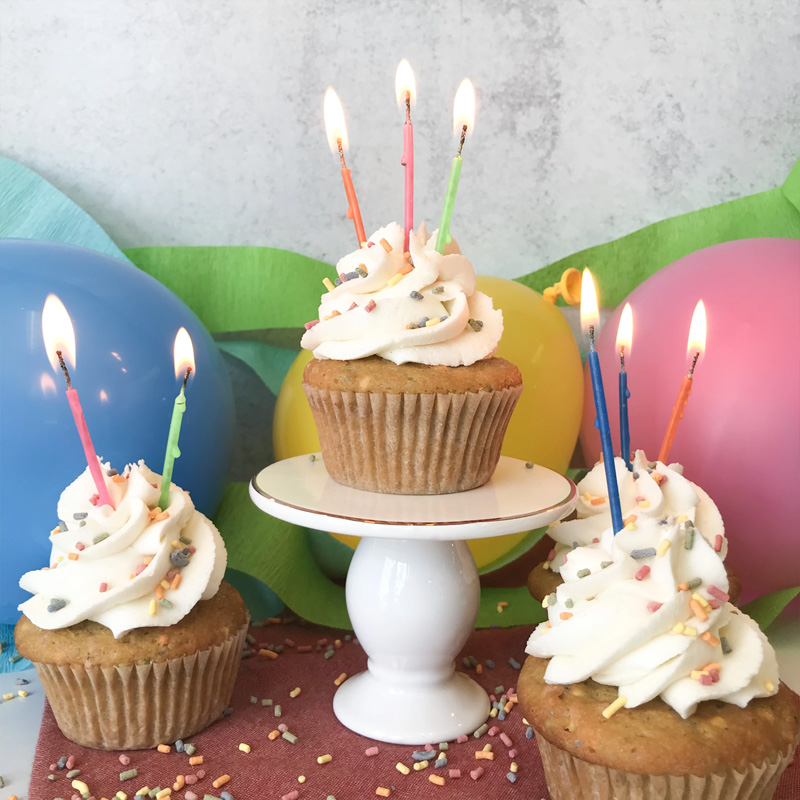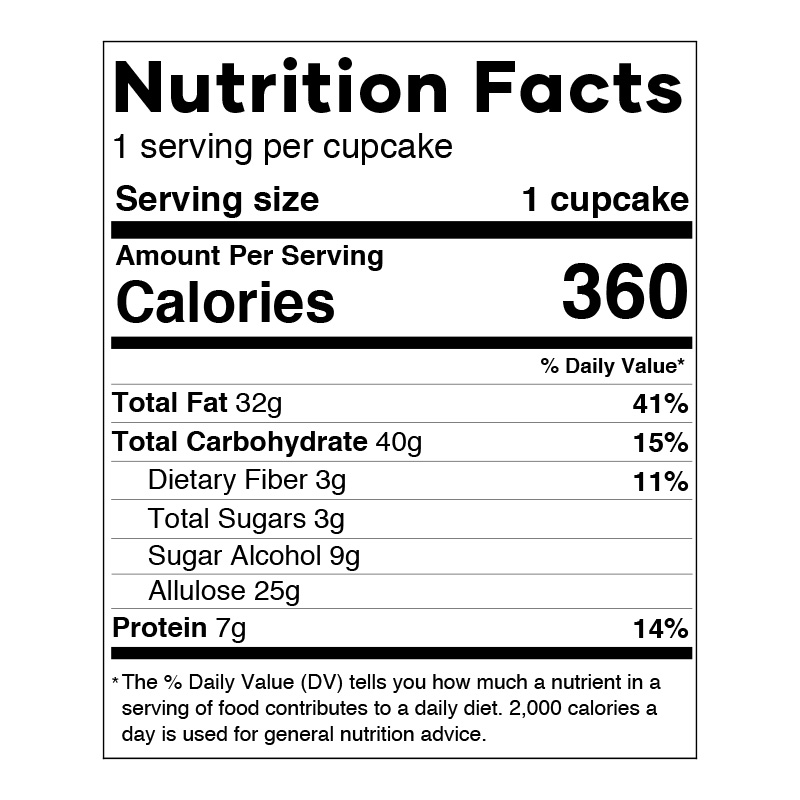 ---
Chocolate Cupcakes w/ Raspberry Frosting
2g Net Carbs
Ingredients: Eggs, Almond Flour, Sweetener Blend [erythritol, monk fruit], Coconut Milk, Cocoa Powder, Vanilla, Redmond Salt, Baking Soda
Frosting: Allulose, Organic Palm Shortening, Freeze-Dried Raspberries, Vanilla
Online Keto Cupcake Order (weekly flavor option)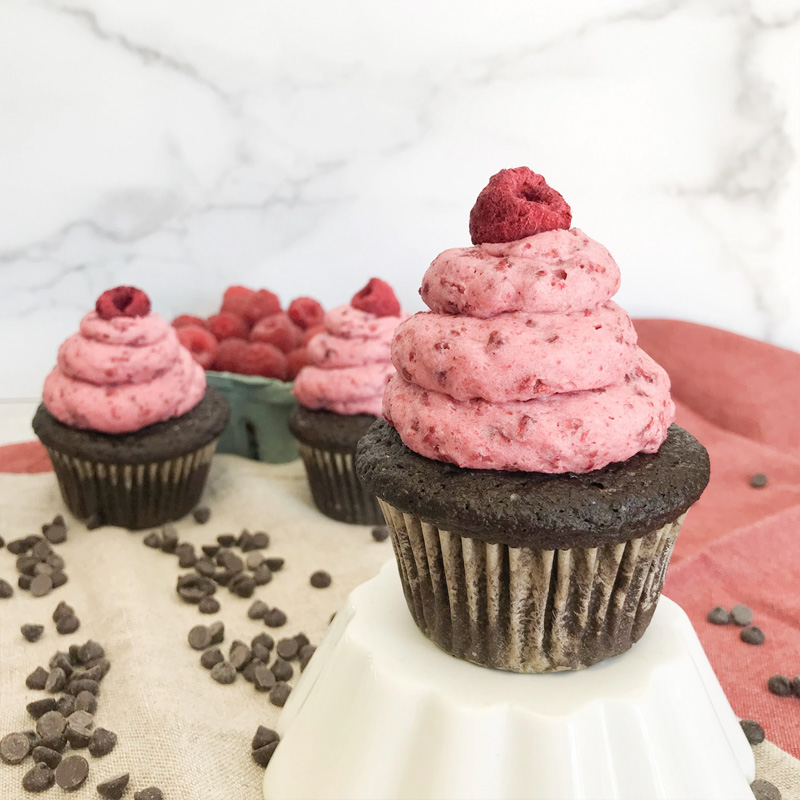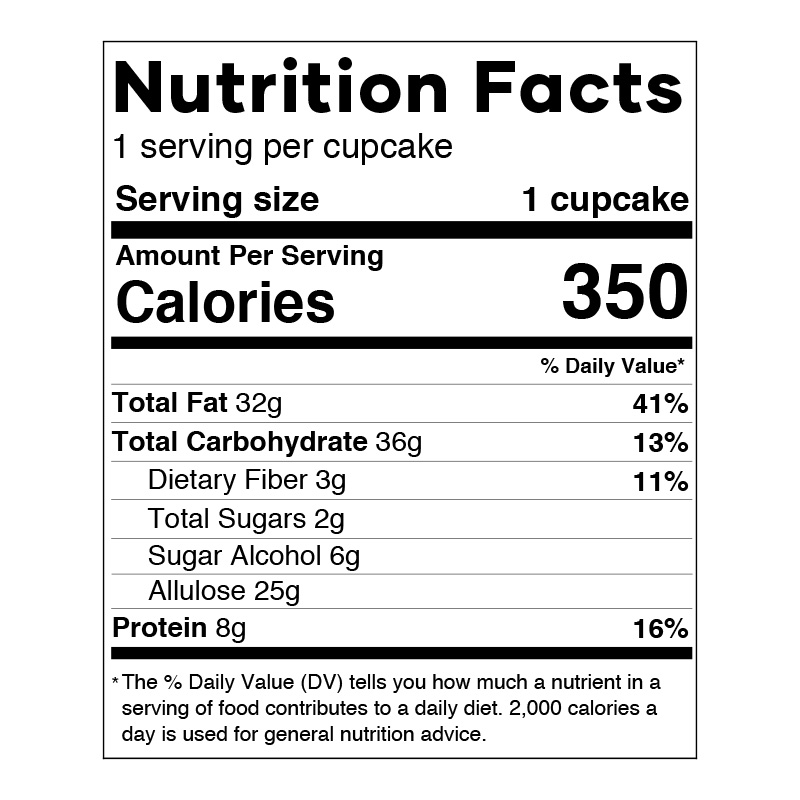 ---
Vanilla Cupcakes w/ Strawberry Lemon Frosting
2g Net Carbs
Ingredients: Eggs, Almond Flour, Sweetener Blend [erythritol, monk fruit], Coconut Milk, Vanilla, Redmond Salt, Baking Soda
Frosting: Allulose, Organic Palm Shortening, Freeze-Dried Strawberries, Vanilla, Cold Pressed Lemon Oil
Online Keto Cupcake Order (weekly flavor option)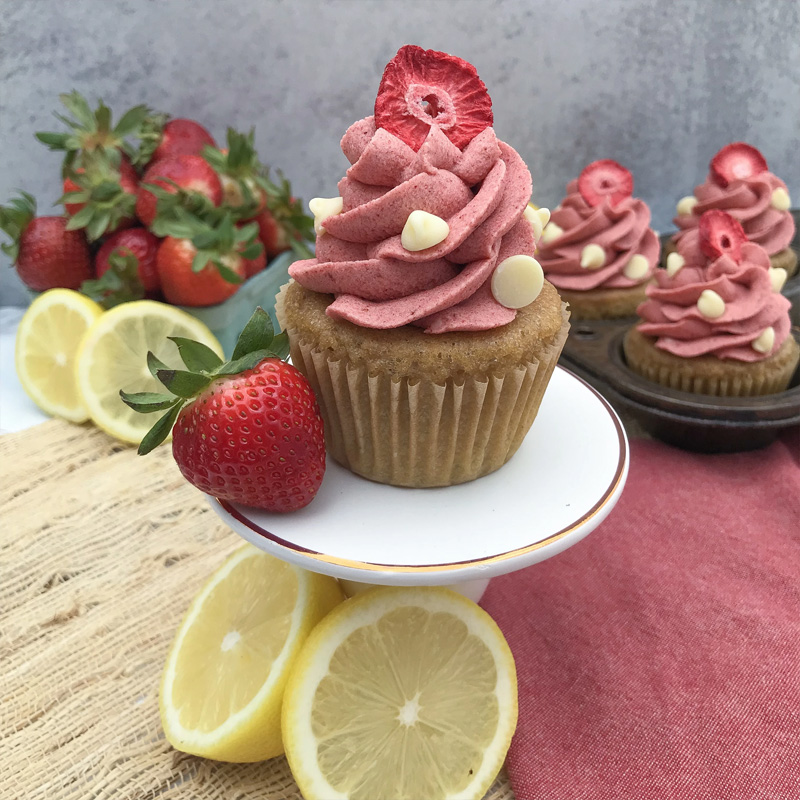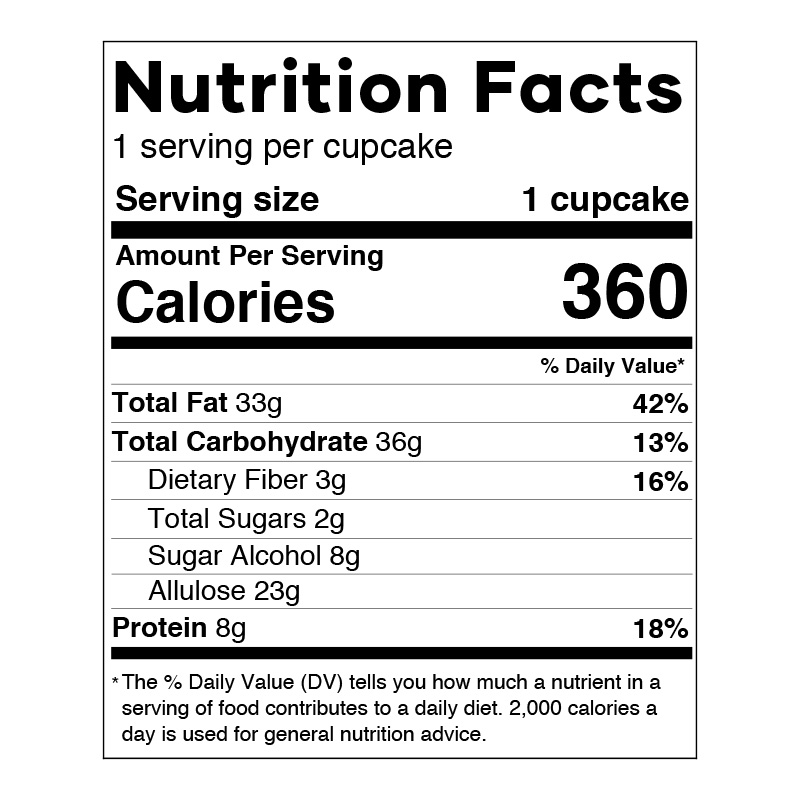 ---
Chocolate Cupcakes w/ Cherry Frosting
2g Net Carbs
Ingredients: Eggs, Almond Flour, Sweetener Blend [erythritol, monk fruit], Coconut Milk, Cocoa Powder, Vanilla, Redmond Salt, Baking Soda
Frosting: Allulose, Organic Palm Shortening, Freeze-Dried Raspberries, Vanilla
Online Keto Cupcake Order (weekly flavor option)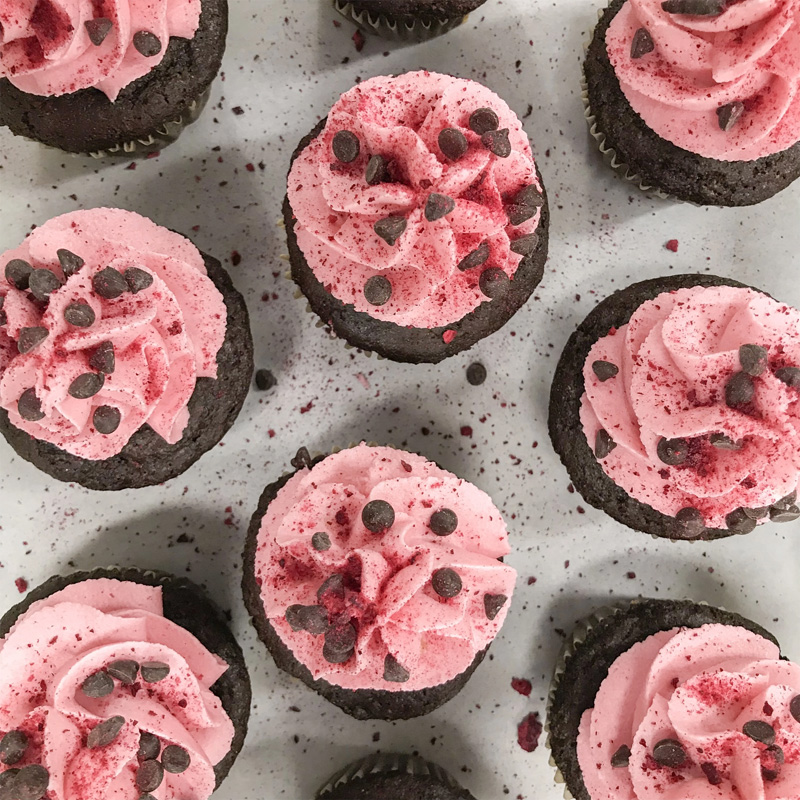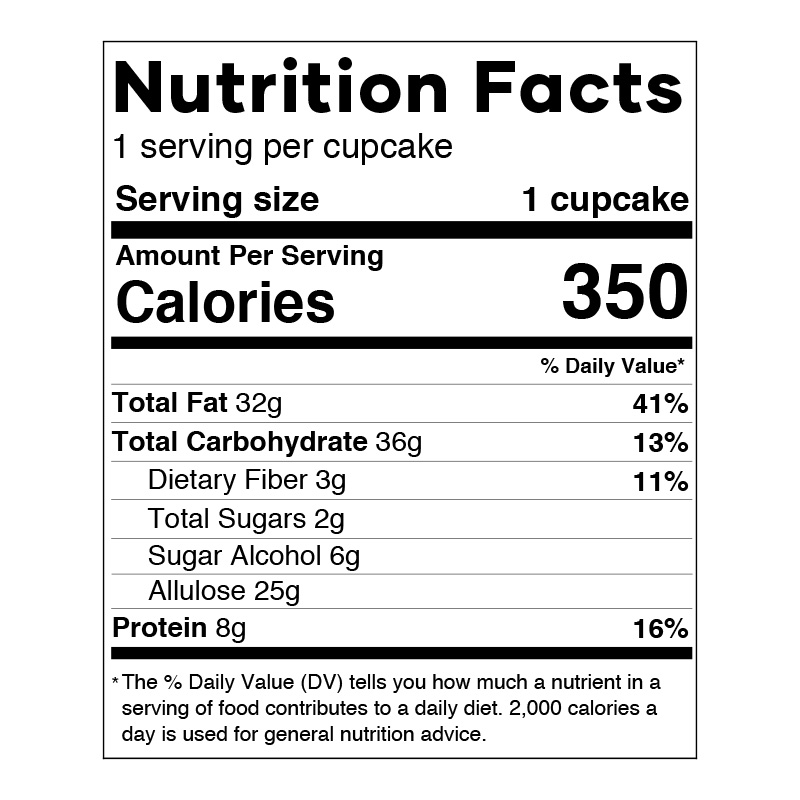 ---
Vanilla Cupcakes w/ Lime Frosting & Toasted Coconut
4g Net Carbs
Ingredients: Eggs, Almond Flour, Sweetener Blend [erythritol, monk fruit], Coconut Milk, Vanilla, Redmond Salt, Baking Soda
Frosting: Allulose, Organic Palm Shortening, Vanilla, Natural Colors [derived from plants], Cold Pressed Lime Oil
Topping: Toasted Unsweetened Coconut
Online Keto Cupcake Order (weekly flavor option)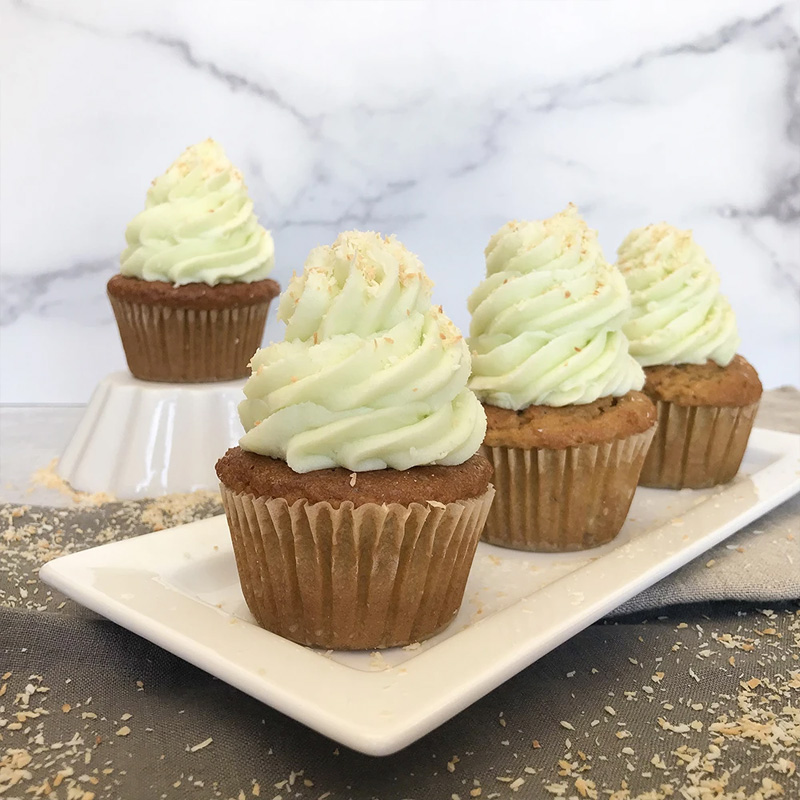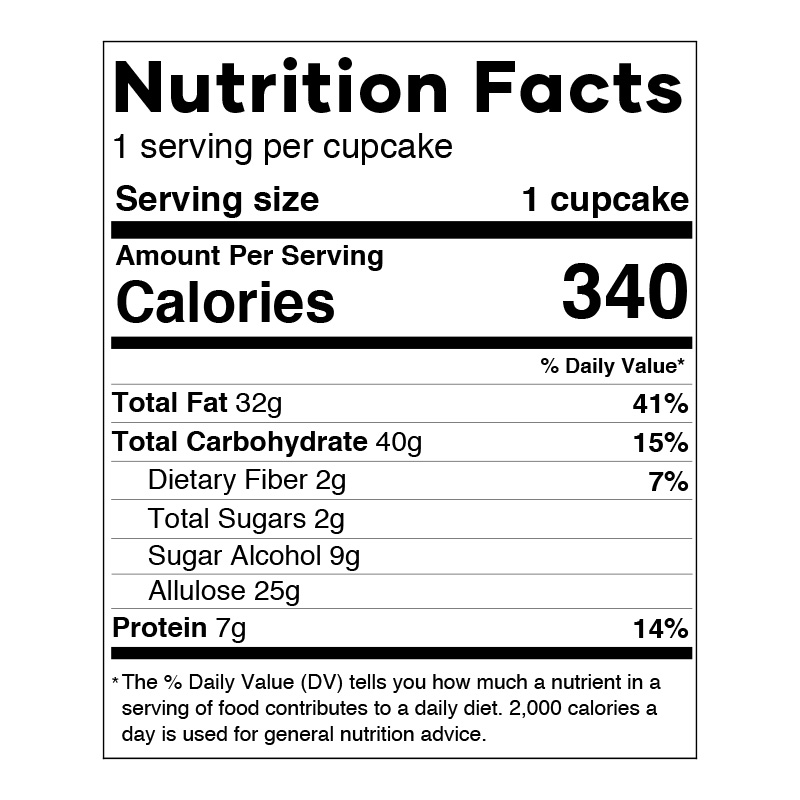 ---
Chocolate Chip Soft-Batch Cookies
3g Net Carbs
Ingredients: Allulose, Almond Flour, cardnl Chocolate Chips, Almond Butter, Eggs, Coconut Flour, Butter, Cocoa Butter, Vanilla, Baking Soda, Redmond Salt
Buy Keto Chocolate Chip Soft Batch Cookies Online
Buy the Keto Chocolate Chip Ingredient Bundle Online
Keto Chocolate Chip Cookies Recipe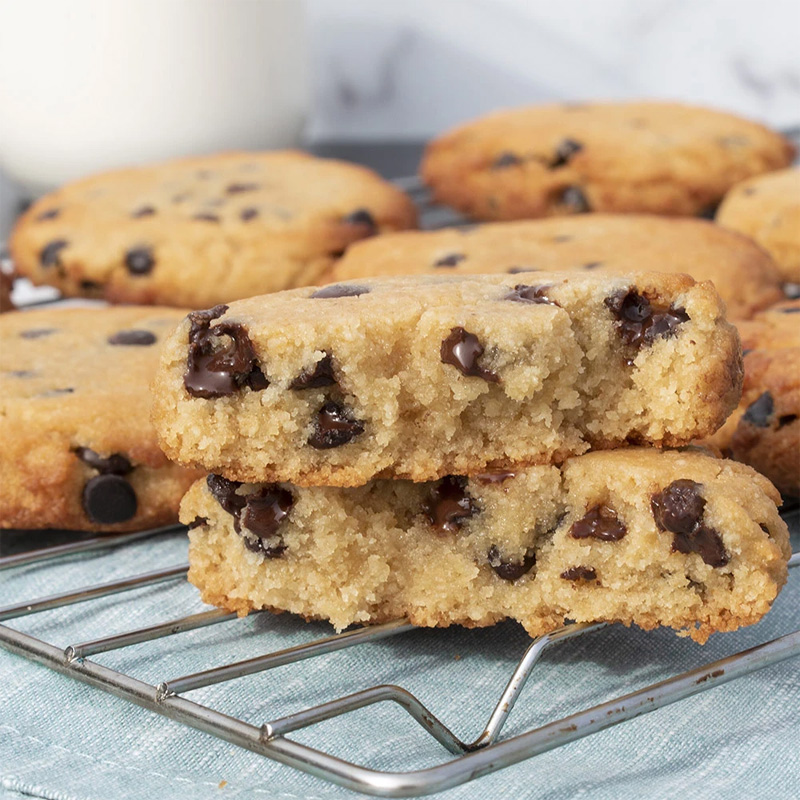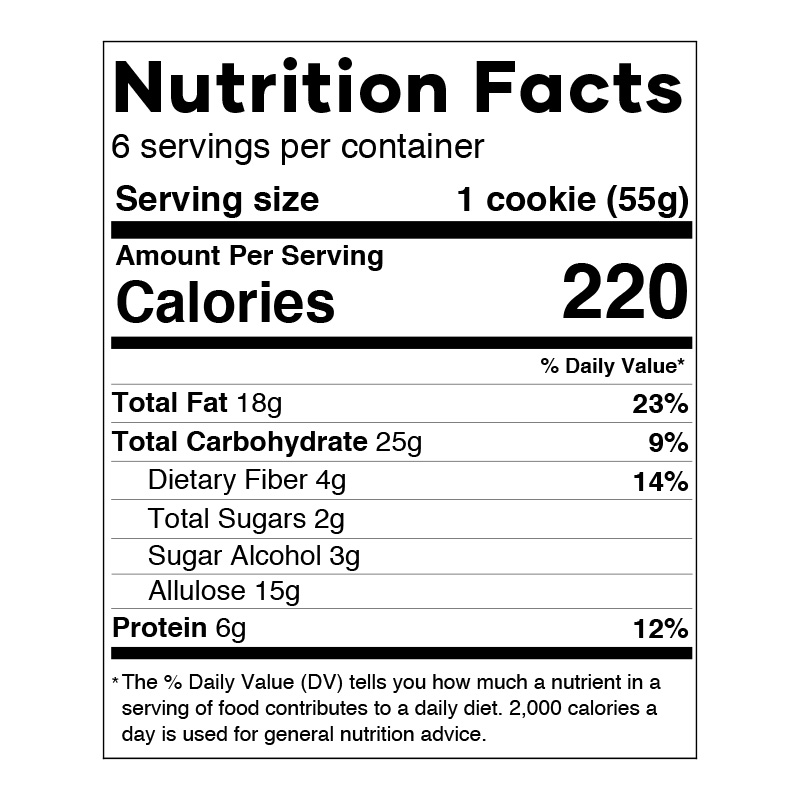 ---
Double Chocolate Soft-Batch Cookies
3g Net Carbs
Ingredients: Allulose, Almond Flour, cardnl Chocolate Chips, Almond Butter, Eggs, Coconut Flour, Butter, Cocoa Butter, Cocoa Powder, Vanilla, Baking Soda, Redmond Salt
Buy Keto Double Chocolate Soft Batch Cookies Online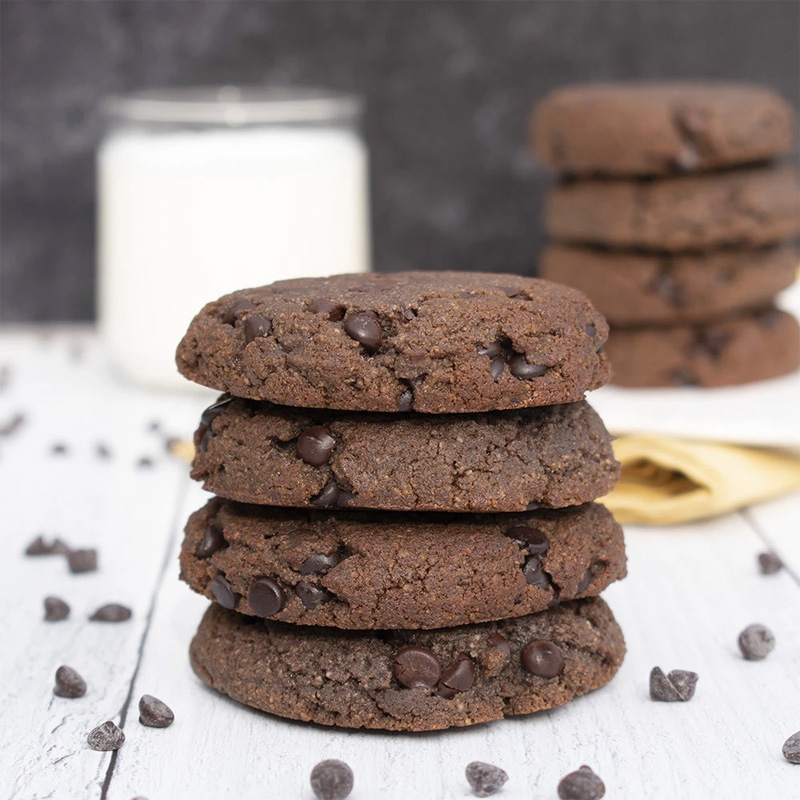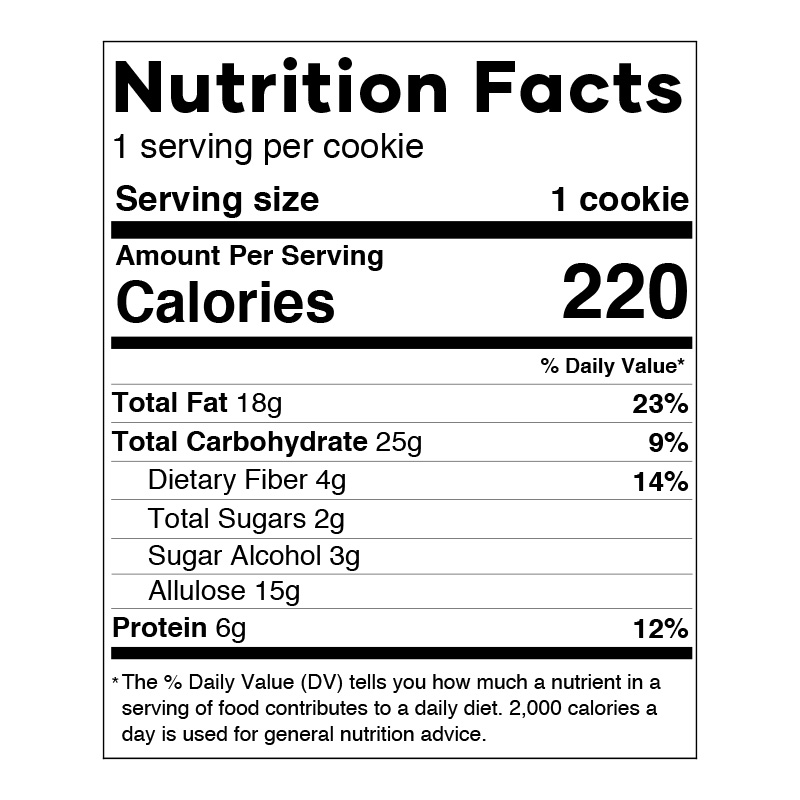 ---
Cranberry Orange Soft-Batch Cookies
3g Net Carbs
Ingredients: Allulose, Almond Flour, Almond Butter, Eggs, Coconut Flour, Butter, Cocoa Butter, Cranberries, Vanilla, Orange Oil, Baking Soda, Redmond Salt
Buy Keto Cranberry Orange Soft Batch Cookies Online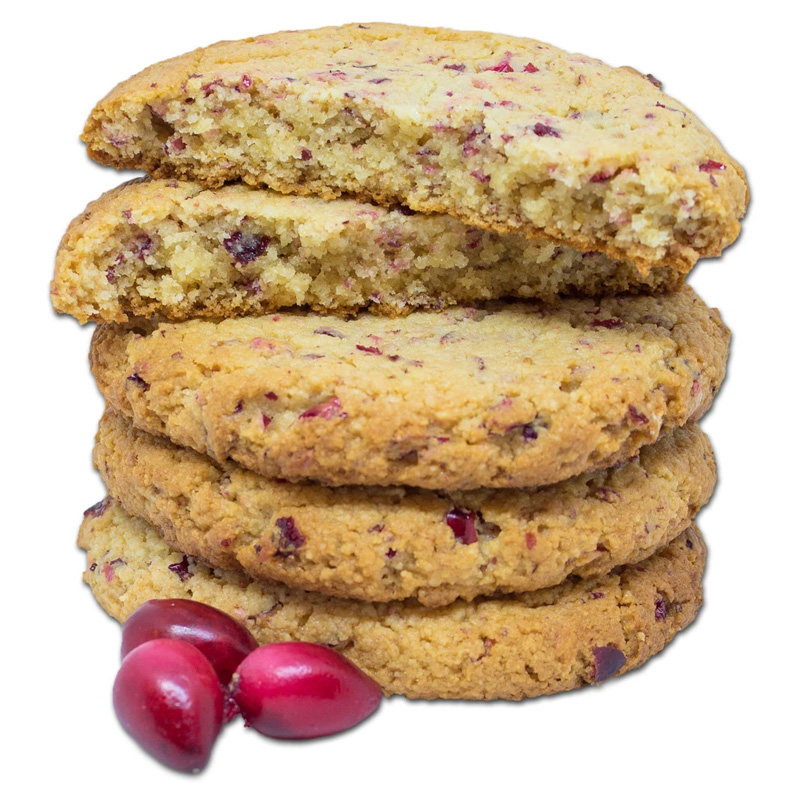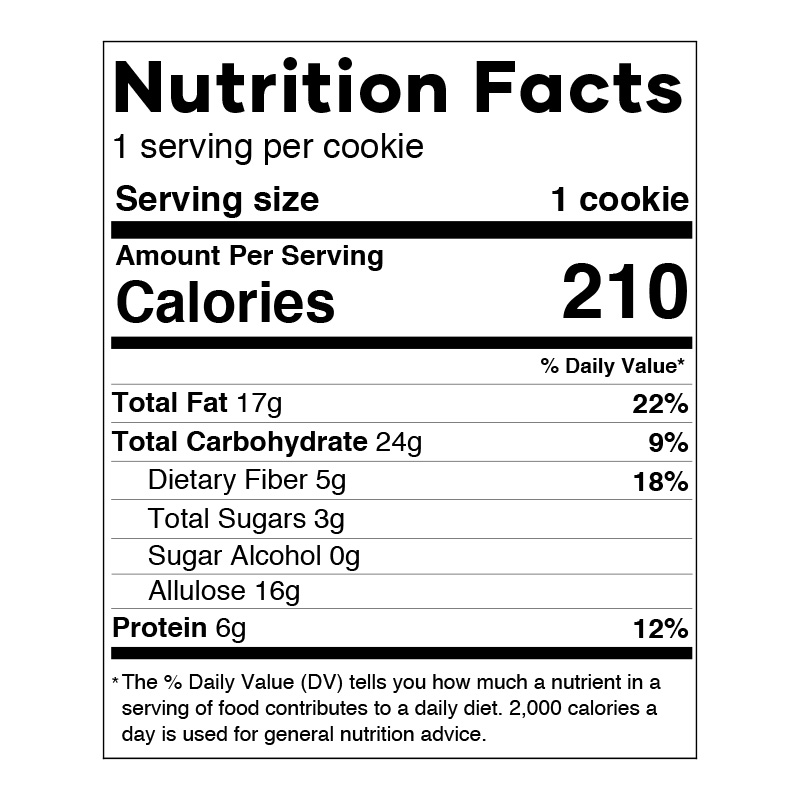 ---
Cinnamon Roll Soft-Batch Cookies
2g Net Carbs
Ingredients: Almond Flour, Allulose, Almond Butter, Eggs, Butter, Cocoa Butter, Coconut Flour, Sweetener (erythritol, monk fruit), Ceylon Cinnamon, Vanilla, Baking Soda, Redmond Salt
Buy Keto Cinnamon Roll Soft Batch Cookies Online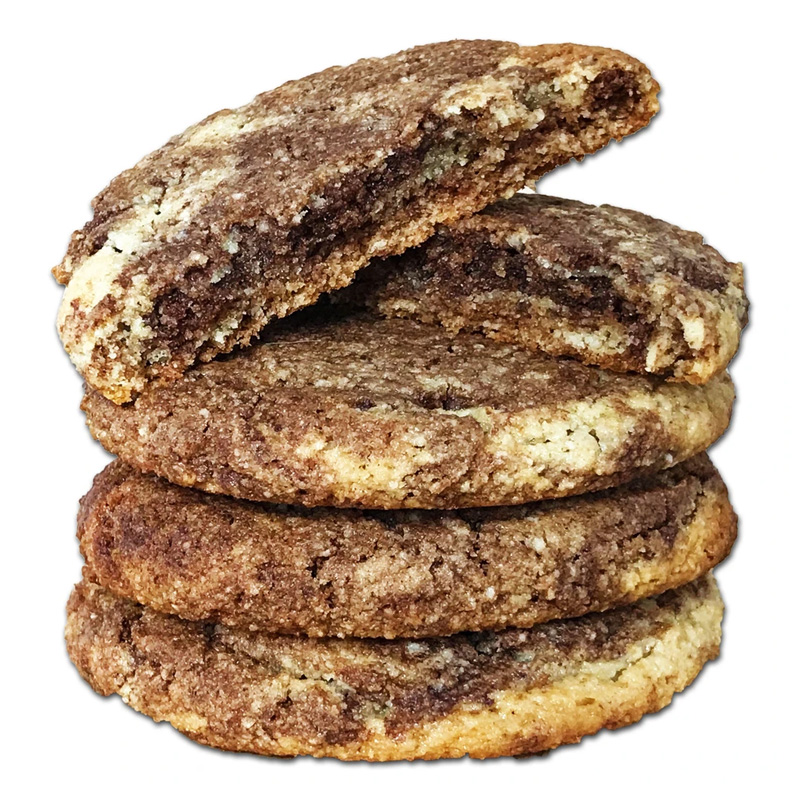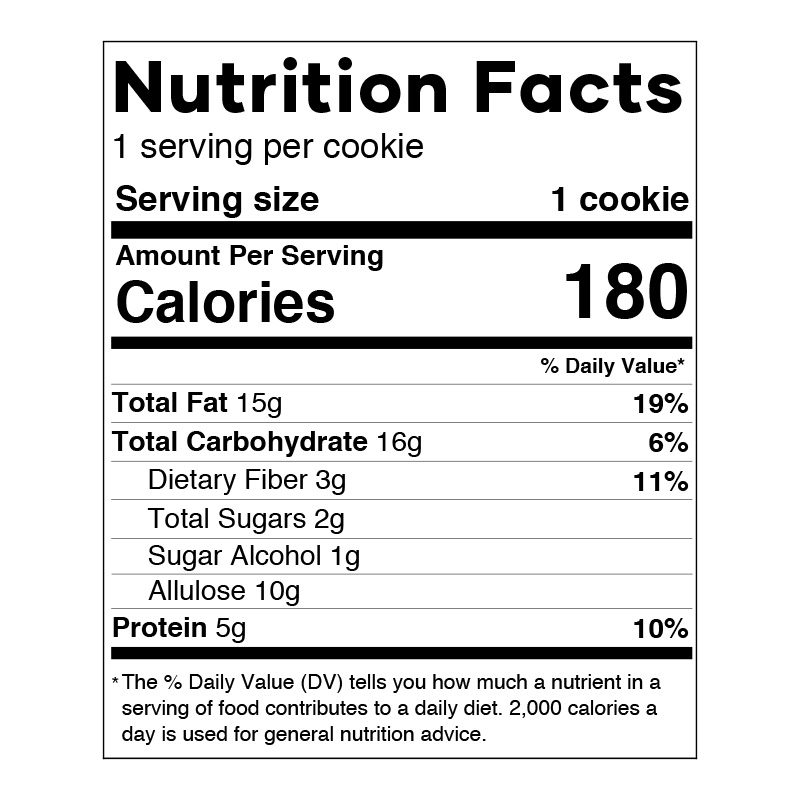 ---
Chocolate Chip Cookie Dough
3g Net Carbs
Ingredients: Allulose, Almond Flour, cardnl Chocolate Chips, Almond Butter, Eggs, Butter, Cocoa Butter, Coconut Flour, Vanilla, Baking Soda, Redmond Salt
Buy Chocolate Chip Cookie Dough Online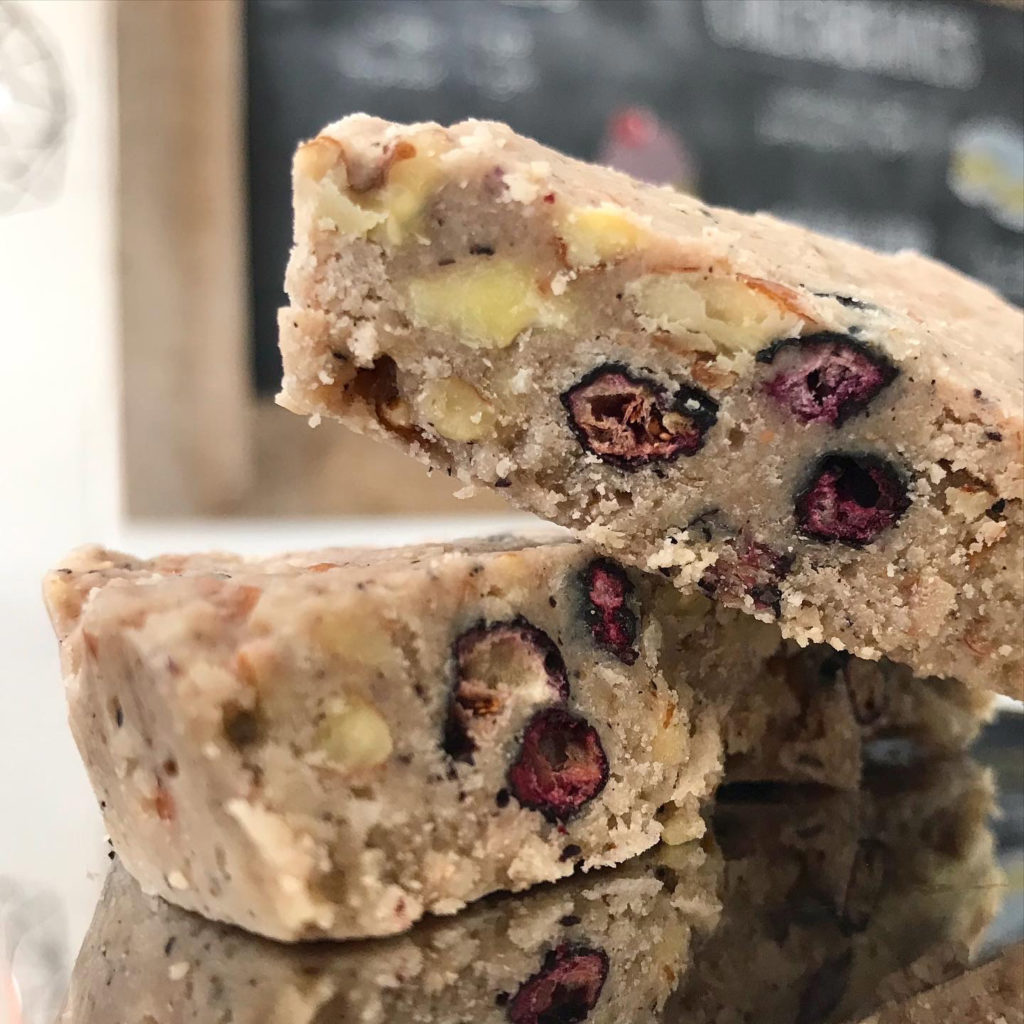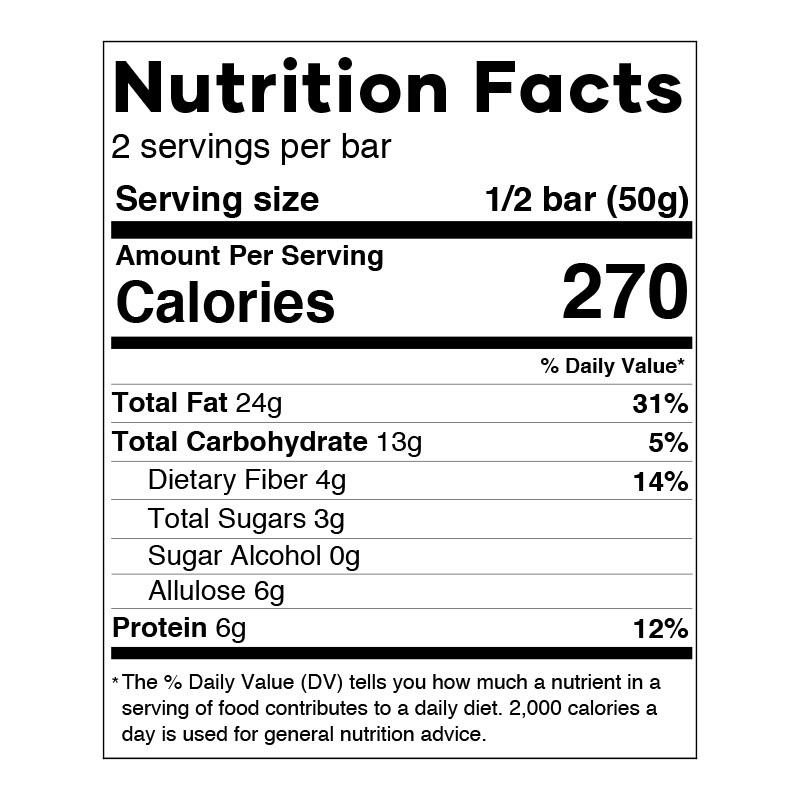 ---
Cinnamon Candied Pecans
1g Net Carb
Ingredients: Pecans, Allulose, Sweetener Blend [erythritol, monk fruit], Butter, Egg Whites, Ceylon Cinnamon, Redmond Real Salt
Buy Keto Cinnamon Candied Pecans Online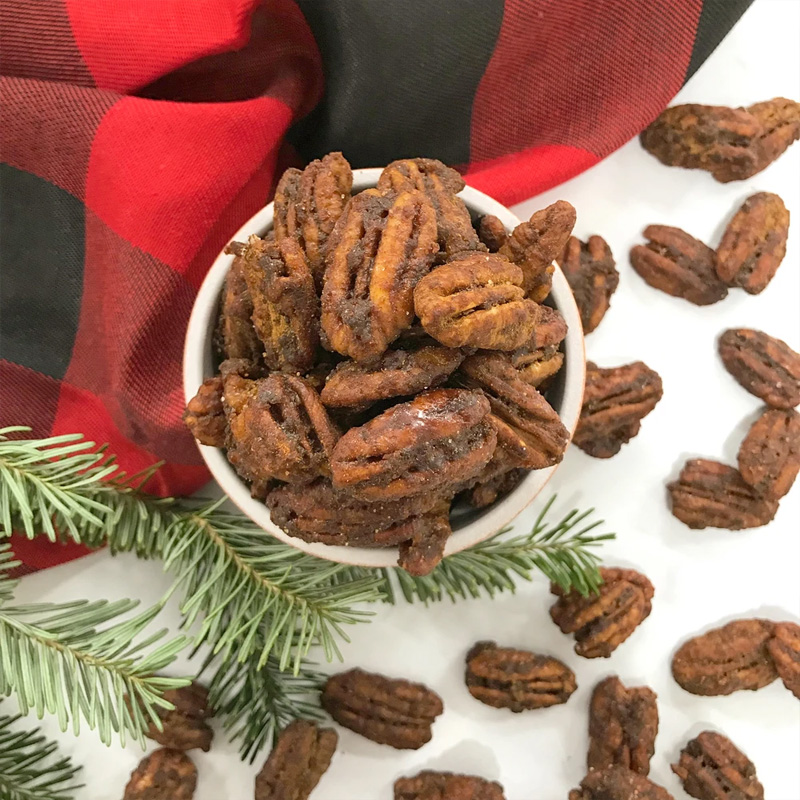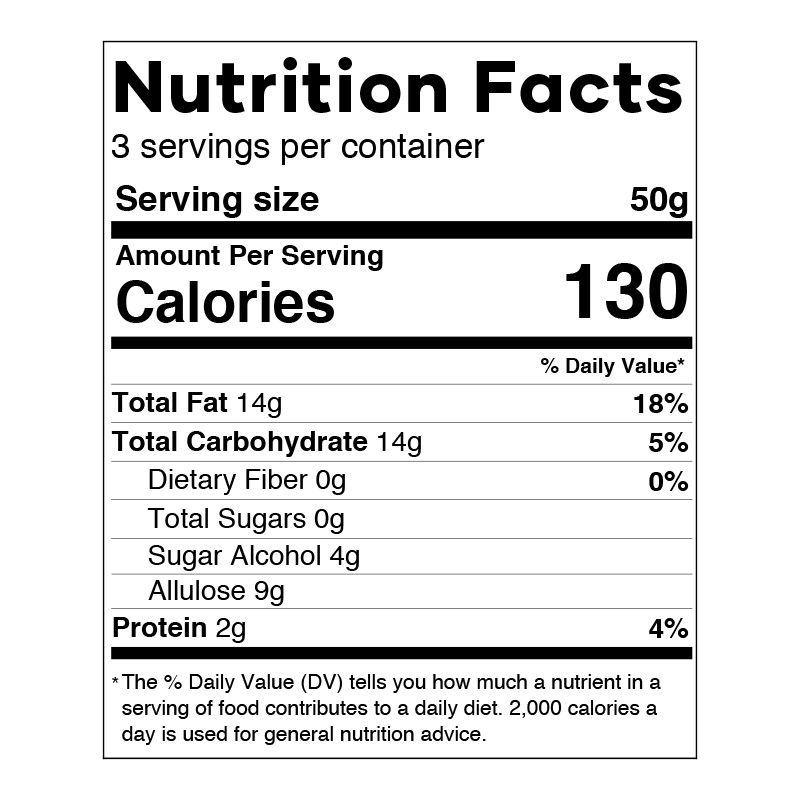 ---
Strawberry Candied Pecans
1g Net Carb
Ingredients: Pecans, Allulose, Sweetener Blend [erythritol, monk fruit], Butter, Egg Whites, Strawberries, Redmond Salt
Buy Keto Strawberry Candied Pecans Online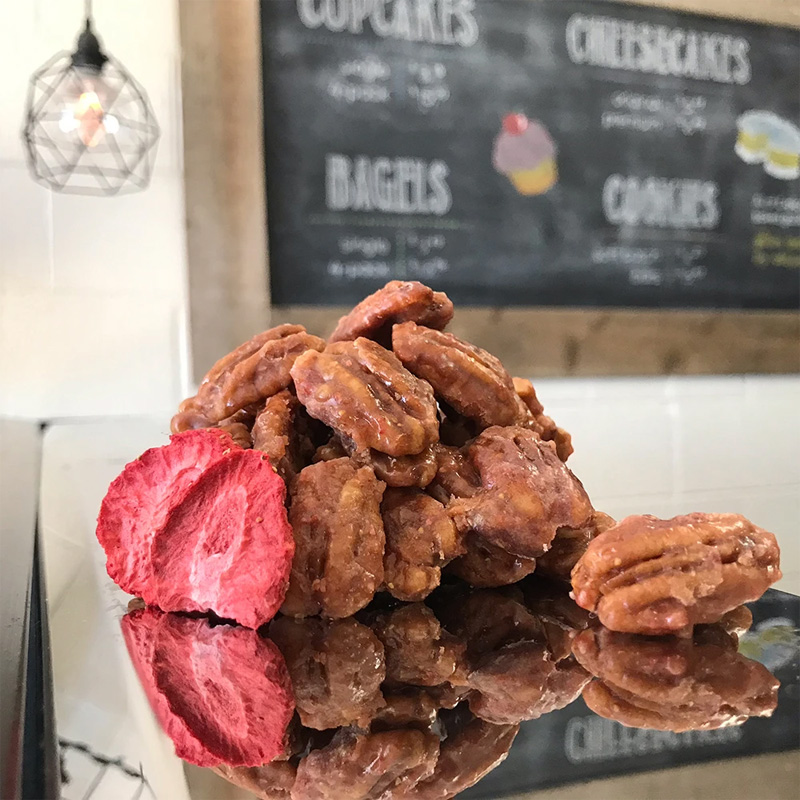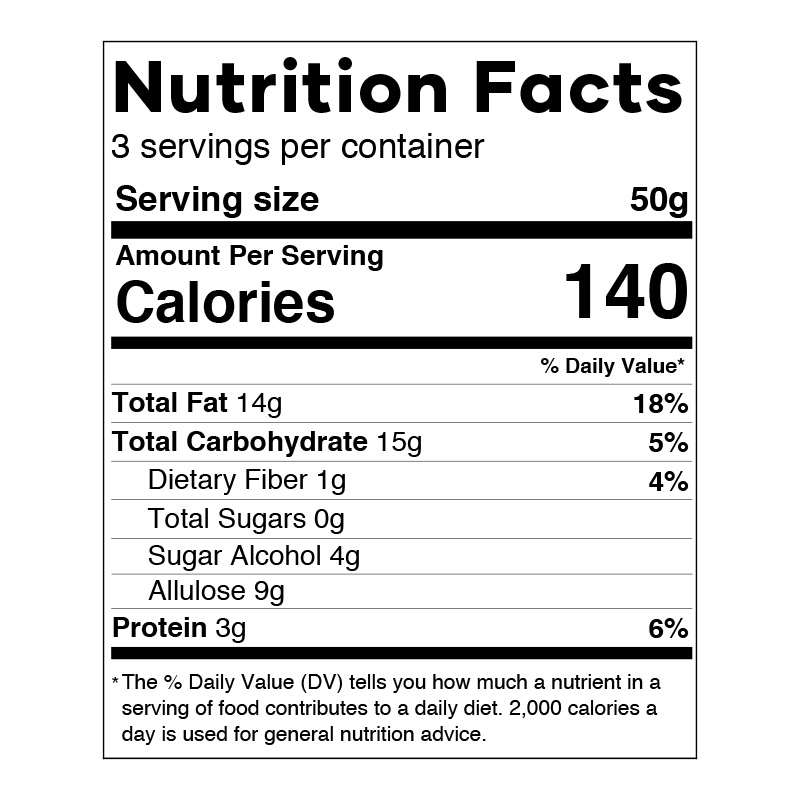 ---
Mexican Cocoa Candied Pecans
1g Net Carb
Ingredients: Pecans, Allulose, Sweetener Blend [erythritol, monk fruit], Butter, Egg Whites, Cocoa Powder, Ceylon Cinnamon, Redmond Salt
Buy Keto Mexican Chocolate Candied Pecans Online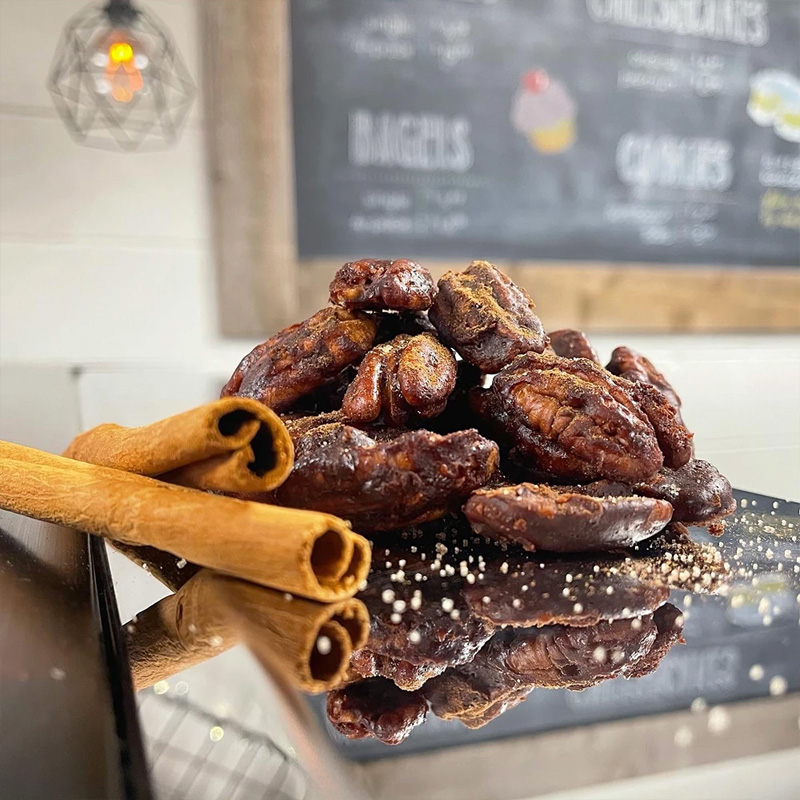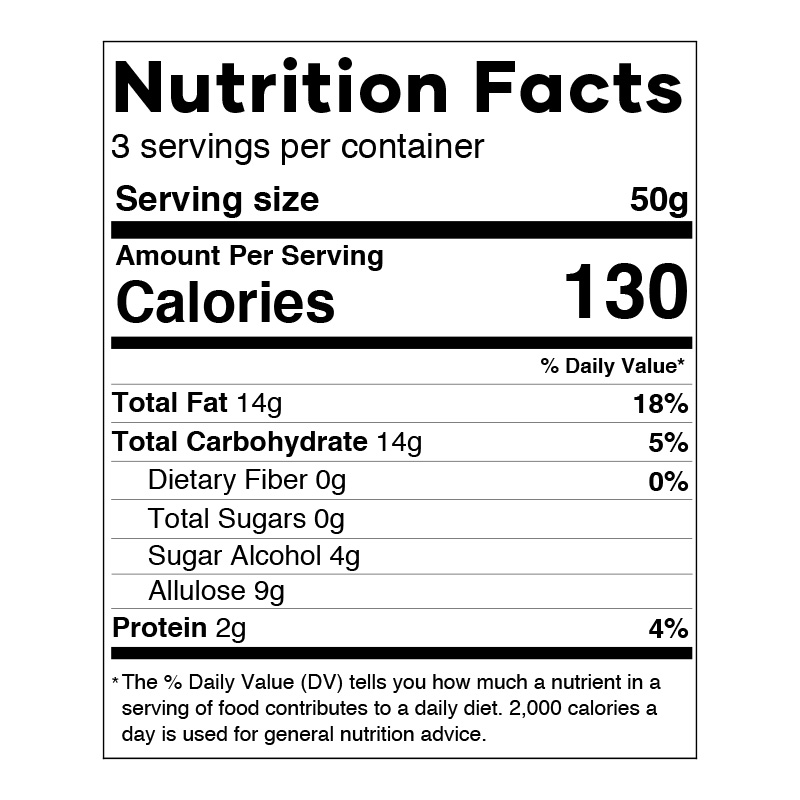 ---
Artisan Bread
2g Net Carbs
Ingredients: Almond Flour, Egg Whites, Roasted Pumpkin Seeds [in coconut oil], Roasted Sunflower Seeds [in coconut oil], Ground Flax Seeds, Ground Psyllium Husk, Coconut Flour, MCT Oil [from coconuts], Yeast, Corn-Free Baking Powder [cream of tartar, baking soda], Redmond Real Salt, Apple Cider Vinegar, Clover Honey, Ginger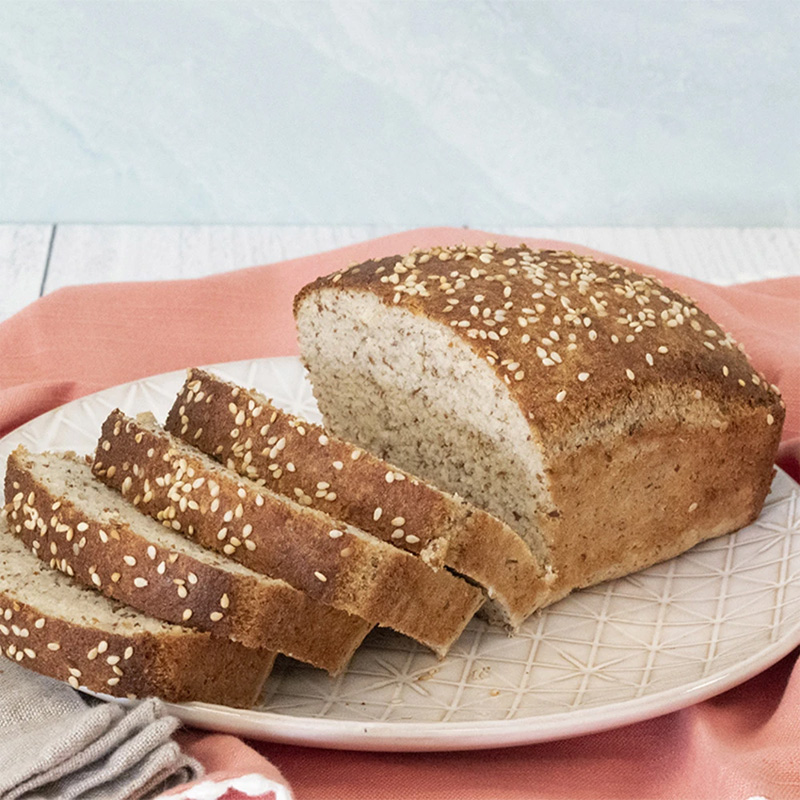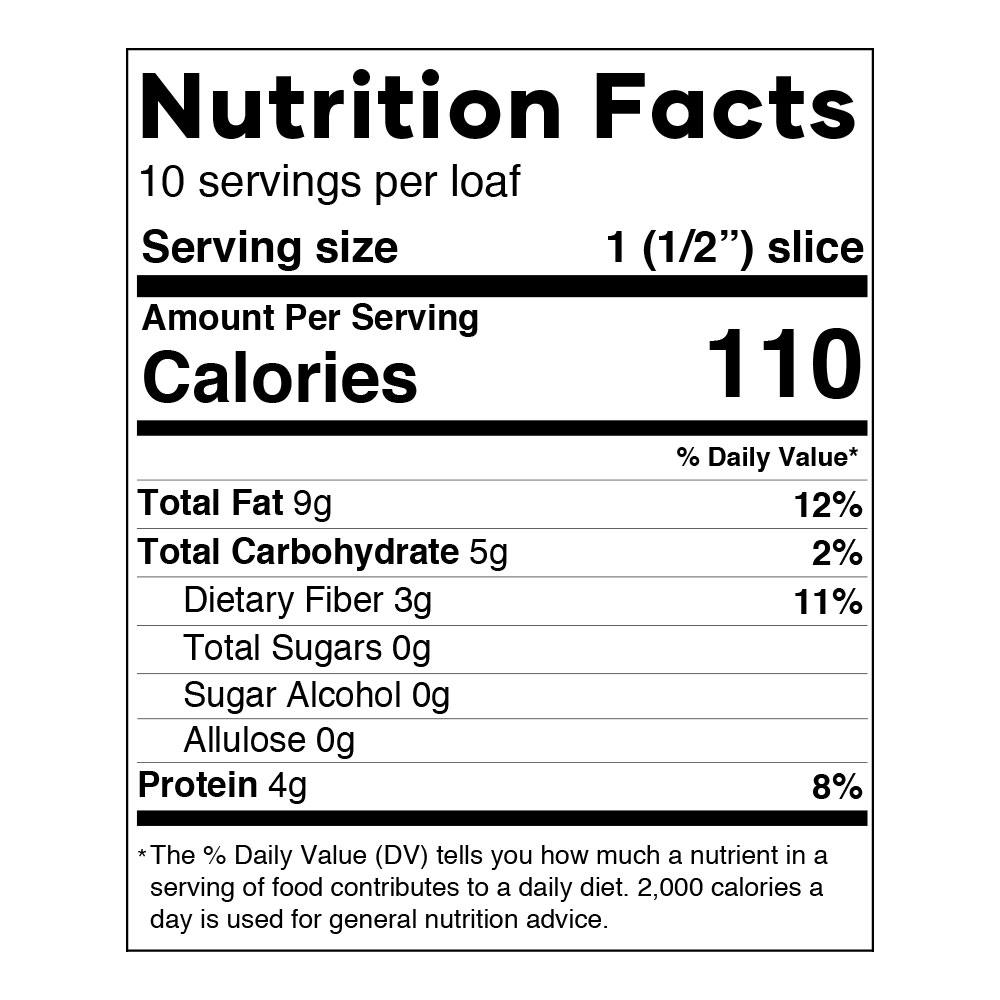 ---
Everything Bagel
4g Net Carbs
Ingredients: Mozzarella Cheese, Almond Flour, Eggs, Cream Cheese, Everything Bagel Seasoning [sesame seeds, salt, dehydrated garlic, dehydrated onion, black sesame seeds, poppy seeds], Cream of Tartar, Baking Soda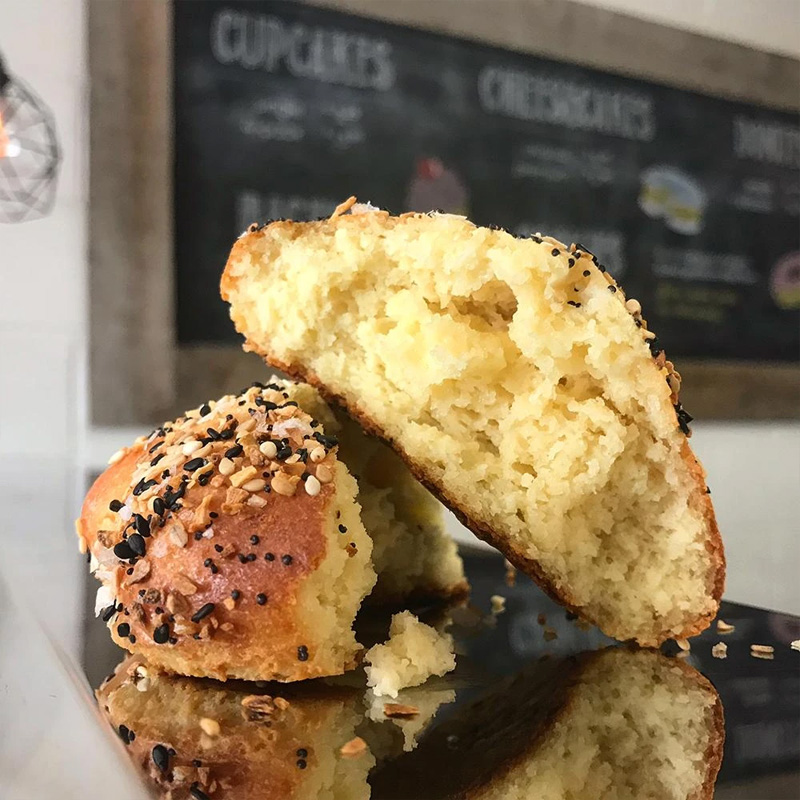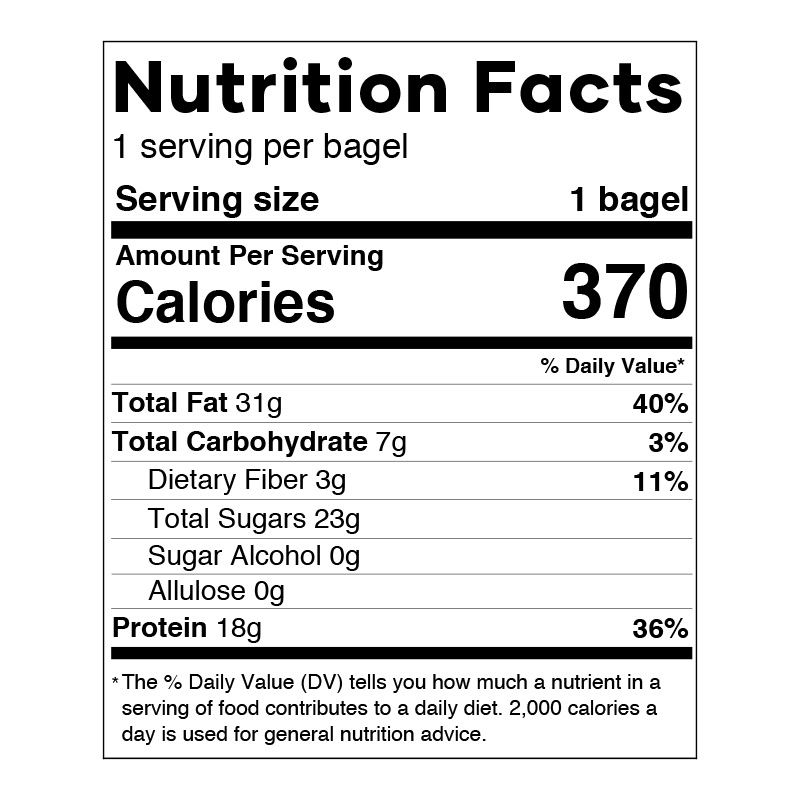 ---
Dairy-Free Vanilla Frosting
0g Net Carbs
Ingredients: Allulose, Organic Palm Shortening, Vanilla
Buy Vanilla Keto Frosting Online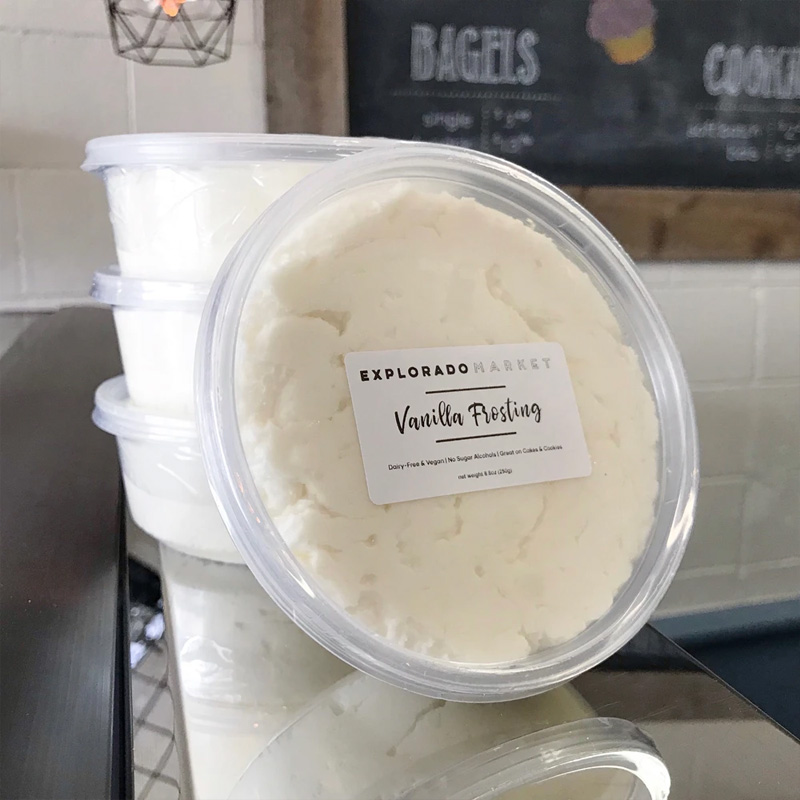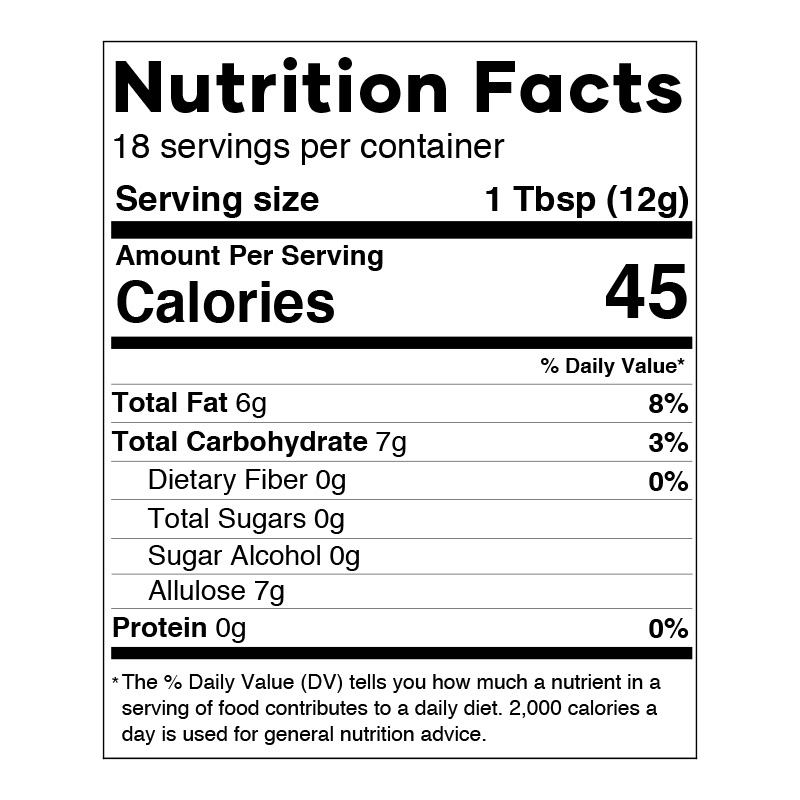 ---
Dairy-Free Strawberry Frosting
0g Net Carbs
Ingredients: Allulose, Organic Palm Shortening, Vanilla, Strawberries
Buy Strawberry Keto Frosting Online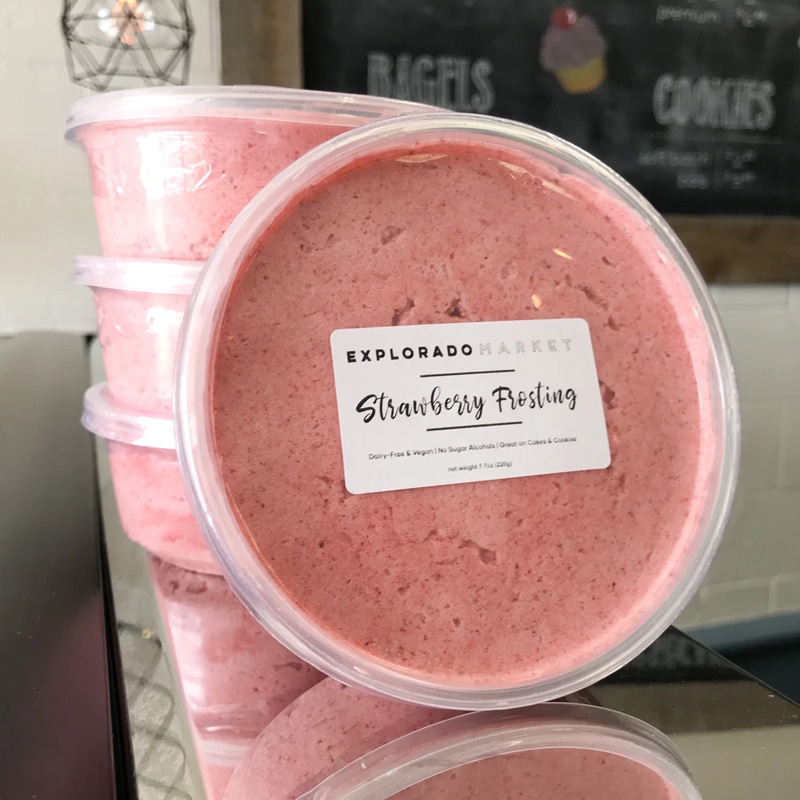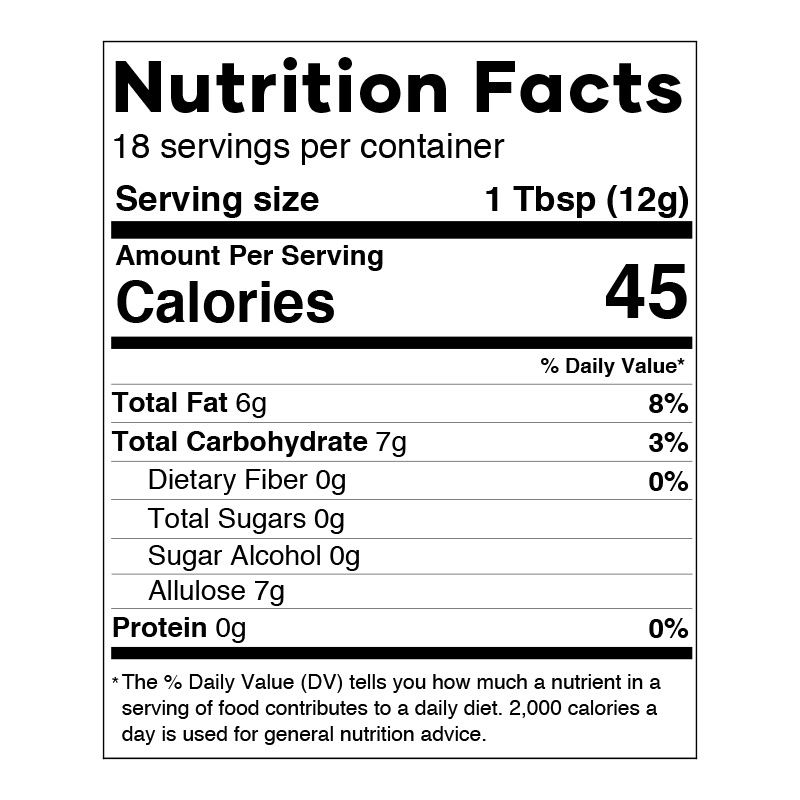 ---
Holiday Keto Bark
2g Net Carbs
Ingredients: cardnl Chocolate Chips, White Chocolate Chips [erythritol, cocoa butter, milk (rBST free), dextrin, chicory root fiber, sunflower lecithin, natural flavor, salt, stevia extract], Organic Coconut Oil, Pepitas [roasted in coconut oil], Freeze-Dried Cranberries, Unsweetened Coconut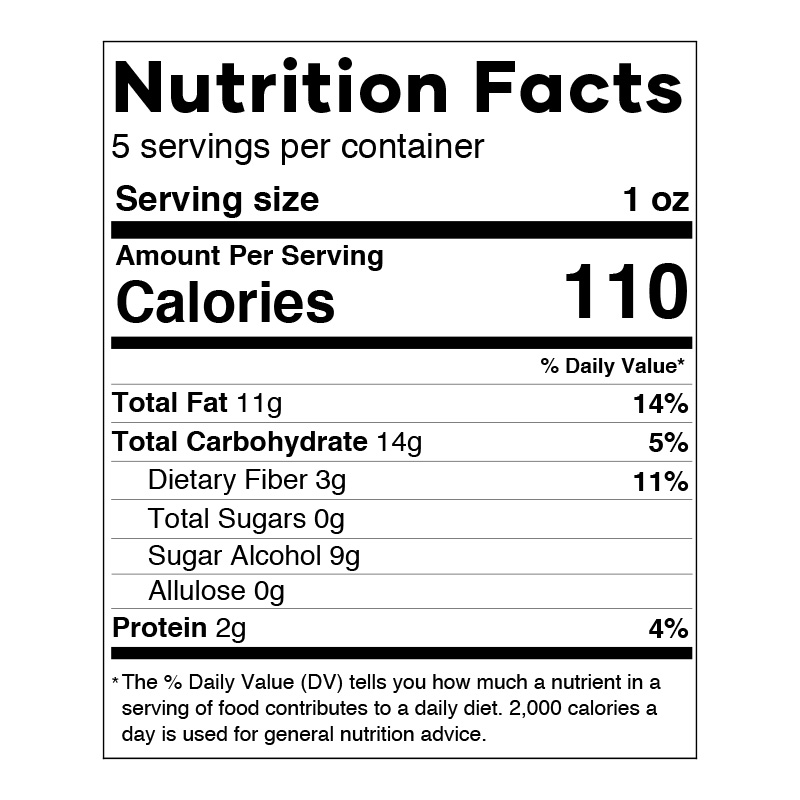 ---
Chocolate Cake Balls
1g Net Carbs
Ingredients: Eggs, Almond Flour, cardnl Dairy-Free Vanilla Frosting [allulose, palm shortening, vanilla], Sweetener [erythritol, monk fruit], Coconut Milk, Cocoa Powder, Vanilla, Redmond Salt, Baking Soda
Coating: cardnl Chocolate Chips, Coconut Oil
Get the Keto Chocolate Cake Balls Recipe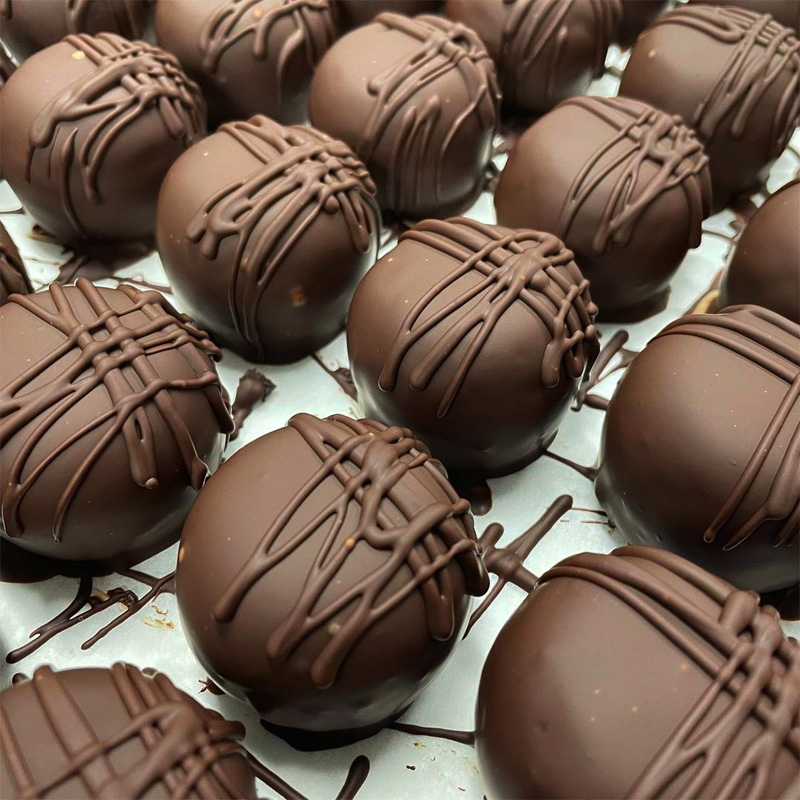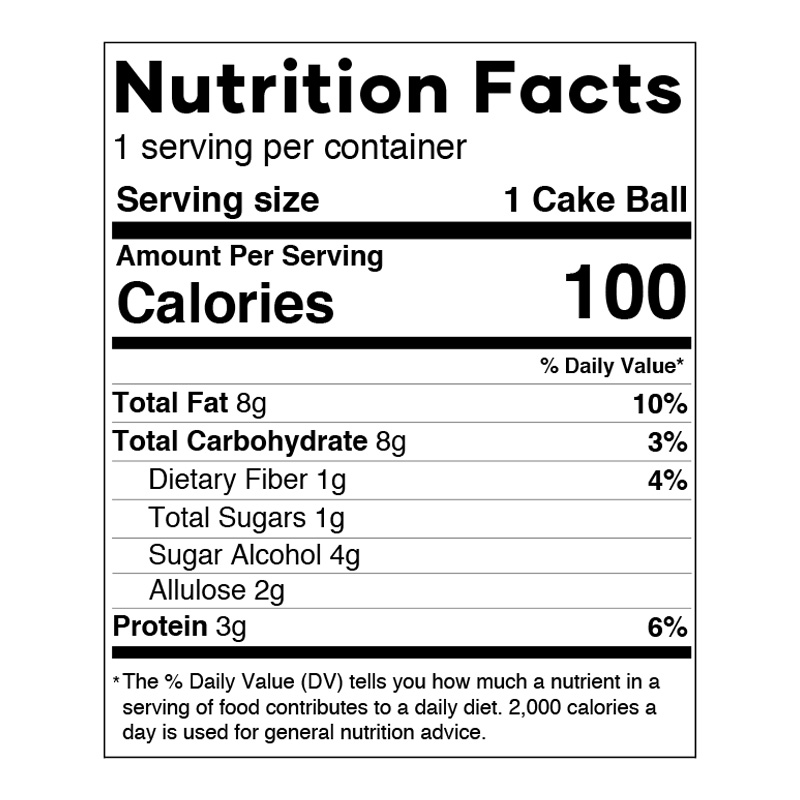 ---