Last Updated on July 31, 2021
The very first time I made cake balls was early 2009. About a year before Pinterest, and before many people were on social media for that matter. I don't recall where I stumbled across the idea of cake balls. Possibly Martha Stewart? I did watch a lot of her show during my early mothering years…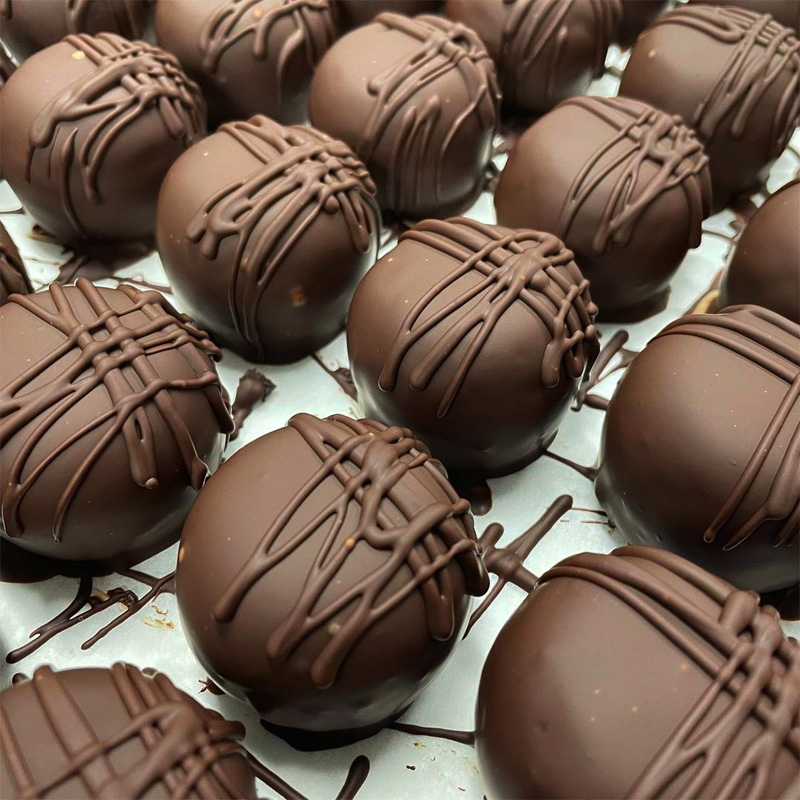 In any case, the concept of using cake scraps and turning them into a completely different treat was such a novel and fun idea. These days, I don't even bother waiting to have cake scraps, I'll bake a cake with the sole purpose of making cake balls, because honestly, they're really just that fun to eat.
And they make adorable gifts. In our bakery, we wrap them up individually and in little 4-packs. Just look how cute they are, all packaged up ❤️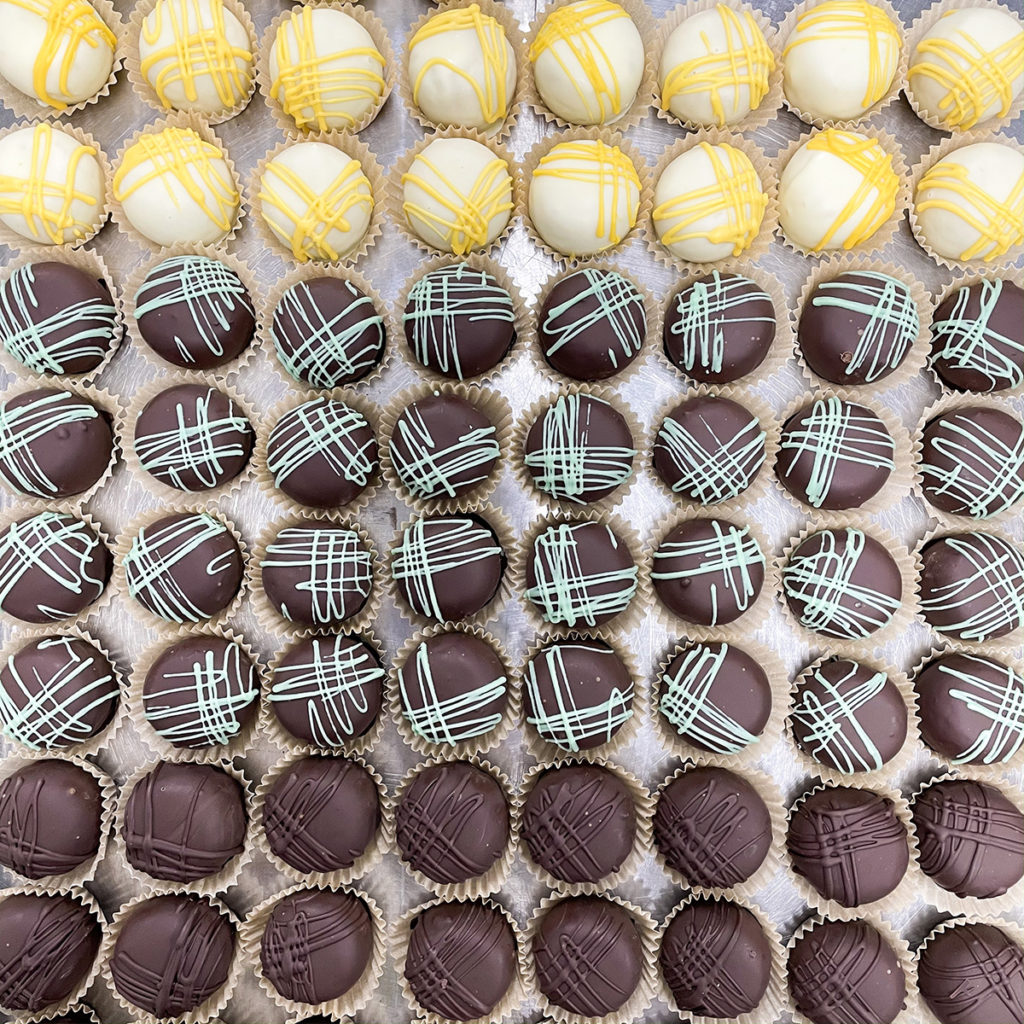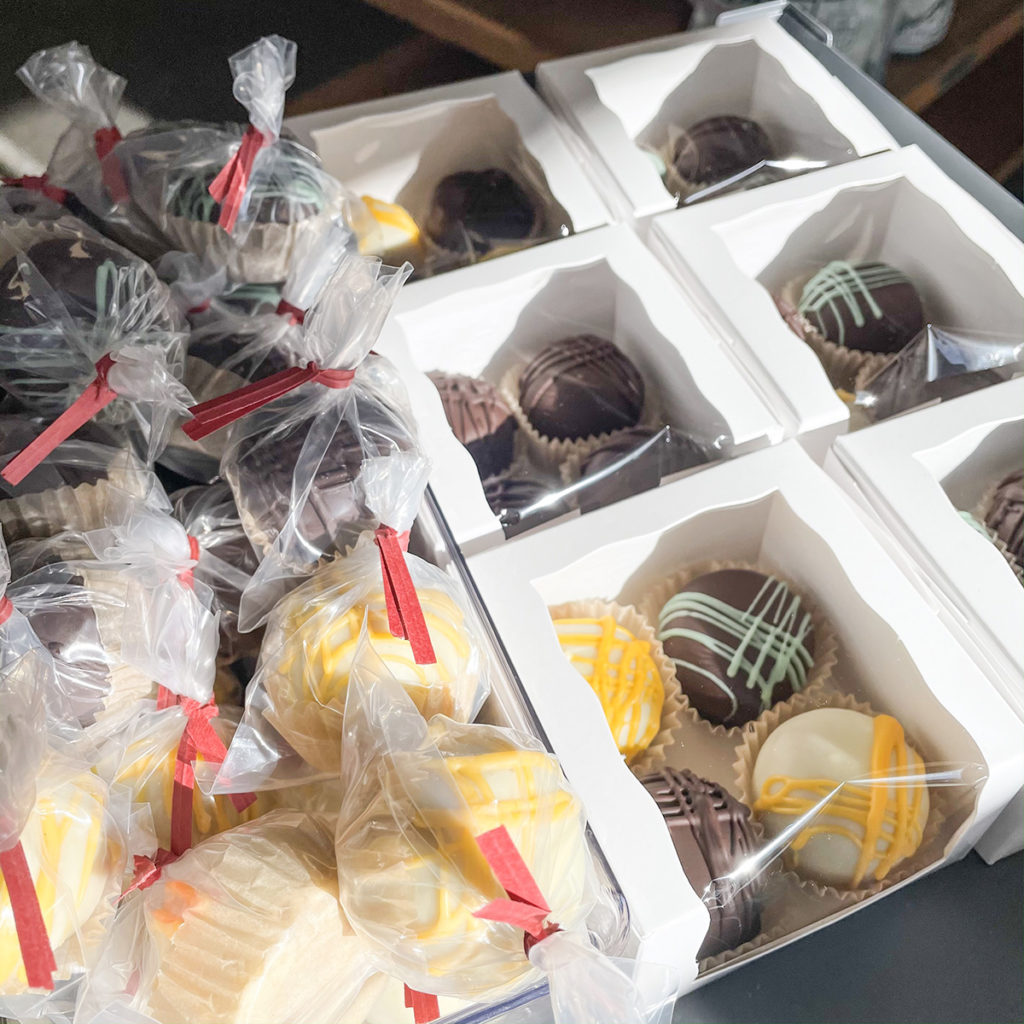 We make these at cardnl and sell them locally, but why should the locals have all the fun? This recipe is the same one we use in our bakery, and now you can enjoy it yourself at home.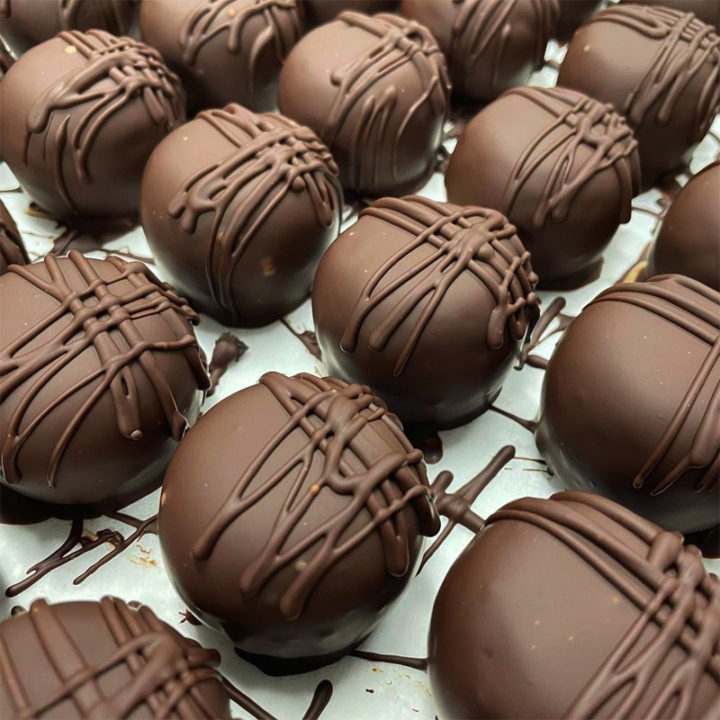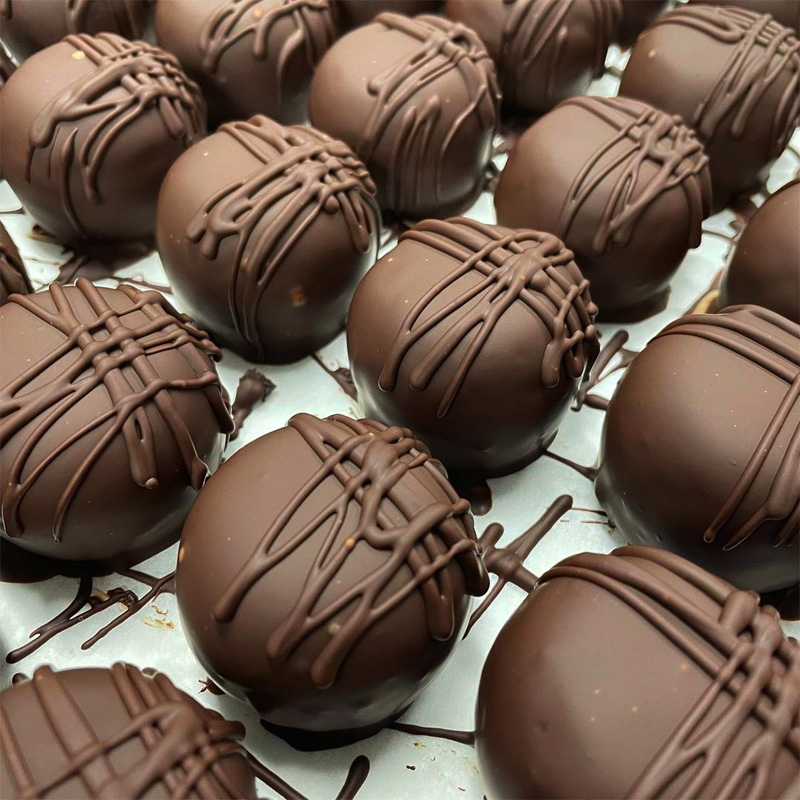 Keto Chocolate Cake Balls
Additional Time:
30 minutes
Total Time:
1 hour
20 minutes
Ingredients
1/3 cup Coconut Milk (or milk of your choice)
2 1/2 Tbsp Vanilla Extract
1 Tbsp Coconut Oil
Instructions
Preheat oven to 325°F. Line a 9x13 baking pan with parchment paper (up the sides too). Set aside.
Combine all ingredients except frosting, chocolate chips, and coconut oil. Mix until smooth (you can do this by hand, no need for any electric mixers).
Pour batter into prepared baking dish and bake in the preheated oven for about 20 minutes, or until the center springs back when pressed.
Let cool completely. When cooled, dig into the cake with your hands and crumbled it all up into small pieces (try to get rid of any large chunks).
Mix the frosting into the crumbled cake and smush together until smooth and playdough-like. It's ready to go when there is no visible frosting and the mixture holds its shape when pressed together.
Using a small or medium cookie scoop, scoop out the mixture into uniform-sized balls. Roll into balls, compressing as you go to keep it from crumbling apart. Alternately, pack mixture tightly into silicone truffle molds (this will result in perfectly uniform cake balls).
Pop cake balls in the freezer for about 30 minutes, or until firm and chilled. They will be much easier to dip when frozen.
While the cake balls are chilling, melt the chocolate chips and coconut oil in the microwave in 30 second intervals, stirring between each one, until completely melted and smooth. Alternately, heat over a double boiler.
Pop a chilled cake ball into the melted chocolate and coat completely (I like to use a fork for this). Scoop the coated cake ball out o fthe chocolate with the fork, and slide it off onto a piece of parchment paper (a toothpick works great for this task).
Before the chocolate sets completely, top with any desired toppings (unless drizzling with more chocolate, then let them coating harden completely so it gives a raised texture).
Store cake balls in the fridge in a sealed container or bag.
Notes
** NOTE ** Yield and nutrition facts are based on 25 truffles (about a medium scoop size). If you are making smaller or larger balls, your yield and nutrition will differ.
Nutrition Information
Yield

25 cake balls
Serving Size

1 cake ball
Amount Per Serving
Calories

185
Total Fat

17g
Carbohydrates

20g
Net Carbohydrates

3g
Fiber

3g
Sugar

1g
Sugar Alcohols

14g
Protein

5g