Last Updated on August 3, 2021
It's tough finding the right Keto bread recipe, there's a lot of garbage out there. This Keto bread is gluten free, grain free, soy free, and filler free. + It's perfectly diabetic friendly and great for anyone on a low-carb or ketogenic diet. This bread does not raise blood sugar. We've tested it time and time again.
This bread recipe is the same bread we sell in our Keto bakery and have sold thousands of loaves. Save money by making it yourself at home. This Keto bread is really amazing toasted with almond butter and Keto jam or as an open face egg salad sandwich (just a few of my favorites).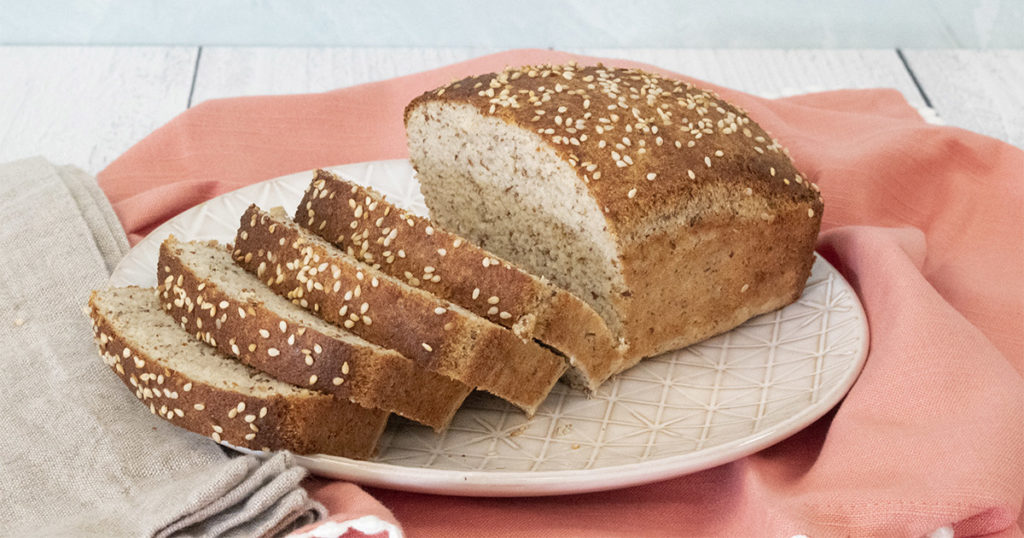 Keto Bread Mix
This recipe uses our inexpensive bread mix available at cardnl (online and in-store). We wanted to offer a low cost option for baking tasty, Keto bread at home. This mix helps you get it right every time. We go to great lengths sourcing the best/highest-quality ingredients with no fillers or weird anti-caking agents.
Using this Keto bread mix really helps you get a consistent and delicious loaf every time.
What Ingredients are used in the Keto Bread Mix?
Purchase the low carb bread mix here.
Almond Flour
Flax Seeds
Psyllium Husk
Coconut Flour
Yeast
Corn-Free Baking Powder [cream of tartar, baking soda]
Redmond Salt
Ginger
What else will I need to make this Keto bread?
4 egg whites
Hot water
1 Tbsp oil or butter
1 tsp vinegar
1 tsp honey – Wait, isn't honey high in carbs? Yes, alone it is. However, the honey is to feed the yeast, to help the bread rise, and not be too dense. The honey is simply feeding the yeast and results in a lower carb end product. It's also a very small amount and ends up being a negligible amount of carbs per slice.
Toppings, if desired
Everything you need for baking keto bread at home is located in the recipe card below. Enjoy delicious fresh baked, Keto bread anytime. No gluten. No fillers. No blood sugar spike.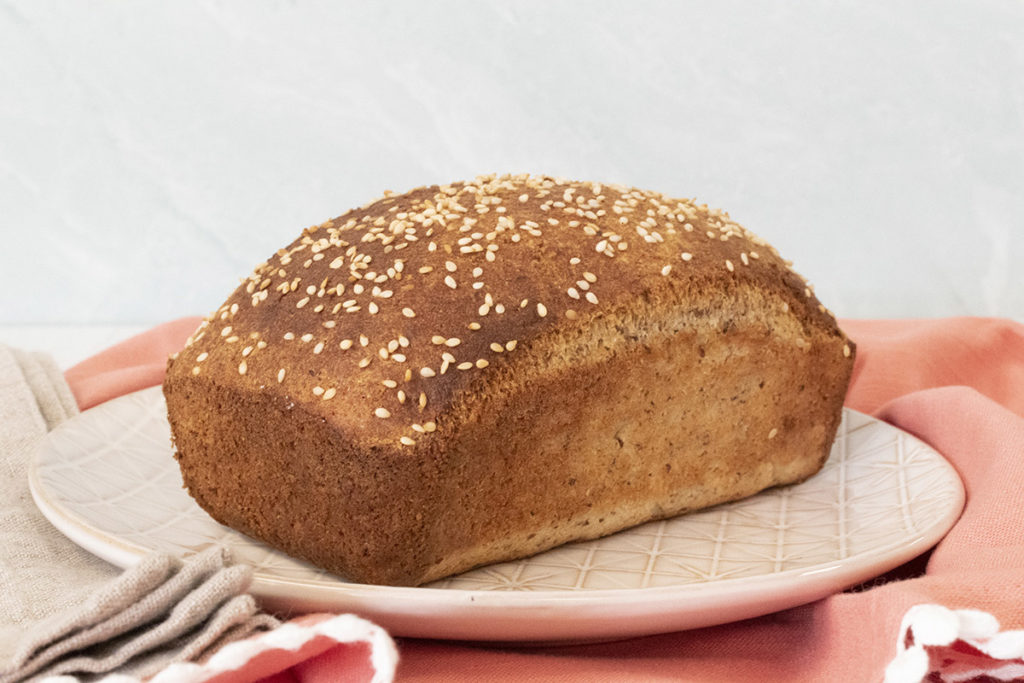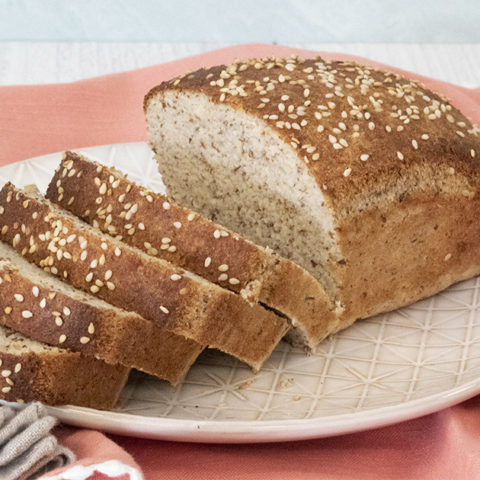 Keto Artisan Bread
Ingredients
4 lg Egg Whites
2/3 cup Hot Water
1 Tbsp MCT Oil or Butter, melted
1 tsp Apple Cider Vinegar
1 tsp Honey (to feed the yeast)
Instructions
Preheat oven to 375°F. Line a small loaf pan (see notes) with parchment paper and set aside.
With an electric mixer, beat egg whites until soft peaks form. Set aside.
Combine water, oil/butter, vinegar, and honey completely in a mixing bowl. Add the contents of the bread mix and stir with a wooden or silicone spatula until smooth and there are no lumps.
Very gently fold in the egg whites to the bread dough until fully combined.
Using wet hands, form bread dough into desired size/shape (buns, artisan loaf, dinner rolls, etc). Be gentle, making sure not to compress dough too tight. If using a loaf pan, place dough in the prepared loaf pan and gently smooth the top with wet fingers. Top with seeds or nuts, if desired.
Bake in the preheated oven for 40-50 minutes (full loaf size) or until the top is dark golden brown and it sounds slightly hollow when tapped on top. Let cool completely before slicing (important, as the loaf finishes baking as it cools).
Notes
To get the size loaf pictured, we used a 4" x 6.5" mini loaf pan for the entire bag of mix.
The slices were cut to 1/2" thick. If cutting thinner, your nutritional information will be different.
Nutrition Information
Yield

10 (1/2") slices
Serving Size

1 slice
Amount Per Serving
Calories

150
Total Fat

13g
Carbohydrates

7g
Net Carbohydrates

2g
Fiber

5g
Sugar

2g
Protein

6g