Last Updated on July 26, 2021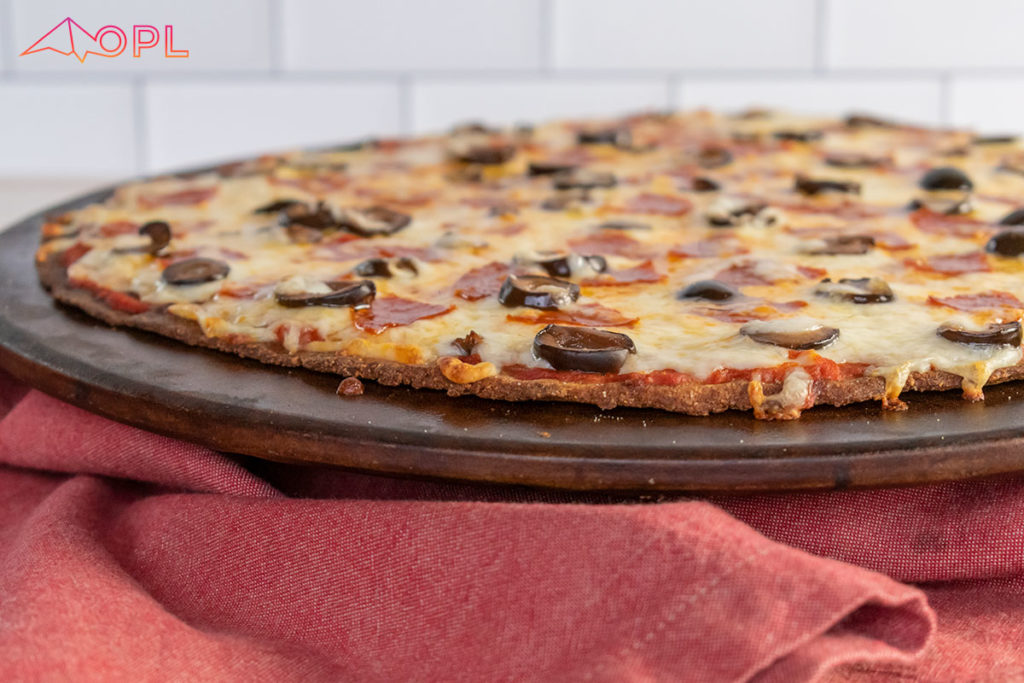 There are a lot of options out there for keto-friendly pizzas. The problem is that a lot of them rely on the fathead-style dough that is mostly dairy (mozzarella and cream cheese). I actually have a recipe on this site for a fathead-style pizza crust. Not gonna lie, it's delicious.
No Cheese Crust Keto Pizza
But not everyone can (or should) eat that much cheese, especially on a regular basis. If I'm going to put more cheese ON my pizza, I prefer a crust with little to no cheese already in it, for the sake of my digestive system 🙂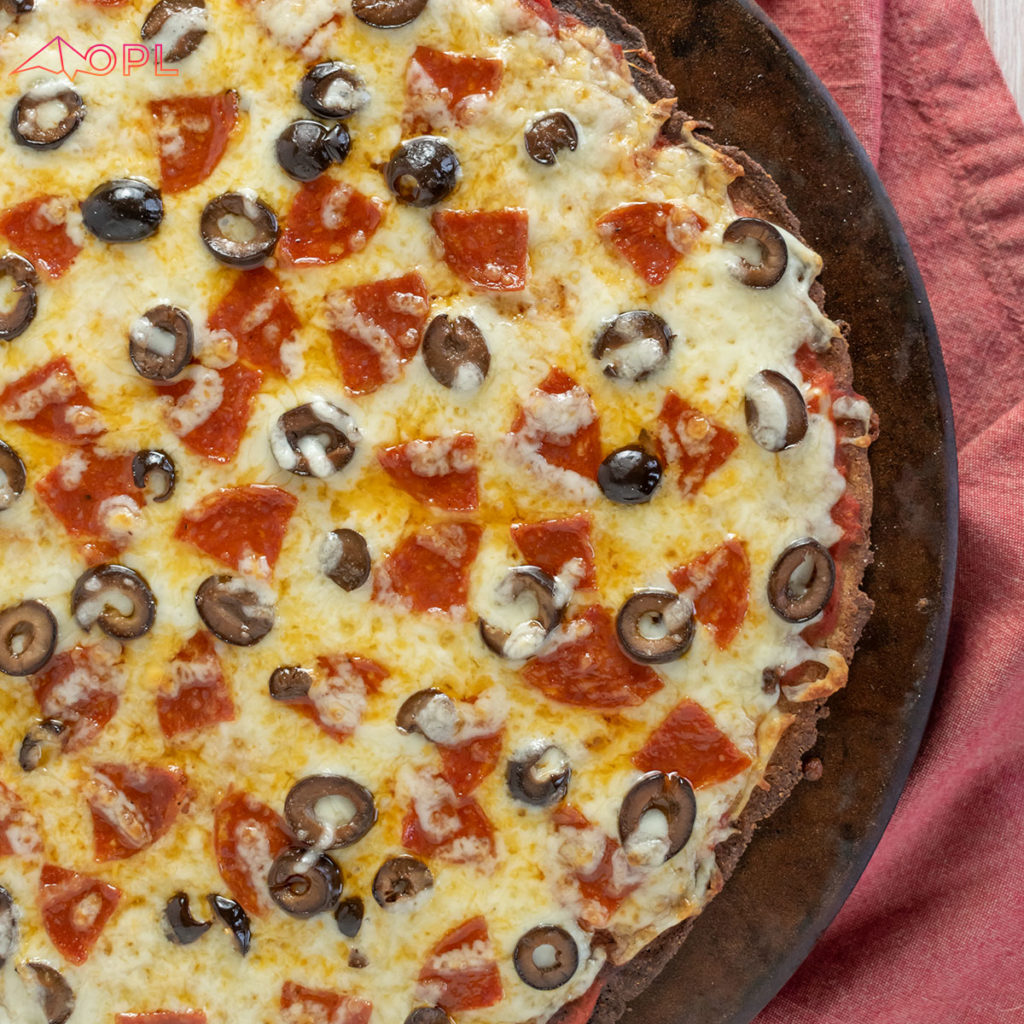 Also, I used to be a big fan of Chicago-style pizza. All the crust, lots and lots of it. But over the years, I've come around to the realization that thin crust is so much better. The focus is on the toppings, right where it should be.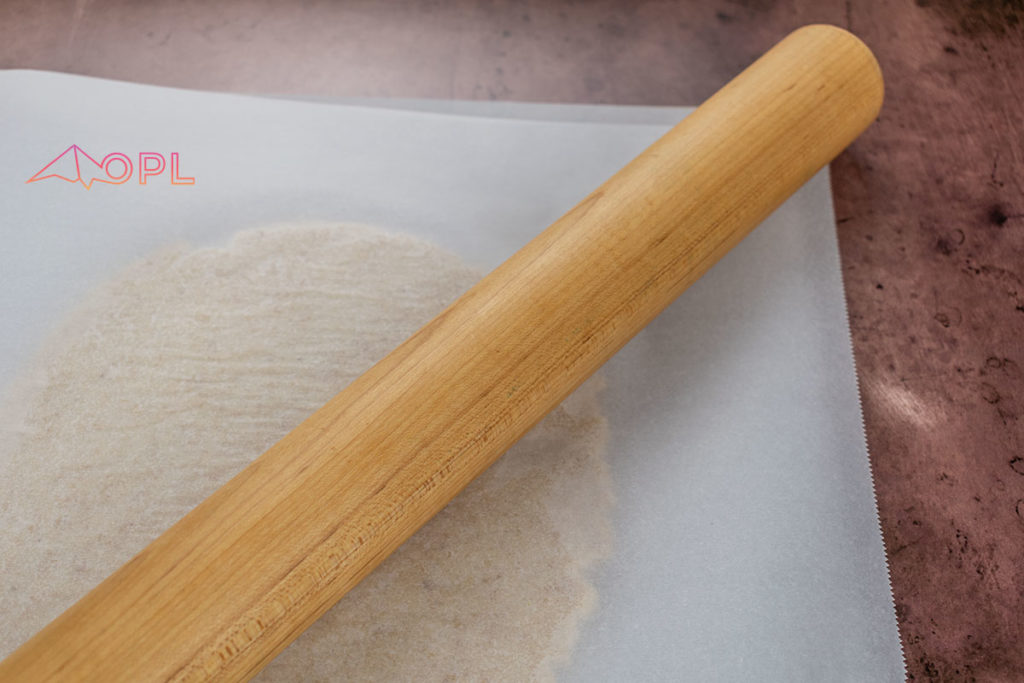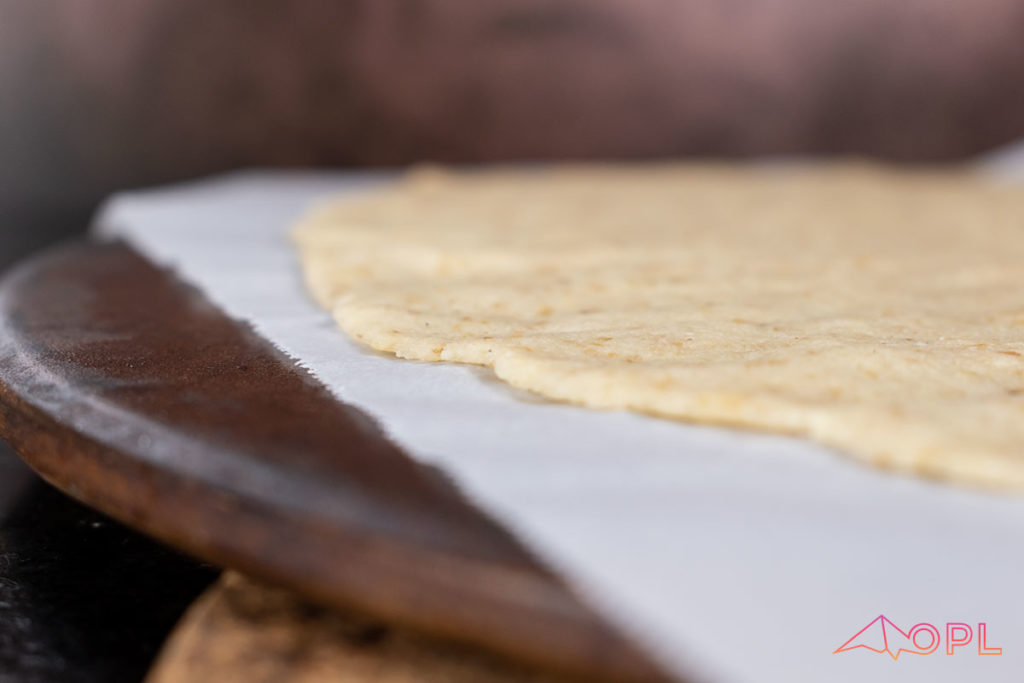 This pizza crust is simple to put together and uses only 3 ingredients: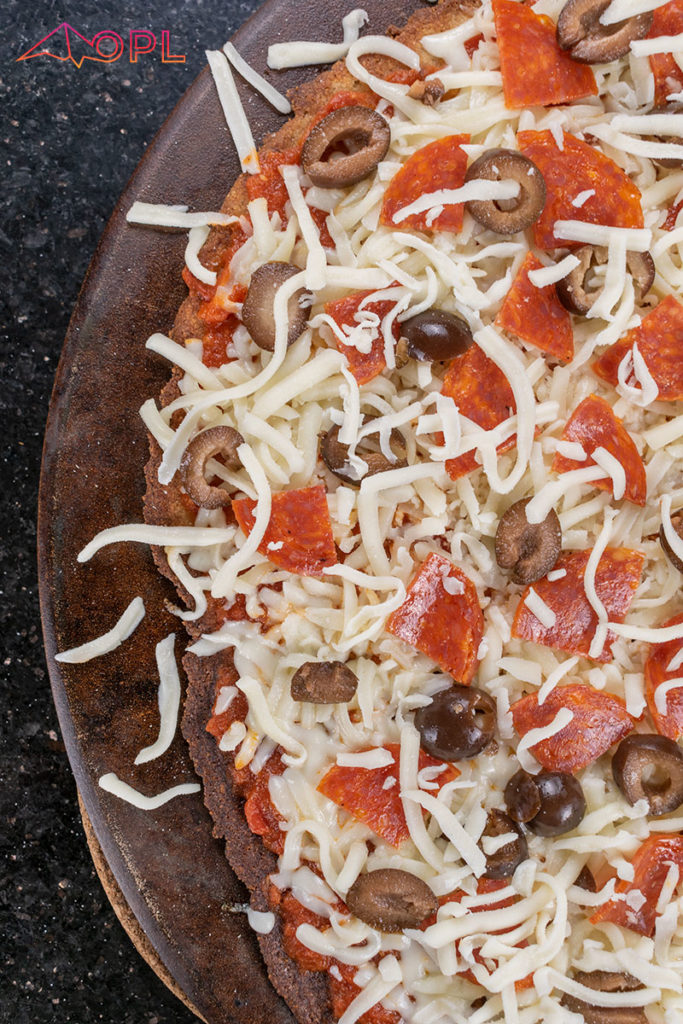 Simply roll it between two sheets of parchment paper and bake it on a pizza stone for best results. We love to top our pizza with simple and basic ingredients:
mozzarella
garlic marinara
pepperoni
black olives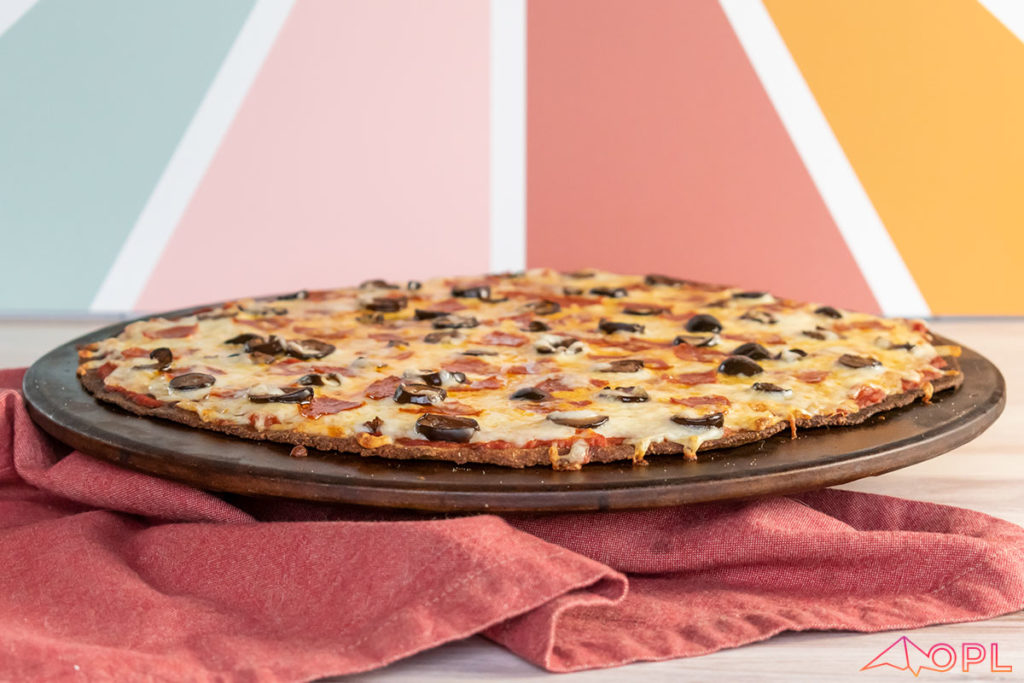 For a change of pace, my second favorite set of toppings requires a bit more planning on work, but is so very worth it! Check out the Chicken Bacon Artichoke Pizza recipe for those toppings (just swap out the dairy-based crust for this one).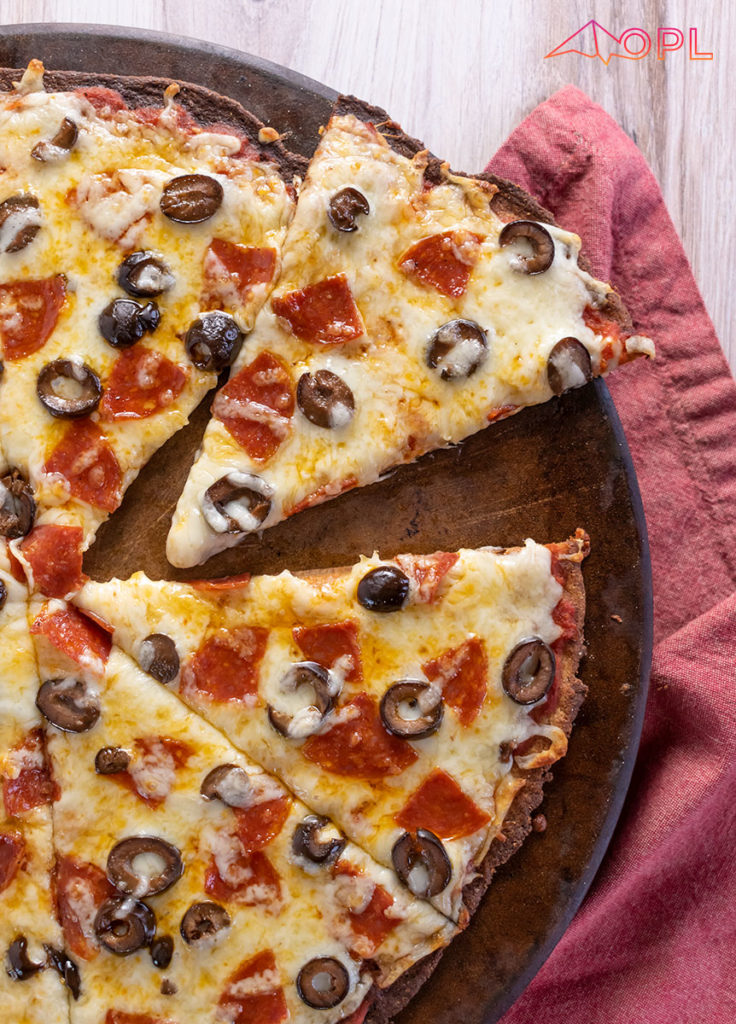 The best part about this recipe is that it actually makes 2 pizzas, because more pizza is always better.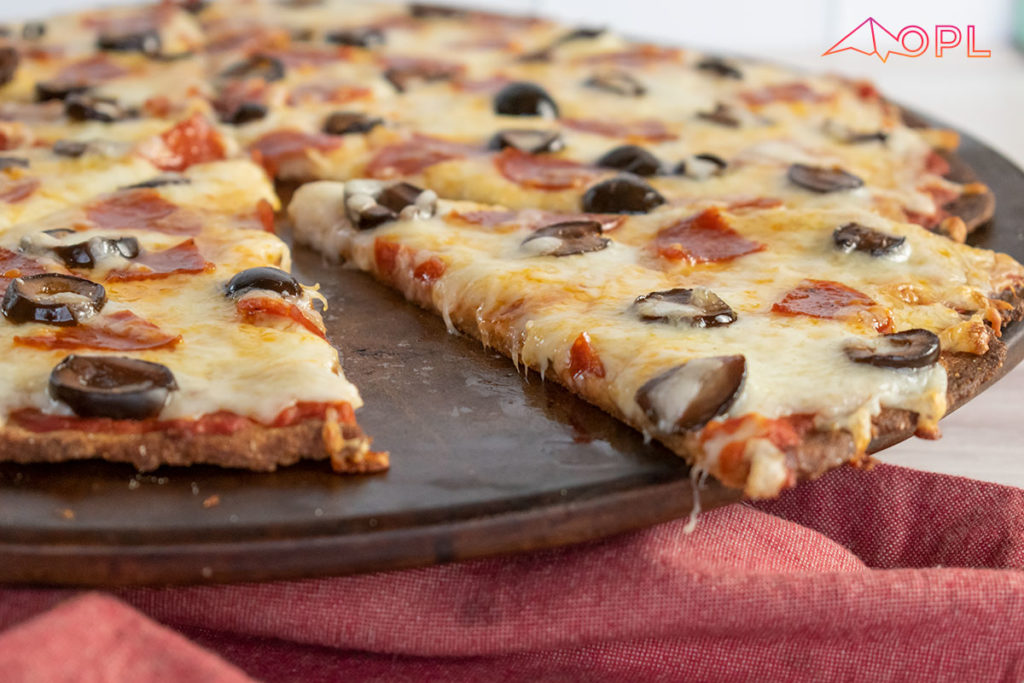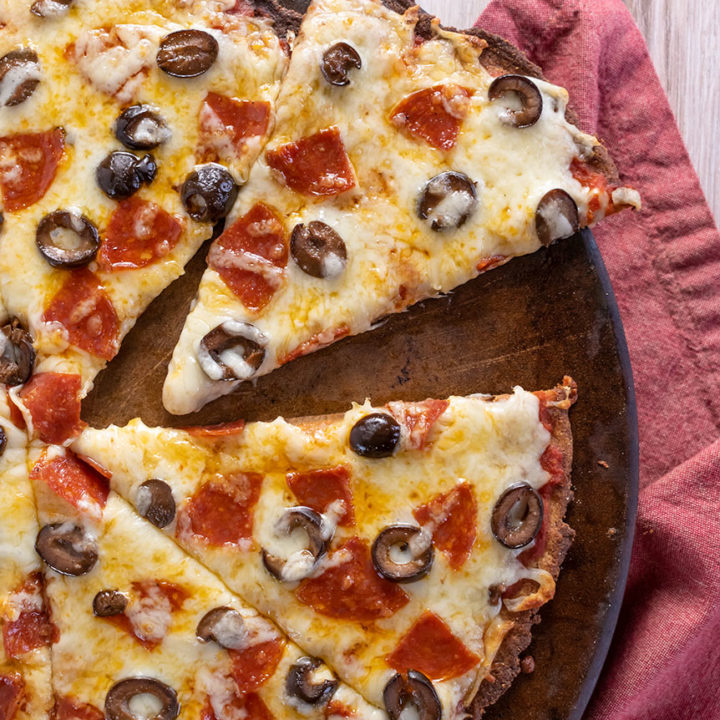 Keto Thin Crust Pizza
Ingredients
1 cup Hot Water
1/4 cup Avocado Oil
Instructions
Preheat oven to 400°F and place pizza stone (see notes) in the oven while it preheats.
Mix all ingredients in a bowl until smooth. It will be a thick dough.
Divide the dough in half, forming each half into a smooth ball. This will make pressing/rolling the crust much easier.
Remove the pizza stone from the preheated oven and place half of the dough in the center. Be VERY careful, the stone will be super hot.
Carefully press the ball of dough into a thick disc and cover with a large sheet of parchment paper. With your hands or a rolling pin, press or roll the crust to an even thickness, until you have a 12" diameter thin crust. Gently peel off the top parchment paper.
- ALTERNATE ROLLING OPTION: roll between 2 sheets of parchment into a 12" diameter circle before placing on the heated pizza stone. Place parchment with rolled crust on the stone and carefully remove the top parchment paper. Continue with the next step.
Bake in the preheated oven for 18 minutes. Remove from oven and gently and carefully (again, very hot!) flip the crust over (the bottom will now be the top).
Top with your desired pizza toppings (see notes) and bake an additional 6-8 minutes, or until done to your liking (not too long or the crust edges will burn).
Remove from oven and cut into 8 slices. Let rest a few minutes before enjoying.
Notes
A well-seasoned pizza stone results in the best crust. If you don't have one, use a metal baking sheet and line it with parchment (after you remove it from the preheated oven).
If you have a pizza stone but it is not seasoned enough to be truly nonstick, line it with parchment (after you remove it from the preheated oven).
Our favorite toppings are a thin layer of Monte Bene Garlic Marinara, shredded mozzarella, pepperoni, and black olive.
Nutrition content does NOT include toppings.
Nutrition Information
Yield

8
Serving Size

1 slice
Amount Per Serving
Calories

198
Total Fat

8g
Saturated Fat

1g
Trans Fat

0g
Unsaturated Fat

6g
Cholesterol

0mg
Sodium

390mg
Carbohydrates

8g
Net Carbohydrates

3g
Fiber

5g
Sugar

1g
Protein

5g
Nutrition content does NOT include toppings