Last Updated on August 19, 2021
Crunchy is one of those textures that is really lacking in the keto world. While I'm a huge fan of pork rinds, I can really only eat so much of them. I've attempted homemade crackers a few times but never had much luck. Turns out, I was over-complicating what should have been a very simple task.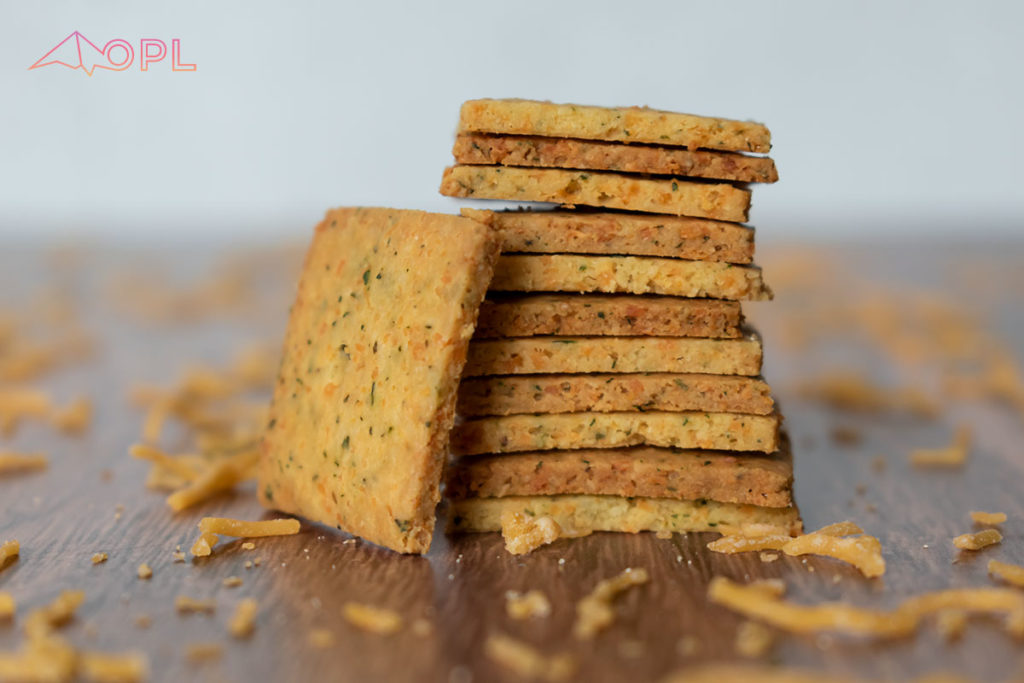 Easy Low Carb Crackers
These crackers have only 4 ingredients. Yup, four. That's it. What are they?
Shredded Cheddar Cheese
1 Egg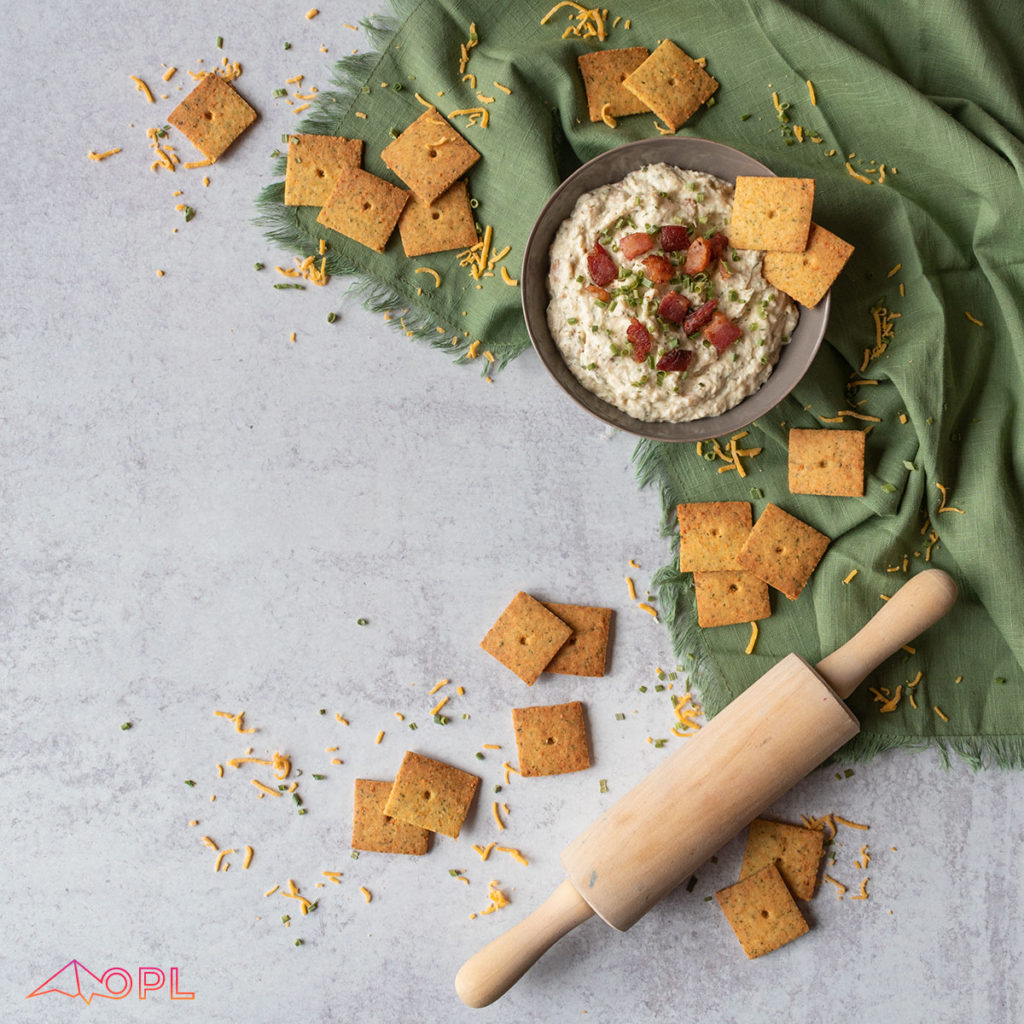 And they're not even complicated to make. I do suggest you use the tools recommended in the recipe, as it makes the process much easier: a food processor (a blender should work as well) and silicone baking mats. You don't need a rolling pin, but something smooth to roll it out with really makes a world of difference in getting evenly thin crackers.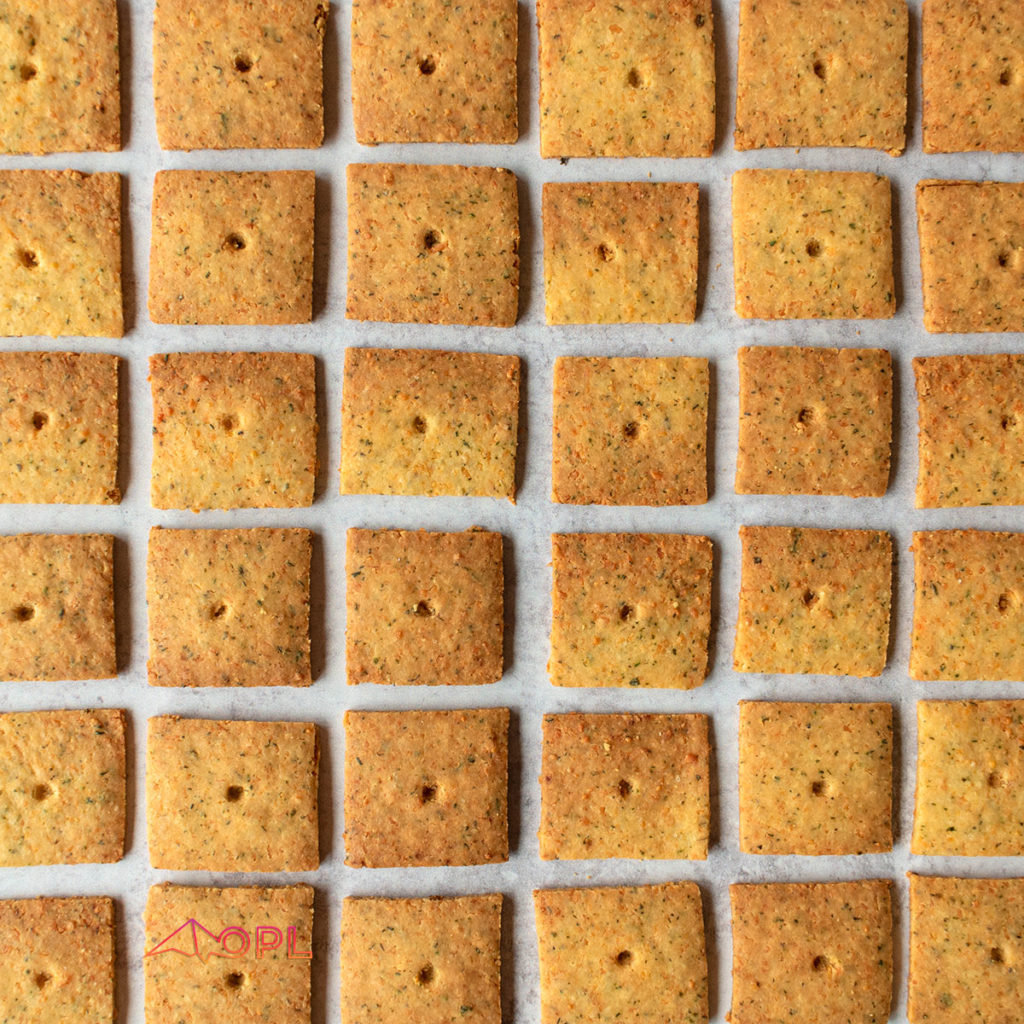 Full Flavor Keto Crackers
The combination of cheddar cheese and ranch seasoning makes these crackers full of flavor, but they pair well with dips as well. Our favorite dip for these crackers is our Chicken Bacon Dip. And the crackers are sturdy enough to withstand dipping into and holding the dip.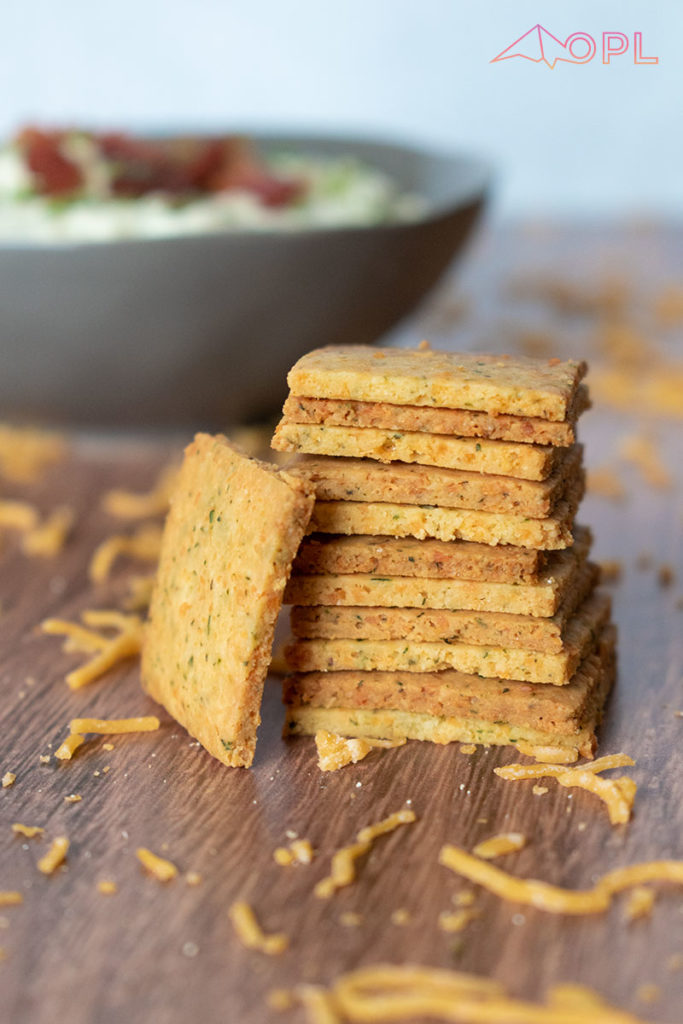 These low-carb crackers store best in an airtight container at room temp. They've lasted as long as a week before they were completely eaten, so I can't vouch for them staying fresh longer than that, but I imagine they will if stored properly. They stayed perfectly crispy when kept in a zip-top bag.
What's really good? Try these crackers with our Keto Chicken Bacon DipChicken Bacon Dip (Keto).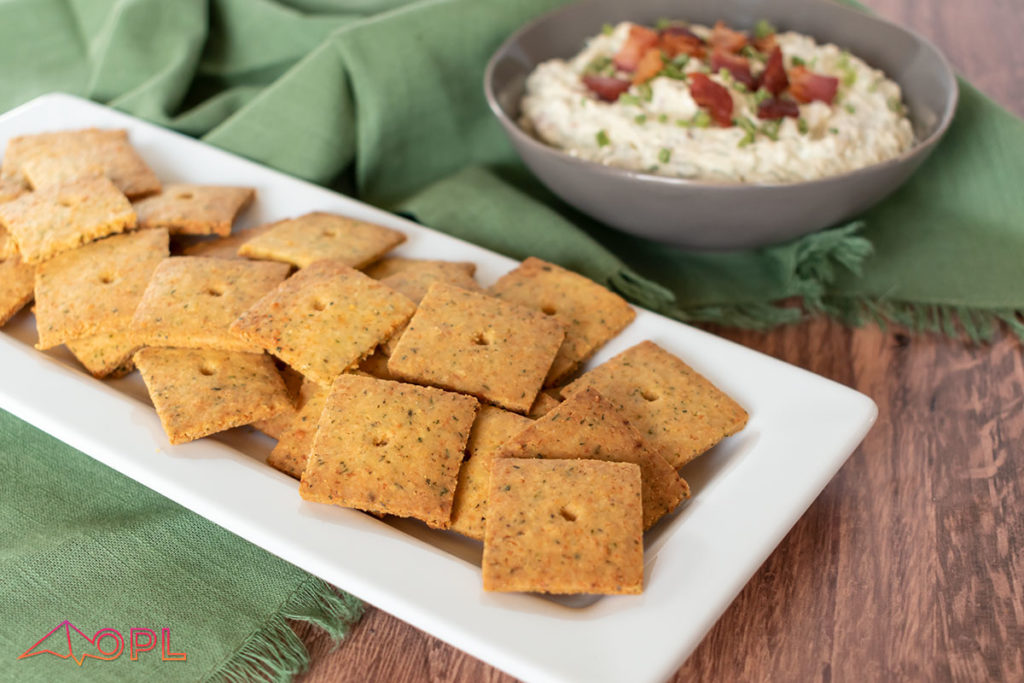 I don't recommend making these crackers with shredded mozzarella, the fat content is too high and they would probably turn out too oily. A hard cheese would be best if you'd like to experiment with something other than cheddar. If you do try a different cheese, let us know how it turns out!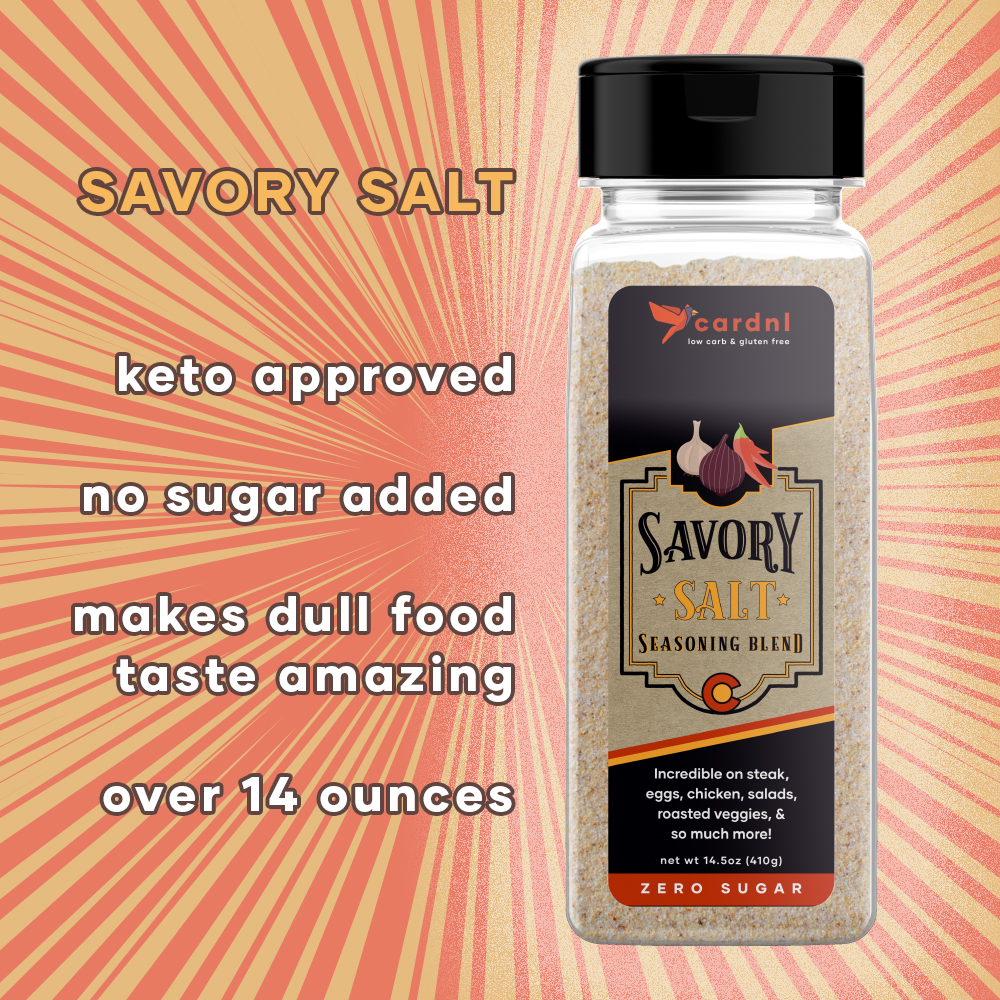 Savory Salt Seasoning Blend
Incredible on steak, eggs, chicken, salads, roasted veggies, and so much more. This small batch savory salt adds so much of the right flavor and includes only the highest quality ingredients. Made in Fort Collins, Colorado, this seasoning blend is exactly what your food is missing.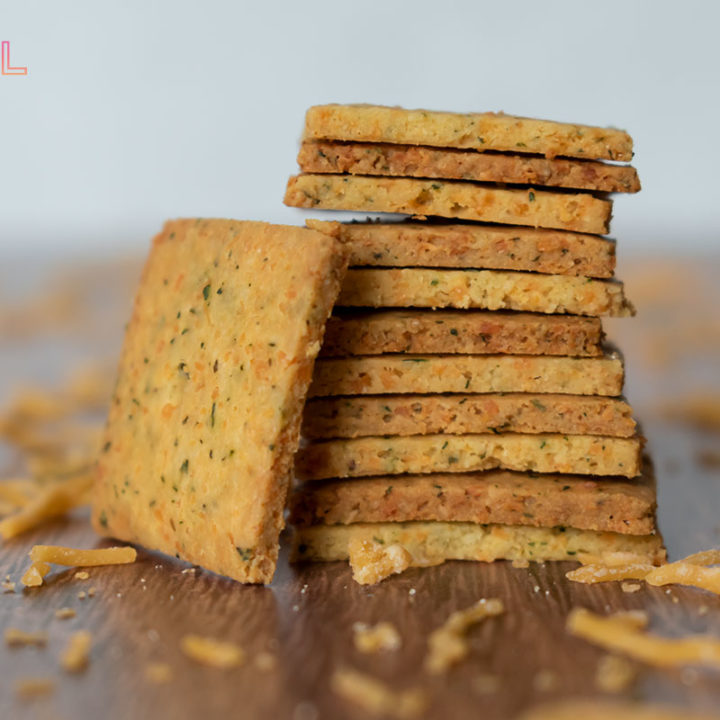 Crunchy Keto Crackers
Yield:
approx 75 crackers
Ingredients
1 cup Shredded Cheddar Cheese (see notes)
1 Egg
Instructions
Preheat oven to 350°F.
Add dry ingredients to a food processor and pulse to combine, making sure that cheese is chopped up and coarse. Add the egg and continue to pulse until a smooth dough ball is formed.
Place the ball of dough on a silicone baking mat. This can also be done with parchment paper but yields much better results with silicone. Place another mat (or parchment sheet) on top.
With a rolling pin, roll the dough VERY thin, as thin as you can possibly get it. Like 1/16" if possible. The thinner the dough, the crunchier your crackers will be. Make sure the dough is rolled evenly, otherwise you will have areas that are overbaked and others that are underbaked.
Optional, but place the rolled dough (with both top and bottom silicone mats still in place) on a rimless baking sheet and place in the fridge or freezer for about 10-20 minutes. This helps the top silicone mat peel off easier.
Remove the top silicone mat (or parchment) and use a pizza cuter to cut evenly spaced squares across the dough. Leave the raw edges intact so if the edges burn or overbake, it's not your actual crackers.
Optional, but for fun, use a wooden skewer to make a mark in the center of each cracker.
Bake crackers in preheated oven for 10 minutes. Remove from oven and recut the lines. Gently separate the crackers so they can finish baking separately. Place back in the oven for an additional 6-9 minutes, or until slightly browned and crispy.
You may need to remove the crackers that bake faster and place the rest back in to finish cooking. This is not uncommon as the center crackers take a bit longer to bake.
Remove and let cool completely, they'll finish crisping up as they cool. Store at room temp in an airtight container to keep them from getting soft.
Notes
I have only tested this recipe with cheddar cheese, so I can't vouch for any other cheeses yet.
Another great seasoning option is to replace the Ranch Dip Blend with 1 tsp Explorado Market Savory Salt.
Nutrition Information
Yield

15
Serving Size

5 crackers
Amount Per Serving
Calories

81
Total Fat

7g
Saturated Fat

2g
Trans Fat

0g
Unsaturated Fat

5g
Cholesterol

20mg
Sodium

60mg
Carbohydrates

2g
Net Carbohydrates

1g
Fiber

1g
Sugar

0g
Protein

4g