This grain-free, low-carb tortilla recipe has been a long time coming, and it wound up even better than I had hoped! They key to perfection is definitely the tortilla press, which is a minor investment that will cut prep time drastically, as well as resulting in perfectly uniform results every time. Mine is a simple cast iron hand-operated press, and I use pre-cut 8″ parchment paper rounds to keep things clean and non-stick.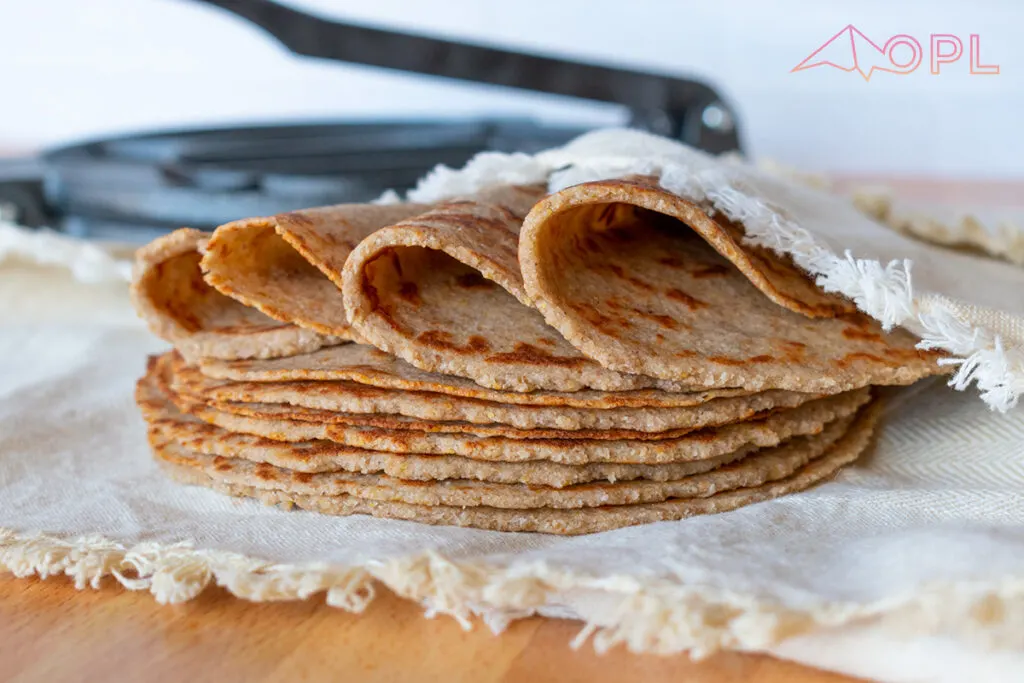 If you don't have a press (and don't want to add another gadget to your kitchen), you can absolutely roll the tortillas out with a rolling pin. You'll just need to keep an eye on the thickness, keeping it as uniform as possible so the edges don't get too thin (they will cook faster and get crispy, which means not soft & flexible).
What makes these tortillas even easier is that they are made with only 3 ingredients!
Avocado Oil
Water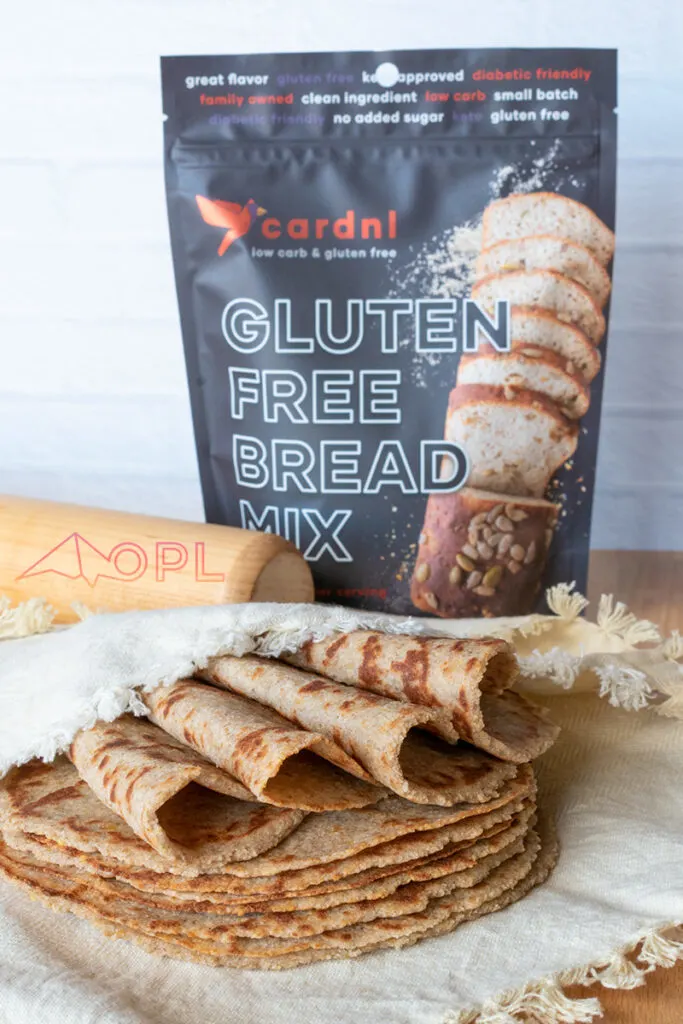 3 Ingredient Keto Tortillas
Yup, that's it. Just mix those 3 ingredients together, wait a few minutes, then start rolling/pressing. Honestly, the most time-consuming part of this recipe is waiting for the tortillas to cook. I like to have a stopwatch (or my phone) nearby so I can be sure I'm cooking each one the same amount of time. This way they don't overcook, but more importantly, they don't undercook. I am notoriously impatient with cooking and baking. If I don't set the timer, I will try to flip these too soon, which is a mess because they aren't cooked all the way and stick to the pan.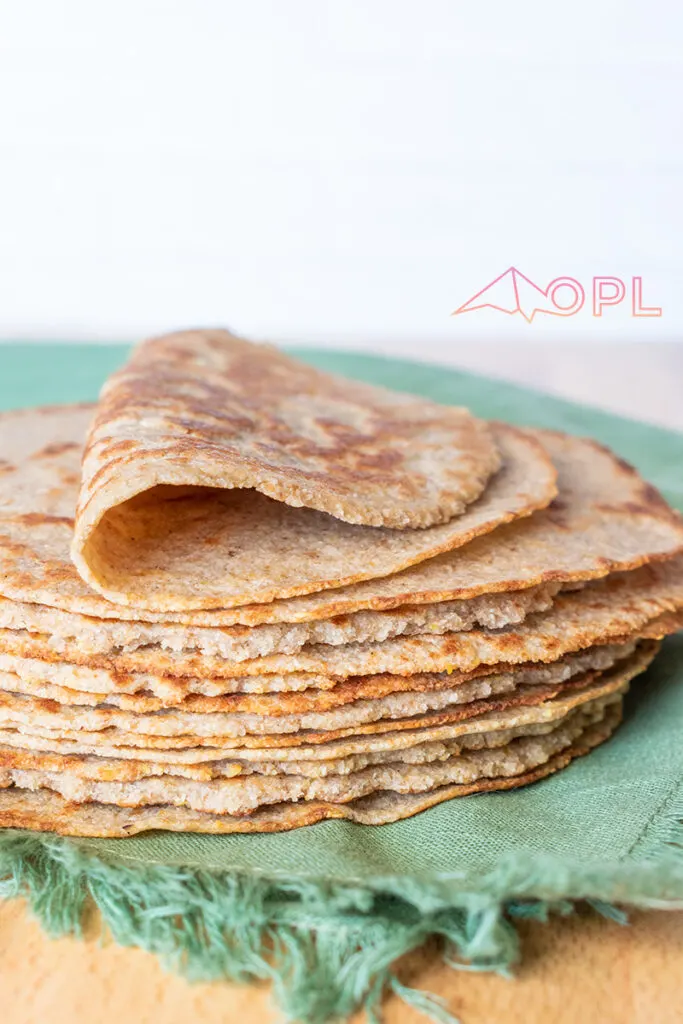 Speaking of pans, I much prefer to cook these tortillas in a very lightly oiled cast iron skillet. I oil it once (just a quick drizzle and then swipe it with a brush or paper towel) at the start and not again during the cooking process. If you don't have cast iron, use a non-stick skillet. I can't yet vouch for how well a stainless steel or other non-coated pans might work.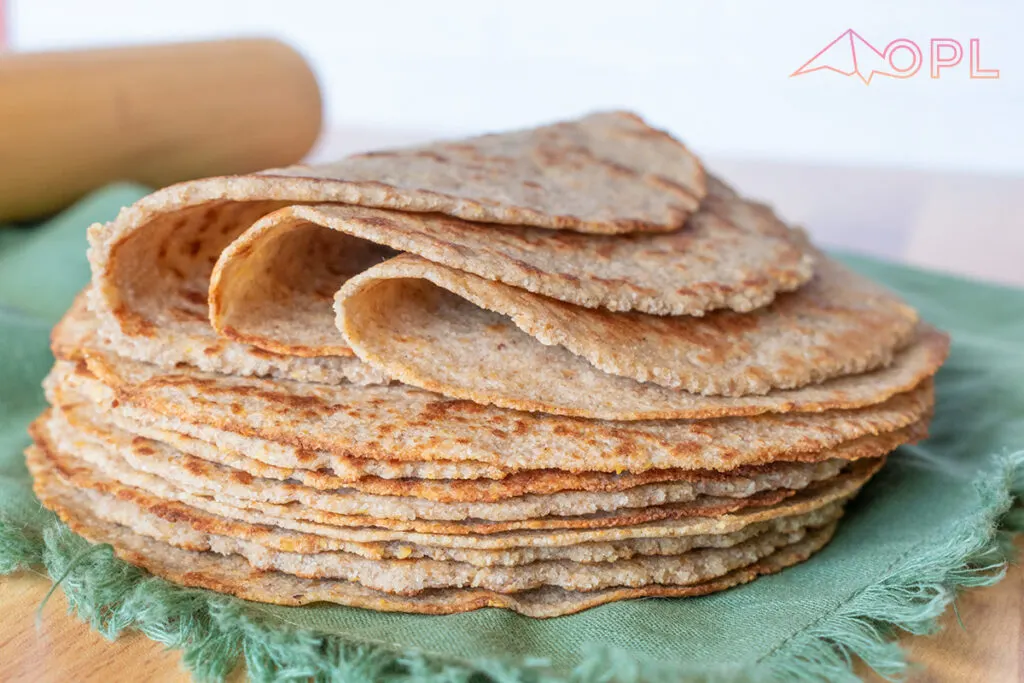 Tip #3 (I have no idea what tip number I'm on, actually): a metal spatula with an angled edge (not blunt or rounded or silicone). This will make it much easier to get under the edges of the tortilla for an effortless flip. And do NOT try to flip it before your 90second timer is up. Give it the full 90 seconds cook time to let the tortilla release from the pan. Any sooner and you might rip up the edges or center as you try to prematurely loosen it from the pan.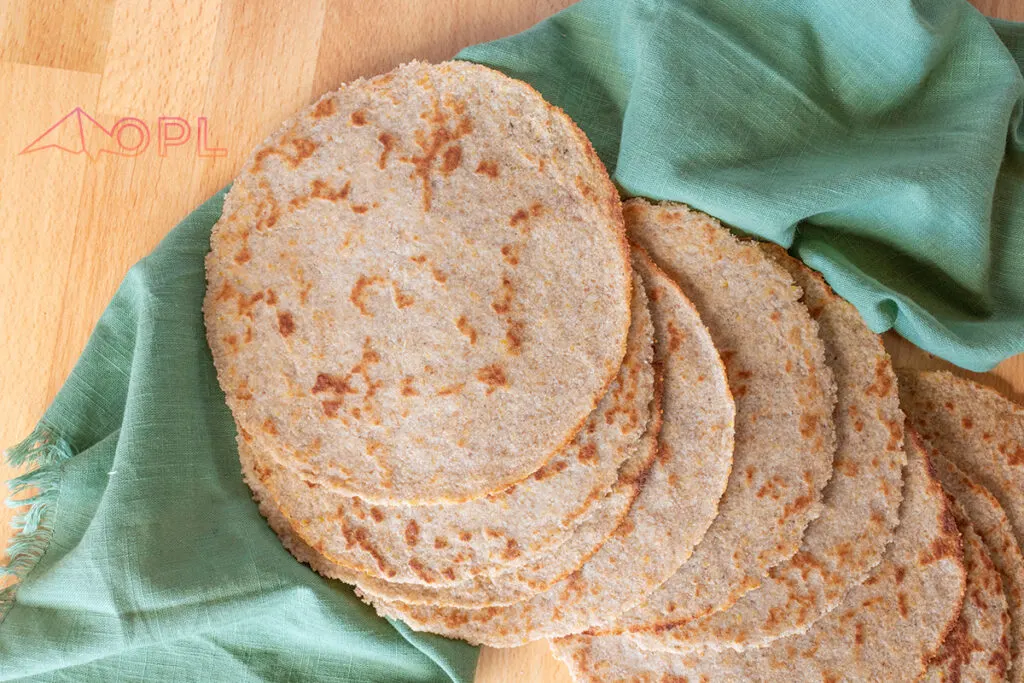 So now that you've cooked your tortillas, how are you going to use them?
Our favorite ways to enjoy these gluten-free, low-carb tortillas are:
Breakfast Buritos
Breakfast Quesadillas
PB&J Rollups
Tacos
Cheese Quesadillas
Sub Sandwich Wrap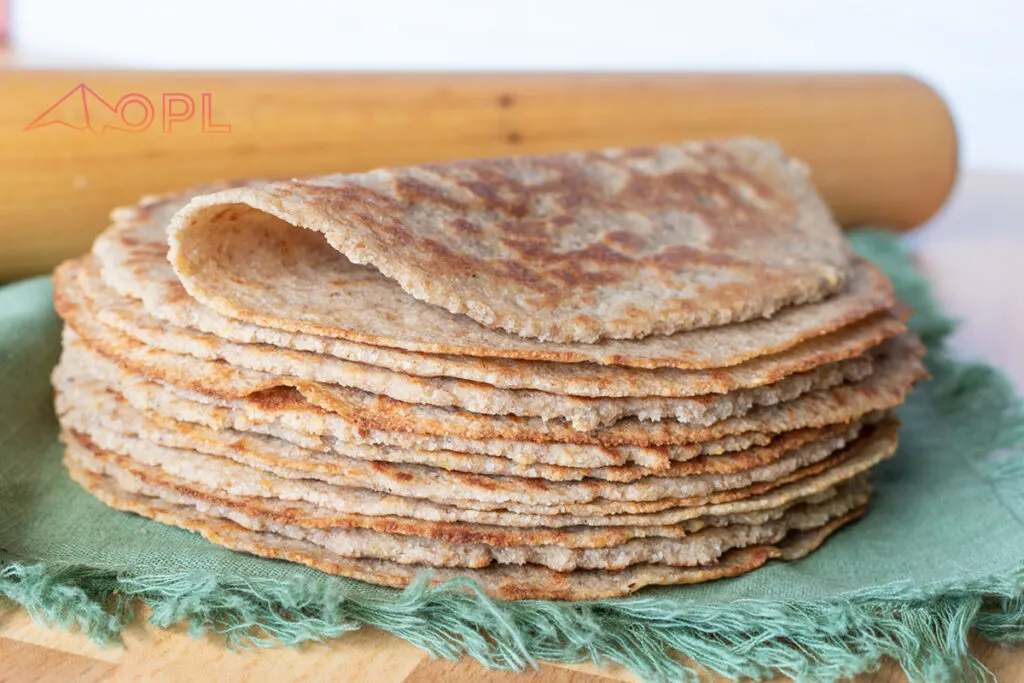 They have a mild taste, allowing them to take on the flavor of what you put in/on them. That said, they would also be great with some added seasoning, depending on what you plan to use them for. Taco Tuesday? Add a dash of Taco Seasoning to the bread mix before adding the liquids. Making sweet wraps? Some Cinnamon Toast Sprinkle would be the perfect addition!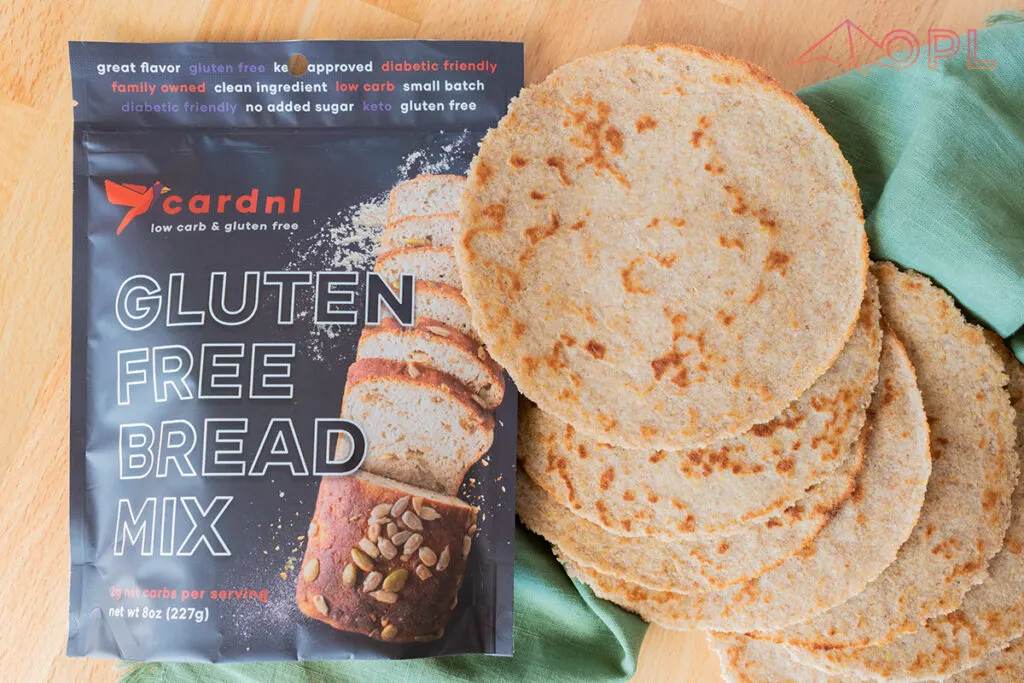 And while I prefer to eat these warm, they are actually just as good straight out of the fridge. Which is where you should store them for up to a week. They can also be frozen for 6 months (but defrost in the fridge for at least a couple hours before trying to pry them apart, unless you separate them with parchment prior to freezing).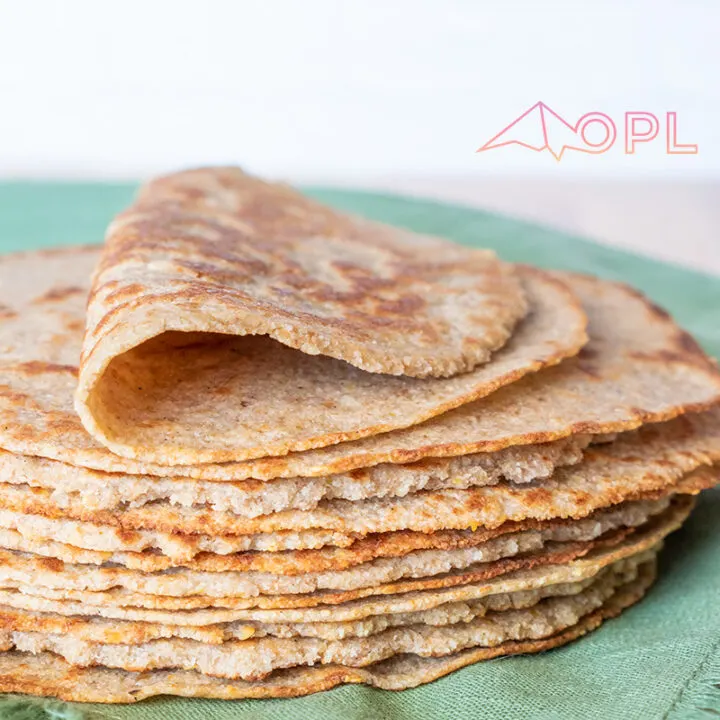 Low-Carb 3-Ingredient Tortillas
Ingredients
1 Tbsp Avocado Oil
1/2 cup Warm Water (not boiling)
Tools (optional but useful)
Tortilla Press
Parchment Paper Rounds
Large Cookie Scoop
Instructions
Combine all ingredients in a mixing bowl with a wooden spoon or silicone spatula until a dough comes together and forms a thick, smooth dough. Let rest 3-5 minutes.
Divide dough into 6 equal pieces (about 40g each - a large cookie scoop is the perfect size for this). Roll each piece into a smooth ball and place between two sheets of parchment. Press in a tortilla press, or roll into a thin 6" disc with a rolling pin.
Very lightly oil a cast iron skillet with a mild cooking oil, like avocado oil, over the absolute lowest heat (seriously, turn the knob to the lowest setting until it can't turn anymore). Remove one parchment sheet from the dough disc and place dough-side-down on the heated skillet. Gently peel the remaining parchment from the dough as soon as you place it on the skillet (it will be harder to remove as it cooks).
Cook for 90 seconds. Using a metal spatula with a fine edge, gently lift the tortilla all along the edges and loosen from the skillet. Flip the tortilla and cook an additional 90 seconds. They should have very lightly brown speckles, but not overly browned otherwise it will crack when folded.
These are best served warm. Store cooled leftovers in a zip-top bag in the fridge for up to 1 week. Reheat on HIGH in the microwave for 8-10 seconds.
Nutrition Information
Yield

6
Serving Size

1 (6") tortilla
Amount Per Serving
Calories

100
Total Fat

9g
Saturated Fat

3g
Trans Fat

0g
Cholesterol

0mg
Sodium

243mg
Carbohydrates

5g
Net Carbohydrates

1.5g
Fiber

3.5g
Sugar

1g
Sugar Alcohols

0g
Protein

3g