Last Updated on July 29, 2021
Flavor explosion (in the best way possible) – these Keto tacos are amazing and here's the recipe!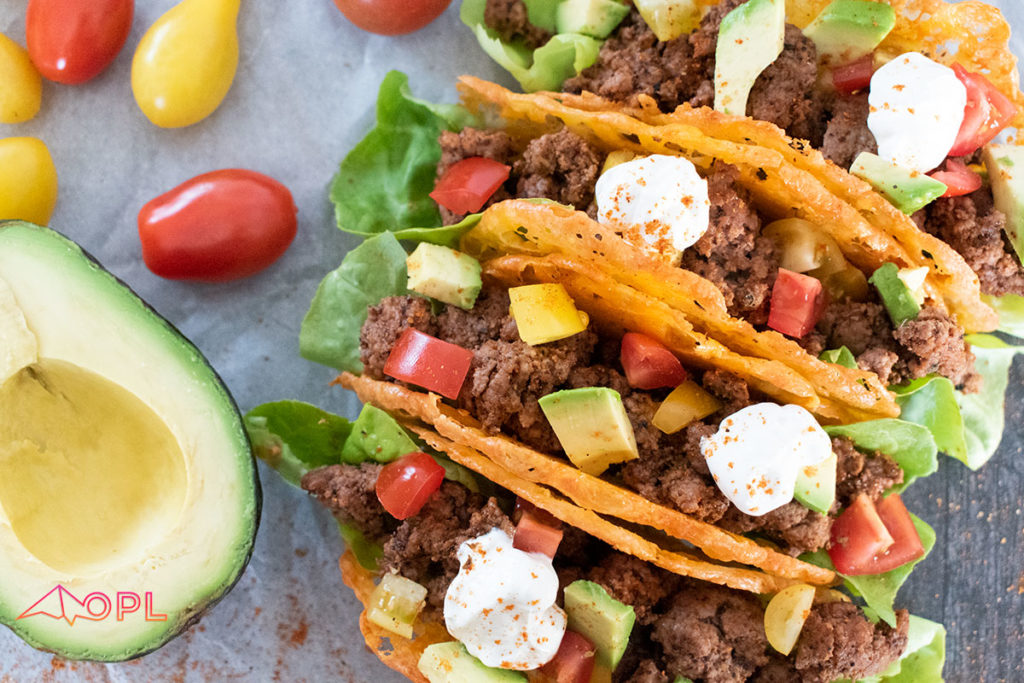 I feel like most people are either a hard-shell or soft-shell taco person. They are rarely both. Growing up, I hated hard shells. The made no sense to me. You take a single bite and the whole thing falls apart. Come on taco, get your life together.
Soft Shell Taco or Hard Shell Taco?
I was all about that soft flour tortilla wrapping up my taco goodness. Now, I will admit that I wasn't privy to any gourmet or high-quality tacos, so that may have played a role in my preference. We got the boxed Old El Paso taco shells, and those things were usually quite stale and flavorless.
Being an actual grownup now, with a far more refined palate, I'd still choose a soft taco shell (you weren't expecting me to say that, were you?). And actually, I think these hard-shell tacos actually fit into both categories.
Baked Cheese Keto Taco Shell
The baked cheese that makes up the shells has a wonderful crisp to it, but it doesn't crumble apart at the first sign of teeth. It holds together like a soft-shell, but with the crunch of a hard-shell.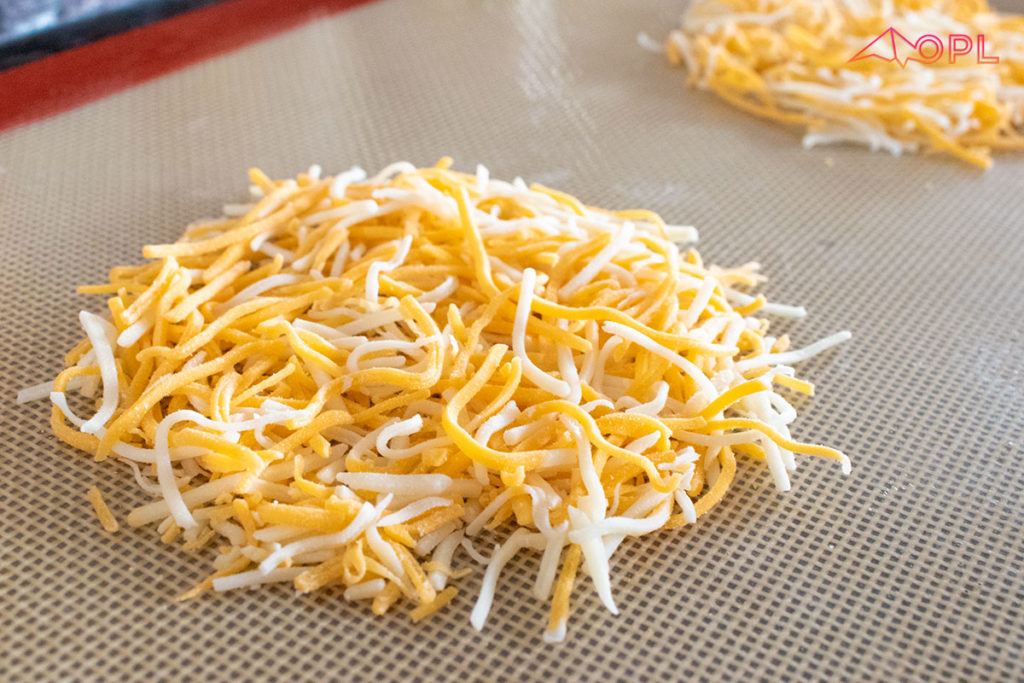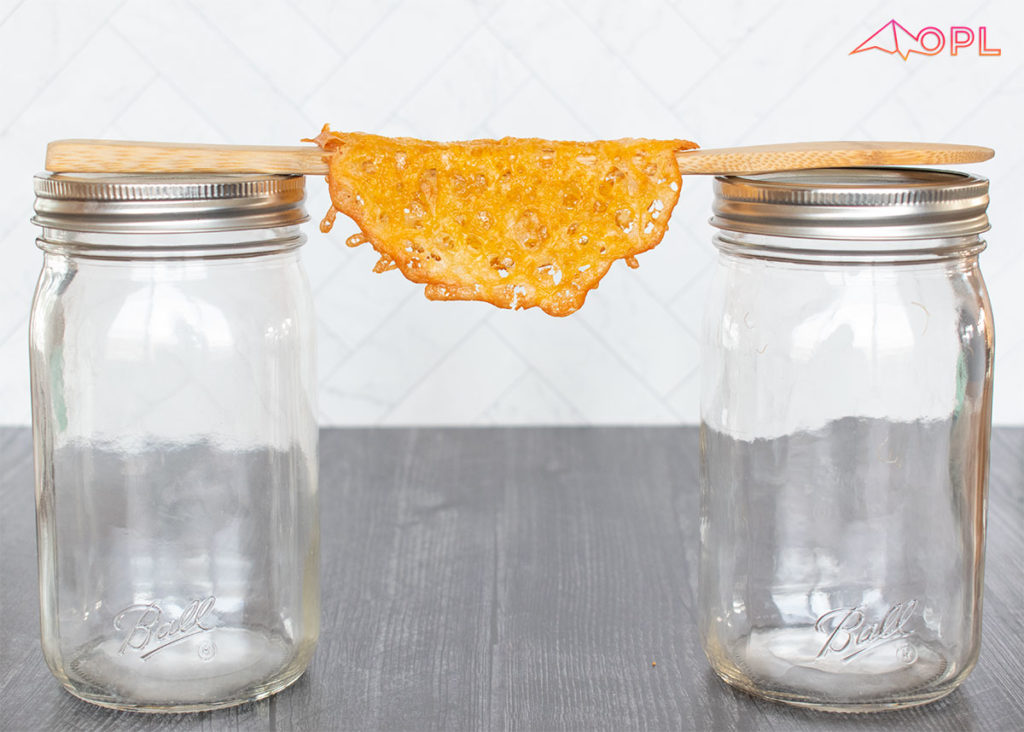 And also, it's made of CHEESE which tastes amazing because it's cheese! And no carbs, so this is like the king of all Keto taco shells.
The Right Keto Taco Way
When building a taco, I prefer a barrier between the shell and the meat. In my case, the barrier is almost always lettuce. It keeps the shell from getting soggy and it looks cute with all that green poking out the sides. Butter lettuce is my favorite, since it has more flavor and color than Iceberg.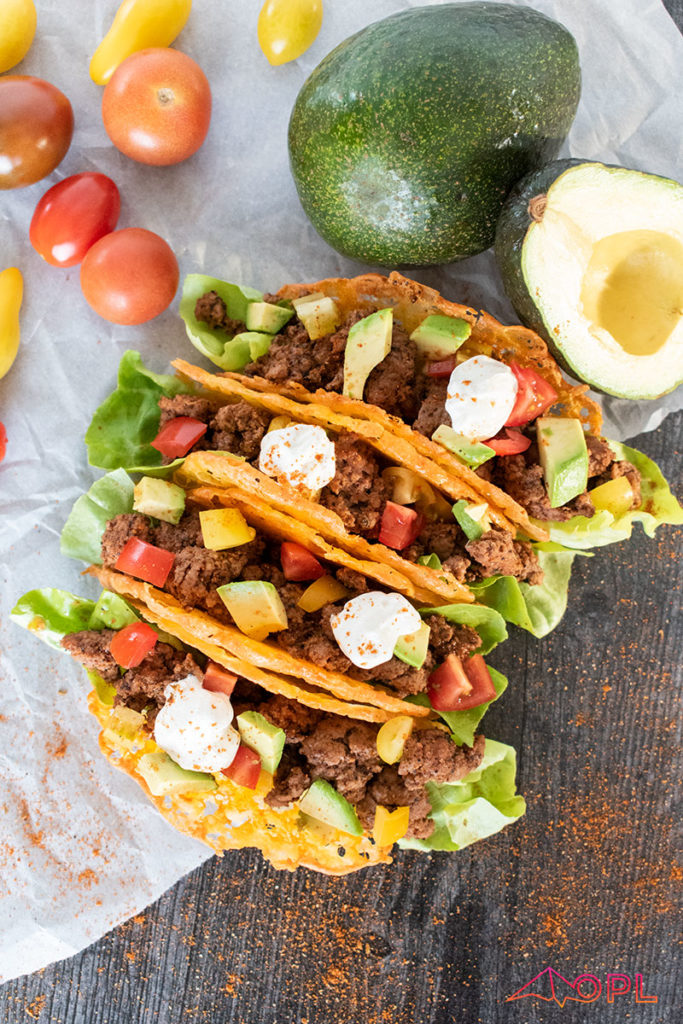 Keto Taco Spices
And of course, the spices you use to season your meat (ground beef, in this case) is the shining star. It's what makes a taco taste like a taco. We use cardnl Tasty Taco Seasoning Blend because of the high quality ingredients and no fillers or thickeners. Have you ever looked at the ingredients on a standard taco seasoning packet? Gross!
Keto Taco – Clean Seasoning Ingredients
Chili Powder
Cumin
Redmond Real Salt
Spanish Smoked Paprika
Onion
Garlic
Black Pepper
Oregano
These ingredients are what makes up this amazing taco seasoning blend: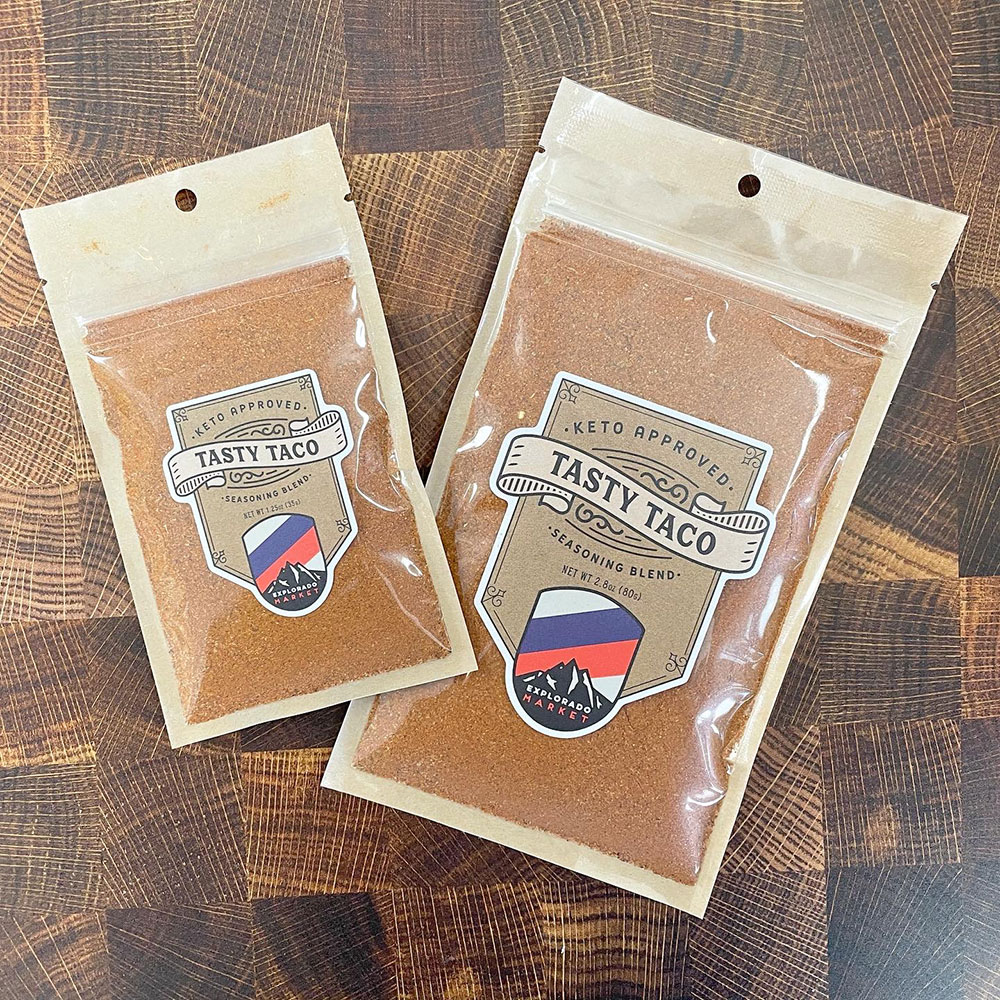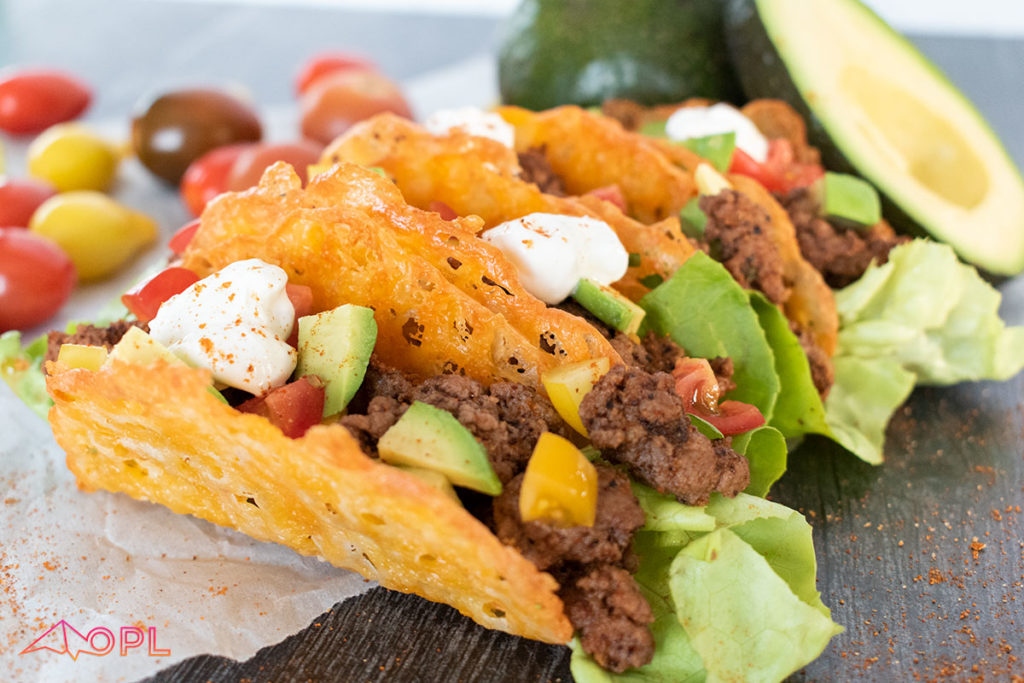 Simple Taco Toppings
And as far as toppings go, I like to keep it simple to let the meat really shine. A few diced tomatoes, a bit of avocado and sour cream, maybe a squeeze of fresh lime juice, and voila. Taco perfection!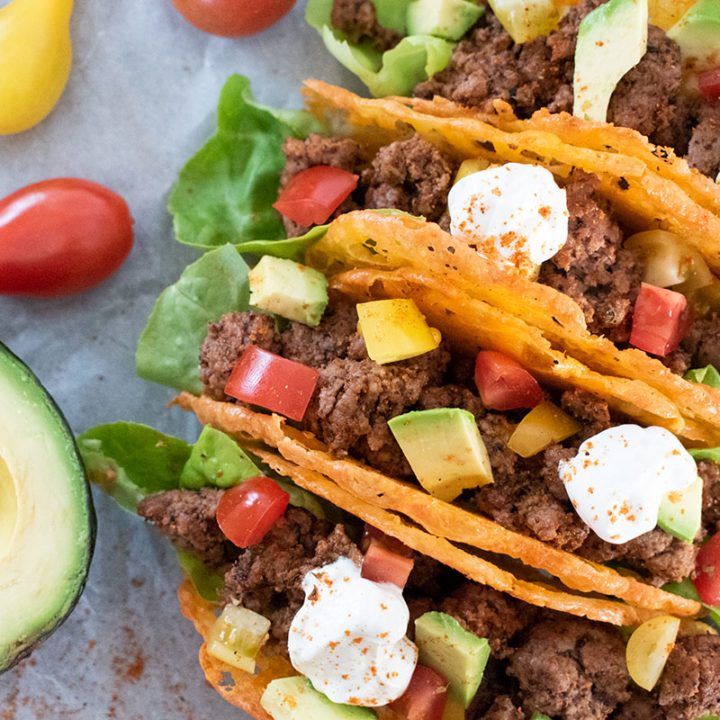 Keto Hard-Shell Tacos
Ingredients
1 1/2 cups Shredded Cheddar Cheese (or Mexican cheese blend), divided
1 lb Ground Beef
Toppings
Avocado
Cherry Tomatoes, diced
Sour Cream
Butter Lettuce
Instructions
Taco Shells
Preheat oven to 350°F. Line a baking sheet with a silicone baking mat or parchment (silicone works best here).
Place 2 circles of cheese (1/4 cup each) on the mat and press down to form a circle about 5-6" wide.
Bake in the preheated oven for 5-7 minutes (6-7 minutes works best in our oven), or until the edges are browned and crisped. Remove from oven and let cool about 2 minutes until firm enough to handle.
Drape over wooden spoons (or similar object) that is supported on each side by jars or cups (see photo in post above). Let cheese cool completely in this shape to form the shells.
Repeat until all 6 shells are made. Set aside.
Taco Meat
Brown ground beef in a skillet over medium-high heat, breaking up with a wooden spoon as it cooks.
Once cooked all the way through, sprinkle Tasty Taco Seasoning Blend on the cooked beef and stir until fully mixed in. Remove from heat.
Fill taco shells with seasoned beef and toppings of your choice. Serve right away.
Notes
NUTRITION FACTS do not include toppings, only shell and seasoned meat.
Nutrition Information
Yield

6
Serving Size

1
Amount Per Serving
Calories

323
Total Fat

23g
Saturated Fat

10g
Trans Fat

1g
Unsaturated Fat

9g
Cholesterol

95mg
Sodium

322mg
Carbohydrates

1g
Fiber

0g
Sugar

0g
Protein

27g