Pigs in a Blanket were one of my favorite foods growing up. We didn't eat them often, but when we did, it was always a treat. And having the sweet tooth that I had (still have…?) I would dip those crescent-wrapped 'lil smokies in maple syrup.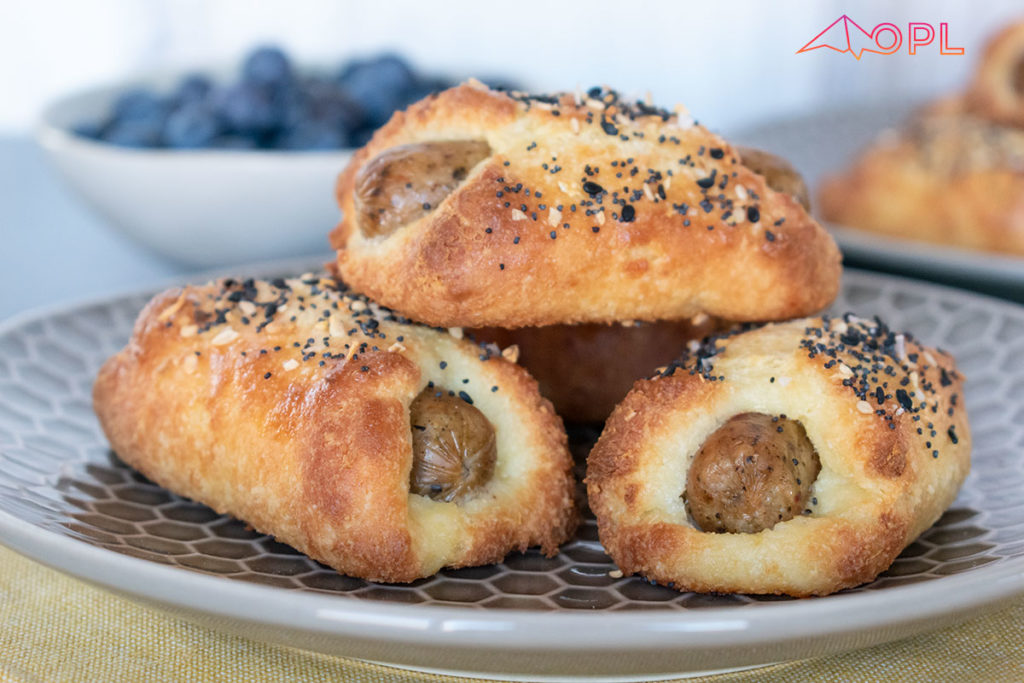 These days, although I still love the sweet things, I prefer a more savory compliment to sausages. This Everything Bagel Seasoning Blend is the perfect compliment to our favorite breakfast sausages (AmyLu, they have no added sugar!).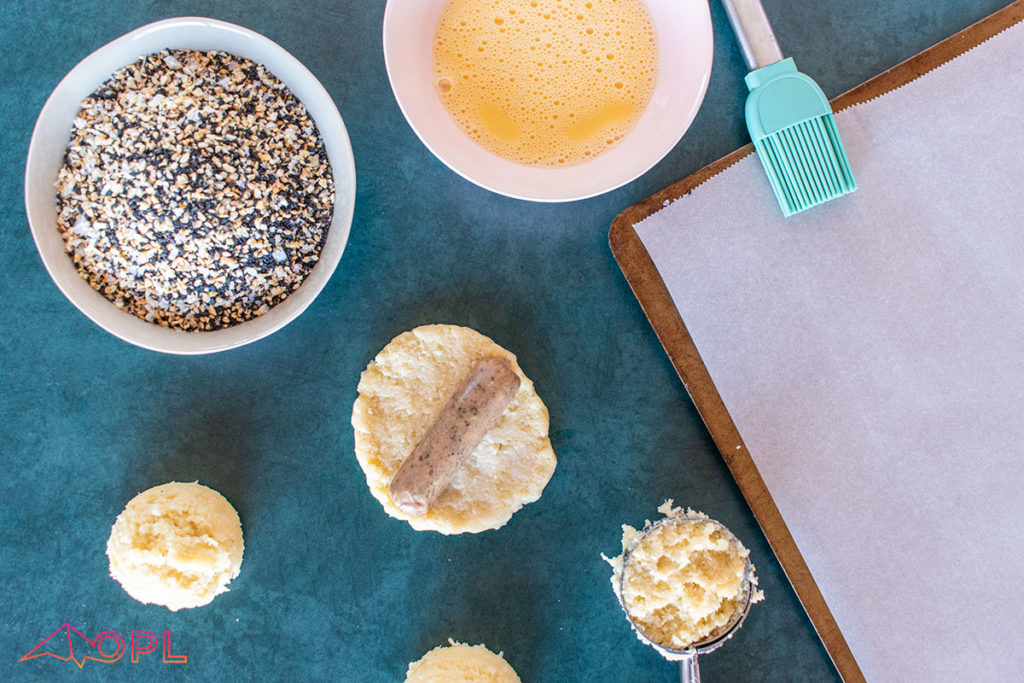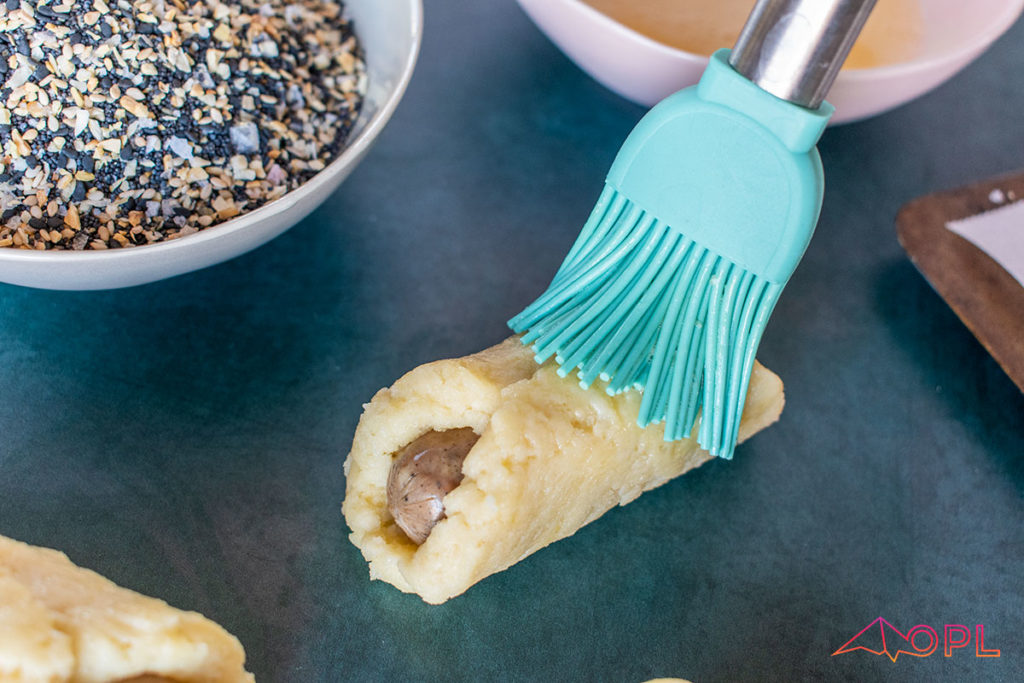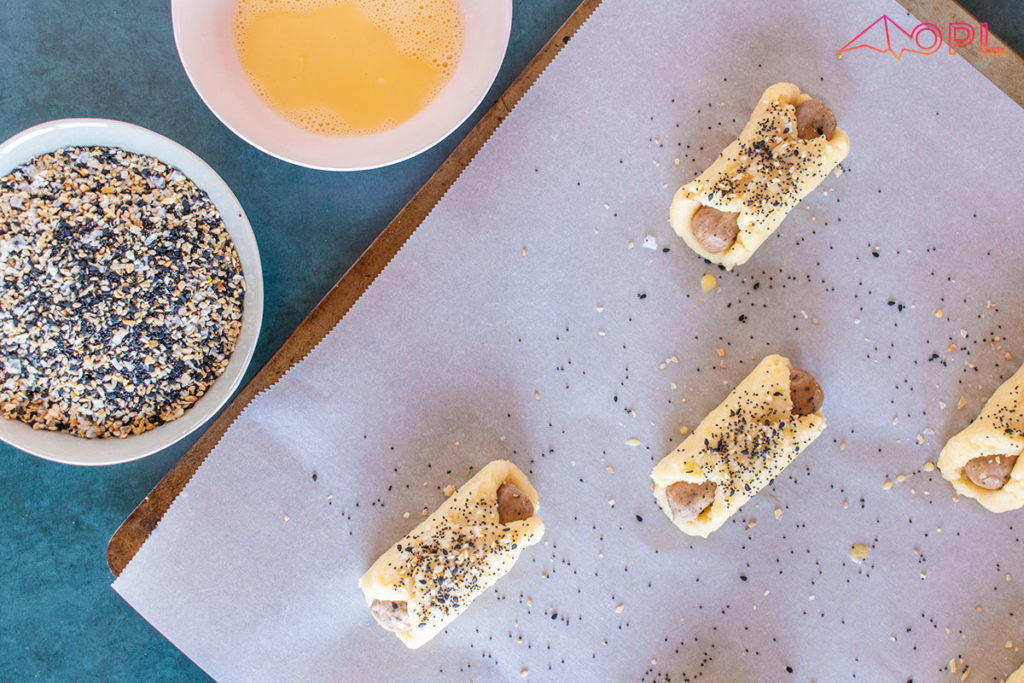 Sprinkle with Everything Bagel Seasoning
Each sausage is wrapped in a simple fathead-style dough, brushed with an egg wash, then sprinkled with the Everything Bagel Seasoning Blend. These little piggies come together quickly and can be on the breakfast table in about 30 minutes.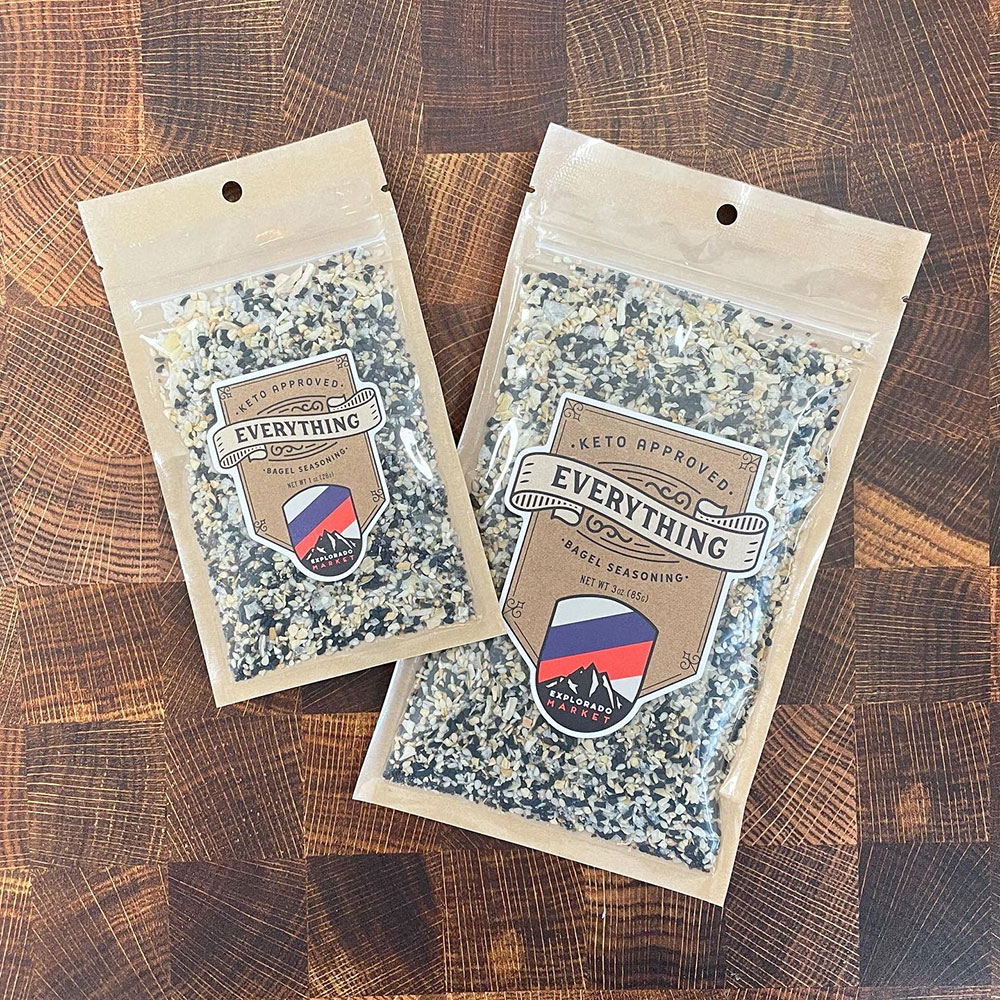 Made with Fathead Dough
Haven't had fathead dough before? It's a cheese-based dough that gives the final baked product a nice, chewy, doughy texture. It consists of:
Mozzarella Cheese
Cream Cheese
Eggs
Almond Flour
Baking Powder (or a baking soda/cream of tartar combo)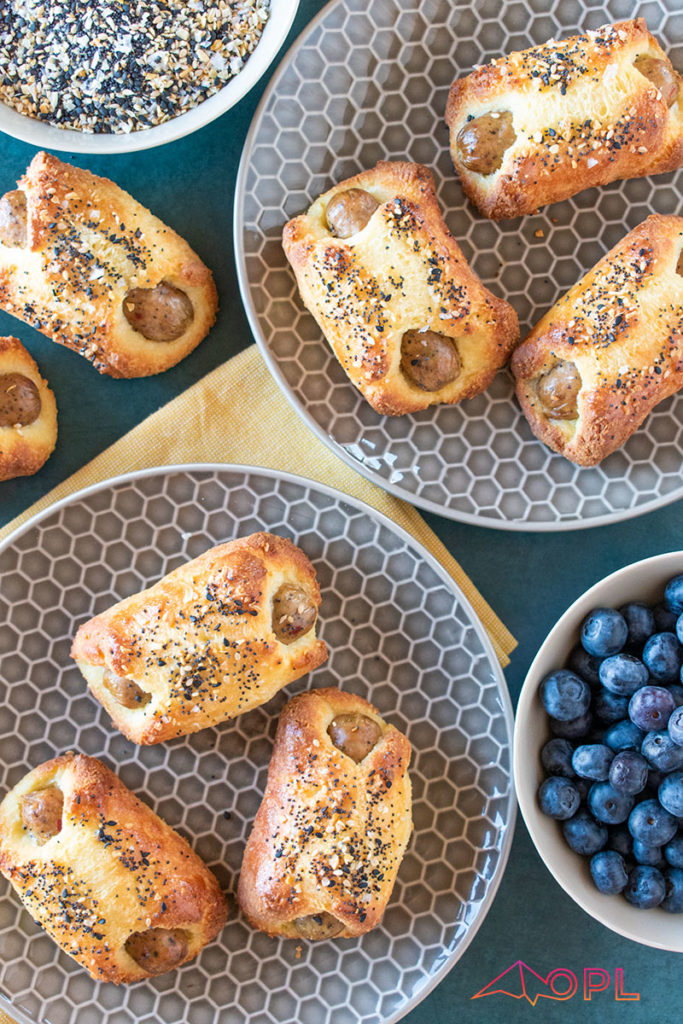 One of the great things about this recipe is that you can make them in advance and then just heat-and-go for a quick breakfast as you're running out the door. Anything to make the mornings run a little smoother is always a plus.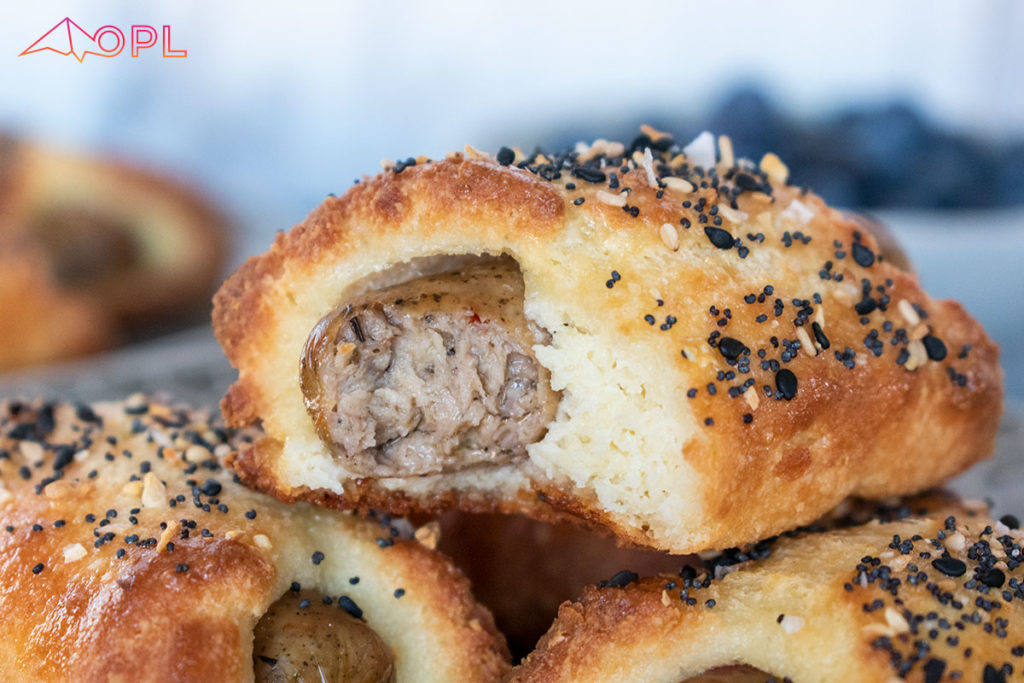 I'm not a fan of fennel in sausages, it tastes like black licorice and throws off the whole flavor for me. That's why I really like the AmyLu Chicken Breakfast Sausages. In addition to no sugar, they have no fennel. And the fresh flavor of the sausage is perfectly complimented by the burst of garlic/onion/salty flavors in the Everything Bagel blend. It's a blend of flavors that everyone is sure to love!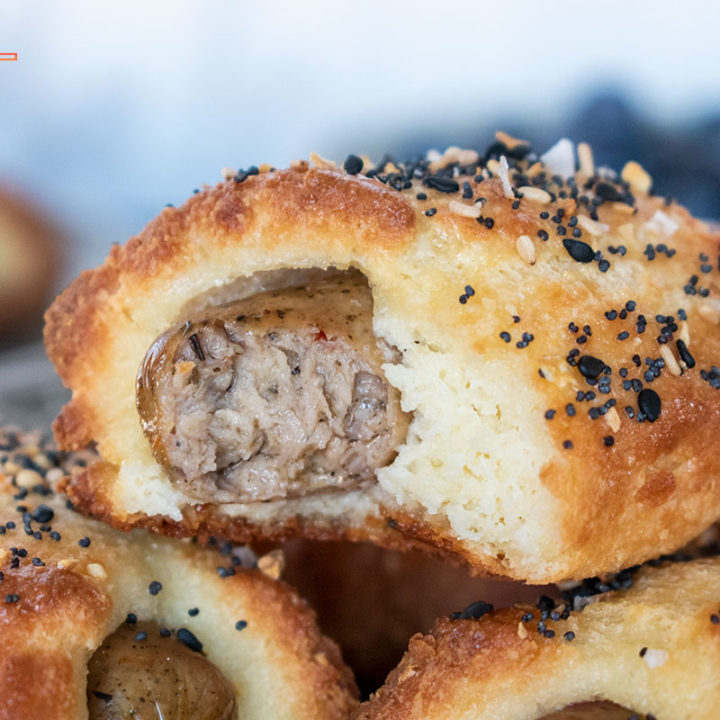 Keto Breakfast Pigs in a Blanket
Ingredients
2 1/4 cups Shredded Part-Skim Mozzarella (not fresh)
2 1/2 oz Cream Cheese
2 Eggs (plus 1 extra for egg wash)
1 1/2 cups Explorado Market Almond Flour
3/4 tsp Baking Soda
1 3/4 tsp Cream of Tartar
Explorado Market Everything Bagel Seasoning
12 Breakfast Sausage Links (see notes)
Instructions
Preheat the oven to 375°F. Line a baking sheet with parchment paper and set aside.
Whisk 1 egg and a splash of water in a small bowl until smooth. This is your egg wash. Set aside.
In a microwave safe bowl, combine the mozzarella and cream cheese. Microwave on high for 2 minutes, stir, then heat for another minute and stir again. It should be completely melted and smooth at this point. If not, heat again for 30 minutes and stir.
Add remaining 2 eggs, almond flour, baking soda, and cream of tartar. Using a wooden spoon or sturdy silicone spatula, stir until everything is fully combined and smooth. This can also be done in a stand mixer with a paddle attachment to make it go faster.
Once combined, use a large cookie scoop to form 12 balls of dough and place on parchment paper. Wet your fingers and flatten each ball into a disc about the length of the sausage link (see photos in the post above).
Place one sausage link in the center of each disc and gently wrap the sides of the dough disc up and over the top of the sausage, overlapping them and pressing the seam shut.
Brush each wrapped sausage (seam side up) with the egg wash and top with Everything Bagel Seasoning Blend.
Bake in the preheated oven for 20 minutes. Let cool about 5 minutes before eating.
Leftovers can be stored in the fridge in an airtight container for up to a week. Best reheated in a toaster oven to maintain the crispy exterior of the crust.
Notes
Our favorite breakfast sausage links are the AmyLu Chicken Breakfast Sausages. They have clean ingredients, no added sugar, and great flavor.
Nutrition Information
Yield

12
Serving Size

1 pig in a blanket
Amount Per Serving
Calories

280
Total Fat

21g
Saturated Fat

7g
Trans Fat

0g
Unsaturated Fat

13g
Cholesterol

71mg
Sodium

518mg
Carbohydrates

4g
Fiber

2g
Sugar

2g
Protein

15g