This recipe was updated in July, 2020.
We eat eggs pretty much every day for breakfast. Honestly, it can get boring, even when you mix it up between scrambled and fried. But eggs are just so easy and are one of the most perfect foods you can eat to start your day, so I will continue making them for our family.
Sweet Potatoes & Eggs for Breakfast
So how do I mix it up so the kids aren't utterly bored and disappointed to see another pile of scrambled eggs in the morning? Turn them into something fun! They loved seeing these little nests on their plates and gobbled them right up (and asked for seconds).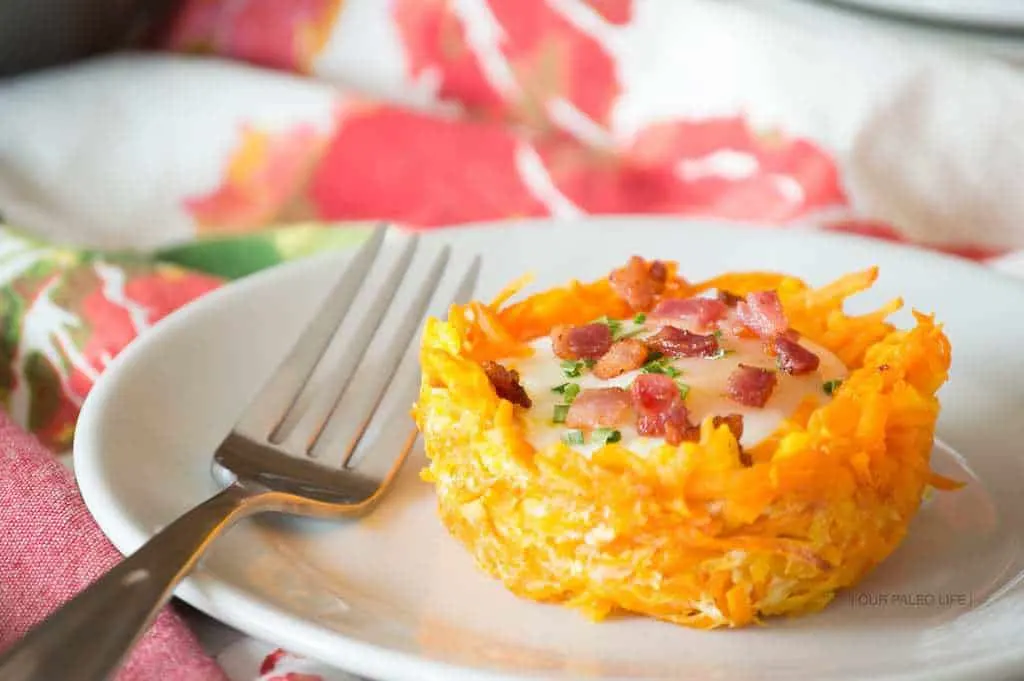 Eggs in a Nest Recipe
After finishing her breakfast, our oldest said "You know, mom, these would taste great with a little balsamic vinegar drizzled on top"". A) she's right; and B) I love that she's becoming a mini food critic and feels comfortable offering her input and advice when I'm creating recipes. She's always helping me make little changes here and there to get things just right. My little mini-me foodie, I love it!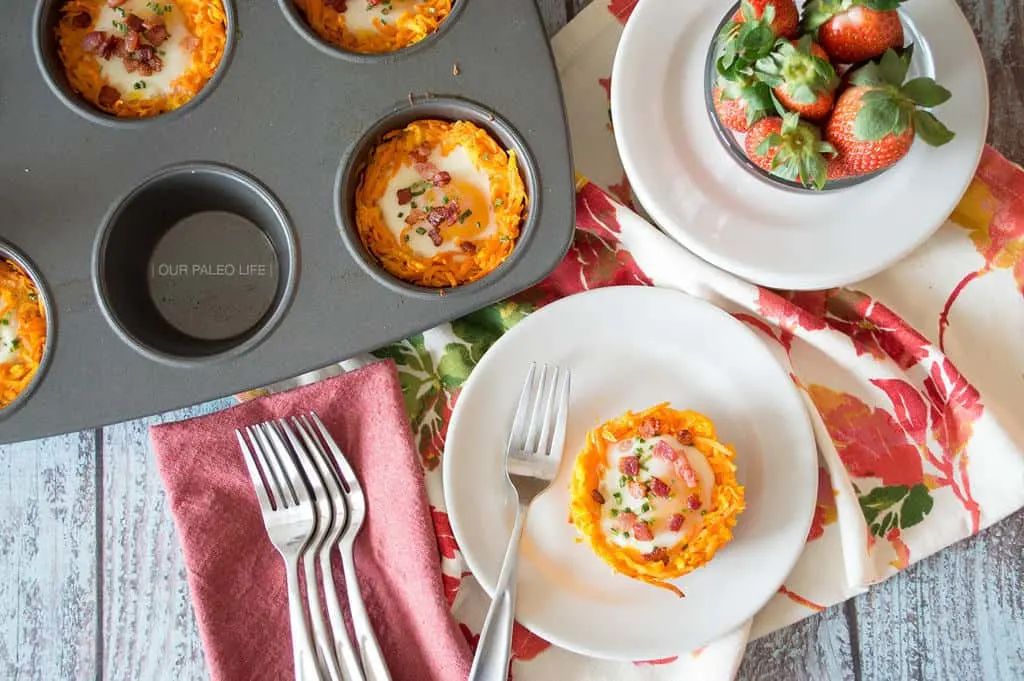 Easy Egg Recipe Planning
Depending on how big/small your potatoes are, you should be able to get about 5 "nests" out of this recipe, so if your family likes these as much as ours did, you might need to double the recipe. I mean, just look how fast this goes!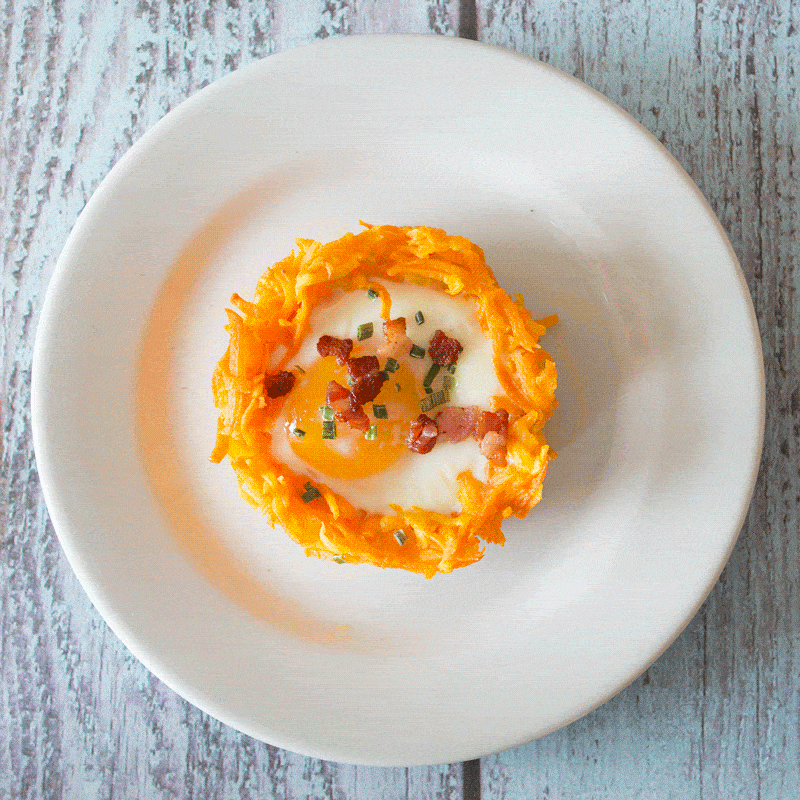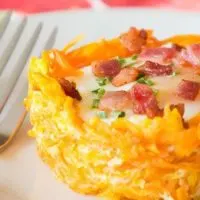 Eggs In A Nest
Plain eggs and potatoes can be a boring breakfast day in and day out. Shake it up a bit by making these simple Eggs In A Nest. The sweet potatoes get a boost in flavor with the addition of sweet apples and a drizzle of balsamic vinegar.
Ingredients
1 large Sweet Potato
1 Sweet Apple, we use Gala
2 Tbsp Coconut Oil, plus more for greasing muffin cups
5 large Eggs
Sea Salt, to taste
Chives, optional
3 slices uncooked Bacon, diced small
Balsamic Vinegar, optional
Instructions
Preheat the oven to 350°F. Lightly grease 5 cups of a jumbo muffin tin with the coconut oil. Set aside.
Peel the potato and apple and cut into large pieces (to fit into the food processor). In the bowl of a food processor with the shredder attachment, shred the apple and potato together.
In a large skillet (preferably non-stick or a well-seasoned cast iron), heat the 2 tablespoons coconut oil over medium heat. Add the shredded potato/apple and saute until softened, about 5 minutes, stirring occasionally. Salt to taste while cooking.
Using a 1/2 cup measuring cup, scoop the potatoes out of the skillet and into the greased jumbo muffin cups. Depending on the size of your potato, you may get slightly more or less than 5 cups. Using a small jar or cup, press an indentation into the potatoes, creating a well in the middle and pushing the potatoes up the sides of the muffin cup. This is your nest.
Crack one egg into the center of each potato nest. Sprinkle with chives (optional) and salt to taste.
Bake in the preheated oven for 15-20 minutes, or until eggs have reached your preferred doneness.
While the nests are baking, pan-fry the bacon over medium heat to desired crispness. Remove from pan with a slotted spoon and drain on a paper towel. Sprinkle bacon bits on top of cooked nests.
Nutrition Information
Yield

5
Serving Size

1 nest
Amount Per Serving
Calories

206
Total Fat

14g
Saturated Fat

7g
Unsaturated Fat

0g
Cholesterol

172mg
Sodium

164mg
Carbohydrates

10g
Fiber

1g
Sugar

5g
Protein

7g
Nutrition is calculated by a third party and may not be 100% accurate