This post was originally written in 2017, we updated it in 2020. This Keto pizza is GOOD!
The first time I ever heard of a "take-and-bake" pizza place, I was confused. Why would you want to drive to a pizza place and leave with a pizza that you would still have to cook when you got home? When I want pizza, I want pizza now. Not a 20 minute drive, 15 minute preheat, and 15 minute bake time from now.
Keto Pizza Recipe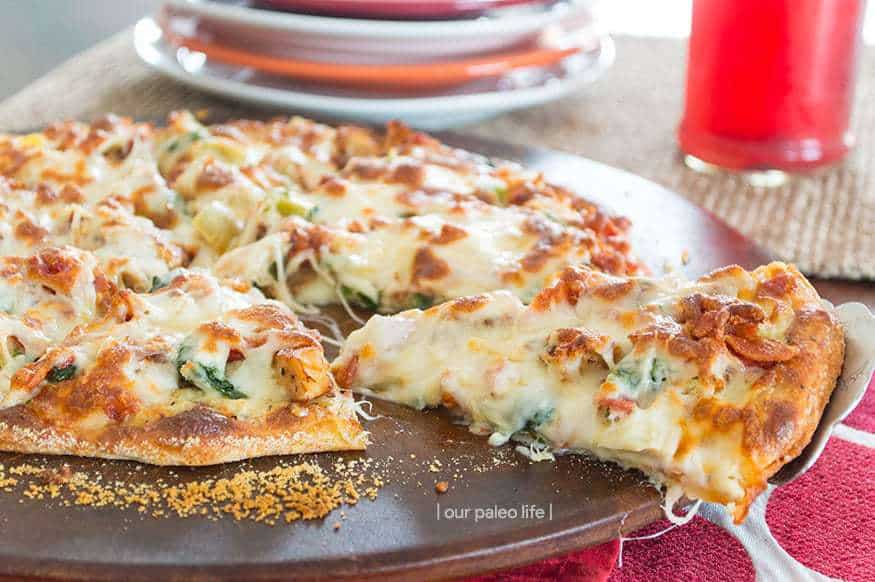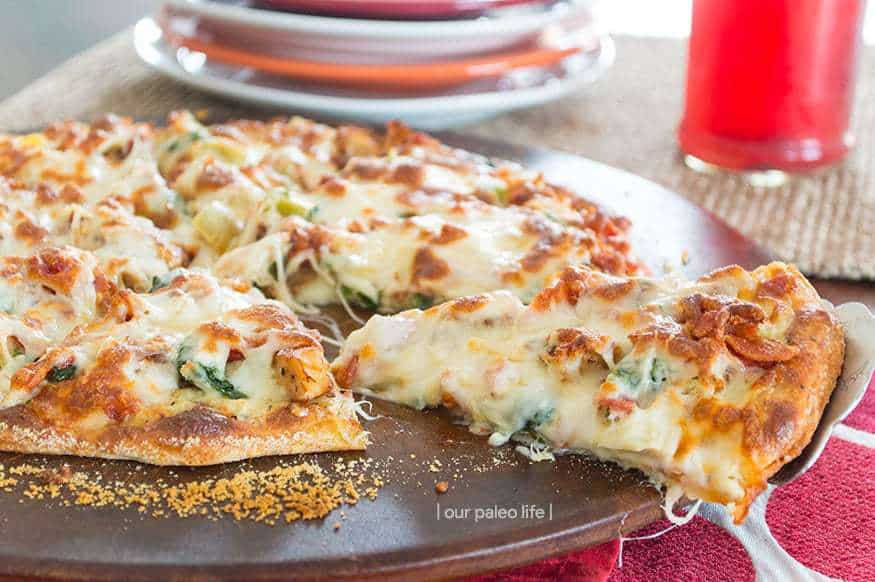 But then I tried a particular brand's bacon-spinach-artichoke pizza and I didn't care about the extra time. It was a really good flavor combo and I was hooked. When our family went cold-turkey and cut out all grains and dairy, we couldn't get my favorite pizza anymore.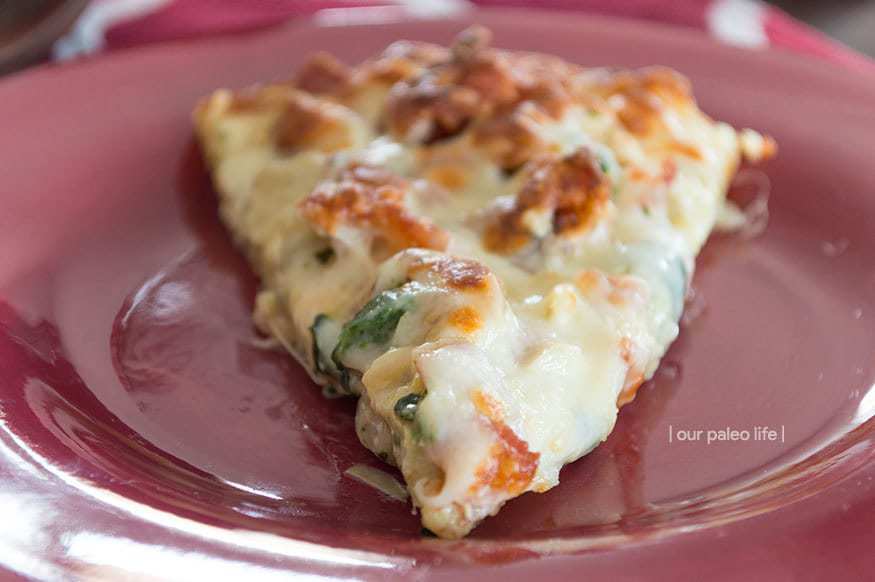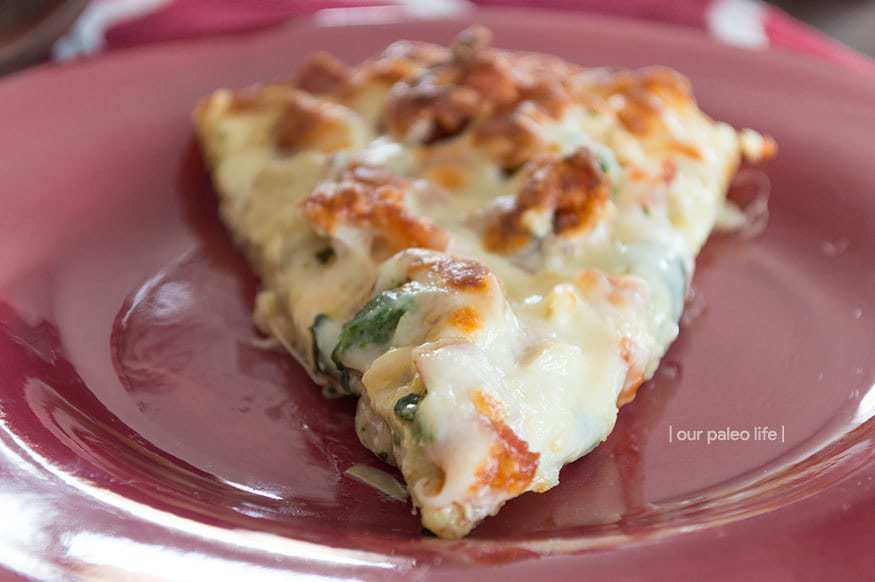 I recently discovered fathead pizza dough which has been the perfect special occasion dinner for those in our family following the keto diet. We've all enjoyed a regular pepperoni and black olive Keto pizza with a very thin layer of tomato sauce (gotta watch those carbs). And then it hit me: I could make my very own version of my old favorite pizza! And this is not the Keto pizza cauliflower recipe you may have tried before (there's a taste difference). Both are good, we like this one a little more though.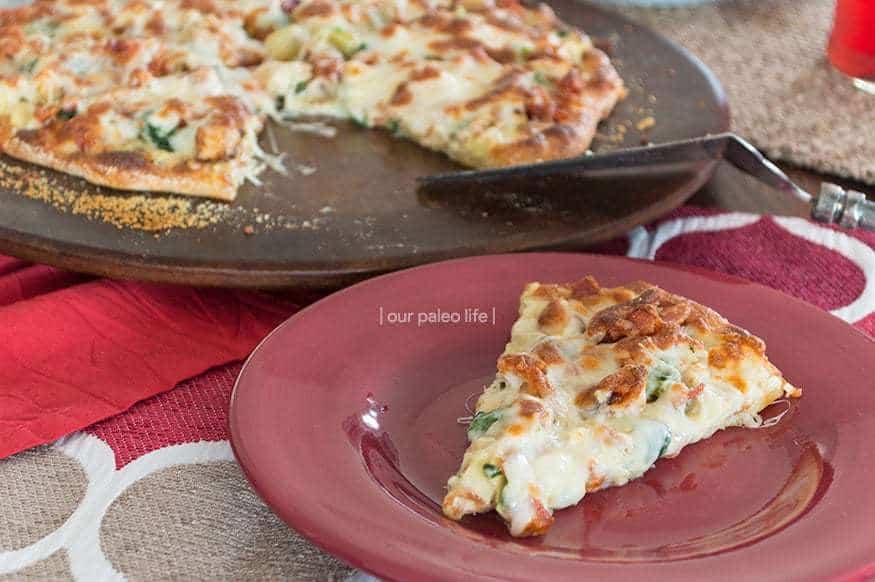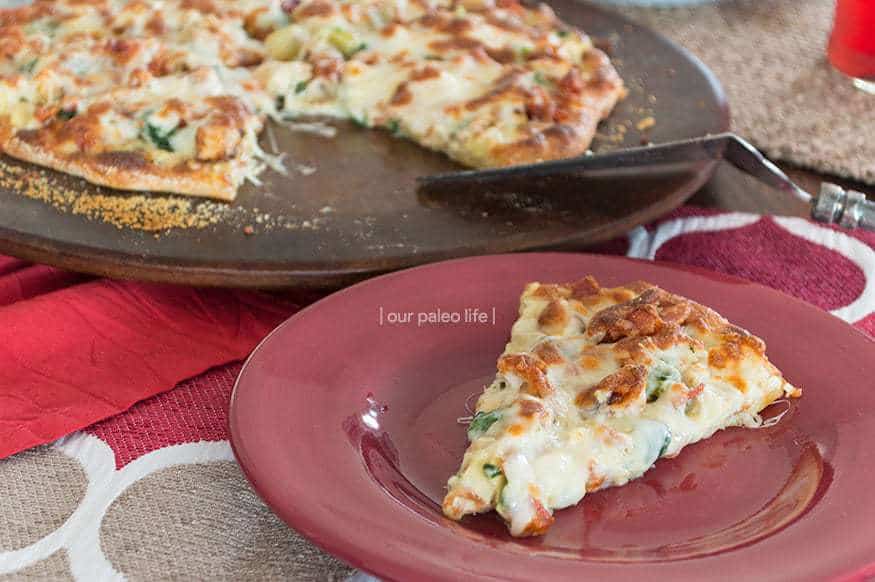 Looking for the Best Keto Pizza Crust
Hopefully (for you) this is it…
This pizza comes together very quick, and the crust is just a few simple ingredients that you mix up and press into shape. Sometimes we make this in a circle on the stone, other times we use a parchment-covered baking sheet, double the recipe, and make a huge rectangle pizza. Both methods work just fine. My favorite part is the sauce. I really love a white-sauce pizza over marinara based any day. This crust works so well making this a solid Keto pizza recipe to add to the rotation.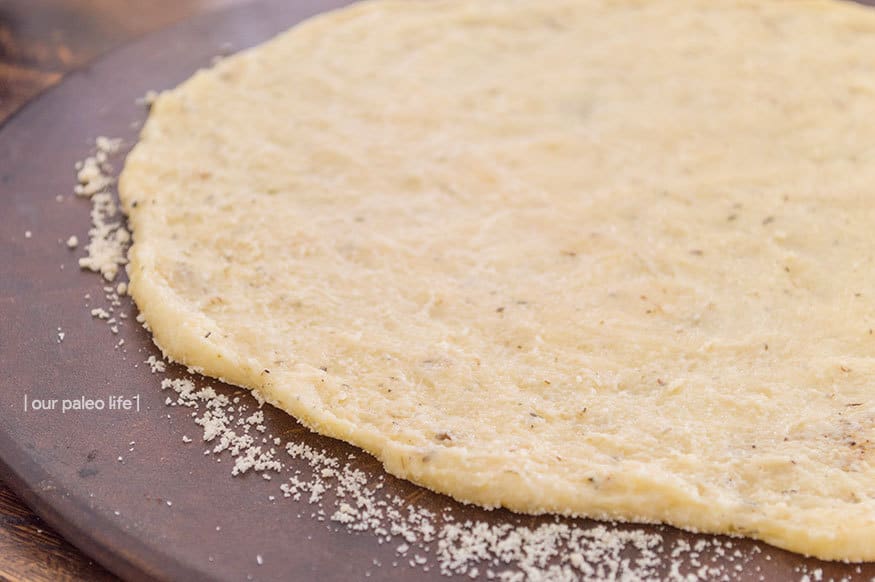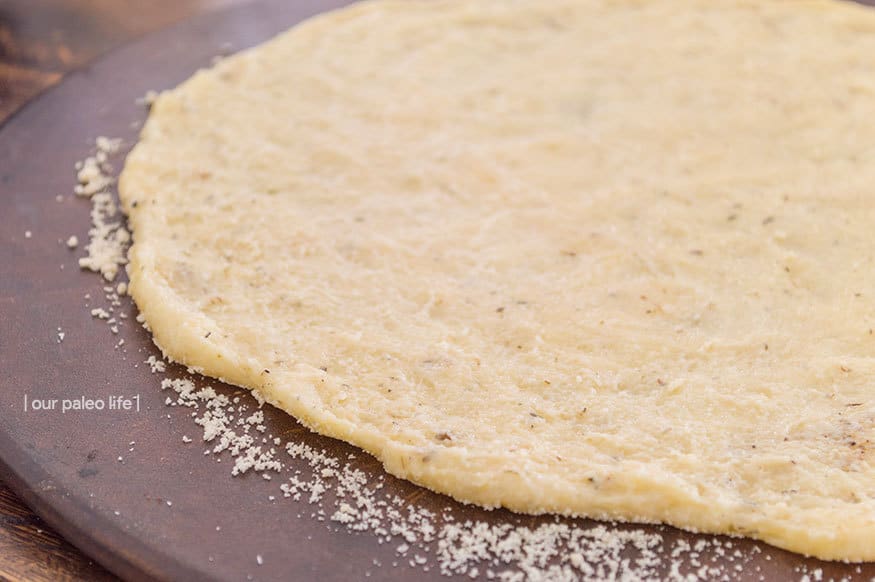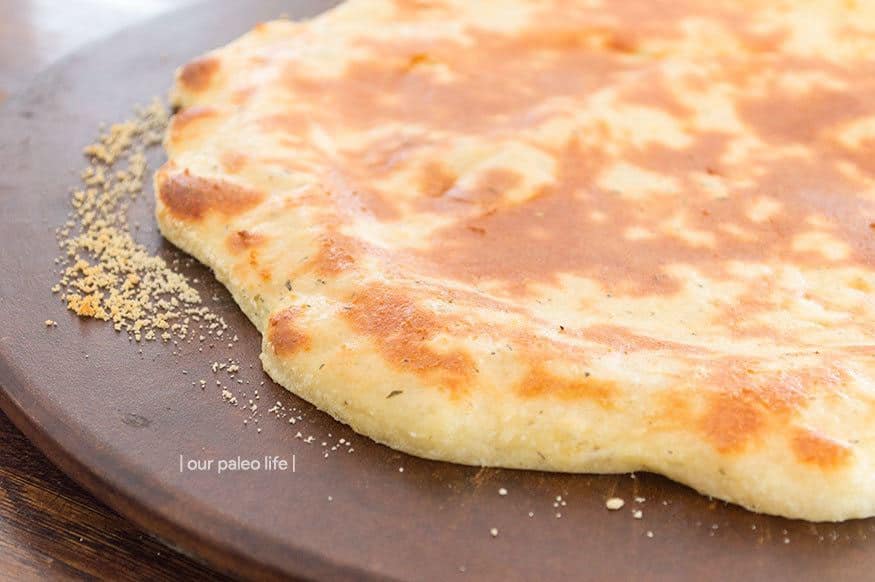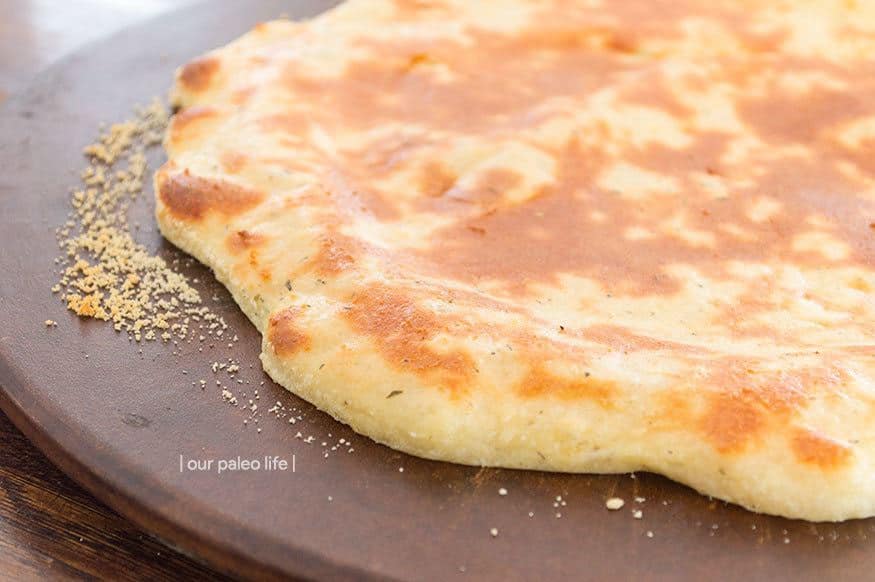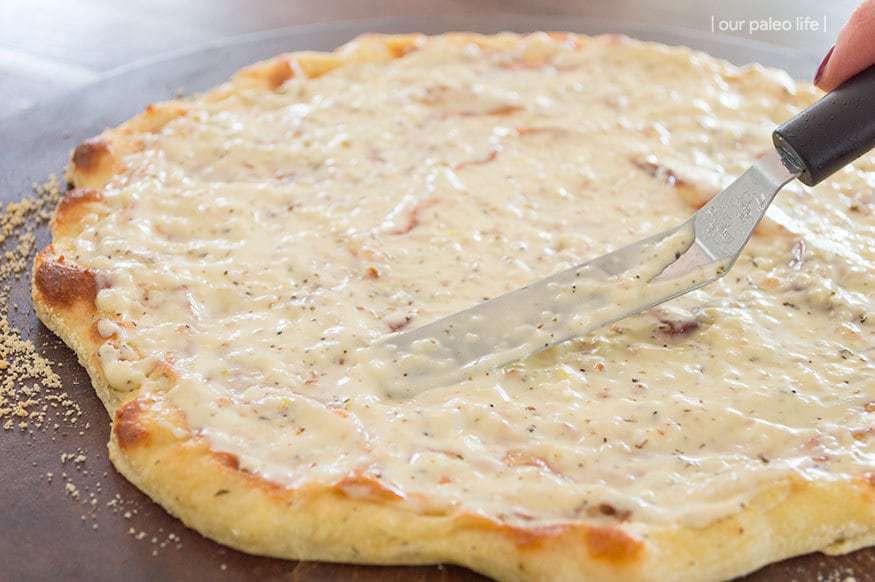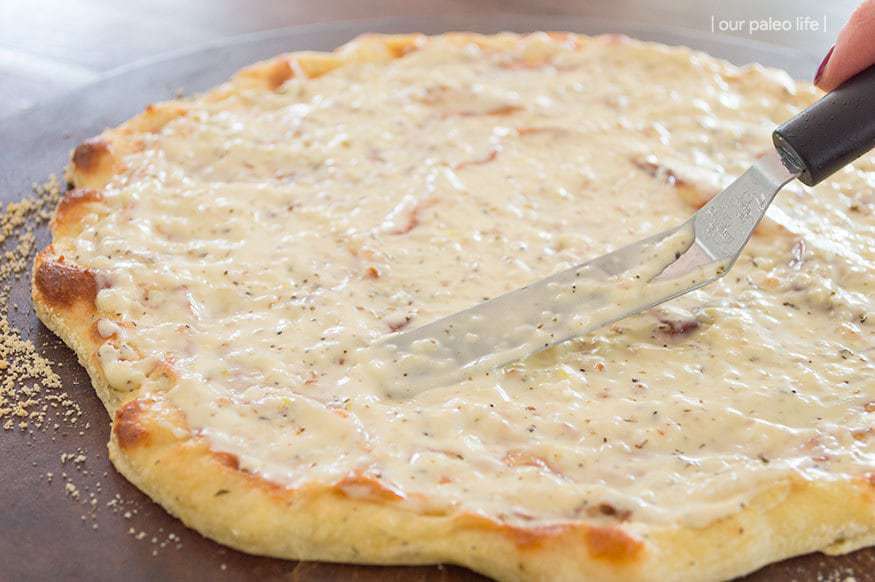 Of course, the most important part of this pizza is the combination of flavors. My kids aren't overly enthusiastic about artichokes, but in this pizza, they love them. The flavor they add is just right with the grilled chicken, bacon, and spinach. I actually use a spinach/kale blend most of the time, since I always have a bag of it in the freezer, but fresh spinach is just as delicious.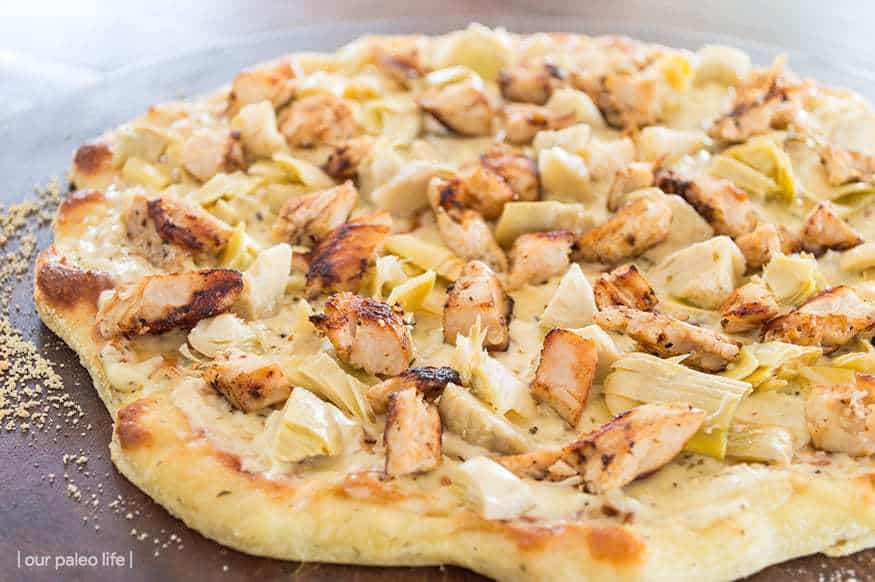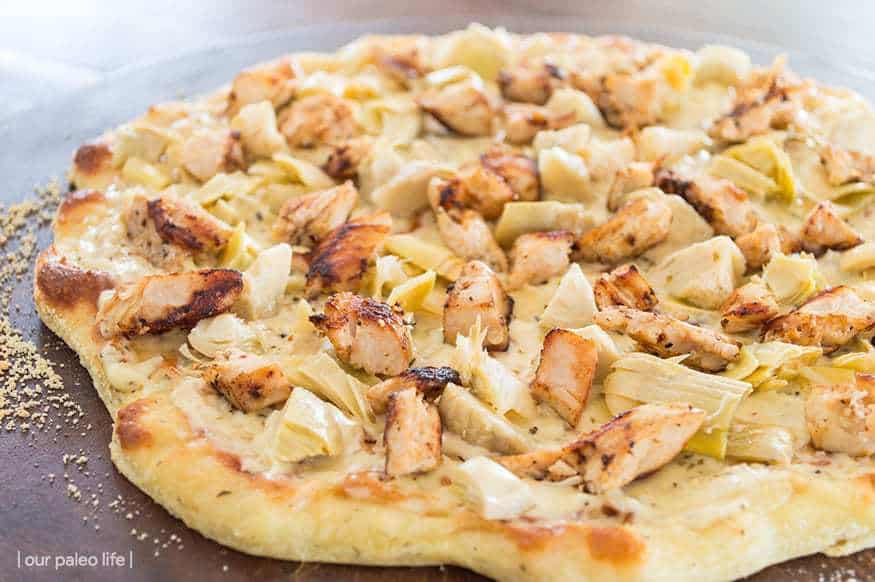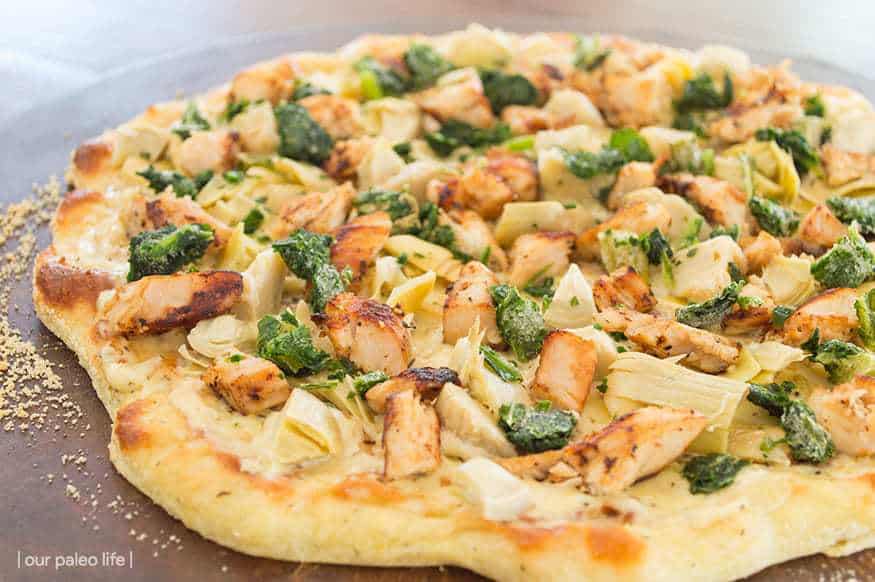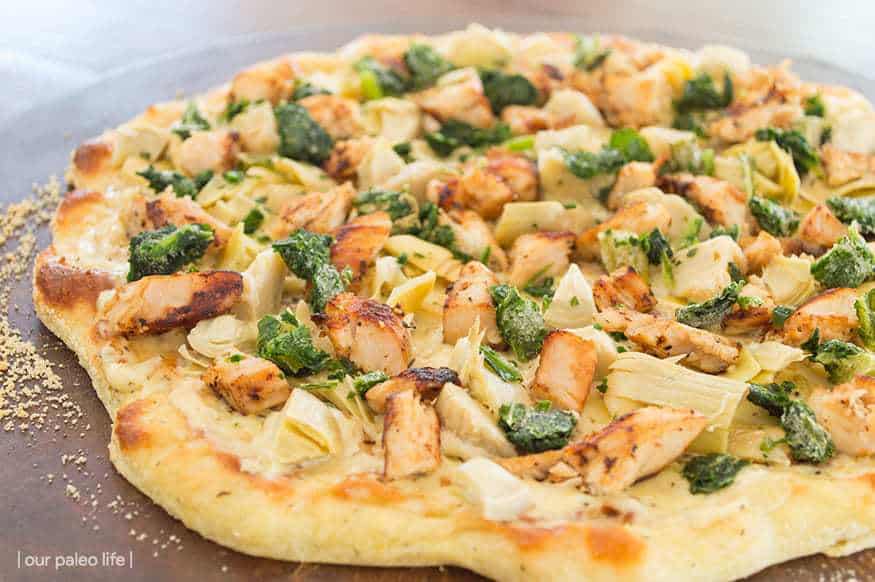 The other thing I love about making this pizza myself is that I can add as much bacon and cheese as I want. I really love cheese, and gooey mozzarella is the best.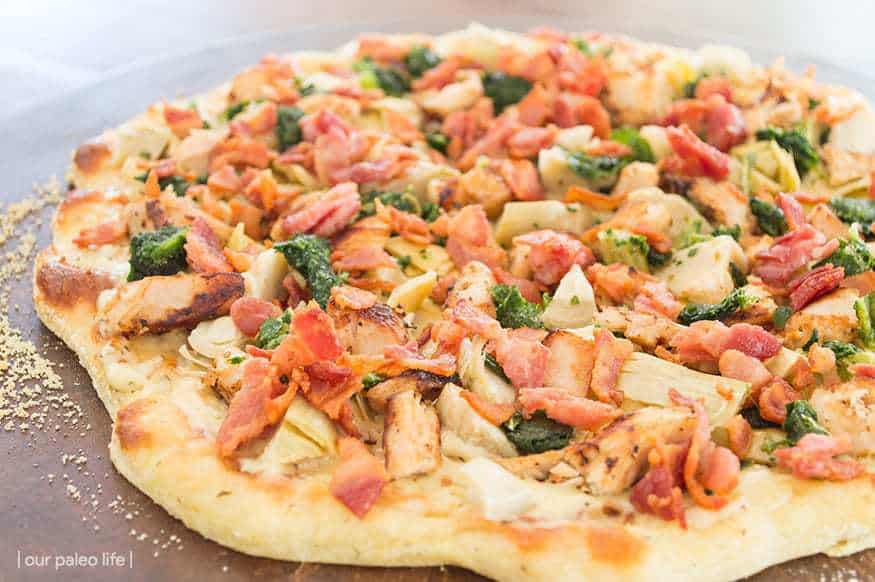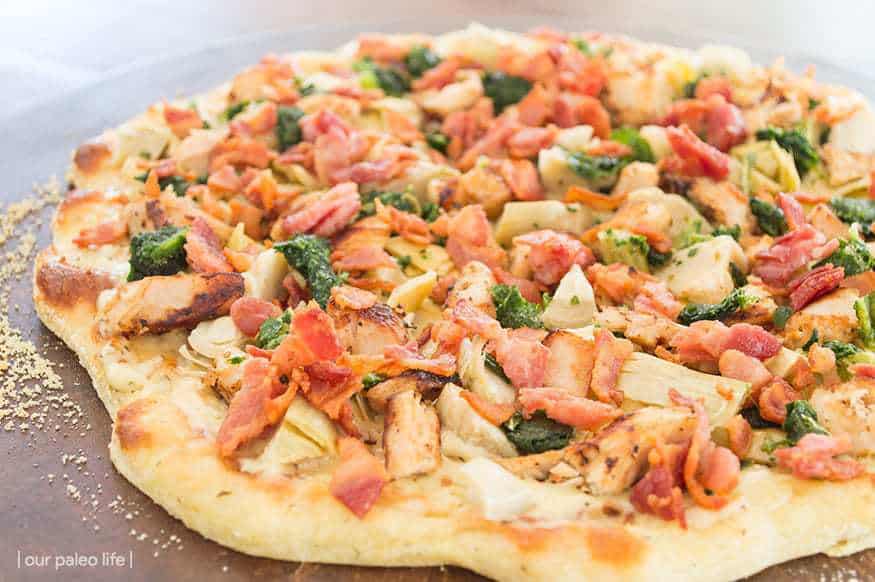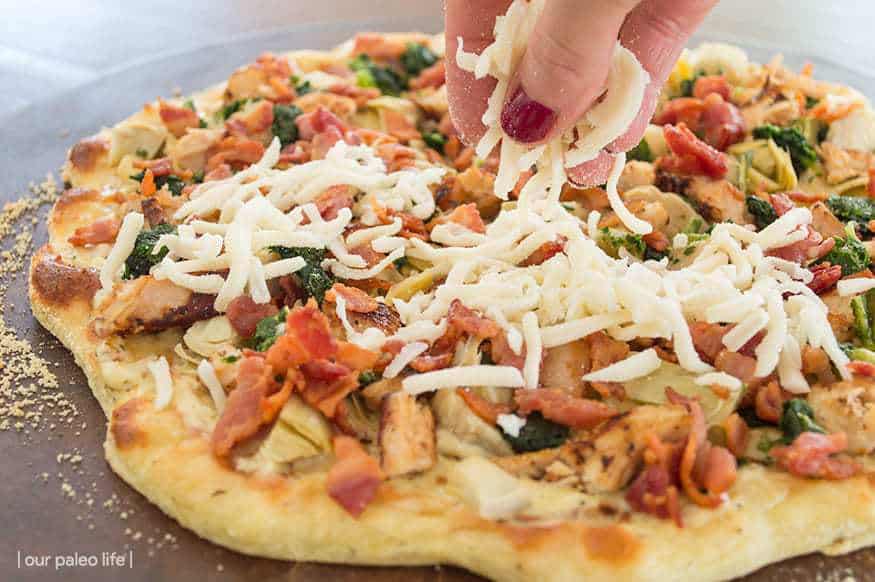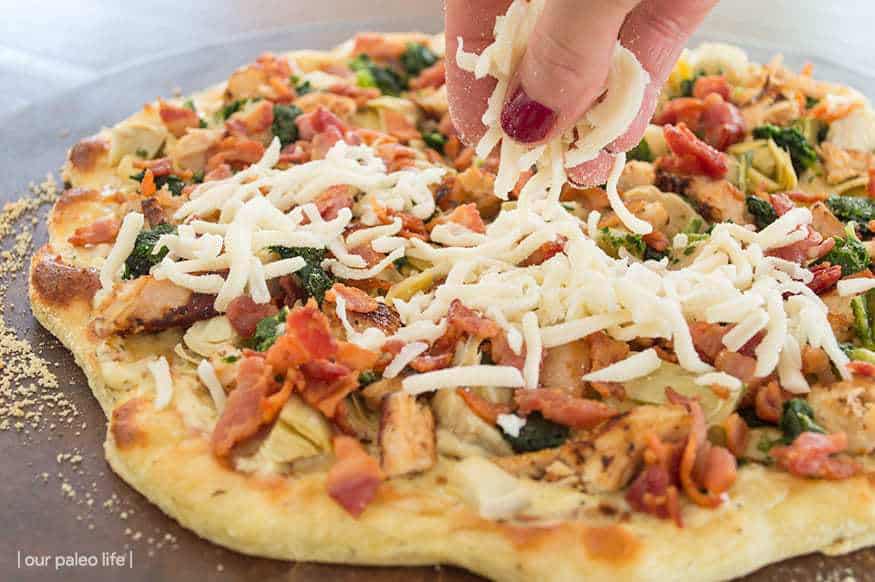 Back in the day when we would eat normal (non-paleo/keto) pizza on the regular, we could all go through a lot of slices. Now, with this keto pizza, I'm good with just one slice. It's enough to fill me up and keep my satisfied for the evening (until that dark chocolate craving hits, of course). And the Keto pizza crust with cream cheese is just right, fills you right up and tastes great.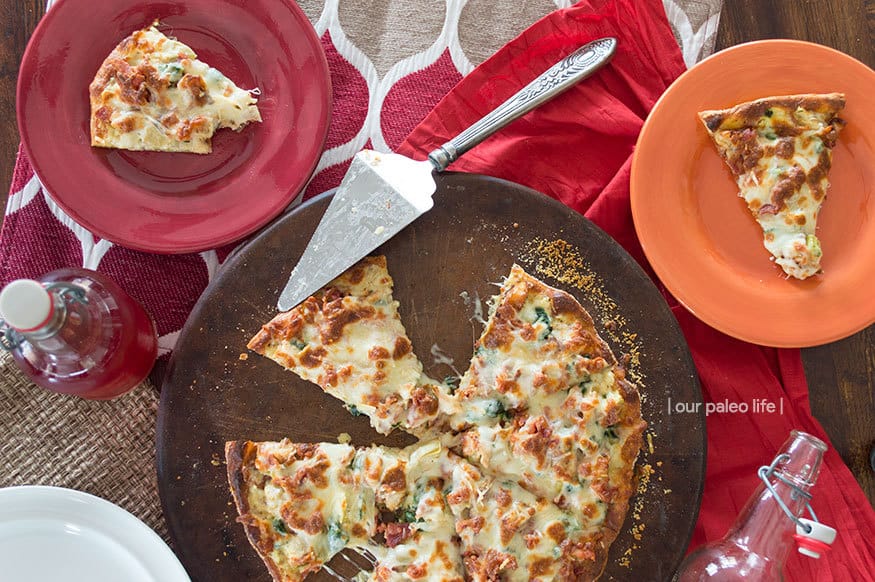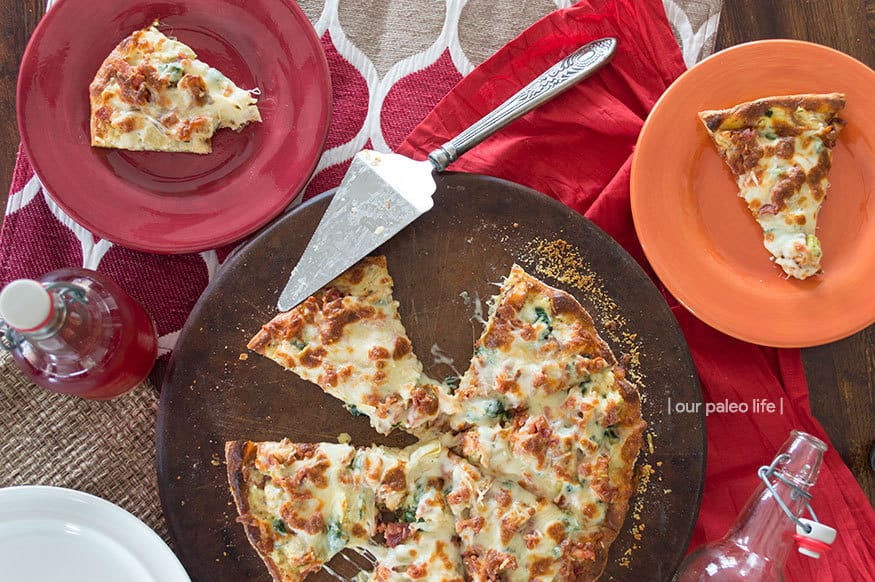 And it's great because that means there is more pizza leftover for breakfast the next day. No better way to start and end the day than with pizza, amiright?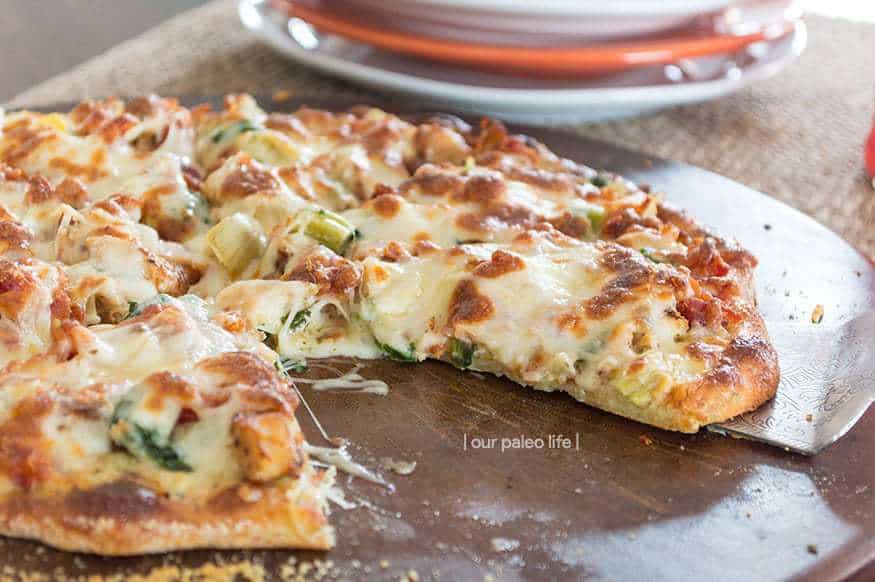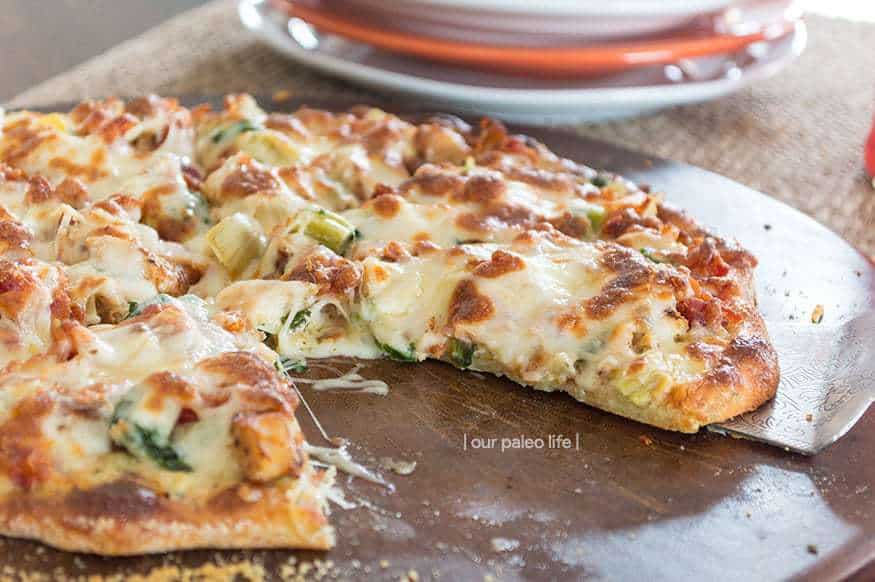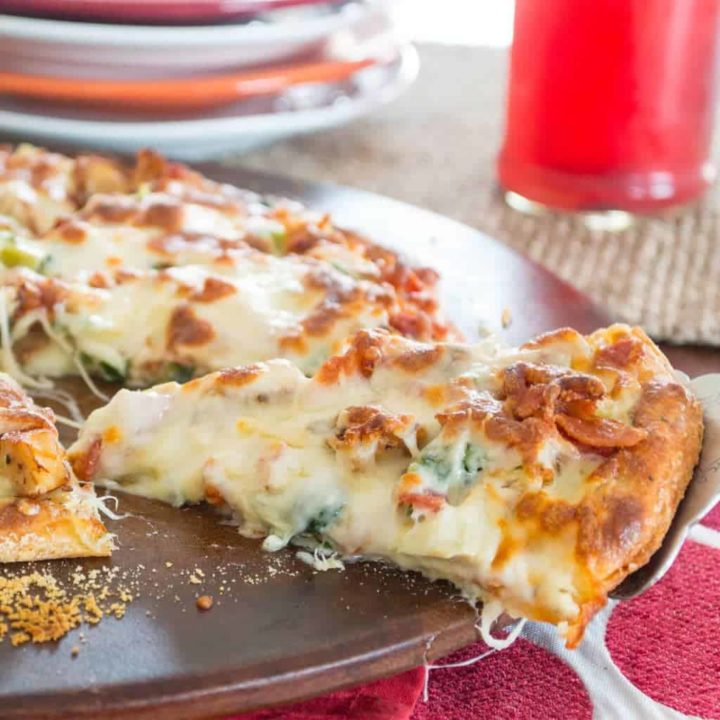 Keto Pizza - Chicken Bacon Artichoke
This pizza uses the fathead pizza crust and a white sauce to keep it low-carb. It's so flavorful you won't miss the old tomato sauce/pepperoni version at all.
Ingredients
Pizza Crust
1 3/4 cups (170g) Pre-Shredded Low-Moisture Mozzarella Cheese
2 tbsp Cream Cheese
1 Egg
Salt, to taste
1/2 tsp Italian Seasoning
White Sauce
2 Tbsp Butter
3 cloves Garlic, minced
1/4 cup Heavy Cream
2 Tbsp Cream Cheese
1/2 tsp Dried Minced Onions
1/2 tsp Italian Seasoning
2 Tbsp Parmesan Cheese, Fresh shredded, not the powdery stuff
Toppings
1/2 lb Bacon, chopped, cooked, and drained
1 handful Spinach (fresh or frozen), chopped
2-4 oz Cooked Chicken Breast, chopped into bite-sized pieces
4-6 Artichoke Hearts, diced into bite-sized pieces
1-2 cups Shredded Mozzarella, fresh or pre-shredded
Parmesan Cheese, Fresh shredded, not the powdery stuff
Instructions
Crust
Preheat oven to 425°F. Sprinkle a thin layer of almond flour on a pizza stone. If you don't have a pizza stone, line a baking sheet with parchment paper and sprinkle a thin layer of almond flour on the parchment. Set aside.
In a heat-safe mixing bowl, microwave the shredded mozzarella on high for 1 minute. Add in the almond flour and cream cheese and stir to combine.
Add in the egg, salt, and Italian seasoning. If it's too hard to mix until smooth with a spoon or spatula, use your hands to knead it until it's fully combined. It will be a little sticky, that's okay.
Form the dough into a ball and place on the center of your pizza stone/baking sheet. Have a bowl of water nearby. Keeping your hands lightly wet, press the dough out into a thin circle. It should be about 12" in diameter.
Bake crust in the prepared oven for 8 minutes. Remove when it is slightly puffed and browned. Pierce the crust all over with a fork to release the air and gently press it down to get it ready for the toppings.
White Sauce
While the crust is baking, melt the butter in a small saucepan over medium heat. Add the garlic and saute just until fragrant.
Add the heavy cream, cream cheese, dried minced onions, Italian seasoning, and Parmesan cheese. Whisk until smooth. Remove from heat and set aside.
Pizza Assembly
Pour the white sauce onto the pre-baked crust. Spread evenly almost all the way to the edge (leave very little edge on the crust, if any at all). Add the diced artichokes, chicken, bacon, and spinach. Top with as much or as little mozzarella as you like. Sprinkle on some extra Parmesan (optional).
Put the assembled pizza back in the oven and bake for another 6 minutes. Turn the broiler on HIGH and broil for another 1-2 minutes, or until the cheese is bubbly and golden.
Serve immediately. Store leftovers in the fridge for up to a week.
Nutrition Information
Yield

8
Serving Size

1 slice
Amount Per Serving
Calories

399
Total Fat

33g
Saturated Fat

10g
Unsaturated Fat

0g
Cholesterol

74mg
Sodium

494mg
Carbohydrates

8g
Fiber

3g
Sugar

1g
Protein

17g
Nutrition is calculated by a third party and may not be 100% accurate