Last Updated on July 31, 2021
I feel like pumpkin pie is one of those polarizing holiday dishes: you either love it or hate it. I fall into the "love" category and would prefer pumpkin over apple or pecan any day, but I certainly wouldn't urn down any of them! Although pumpkin is still carb-ish, you can still enjoy pumpkin pie on keto with a few changes to the classic recipe.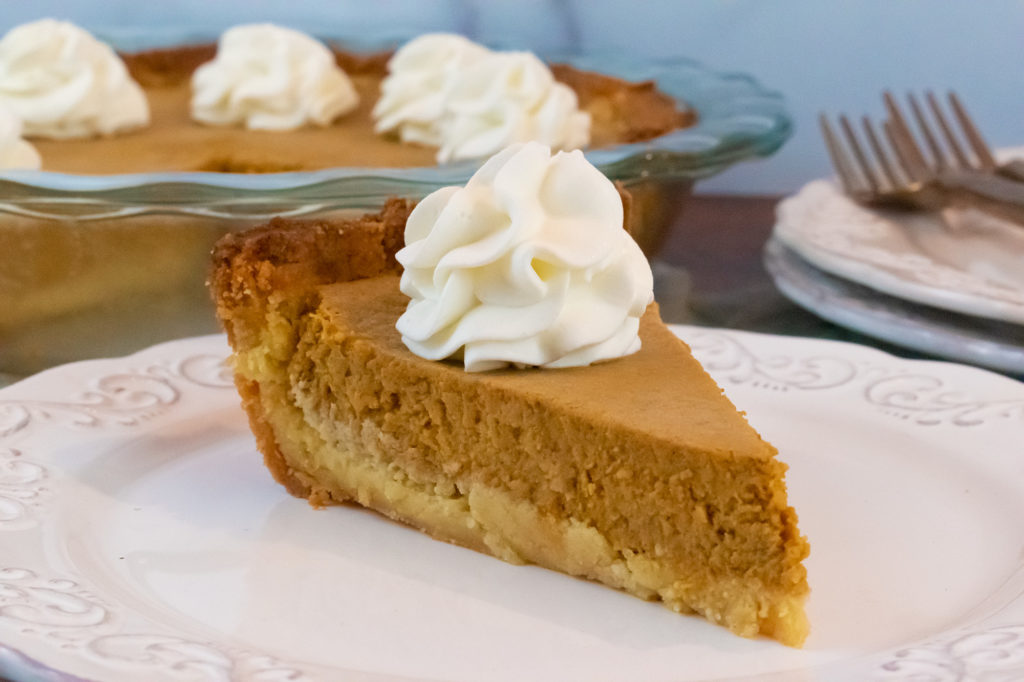 This recipe gives you a slice of pie at 7g net carbs, but definitely worth it and better than the 40g of carbs (!!!) you get in the classic version. Topped with allulose-sweetened whipped cream, it's going to be the perfect way to end your holiday dinner.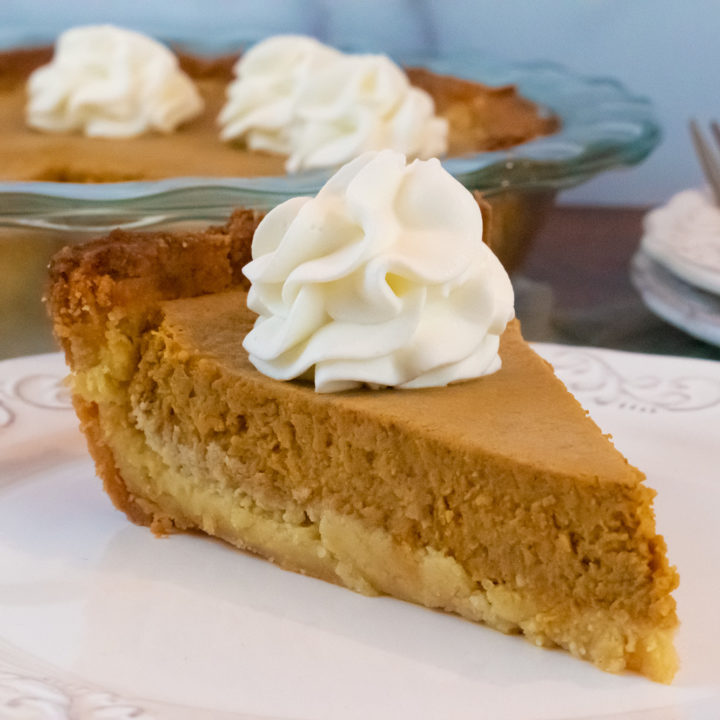 Keto Pumpkin Pie
Cook Time:
1 hour
10 minutes
Total Time:
9 hours
30 minutes
No need to make your blood sugar go crazy when this pie tastes as good (if not better) than high carb pumpkin pies.
Ingredients
Crust
1/2 tsp Unflavored Gelatin
2 Tbsp Coconut Flour
3 Tbsp Cold Water
1/2 cup Shortening or Butter, cold and cubed
Pie Filling
1 (15oz) can Pumpkin Puree (not pie filling)
2 lg Eggs
3/4 cup Heavy Cream
1/4 cup Water
1 tsp Vanilla Extract
2 tsp Pumpkin Pie Spice
Topping
Instructions
Combine Crust ingredients (except water) in a food processor and pulse until sand-like texture. Slowly add water while running food processor until dough forms (should only need 2-3 Tbsp).
Press crust into pie plate, evenly pressing down the bottom and up all the sides. Bake at 450°F for 10 minutes. Remove from oven and reduce oven temp to 350°F. The crust will puff up slightly. Gently press back down a little before adding pie filling.
Combine all Pie Filling ingredients and mix until smooth. Pour into par-baked pie crust. Bake at 350°F for 50-60 minutes or until center is mostly set and a knife inserted in the center comes out mostly clean. Cover the crust with tinfoil if it starts to brown too much before the pie is done baking.
Let cool at room temp for 1-2 hours, then cover and refrigerate 8 hours or overnight. Serve chilled, garnished with whipped cream.
To make the whipped cream, combine the Topping ingredients and beat with a hand mixer or electric whisk until fluffy and whipped to semi-stiff peaks. Pipe or spoon onto each pie slice.
Notes
This pie is slightly less sweet than a standard pumpkin pie. Add a bit more Lakanto Golden if preferred, but we like to add the extra sweetness by piling on the sweetened whipped cream.
Nutrition Information
Yield

8 slices
Serving Size

1 slice
Amount Per Serving
Calories

460
Total Fat

42g
Carbohydrates

25g
Net Carbohydrates

7g
Fiber

4g
Sugar

4g
Sugar Alcohols

14g
Protein

13g