I can only assume that I'm not the only person that has a hate/hate relationship with spice organization. I hate them in the cabinet because I can never see what's behind the first layer. I put them in a drawer, but all the bottles are different shapes and sizes so it's like trying to fit a puzzle of jars in there.
I decided one day that enough was enough. I have been using spices a lot more often since we went paleo (simply because I'm cooking more) so I needed an easy solution to this problem. The drawers in our current home are pretty narrow and shallow, so I needed to find just the right jar. Luckily, World Market came to the rescue and I found the perfect jars that allowed me to fit 16 jars in the drawer.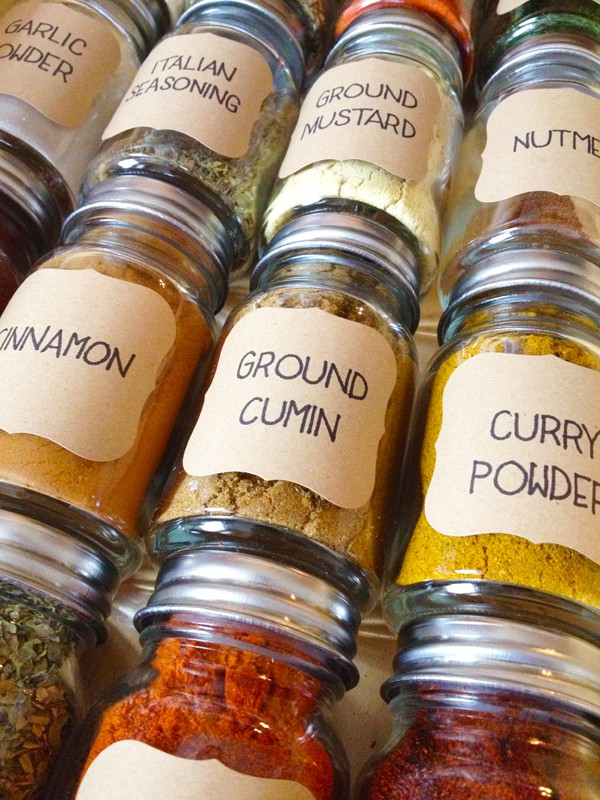 Next up, I needed to decide how to label them. I planned on painting a block of chalkboard paint on the front, but got lazy and decided to get some chalkboard labels instead. But after I couldn't find just the right size labels, I decided to print my own, just to make them look like chalkboard and the words would already be printed on them. But wouldn't you know it, my printer decided on that day that it would no longer work. I still can't print and it's super irritating.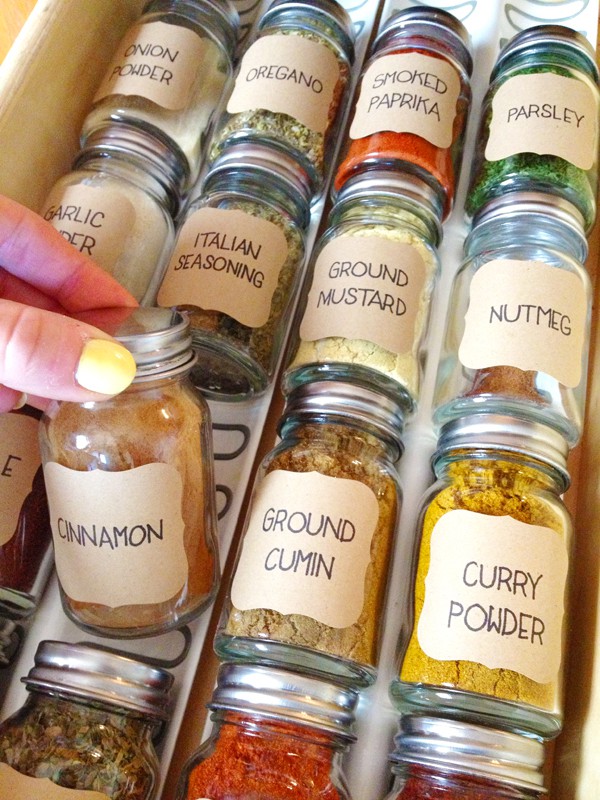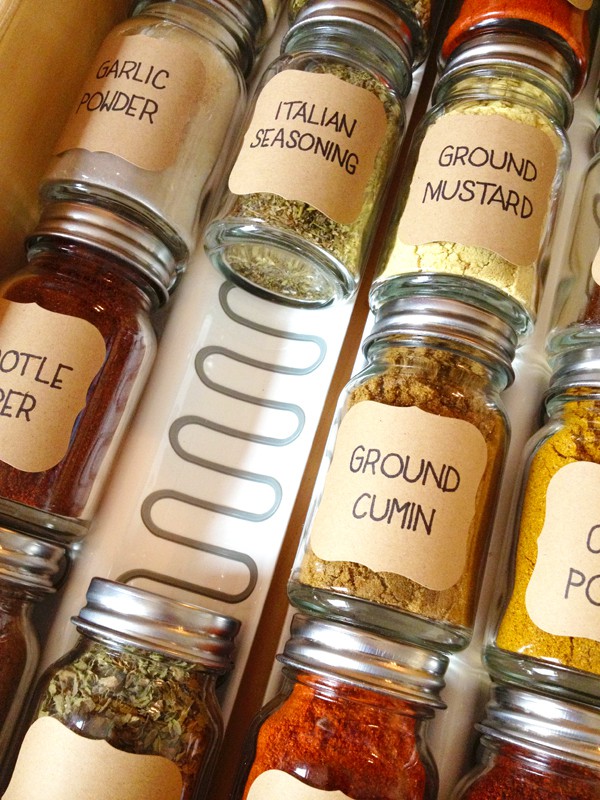 So the jars set unused, and the spice drawer continued to annoy me. This week, I saw an ad for Staples on a website and it was for Martha Stewart for Avery Labels. What?! So you know what I did? Loaded all 3 kids in the van and went to Staples. I found THE perfect labels and am so glad that I didn't settle for the chalkboard look. I love the kraft paper look SO much more! But, remember my printer doesn't work? So I had to get creative on the lettering. I didn't want to use my handwriting, so I found a font that I loved (Frenchy), typed up the words on the computer, turned the monitor brightness all the way up, and traced the letters from the screen onto a piece of printer paper.
Here's where it gets tricky. The label are not easy to see through. So my daughter and I setup a makeshift lightbox with a flashlight and a piece of tupperware. If you have a lightbox, use that and be happy you've got it. Then trace the words from the printer paper onto your labels using a fine-tip Sharpie. Stick 'em to your clean spice jars, fill, and voila! Spice jar perfection, people!
I also added some labels to the baking soda, baking powder, and salt jars since the labels came in a pack of 36 and I only used 16 of them. Maybe one day I'll have larger drawers and can fit more spices in one, then I can use the rest of my labels. Yay for pretty organization!