I used to make this dish all the time in my pre-paleo life. It was my go-to dish to bring to new moms, sick families, or anyone in need of good broccoli casserole. It is quick, easy, delicious, and filling with not many ingredients. But because it contained red potatoes, I sort of dismissed it as non-paleo and forgot about it. I know, stupid.
So I decided to breathe new life into a past favorite and will no doubt be making this super simple dish with baked chicken lit more often in the future. I'm sure I will sub cauliflower at times because that stuff is just freaking delicious. I'm sure Brussel sprouts in place of broccoli would be awesome as well, but whether using fresh or frozen broccoli it will turn out great.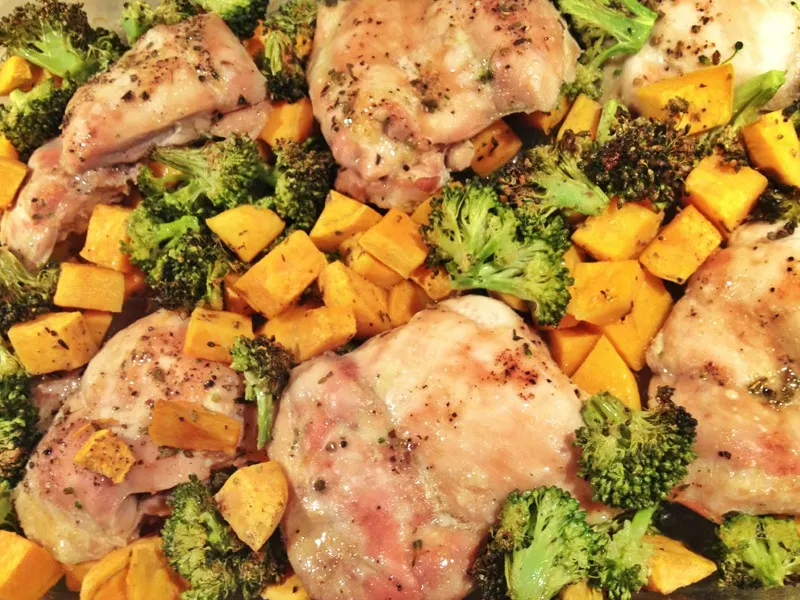 PS: Yes, I know the picture is bad, I was dealing with crappy lighting and hungry kids, so you get what you get and you don't pitch a fit. It's still a great chicken and broccoli recipe
Chicken Broccoli Bake
Ingredients
2 heads Broccoli, cut into florets
1 large Sweet Potato, peeled and cut into bite-size cubes
6 Chicken Thighs, I prefer mine boneless, skinless
1/2 cup Avocado or Olive Oil
1 1/2 tsp Garlic Powder
1/2 tsp Oregano
Sea Salt, to taste
Fresh Ground Black Pepper, to taste
Instructions
Preheat oven to 375°F. Place chicken, broccoli, and sweet potato cubes in a 9×13 glass baking dish. Drizzle olive oil over them and stir to evenly coat.
Spread out the chicken evenly in the dish and spread the veggies around and on top of the chicken evenly. Sprinkle the garlic powder, oregano, salt, and pepper on top.
Bake in preheated oven for 45 minutes, uncovered. Remove from oven and let chicken rest a few minutes before serving to keep the juices inside.
Nutrition Information
Yield

4
Serving Size

1 g
Amount Per Serving
Calories

698
Total Fat

55g
Saturated Fat

10g
Unsaturated Fat

0g
Cholesterol

166mg
Sodium

197mg
Carbohydrates

18g
Fiber

4g
Sugar

4g
Protein

32g
Nutrition is calculated by a third party and may not be 100% accurate