I'm a firm believer that all pancakes NEED syrup. Not just syrup, but MAPLE syrup. It's not an option.
However, this morning I may have been proven wrong. Last night, Rob told the kids that today was International Pancake Day and that meant we had to have pancakes. It was NOT International Pancake Day, but try telling that to the kids. So I decided to be awesome and make pancakes. Now I'm the best mom ever.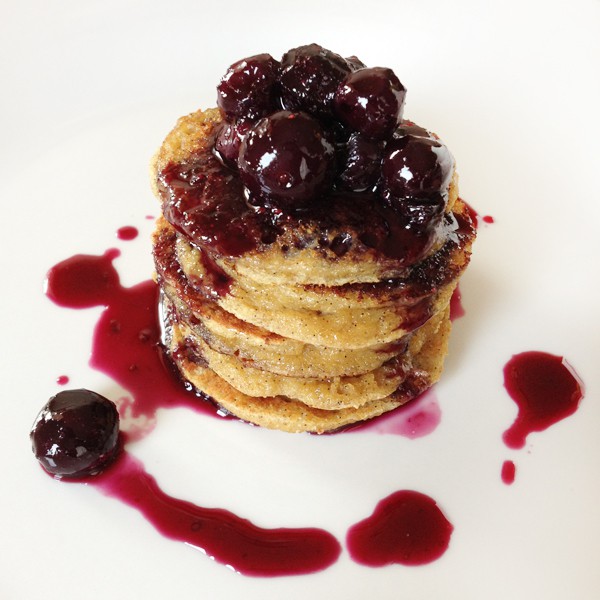 Not only did the kids like them (which of course they would, it's pancakes!) but Rob did too. And he's a peanut-butter-maple-syrup-on-your-pancakes kind of guy, so this was a victory for sure.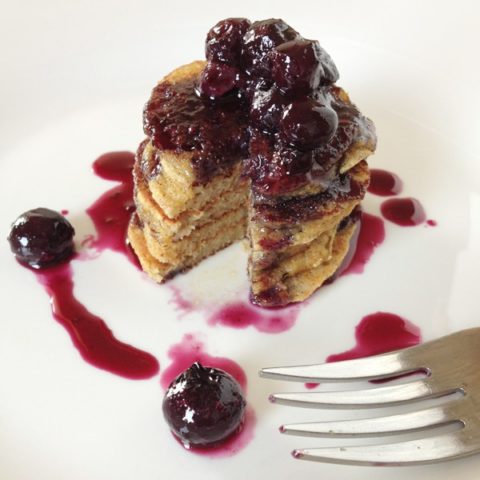 Banana Pancakes with Blueberry Compote
Ingredients
2 Bananas, peeled
3 Eggs
3 Tbsp Coconut Flour
1 Vanilla Bean Pod, seeds scraped out
1 tsp Vanilla Extract
¼ tsp Baking Soda
Cinnamon, to taste
Pinch of Sea Salt
1 cup frozen Blueberries
2 Tbsp Honey
Instructions
Place all ingredients except blueberries and honey in a food processor or blender (we use the Blendtec) and process until smooth.
Heat up a large non-stick skillet or griddle over medium heat (I had my griddle set to 325°F). Put a little coconut oil on the griddle/skillet (just a little, maybe a teaspoon).
Once skillet is hot, pour approximately 1-2 Tbsp of the mixture onto the skillet. I used a small cookie scoop so all the pancakes were uniform in size.
Wait until each pancake begins to form bubbles on the surface, then flip. This might take a while, you want to cook them "low and slow" so the sugars in the banana don't burn the pancakes.
While the pancakes are cooking, make the compote.
Place frozen blueberries in a small saucepan over medium-high heat. Once the berries begin to soften, add in honey and use a spatula to break up the berries even more.
Make all your pancakes (I keep mine warm in the toaster oven set to the lowest temp) and top with berry compote. No syrup needed!
Notes
Recipe from http://paleomg.com/banana-vanilla-bean-pancakes-with-mixed-berry-compote/