Say that 5 times fast. I feel like I'm Pippi from Mr. Popper's Penguins: "This is possibly the perfect prime provision" (translation: "this is the best breakfast"). Yeah, I searched the thesaurus for a while to get those words. I'm only a little embarrassed to admit that.
So anyway, I recently ran out of eggs, which is actually quite impressive considering I usually buy 8-10 dozen eggs at a time. But it happened and Sunday morning rolled around and I had nothing to make for breakfast. In addition to running out of eggs, I also had no sausage or thawed meat of any kind. I did have bacon, because I can't allow myself to run out of bacon. I try to always keep a 2 lb buffer, just in case.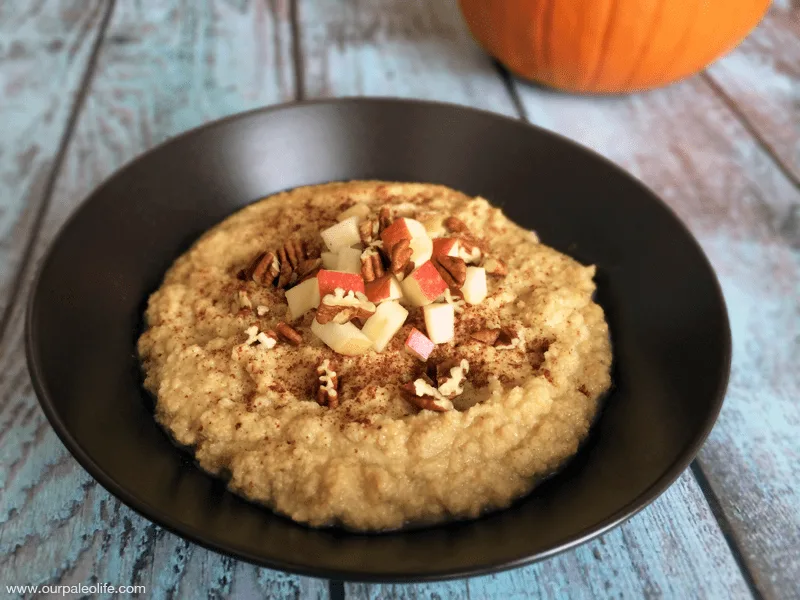 So I raided the fridge for what I could possibly make into breakfast. I thought "I could make Fauxtmeal" but then remembered that had eggs in it, so that was out. I saw the bag of almond flour and thought back to the cold mornings with hot cream of wheat and wondered if I could make a hot cereal like that out of almond flour. The texture seemed like it could work. But I can't just leave well enough alone. I had thawed some pumpkin puree a couple days before, so you know that was going in the cereal. While the texture isn't identical to the cream of wheat stuff (and I didn't expect it would be), it's pretty close. At first, the kids were unsure, just because it was different, but they quickly realized how good it was and all asked for a second bowl (good thing I made a double batch).
You could certainly top this with anything you wanted, but I think it was just perfect with the apples and pecans. If I had any dried cranberries on hand, I would have added those too. The perfect chilly autumn morning breakfast. Mmmmm.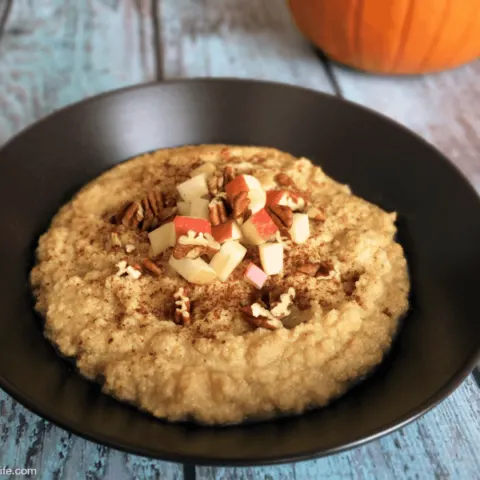 Paleo Pumpkin Pie Porridge
Ingredients
1 cup Water
1 cup Almond Flour
1/2 cup Pumpkin Puree
2 Tbsp Maple Syrup
1/2 tsp Vanilla Extract
Dash Salt
1/2 tsp Cinnamon
Dash Nutmeg
1/2 cup Pecans, roughly chopped
1/2 Sweet Apple, diced
Instructions
Bring water and salt to a rolling boil. Add the almond flour and lower the heat to medium. Continue cooking, stirring frequently, until the water is absorbed and the mixture has thickened, about 15-20 minutes.
When the mixture is just a little thinner than you want it, add the pumpkin puree, syrup, cinnamon, and nutmeg. Stir to combine.
Serve immediately and top with pecans and apples.
Nutrition Information
Yield

2
Amount Per Serving
Calories

606
Total Fat

47g
Saturated Fat

4g
Trans Fat

0g
Unsaturated Fat

41g
Cholesterol

0mg
Sodium

89mg
Carbohydrates

41g
Fiber

13g
Sugar

22g
Protein

15g
Nutrition is calculated by a third party and may not be 100% accurate