Two Big Announcements!
Check out the incredible Keto Meal Plan with recipes, grocery lists and macro counts! It took a long time to create, it's truly awesome.
And we're getting ready to launch Fat Fit Go (at Paleo f(x)) in April. Check it out and pre-order today.
First, let me say that I know this is a food blog, but bear with me for a sec. When I started eating paleo, it was to make myself feel better, look better, and be better. I've gone through many changes in the last 2 years of being paleo, many of them physical and mental. I have ups and downs, sometimes I fall off the wagon and have to climb back up. When I'm doing good, I look and feel great. I like to reward myself, and rather than rewarding myself with food, I prefer useful things.
Tomorrow is my birthday, so for my birthday, I wanted to get myself my first StitchFix. I work from home and go to the gym every day, so my wardrobe is limited. I attend church every Sunday and get out on a date occasionally, so I don't have much use for a wardrobe outside of yoga pants and maxi skirts. But I do want to change that. Problem is, I really dislike shopping and even more so, I don't like having to pick out what may or may not look great on me. Enter StitchFix.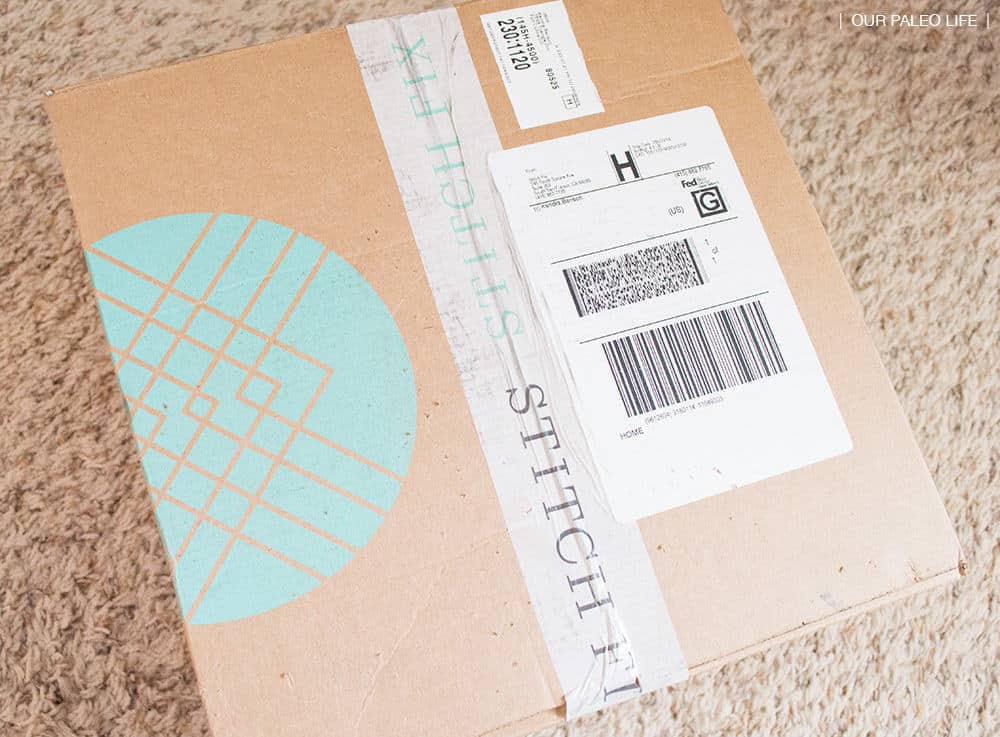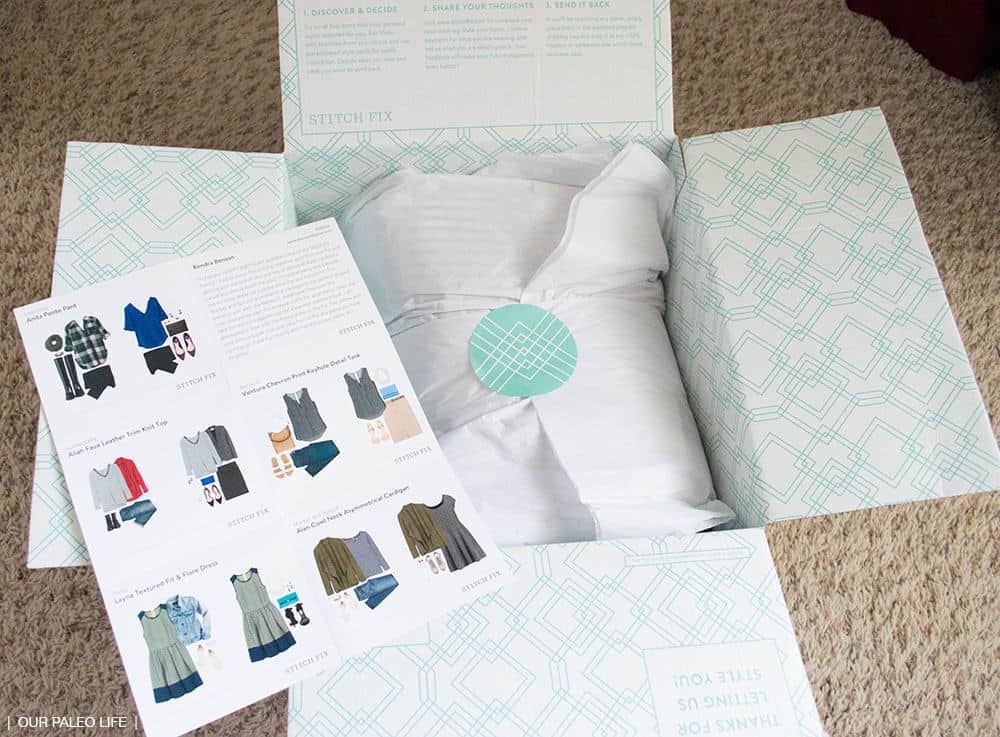 I signed up maybe 3-4 months ago, filled out my Style Profile and then just let it sit there. I couldn't take the plunge and actually commit to the first order. Then I realized that our CrossFit box's Christmas party was on the same day as my birthday and I thought "what the heck, I need something new to wear that night anyway", and I scheduled my first fix. I only paid $20 up front for my styling fee (which is then later applied to any items I purchase from my fix). And if I chose to keep all 5 items in the box, then they give a 25% discount, which would have broken everything down to about $48 a piece. Not bad for quality clothing and not having to step foot in a store!
I'll admit, I have a love/hate relationship with surprises, so when I got the email that my box had shipped, I immediately logged in to my account to see what they sent. I love the surprise but simply didn't want to wait for it. I'm so terrible. I was kind of bummed when I checked it and hoped that by the time it arrived, I'd be more excited when I say the items in real life. And I gotta say, I was actually pleasantly surprised.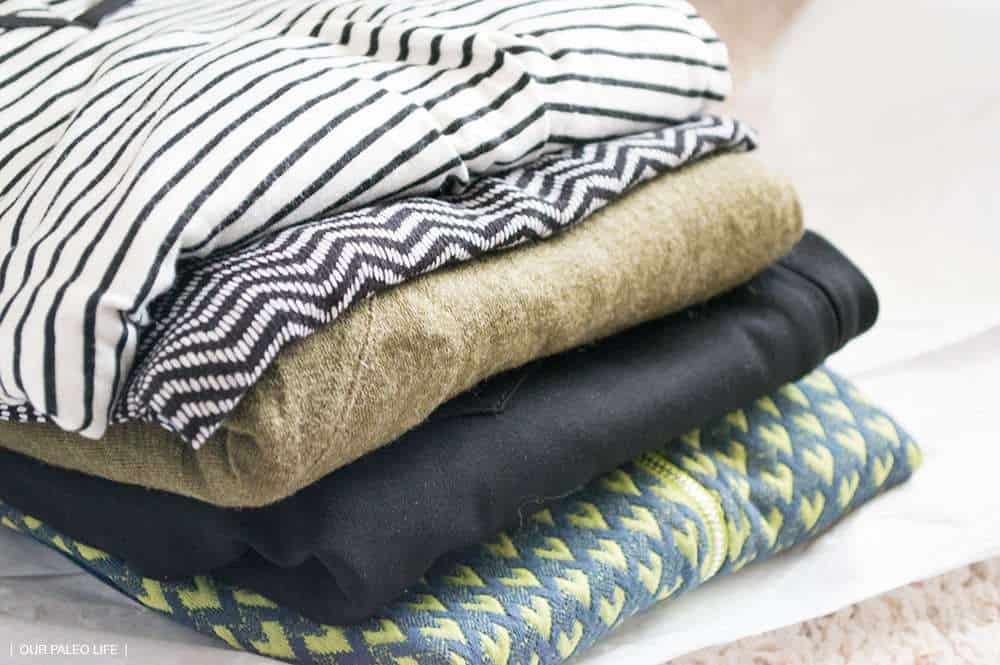 Wanna see what I got? Good, because I took pictures. And I didn't put on makeup, so sorry for that, you just have to deal with my sleepy-looking eyes.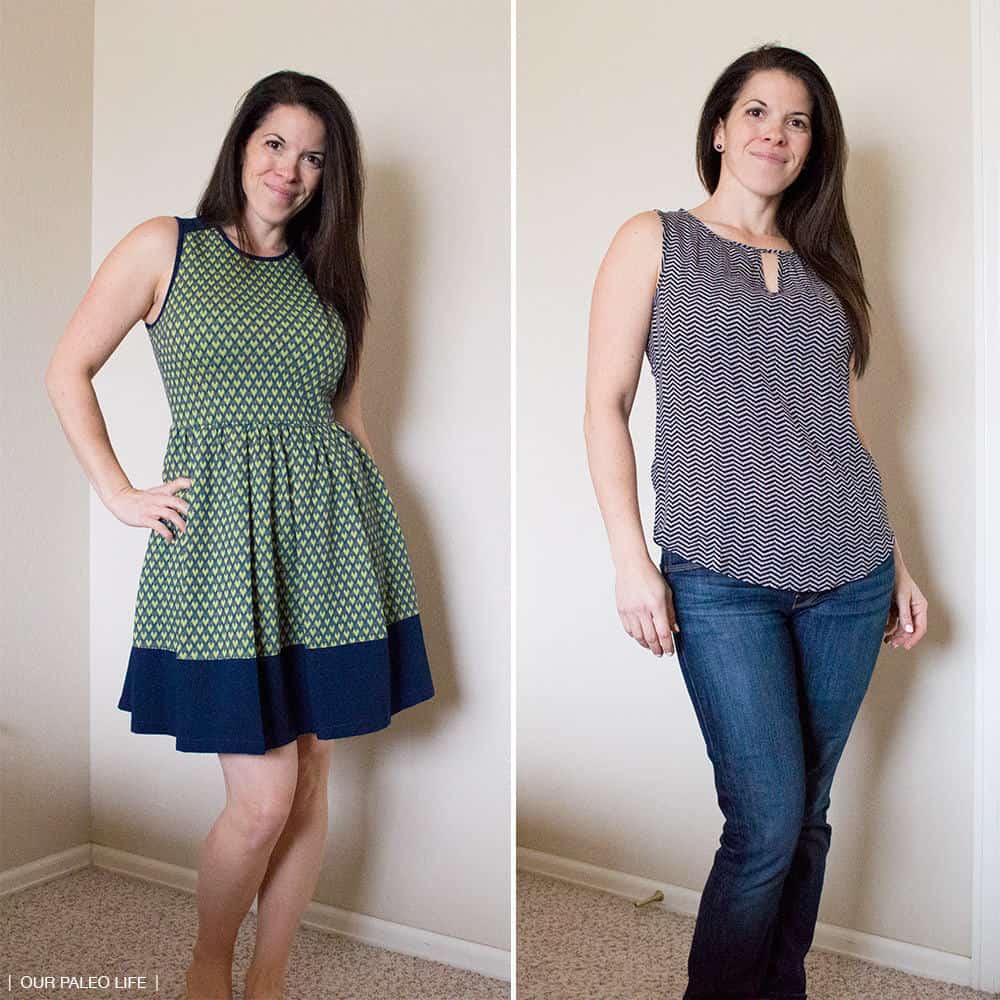 Layna Textured Fit & Flare Dress
I'm fairly picky when it comes to dresses, likely because I'm very short-waisted and prefer longer lengths. I really wanted to like this dress, it was different than anything I would have picked out for myself and would have kept it if not for the length. It's just too short for me, but I surprisingly like the pattern and cut
Verdict: Returned
Ventura Chevron Print Keyhole Detail Tank
I knew right away I wouldn't be keeping this one. I'm not a tank-top kind of gal and even with a blazer or cardi, I just couldn't see myself wearing this. I disliked it as soon as I tried it on. I did try it with a white blazer over it and actually liked it with that, but the keyhole part still bothered me. I'm by no means small up top, so it bulged kinda strangely up there, so back in the box it went.
Verdict: Returned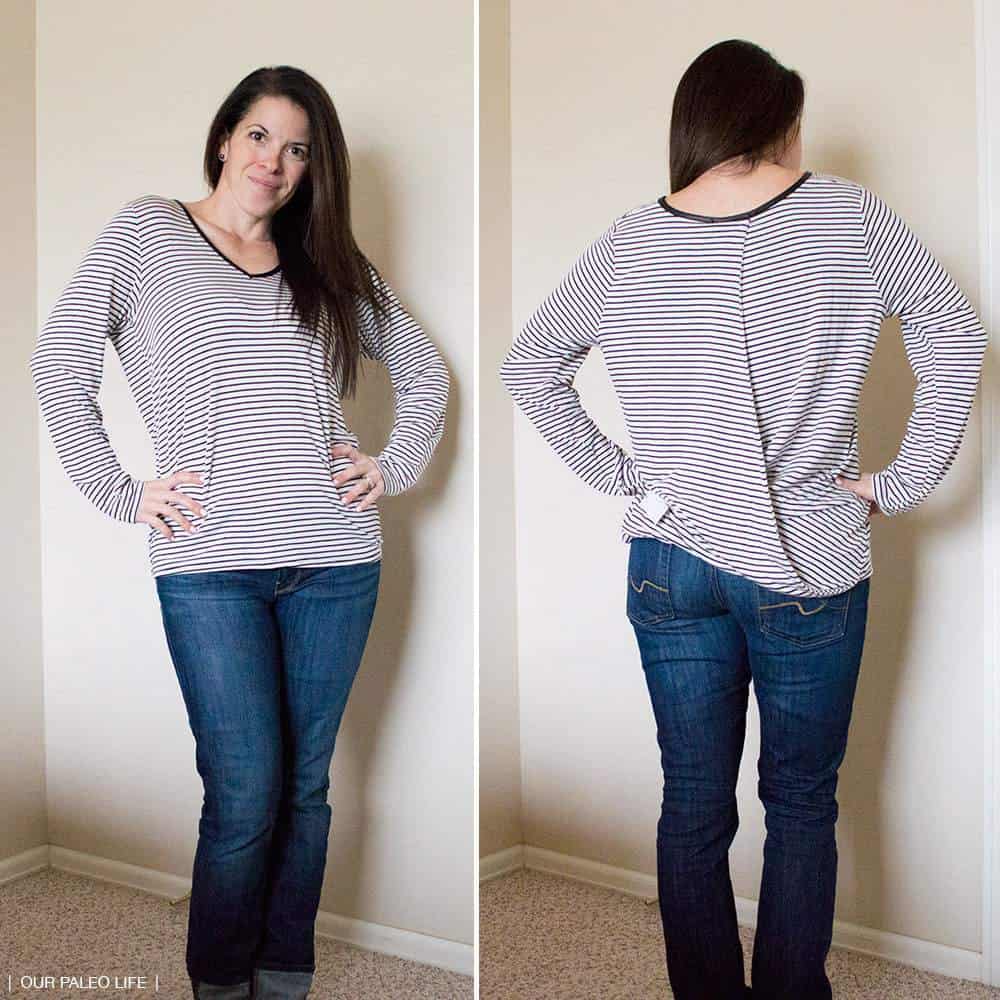 Aliah Faux Leather Trim Knit Top
I just recently purchased a striped top from H&M and was bummed to see a striped long-sleeve shirt in my Fix. But it's really a completely different cut, so I was a little happier. I love me a good baggy shirt (sooo comfy) and this one really fit the bill. I also loved the surprise in the back with the twisted keyhole from hem to neckline. So much fun. Problem was, the shirt was just too big. I contacted StitchFix to see about getting a smaller size, because I really do love the top, but they didn't have one. Bummer.
Verdict: Returned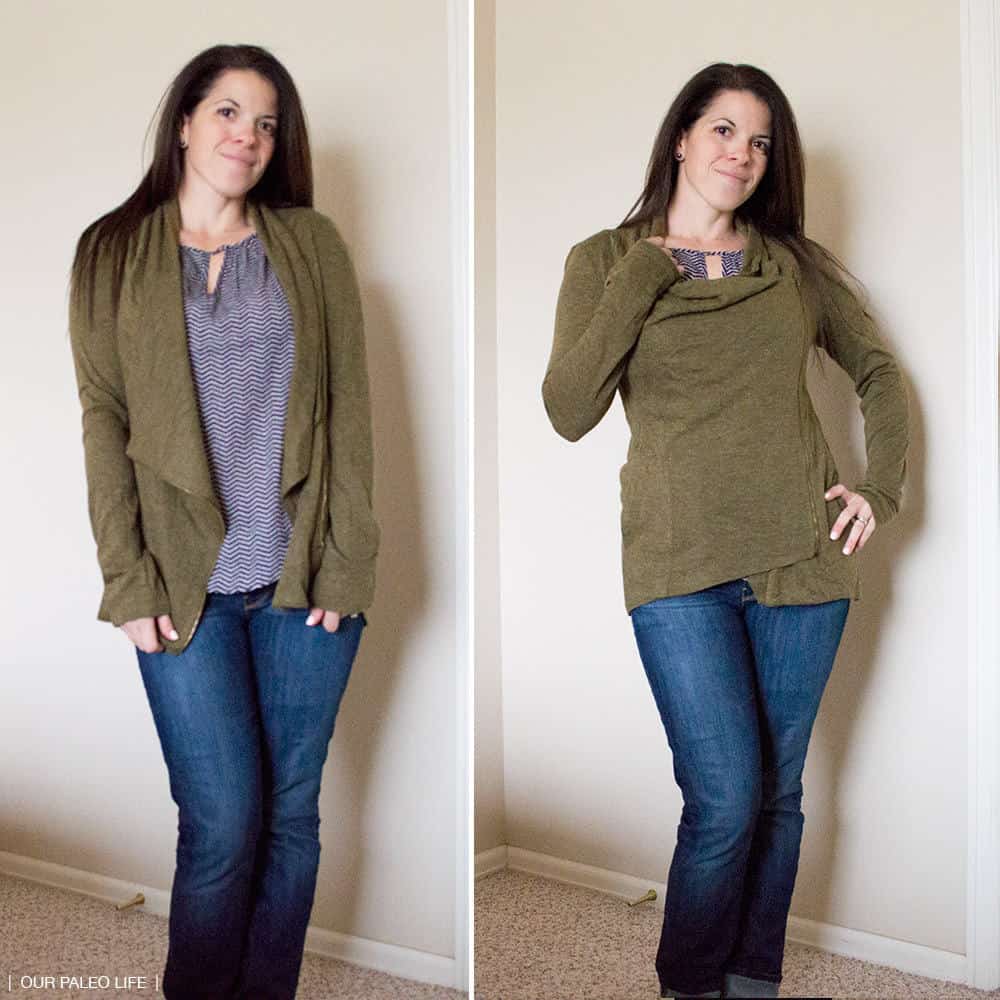 Alan Cowl Neck Asymmetrical Cardigan
When I saw this listed on the shipped info, I immediately Googled it. I got really excited because I've been wanting a light sweater that's not my workout hoodie. All the pictures I found online were either red or black and I was excited about either prospect. So when I opened the box and found a less-than-desirable olive green, my hopes were dashed. Still, I was willing to give it a shot. Sadly, it was just too big. Maybe I filled out my profile wrong, because everything was a little large. Note taken for next time, because I'm sure there will be a next time.
Verdict: Returned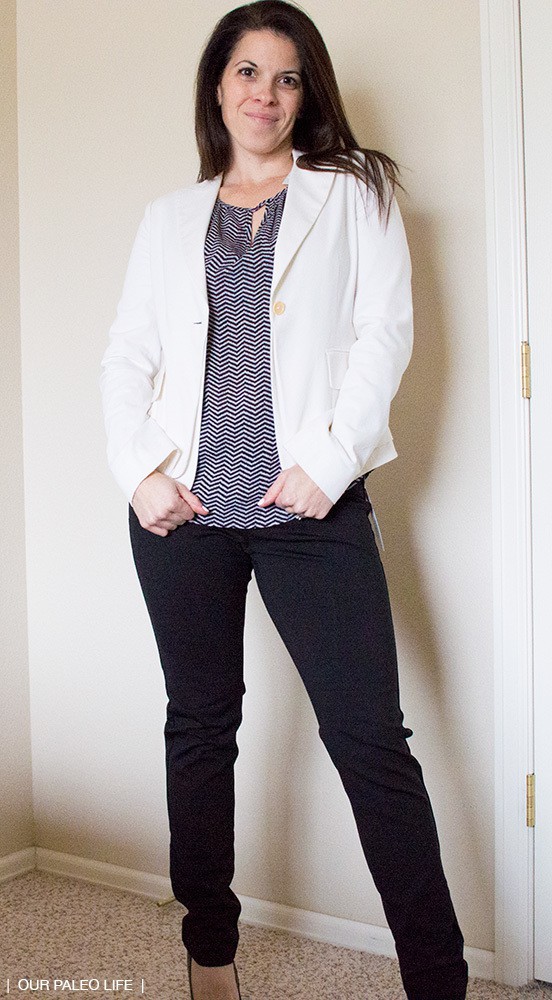 Anita Ponte Pant
Let me start by saying I'm a hippy girl. Not the flowers-in-your-hair type, but the child-birthing-hips type. I've also got a little junk in the trunk (and thighs), so skinny jeans just never look right on me. I prefer a straight or flared leg, so these slim ponte pants were just begging to be returned. But I humored my stylist and slipped them on. And was utterly shocked at how much I loved them. I tried them on with my 4″ black heels and my flats and loved them with both. I paired them with my blazer and then a plaid button-up and loved them with both. They are a tad big, so I tried to get them in a smaller size, but it wasn't available, so they're going back too.
Verdict: Returned
The thing I love about StitchFix is the personalization. I mentioned earlier that I'm no good at shopping for myself, but now I've Angelou who does my shopping for me. She not only looked over my Pinterest board to see what I'm into, but she put together these items for me and this little set of outfits I could put together with each of the pieces. While my first box wasn't a smashing success, I really do love the concept and will make a few tweaks to my Style Profile for my next order, now that I know what to expect and how this whole thing works.
This isn't something I'll be doing every month either, more of a once-in-a-while splurge. It's really a lot of fun and I'm glad I stumbled across it. I highly recommend it if you're anything like me and just want to amp up your current blah wardrobe with little effort.