My happy place is in the kitchen. I love to get in there and make a mess, create delicious food, and play around. I rarely let anyone else into my space, simply because it's my space. I realize that is not only selfish, but it foolish as well. I have 3 young children, and I want them to have a love and appreciation for cooking like I do. I do let them help when I'm baking something I'm familiar with, because I get too stressed if there are too many hands in the mix when it's a new recipe or something I'm developing, but that's pretty much the end of it.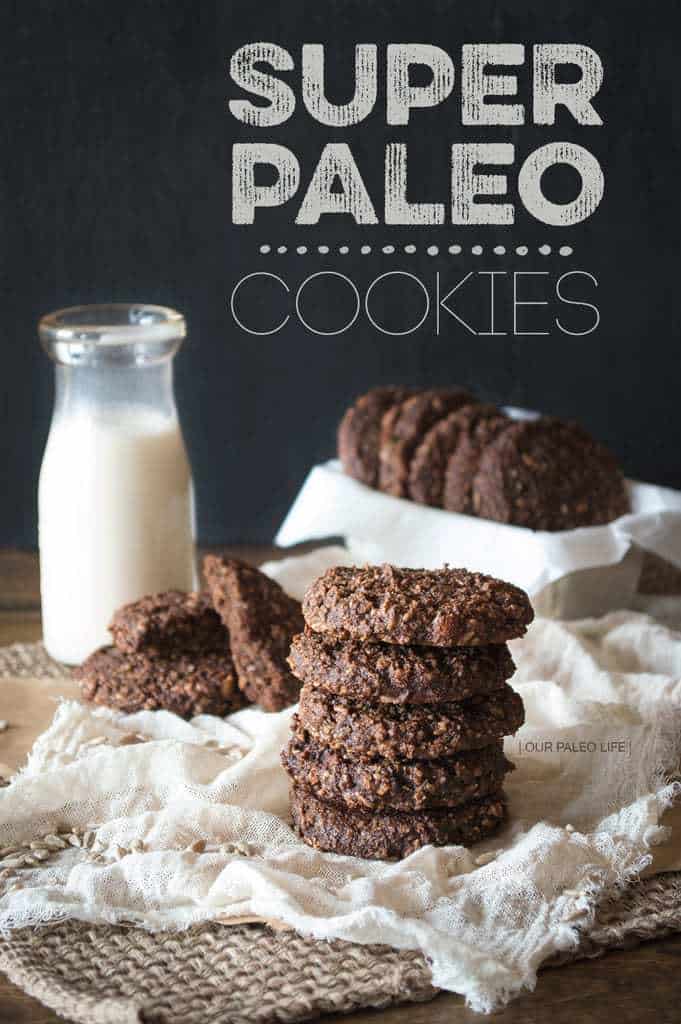 Recently, I've let my 9-year-old daughter have "breakfast duty" on occasion and she loves getting to swirl the oil in pan, crack the eggs, and scramble them up. She also chops veggies, and makes snacks and lunches for her brother and sister. I'm realizing I need to let go of some (or a lot) of my neurotic tendencies in the kitchen in order to help my kids progress and grow.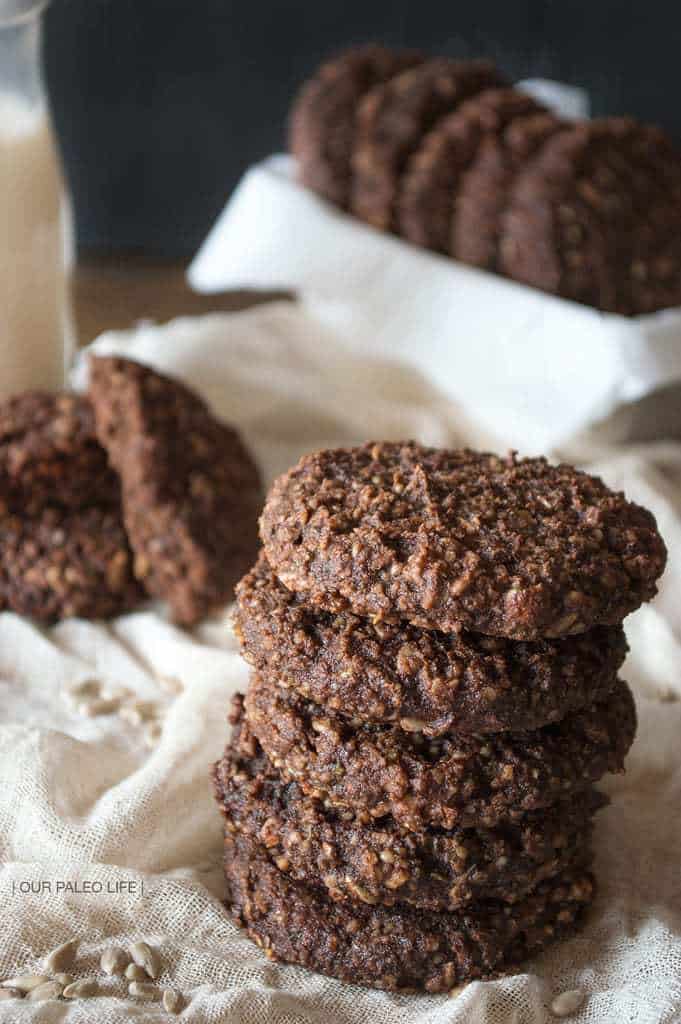 Now, my husband is by no means one of the children (most of the time), but I also keep him out of the kitchen a lot. Which, honestly, is just plain stupid. Most of my favorite recipes are ones that came straight from his brain. Usually, he gives me the idea, the concept, and/or the ingredients and we work it out together.
The other night, he started grabbing a bunch of food from the pantry and bringing them to the kitchen. He was a man on a mission. We stood side-by-side in the kitchen until we got this cookie recipe just right. So you definitely have Rob to thanks for these fantastic cookies.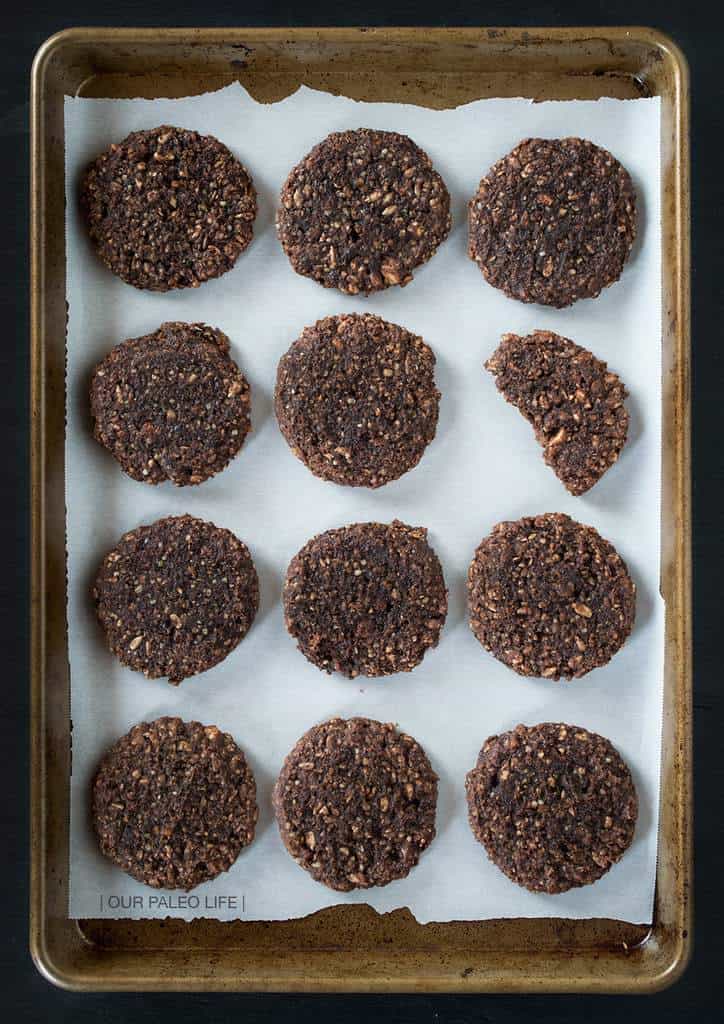 These cookies aren't like a regular bakery-style cookie, that wouldn't make them Super Paleo. These guys are loaded with tons of good stuff. They are crispy on the outside and chewy on the inside. Because of the chopped nuts and seeds, they have a great crunch as well.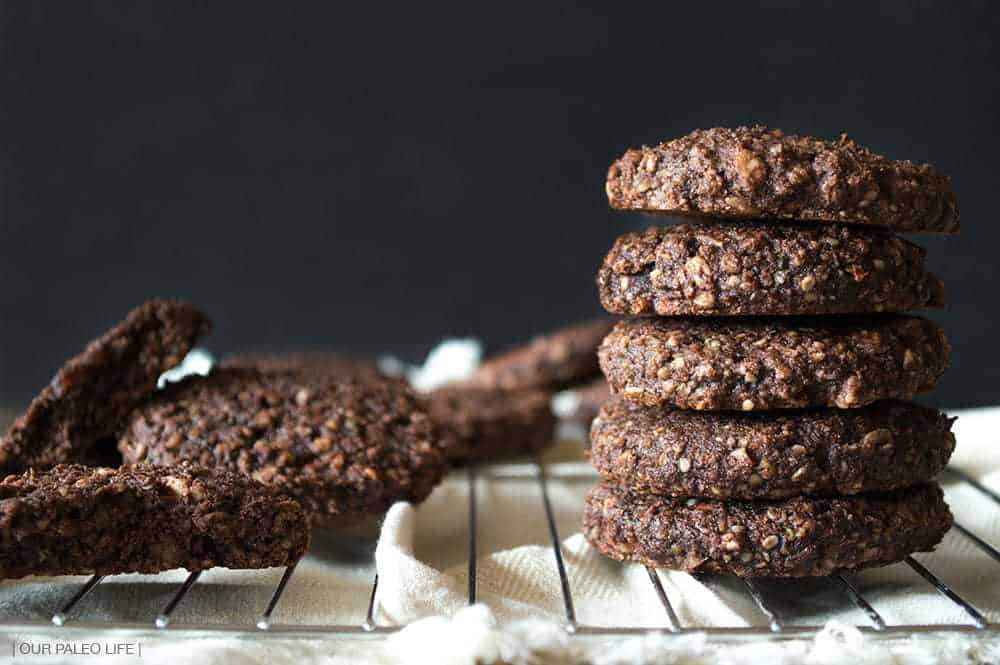 What I really love about them is they are perfect for packing with us when we go on hikes. One cookie has plenty of carbs and protein to keep you going. And as if that's not good enough, they have cocoa in them. They taste like little brownies. Chewy, crunchy little brownies.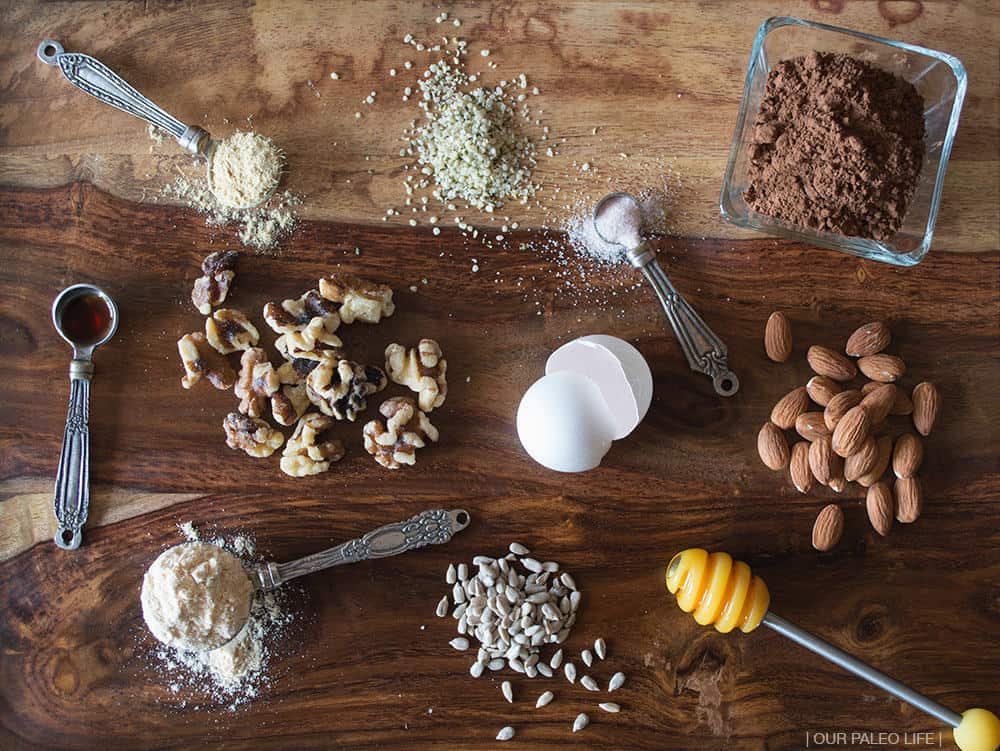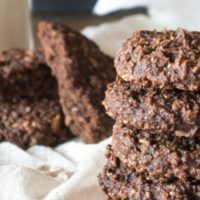 Super Paleo Cookies
Our family is always on the go, so finding so finding ways to stay nourished while we're off on an adventure is important. These little cookies are the perfect mix of soft, chewy, crunchy, and chocolatey. Perfect for a hike in the mountains.
Ingredients
1/4 cup Coconut Flour
4 large Eggs
8 Medjool Dates, or 18 Deglet Noor Dates, pitted
1/4 cup Honey
1/2 cup Raw Almonds
1/4 cup Walnuts
1/2 cup Hemp Seeds
1/2 cup Sunflower Seeds
1/2 tsp Salt
1 tsp Pure Vanilla Extract
1 tsp Ground Ginger
3 Tbsp Cocoa Powder
Instructions
Preheat oven to 350°F. Line a cookie sheet with parchment paper or a silicone baking mat. Set aside.
In the bowl of a food processor, add the coconut flour, eggs, dates, honey, almonds, and walnuts. Pulse until nuts are chopped into smallish pieces (not completely pulverized) and the mixture forms a paste.
Add in the hemp seeds, sunflower seeds, salt, vanilla, ginger, and cocoa powder. Pulse until even combined and mixture is a thick paste/dough.
Using a large cookie scoop (approximately 3 Tbsp capacity), scoop mixture onto prepared baking sheet, 2" apart. With barely damp fingers, press each cookie down to flatten about 1/2" thick and 2.5" diameter. If your fingers are too wet, you'll get flat, glossy cookie tops. Barely damp will let your fingers stick to the dough a little bit and give you pretty, crispy tops
Bake in the preheated oven for 13 minutes, or until the center is not mushy-soft when pressed. Let cool on cookie sheet for 2 minutes before removing to cool completely on a wire rack. Let sit out for at least 6 hours (more in humid climates) to dry out. If you don't, they will get really sticky when stored.
Store in an non-airtight container in a cool location for up to 2 weeks. Airtight containers will seal in moisture and make the cookies sticky.
Nutrition Information
Yield

13
Serving Size

1 cookie
Amount Per Serving
Calories

210
Total Fat

12g
Carbohydrates

25g
Fiber

8g
Sugar

17g
Protein

12g
Nutrition is calculated by a third party and may not be 100% accurate