Deliciously gluten free Apple Pie Spice donuts made with Cassava flour with modifications for dairy free too. Included in this Paleo donut recipe is an Apple pie spice blend and streusel.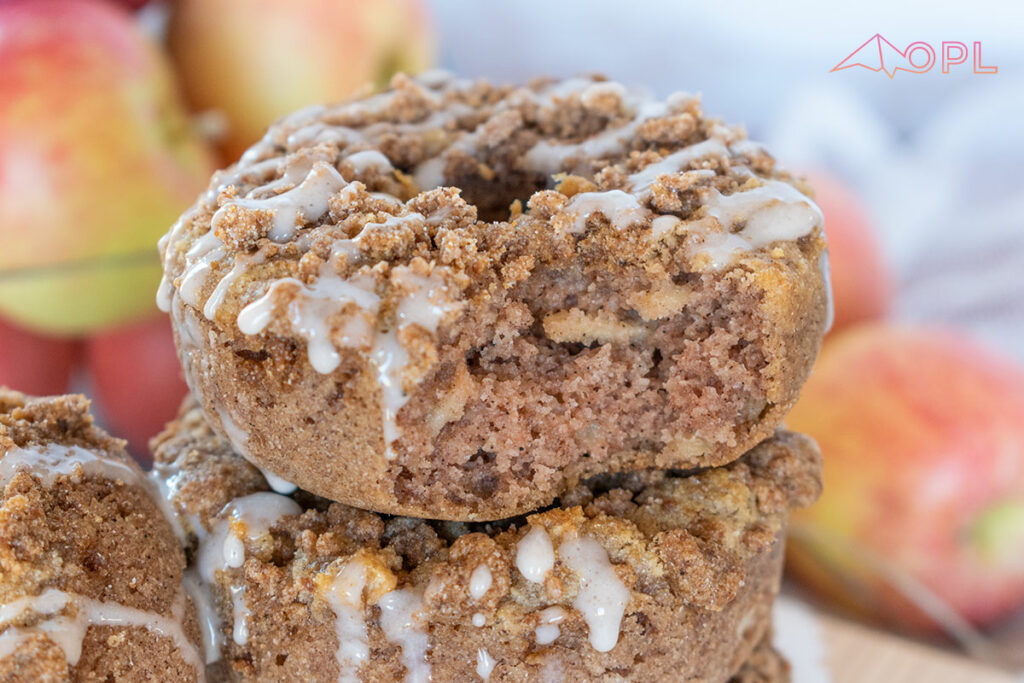 Apple Streusel Donuts
These donuts combine so many of my favorite dessert elements: fresh apples, streusel topping, and a sweet glaze. They are tender, have a wonderful crumb, and one donut is enough to satisfy.
We were fortunate this year to get nearly 20 pounds of fresh apples from a friend's garden, and after eating and freeze-drying so much, we still had plenty leftover for these delicious gluten-free donuts.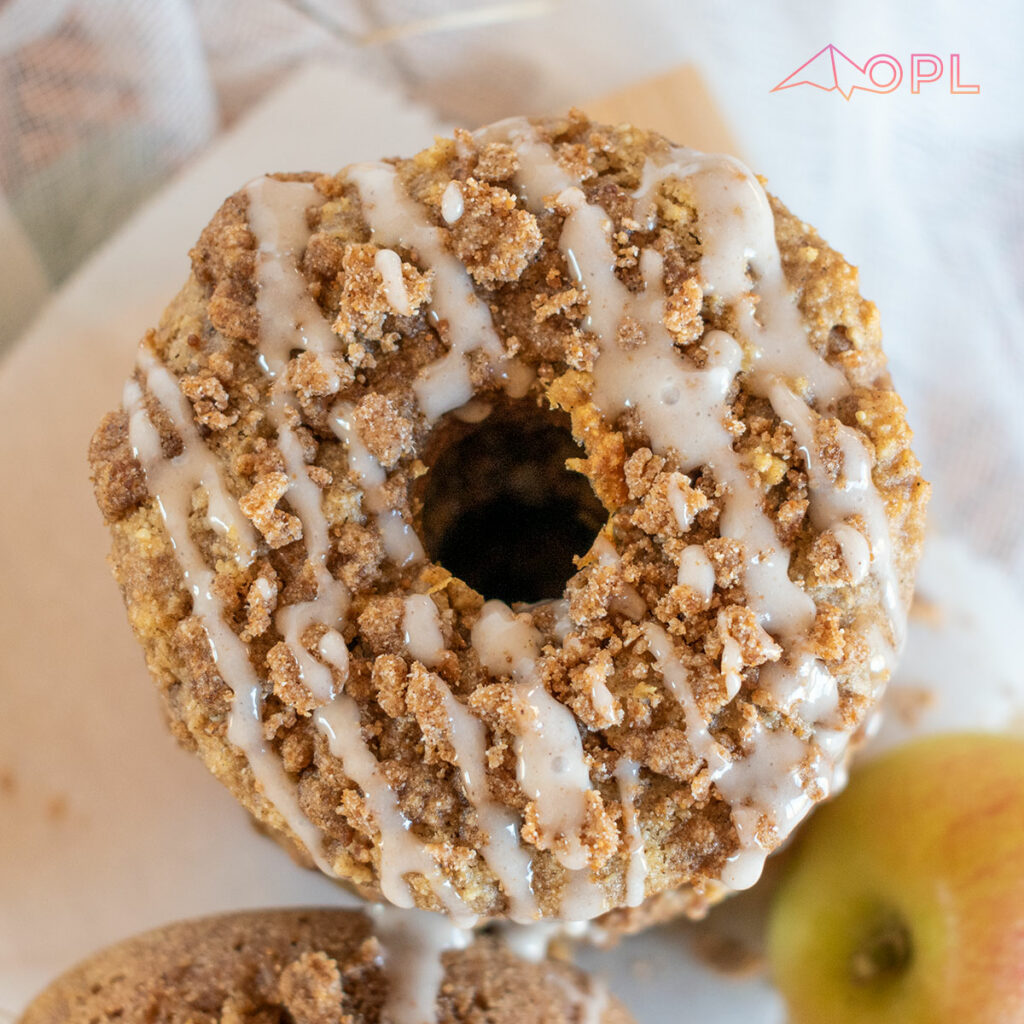 Dairy Free Apple Donut Recipe Option
The recipe is written with both dairy and dairy-free options. I'm always of the opinion that butter makes everything better, but am also well aware that not everyone can tolerate it. We've had success using coconut oil and coconut milk in these donuts with minimal effect to the flavor.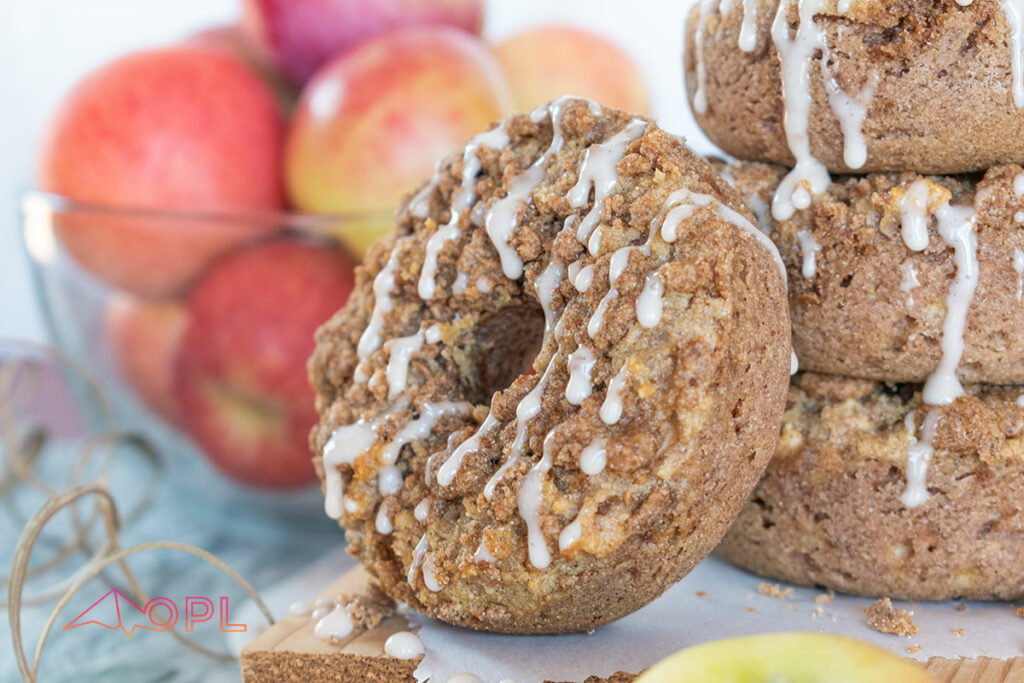 And regarding the age old "to peel or not to peel" question, I tend to shy away from peeling simply out of laziness (or time effectiveness, to sound less lazy). But for these donuts, I definitely suggest you peel the apples to get the best texture.
Cassava Flour Donut Recipe
By using a combination of cassava and almond flours, you get a perfectly gluten-free treat that anyone would love! Although higher in carbs than almond flour alone, cassava flour is the best gluten- and grain-free replacement I've ever used, and it's a staple in our kitchen.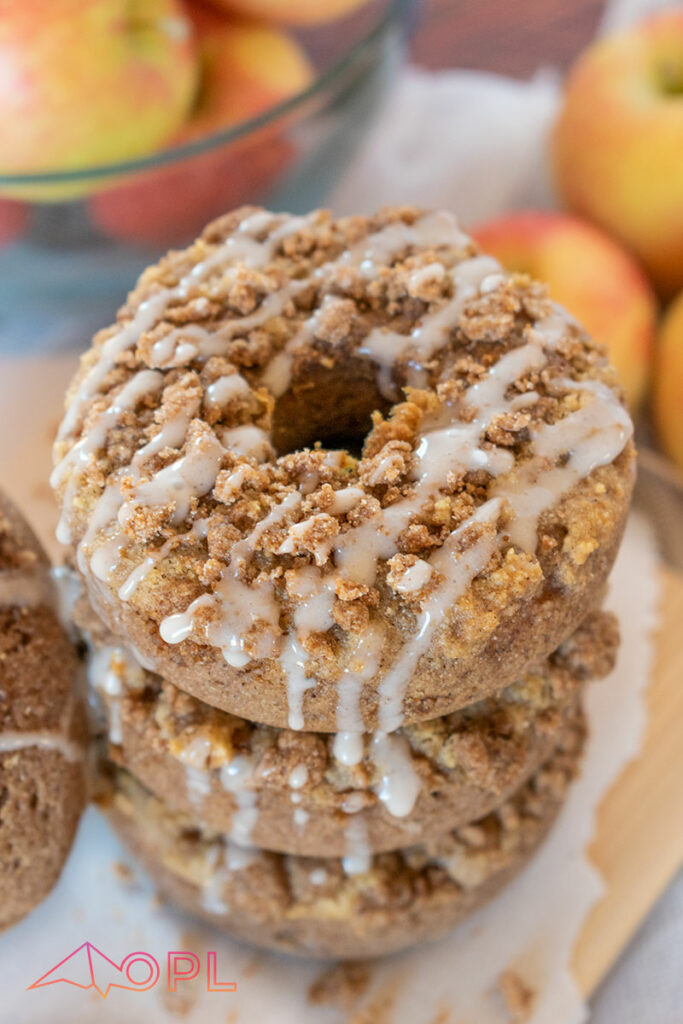 Apple Pie Spice Recipe
As a bonus, there is a recipe for the Apple Pie Spice below the donut recipe. I much prefer to make my own apple pie spice, since I never remember to buy it at the store and I always have the ingredients on hand for it. And you can make as much or as little as you want. I usually make a double batch each time, it fills my spice jars perfectly, and then I'm ready for fall baking season.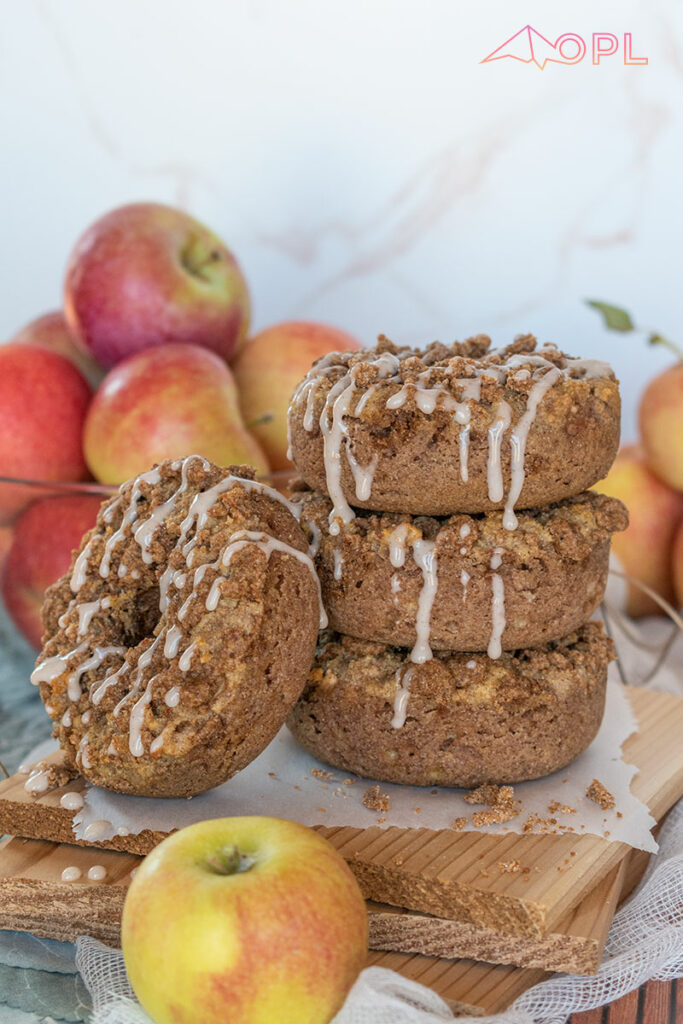 These Apple Pie Donuts will be the perfect addition to your fall baking plans, and everyone will love them! Be prepared to share 😉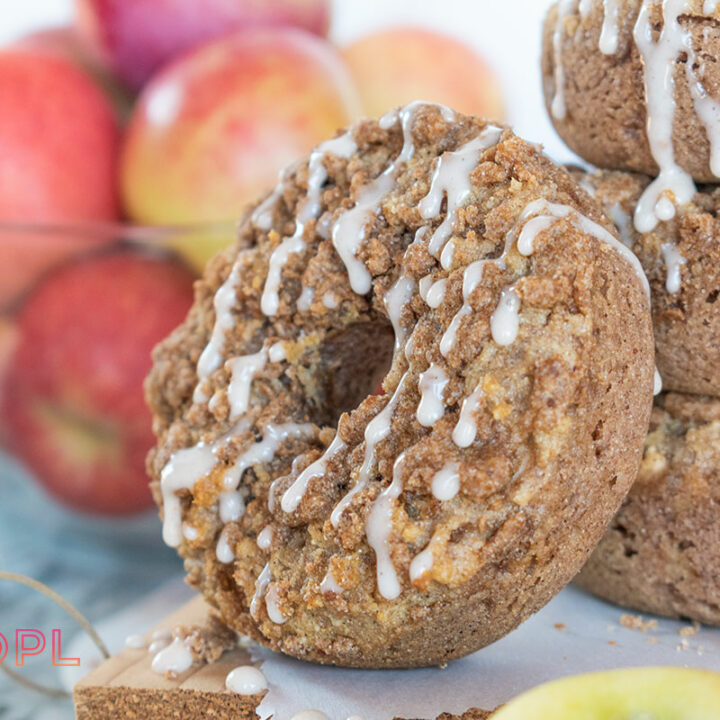 Gluten-Free Apple Pie Donuts
Ingredients
Donuts
3/4 cup Cassava Flour
3/4 cup Almond Flour
2 tsp Apple Pie Spice (recipe below)
1 tsp Baking Soda
1 Sweet Apple, peeled & diced (about 1 cup chopped)
2 Eggs
1/4 cup Butter, melted (or Avocado Oil)
1 tsp Vanilla
1/4 cup Milk (of your choice)
3 Tbsp Maple Syrup
Crumb Topping
1/4 cup Cassava Flour
1/4 cup Maple or Coconut Sugar
1 tsp Apple Pie Spice
3 Tbsp Butter, softened (or Coconut Oil)
Glaze
1/2 cup Maple Sugar, powdered (see notes)
1/4 tsp Apple Pie Spice
Up to 1 Tbsp Milk (of your choice)
Apple Pie Spice
1 Tbsp Ground Cinnamon
1 Tbsp Nutmeg
3/4 tsp Allspice
Instructions
Donuts
Preheat the oven to 325°F. Prepare/oil your donut pan, if necessary. Set aside.
Combine the cassava flour, almond flour, and apple pie spice in a mixing bowl and whisk together.
Add in the remaining donut ingredients and stir to combine. I prefer to use a Danish Whisk, but a wooden spoon or silicone spatula will also work fine. Mix until there are no lumps of dry ingredients.
Divide batter evenly between 7 cavities in the donut pan. I use a large cookie scoop and then press the tops flat with my fingers. Alternately, you can put the batter in a piping bag and cut a large opening at the tip and pipe it into donut pan.
Set aside while you prepare the crumb topping.
Crumb Topping
Add the Crumb Topping ingredients to a small bowl and cut in together with a fork until crumbly and coarse.
Sprinkle evenly over the top of the batter in the donut pan.
Bake donuts in the preheated oven for 20 minutes, or until a toothpick inserted in the center comes out clean.
Remove from oven and let cool until the pan is cool enough to touch. Invert pan on a wire cooling rack and remove the donuts and let cool completely on the wire rack.
Glaze
Combine the powdered maple sugar and 1/4 tsp Apple Pie Spice in a small bowl. Mix together with a fork. Add in 1/2 Tbsp of milk, and stir until smooth. If the glaze is too thick, add a little milk at a time until you get your desired consistency.
Drizzle over the baked donuts and serve fresh. Leftovers can be stored in an airtight container in the fridge for up to a week.
Apple Pie Spice
Combine all applie pie spice ingredients in a small bowl and whisk to fully combine. Store in a plastic or glass spice jar.
Notes
To powder Maple Sugar, place in a high-powered blender and blend until powdery and lightened in color. It should only take 10-15 seconds, possibly more if it's a lower-power blender.
Nutrition Information
Yield

7
Serving Size

1 donut
Amount Per Serving
Calories

368
Total Fat

20g
Saturated Fat

8g
Trans Fat

0g
Unsaturated Fat

10g
Cholesterol

85mg
Sodium

309mg
Carbohydrates

45g
Net Carbohydrates

42g
Fiber

3g
Sugar

26g
Protein

5g