During my Whole30, we didn't go out to eat very often, since it would have been difficult for me to stay compliant. However, I did hear the Five Guys would be fine, if I went bunless, of course. And once I found out about that, I couldn't get burgers out of my mind. So we went. And it was good, but not as great as I was expecting. But that dinner out planted a delicious seed and this recipe is the result of it.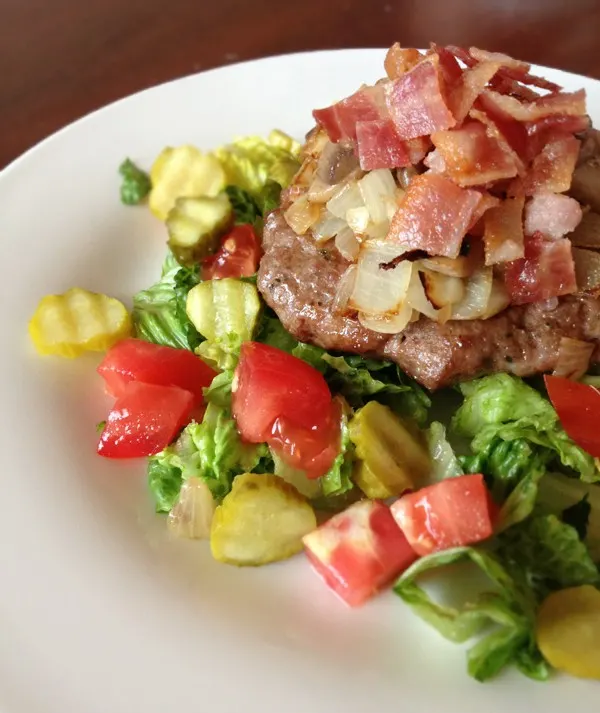 I had never tried lamb meat before, but I found some ground lamb at the store this week and thought I'd give it a shot. Holy cow! Best. Burger. Ever! Better than ground beef, that's for dang sure. And now I have no desire to go to Five Guys because this is so much better!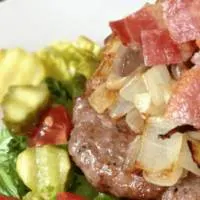 Bacon Lamburger Salad
No burger buns, no problem. Turn that tasty patty into a mountain of a meal by piling on the toppings.
Ingredients
1 lb Ground Lamb
1 lb Uncured Bacon, divided
1/2 tsp Dried Parsley
1/2 tsp Dried Oregano
1/8 tsp Smoked Paprika
1/8 tsp Garlic Powder
1/8 tsp Sea Salt
Ground Black Pepper, to taste
1 Tbsp Avocado Oil
4 White Mushrooms, sliced
1 large Yellow Onion, diced
1 bunch Romaine Lettuce, chopped
1 Tomato, diced
3 Dill Pickle Spears, sliced
Paleo Lime Mayo
Black Olives, optional
Instructions
Set aside 6 slices of bacon. Put the rest on a parchment or foil lined rimmed baking sheet. Put in the oven and turn it on to 400°F. Set the timer for 15 minutes. Check occasionally and remove from the oven just before you think it's done. Place bacon on a paper towel lined cooling rack. Reserve bacon grease for another use instead of throwing it away.
While the bacon is cooking, cut the remaining 6 slices into 1/2" pieces (I use kitchen shears for this).
Place half of the diced bacon in a large bowl, along with the ground lamb, parsley, oregano, paprika, garlic powder, salt, and pepper. Mix together until evenly combined. Set aside.
In a large skillet, heat the olive oil over medium-high heat. Add the onions and saute until translucent and golden brown.
While the onions are cooking down, place the other half of the diced bacon in another cold skillet. Turn on the heat to medium. Cook bacon until the pieces are almost done, slightly crispy, stirring occasionally to keep them from sticking or burning. Remove from pan with a slotted spoon to a paper towel lined bowl. Leave grease in the pan.
Add the mushrooms to the bacon grease and saute over medium heat until they are done to your preference.
While the onions and mushrooms are cooking, form your ground lamb mixture into patties, approximately Try to get them kind of thin, about 1/2". Place the patties on a foil-lined broiler pan.
When the bacon is done baking, turn the broiler on High. Broil the patties about 3 minutes on each side, or until done to your preference.
Plate the food by layering lettuce, burger, onions, mushrooms, tomatoes, pickles, olives, and bacon. Mix in some mayo as a dressing, cut up and enjoy.
Nutrition Information
Yield

4
Serving Size

1 patty salad
Amount Per Serving
Calories

913
Total Fat

66g
Saturated Fat

23g
Trans Fat

0g
Unsaturated Fat

39g
Cholesterol

222mg
Sodium

2288mg
Carbohydrates

9g
Net Carbohydrates

9g
Fiber

2g
Sugar

3g
Protein

68g