Last Updated on July 6, 2020
Okay, so this isn't really ice cream, but I think that a lot of people know by now that you can make an extremely suitable ice cream-like substitute out of frozen bananas.
The kids… They had no idea it wasn't real, the texture is spot on. There are a couple different ways you can make this: a high-powered blender (like a Blendtec with the Twister Jar, or a Vitamix) or in a food processor. I don't have a Twister Jar on my Blendtec (yet) so I opted to go the food processor route. It can be a time consuming process, but watching the bananas turn from, well, bananas into ice cream is pretty neat.
You can see how irresistible this stuff is because I couldn't even take 3 pictures before tiny little hands started reaching for the spoon. I seriously have 3 pictures that are good, and about 12 with a hand grabbing the spoon. Every time I put the spoon back, she was grabbing it again. So I gave up. Luckily, she's got a cute little hand.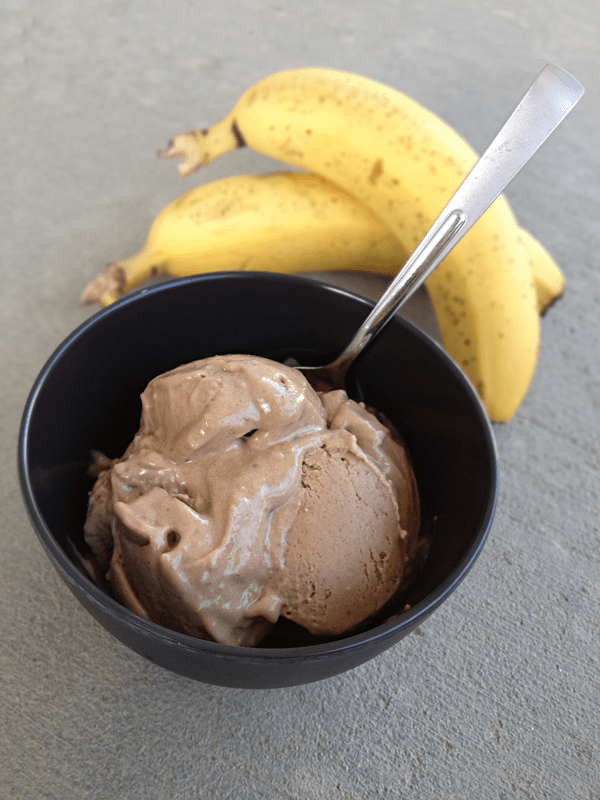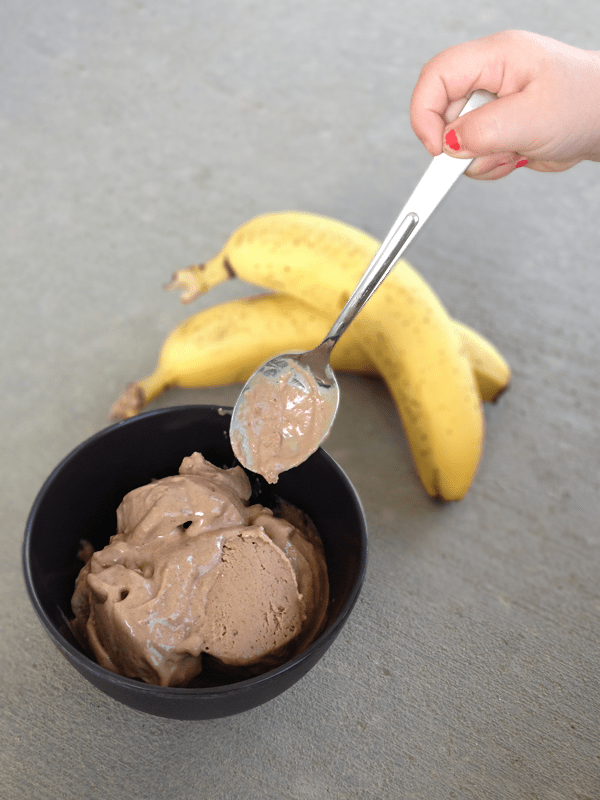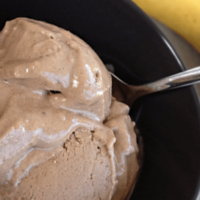 Banana Chocolate Almond Butter Ice Cream
Chocolate ice cream that has no cream and sugar and the kids still love? It does exist and it's easy.
Ingredients
4 Bananas, peeled, frozen, and sliced
1 Tbsp Cocoa Powder
1/4 cup Almond Butter
Instructions
Place the frozen banana slices in the food processor or blender. Process until fluffy, creamy and smooth. You will probably have to keep scraping the sides and pushing the bananas down occasionally until the ice cream texture is achieved.
Once the bananas are the texture of ice cream, add the cocoa powder and almond butter to the bananas and process again until well combined.
Serve right away. If you choose to freeze it after making it or because you have leftovers, let thaw on the counter about 10 minutes before scooping so it's not so rock hard.
Nutrition Information
Yield

5
Amount Per Serving
Calories

165
Total Fat

7g
Saturated Fat

1g
Trans Fat

0g
Unsaturated Fat

6g
Cholesterol

0mg
Sodium

2mg
Carbohydrates

25g
Fiber

4g
Sugar

12g
Protein

4g