This recipe was originally posted in 2013. Since that time we've created an electrolyte powder. Check out this post, how to pick the right electrolyte drink, we think you'll enjoy it.
We drink water all the time. No more milk, no soda, no juice. Just water. And I like that. Water is good, refreshing, satisfying. But recently, for our Memorial Day Murph, I had the feeling that plain water just wouldn't be enough for our bodies, we needed to replenish more than just water.
I remembered seeing a recipe a while ago for a homemade electrolyte drink, but stupid me didn't pin it. Luckily I found it again. I have made the lemon-lime version many times in the past month, and attempted the orange version just once with less than stellar results. I may try it again, but I like the lemon-lime so much, I really don't see the point.
The kids love that they get to drink "juice" and I'm totally fine with it because the only sweetener is a little honey. Locally sourced honey at that. Doesn't get much better. In addition to being better for you than the Gatorade-type stuff because of the lack of all the sugars and chemicals, it's also cheaper. Lemons and limes are pretty inexpensive. I use about 2-3 limes and 2 lemons, which cost about $1 total. Then a little honey and I have 48 ounces of the perfect post-sweaty-workout drink.
I totally sounded like an commercial right there.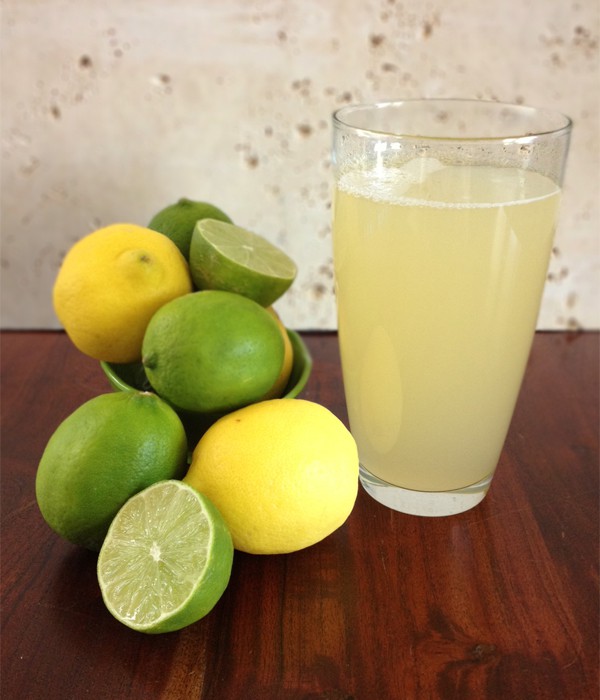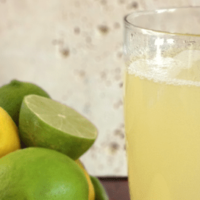 Electrolyte Lemon-Limeade
Store-bought electrolyte drinks are full of so many chemicals and unnecessary ingredients. This Lemon-Limeade is simple, made with minimal ingredients, and tastes great.
Ingredients
1/2 cup Fresh Squeezed Lemon Juice
1/2 cup Fresh Squeezed Lime Juice
1/4 tsp Sea Salt
5 cups Cold Water
6 Tbsp Raw Honey, local is preferred
Instructions
Add all ingredients to a blender (we prefer the Blendtec) in the order listed, making sure the honey is last.
Secure the lid and blend on high for about 10 seconds.
You can either refrigerate and drink later or drink right away. There will be some foam/froth on top if you drink it right away.
Nutrition Information
Yield

6
Serving Size

1 cup
Amount Per Serving
Calories

75
Total Fat

0g
Unsaturated Fat

0g
Sodium

98mg
Carbohydrates

20g
Sugar

18g
Nutrition is calculated by a third party and may not be 100% accurate