I have been meaning to post this for quite a while now, but time got away from me as usual, and here we are, a mere 3 days away from Easter. But I promise, these little treats come together so quick (well, there is some cooling time, but still…) you could make them Saturday night while your kids are sleeping and they'd still be ready for Easter baskets in the morning. Though who wants to rush like that. Just make them today 😉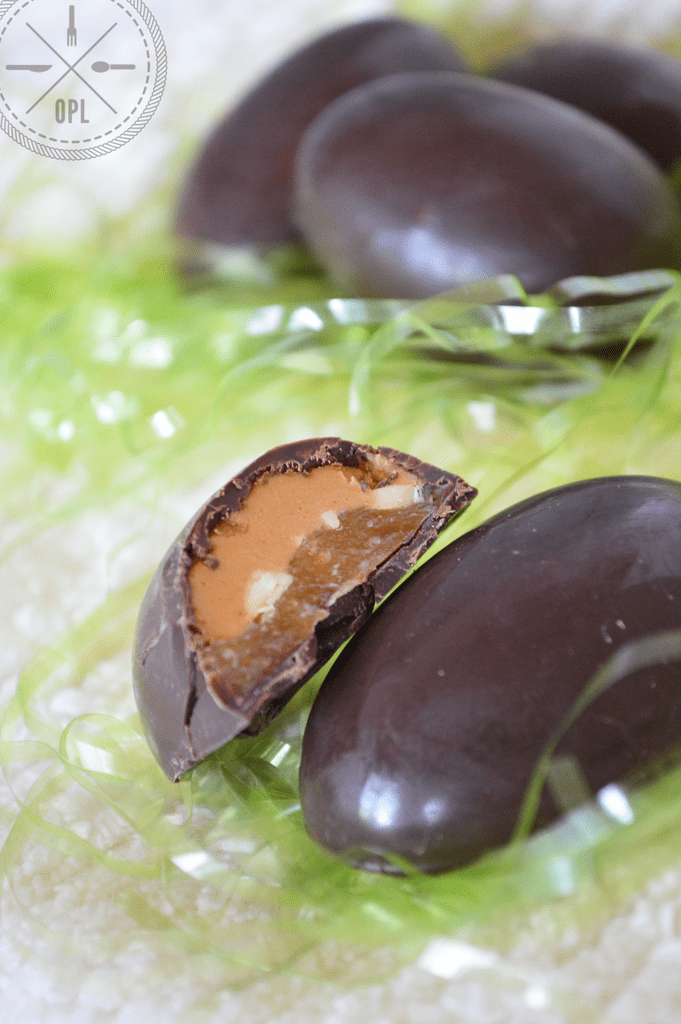 Honestly, the hardest part about making these eggs is not eating them while you're wrapping them. However, they are pretty filling (using the mold I have anyway) that just one is probably enough to satisfy any sweet tooth.
Even though our family went paleo over a year ago, we still let some things slide every now and then, with holidays being some of those nows and thens. This year, I decided I didn't want to let that happen, so Easter is going to be as paleo as possible. Things like Epic Bars, Caveman Cookies, Larabars, and GT's Kombucha are some of our kids favorite treats, so that's what they'll be getting this year.
And of course, these chocolatey caramely, delicious eggs. No chocolate bunnies, jelly beans, and lollipops. Oh, my stomach hurts just thinking about that.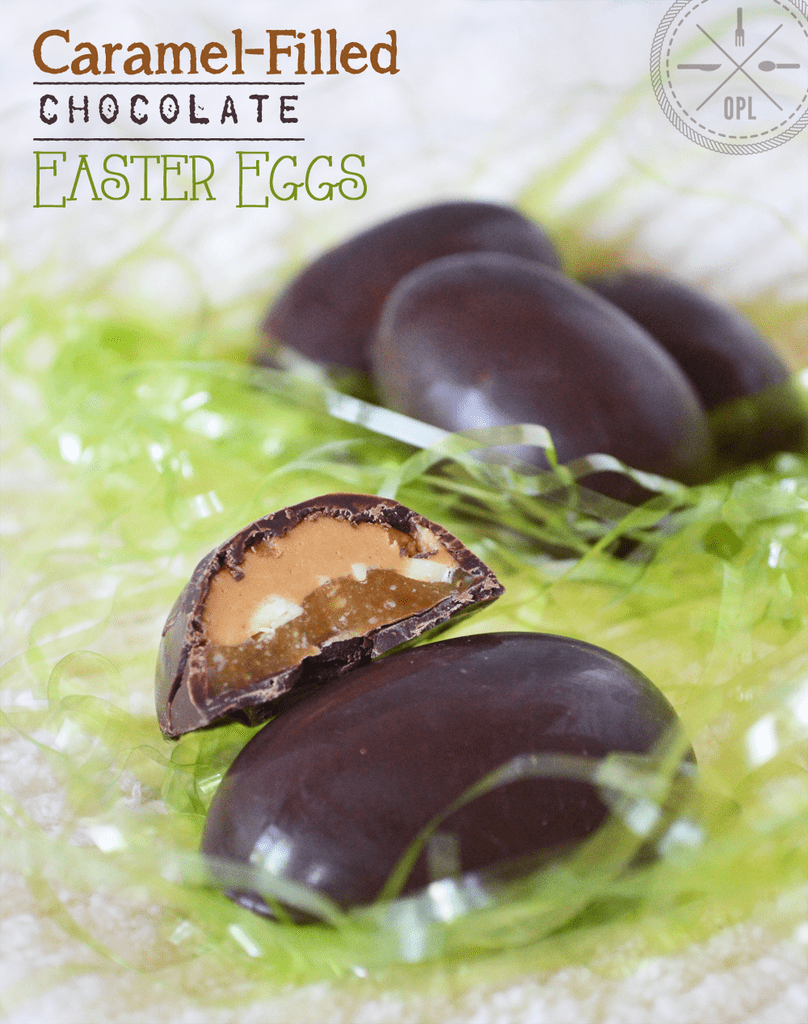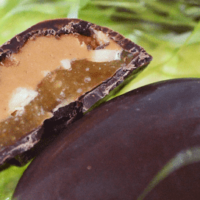 Caramel-Filled Chocolate Easter Eggs
Prep Time:
1 hour
30 minutes
Total Time:
1 hour
45 minutes
I don't know about you, but it is so hard for me to avoid all the tasty chocolates that pop up around Easter. So I created my own solution: dairy-free, refined-sugar-free caramel-filled chocolate eggs. They are like little paleo version of the Snickers Easter eggs, I kid you not.
Ingredients
Egg-Shaped Candy Mold
1 1/4 cups Enjoy Life Chocolate Chips, divided
1/2 cup Nut/Seed Butter of choice, Almond, Sunbutter, or Hazelnut are great
Caramel Filling
1/4 cup Raw, Mild-Tasting Honey
1/2 Tbsp Ghee, you can use Vegetable Shortening, but I prefer the flavor from the ghee
1/4 cup Full-Fat Coconut Milk, canned
1/4 tsp Sea Salt
1-2 Tbsp Chopped Nuts, I used cashews
Instructions
VERY lightly grease the egg molds with coconut oil. Seriously, just a super thin coating. This will make them much easier to pop out later. Trust me.
Prepare the Caramel first
Add the honey to a small saucepan and bring to a boil over medium-high heat. Let cook for 5 minutes. Swirl the pan occasionally to ensure even heating/caramelizing and to keep it from burning.
Remove from heat and gently whisk in the ghee, coconut milk, and sea salt.
Return to burner, reduce heat to medium, and let simmer for 10-12 minutes.
Remove from heat and let cool about an hour or so. You don't want the hot caramel to melt your chocolate shells.
Prepare the Shells
While the caramel is cooling, prepare the shells. Place 1/2 cup of the chocolate chips in a microwave safe bowl. Heat on high for 1 minute then stir. Heat for another 30 seconds, stir again, then stir in another 1/4 cup chocolate chips until all is melted and smooth.
Alternately, you can heat the chocolate in a double boiler, but use the same measurements. Start with 1/2 cup, heat until melted, remove from heat, then stir in the 1/4 cup and stir until all is melted and smooth.
Scoop about 1-2 tsp melted chocolate into each egg mold and use the back of a spoon to press the chocolate up the sides, evenly coating the entire egg-mold surface.
Place the chocolate-filled molds in the refrigerator to harden for about 5 minutes.
Once hardened, place about 1 tsp nut/seed butter into the chocolate molds, pressing down to flatten with the back of a spoon.
Top the nut/seed butter evenly with the chopped nuts.
Once the caramel is cooled and thickened, spoon about 1-2 tsp on top of the nuts and nut/seed butter, being sure to leave enough room to coat the top with more chocolate.
Once the eggs are filled, melt the remaining 1/2 cup chocolate in the same manner as before (melt most then add the unmelted to the melted chocolate until all is smooth).
Spoon the chocolate over the top of the caramel and spread out evenly over the top, covering everything and sealing in all the filling.
Place the molds back in the refrigerator for another 5-10 minutes to harden.
Pop the chocolates out of the mold and wrap individually in candy foil wrappers or plain foil. Hoppy Easter!
Nutrition Information
Yield

8
Serving Size

1 egg cup
Amount Per Serving
Calories

371
Total Fat

25g
Saturated Fat

10g
Unsaturated Fat

0g
Cholesterol

4mg
Sodium

78mg
Carbohydrates

31g
Fiber

4g
Sugar

23g
Protein

5g
Nutrition is calculated by a third party and may not be 100% accurate