Life has been busy and I've taken a little hiatus from recipe making. We've been eating out a little too often and when I do cook dinner, I've been making some of our go-to favorites, like the Caveboy Casserole, Paleo Minestrone Soup, and Slow Roasted Pork Shoulder. They're all super easy, everyone likes them, and we always have enough for leftovers so it's less cooking for me.
But I'm trying to break away from the lull of easy dinners and make some new recipes for you guys. I have a really delicious chicken recipe that I'm perfecting, but until then, let's talk dessert.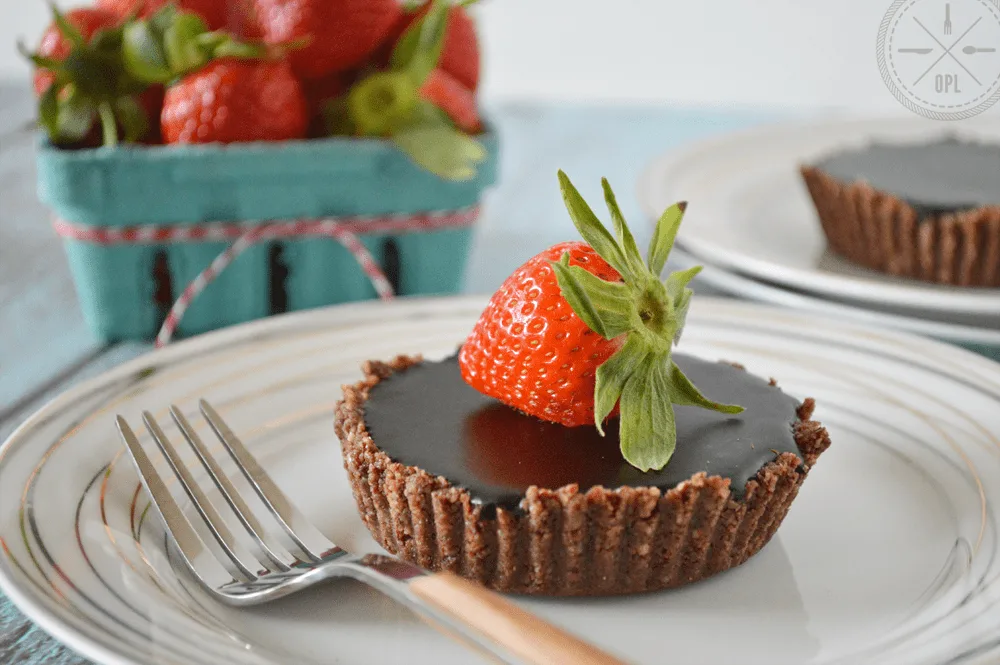 These little tarts are amazing! They are rich, dense, and oh so chocolatey. I sound like a cartoon bird describing a breakfast cereal. Since these tarts are mini, and not a full-size tart, I don't feel so terrible about eating a whole tart on my own.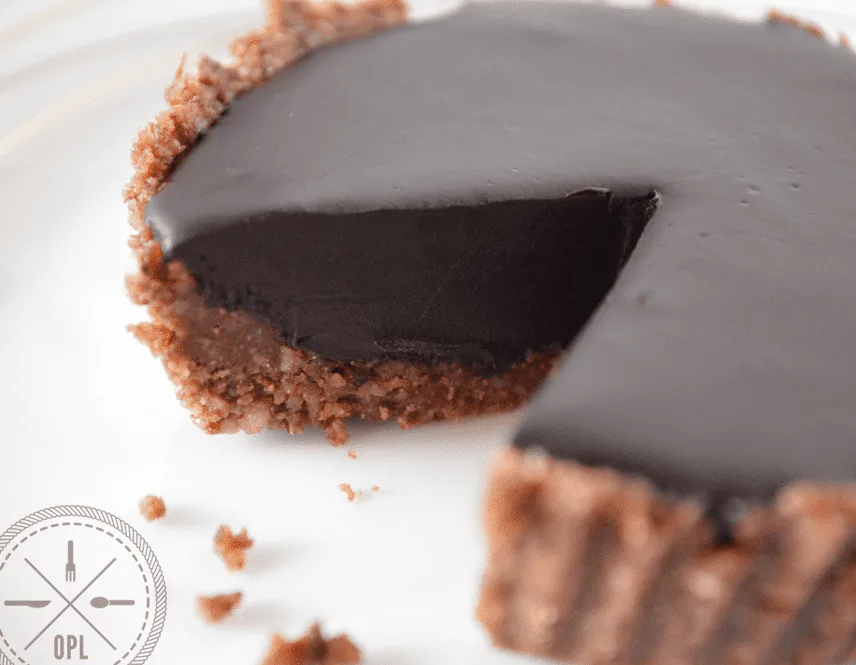 While you could easily just use mini tart pans, not everyone has those, so I came up with an alternate to the tart pan. The important part is that you must use foil or foil-lined muffin cups. Just take one, then use the top (with no lid) of an 8oz canning jar and press down in the center of the muffin cup until you hit the counter. This will widen the opening of the muffin cup, leaving you with a cute little homemade tart liner.

A couple notes about this recipe and some possible modifications and customizations:
You could certainly user Natural Cocoa Powder for the entire recipe, but I love using a combination of Natural and Dutch-Process (or Black Onyx) Cocoa Powder. It adds a whole new level of richness when you use some darker cocoa. If you use just Natural Cocoa Powder, your tarts will not be as dark as the ones in these photos.
This recipe calls for vanilla extract in the filling, but I would highly suggest you play around with this and switch out orange, coconut, or mint extract as well. There are plenty of flavors that work perfectly with chocolate, so play around with what you love and find what works for you.
You could leave the crust cocoa-less, just make sure to add 2 tsp more flour if you choose to leave out the cocoa.
So go make these ASAP. They come together super fast and if you don't heat the filling mixture too hot, then you can get away with only chilling them for about an hour and get to eating them faster. More eat time, less wait time. That's a good thing.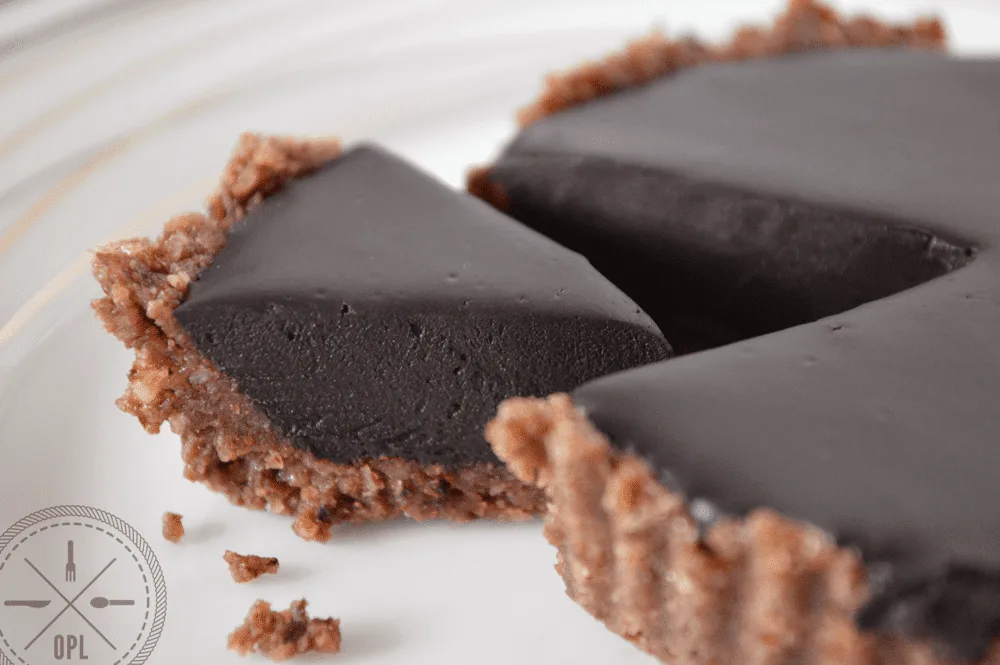 PS: You know that everything made in a mini version is way cuter. It's hard to tell from the picture above since there is nothing to offer perspective, but that little slice of heaven is only about 1″ from end to end. The absolute most adorable little tart slice you'll ever eat.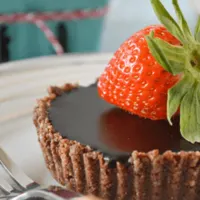 Chocolate Hazelnut Tart
Prep Time:
1 hour
5 minutes
Total Time:
2 hours
5 minutes
No-bake desserts are my favorite. Very little prep time and ready to eat quickly are also bonuses. This dessert is the trifecta with all 3 of those elements. And it's delicious to boot. What more could you ask for?!
Ingredients
Supplies
4 Foil or Foil-Lined Muffin Cups
Crust
3/4 cups Fine Hazelnut Flour, I prefer Bob's Red Mill
2 tsp Natural Cocoa Powder
3 Tbsp Coconut Oil, melted
1 Tbsp Pure Maple Syrup
1/8 tsp Sea Salt
Filling
3 Tbsp Coconut Oil
3 Tbsp Full-Fat Coconut Milk
3 Tbsp Maple Syrup
6 Tbsp Cocoa Powder, I use half Natural, half Black Onyx
1/2 tsp Pure Vanilla Extract
Instructions
Prepare Tart Molds (if you do not already have mini tart pans):
Use foil or foil-lined muffin cups (paper cups are too flimsy), place a regular-mouth mason jar top-down in the center of the muffin liner and press down until the liner is widened.
Crust
In a medium bowl, add all crust ingredients and stir with a fork until evenly combined.
Divide mixture into quarters and press evenly into the bottom and sides of the prepared tart pans/molds. If using the muffin-liner method, be careful not to crush the accordion edges.
Set the prepared crusts in a small baking pan with a flat bottom and set aside while you prepare the filling.
Filling
Heat coconut oil, coconut milk, and maple syrup in a small saucepan over medium-low heat until just melted and smooth. Do not let it come to a simmer or boil.
Remove from heat and whisk in the cocoa powder until smooth and glossy.
Whisk in the vanilla just until combined.
Option 1: Pour the filling mixture evenly between the 4 prepared tart crusts.
Place tarts in the refrigerator to chill for at least 1 hour or overnight, or until firm. If you didn't heat the filling too much, your chill time will be significantly reduced.
Garnish with strawberries, sifted cocoa powder, or crushed hazelnuts (if desired) and serve chilled.
Nutrition Information
Yield

4
Serving Size

1 mini tart
Amount Per Serving
Calories

406
Total Fat

36g
Saturated Fat

21g
Unsaturated Fat

0g
Sodium

77mg
Carbohydrates

22g
Fiber

5g
Sugar

12g
Protein

4g
Nutrition is calculated by a third party and may not be 100% accurate