I used to be a smoothie-aholic. Is that a real thing? Doesn't really matter, but I had a serious addiction. I would make smoothies for breakfast, smoothies after the gym, and smoothies before bed. Um, all in one day sometimes. Bad stuff. Sure, I would add spinach and think "wow, I'm being so healthy, drinking my veggies". But I eventually came to realize that there was a purpose behind actually chewing your food, and that drinking foods that were meant to be chewed was really doing myself a disservice.
We did the whole veggie juicing thing, and it was great, but I really feel strongly about actually eating (not drinking) the bulk of your food. Here are just a few reasons why it's better to chew instead of drink your food:
Aids in digestion by not only breaking down the foods into smaller particles, but by producing enzyme-rich saliva.
Chewing takes longer than drinking, therefore taking longer to complete a meal. This equals a smaller quantity of food consumed. Chewing is nature's portion control!
You actually get to taste your food. Nature provided us an amazing array of flavors. Take the time to enjoy them.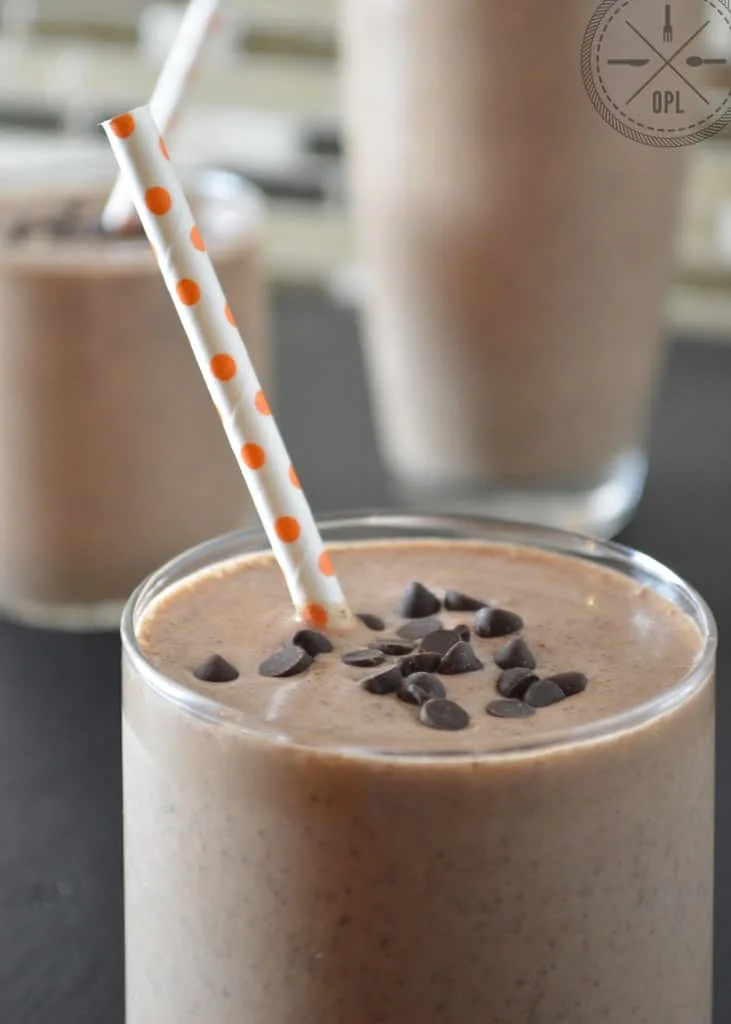 Isn't this drink so cute with the little chocolate chips on it? Yeah, not so cute when I was
pouring it and it spilled out all over the table and cloth napkin. This is smoothie photo 'Take 2′.
So why on earth am I making a case against drinking food on a post about a smoothie? I just want to point out that while I do enjoy a smoothie every once in a while as a treat, I don't consume them as a meal replacement. Been there, done that, realized the error of my ways. If I wouldn't sit down and eat 4 carrots, an entire bunch of kale, 2 beets, and 2 apples in one sitting, why would I drink that much at one time? Just eat your fruits and veggies at every meal and you're going to get what you need.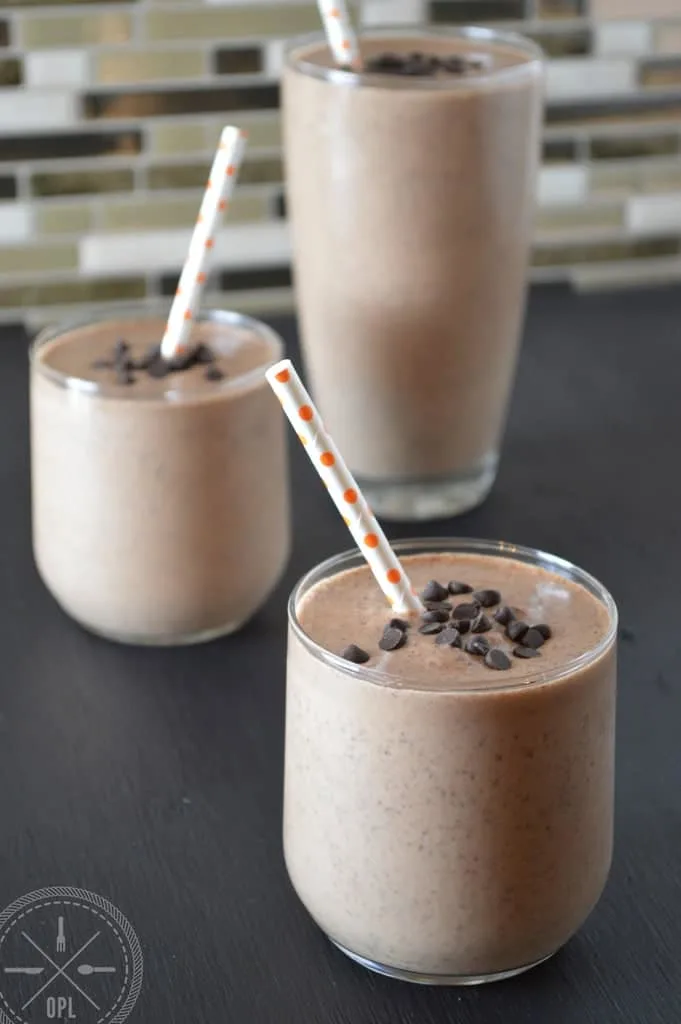 But this smoothie isn't a meal, it's totally a treat. And it makes a lot, so if it's just for you, split it in half. And don't forget, if you make too much (whether by accident or on purpose), just fill up some popsicle molds and freeze them. Maybe even toss in a few extra chocolate chips for fun. This smoothie makes delicious popsicles, and my kids love them. They got a frozen chocolate treat and I'm happy they're not eating some chemical-filled junk from the store. Double win.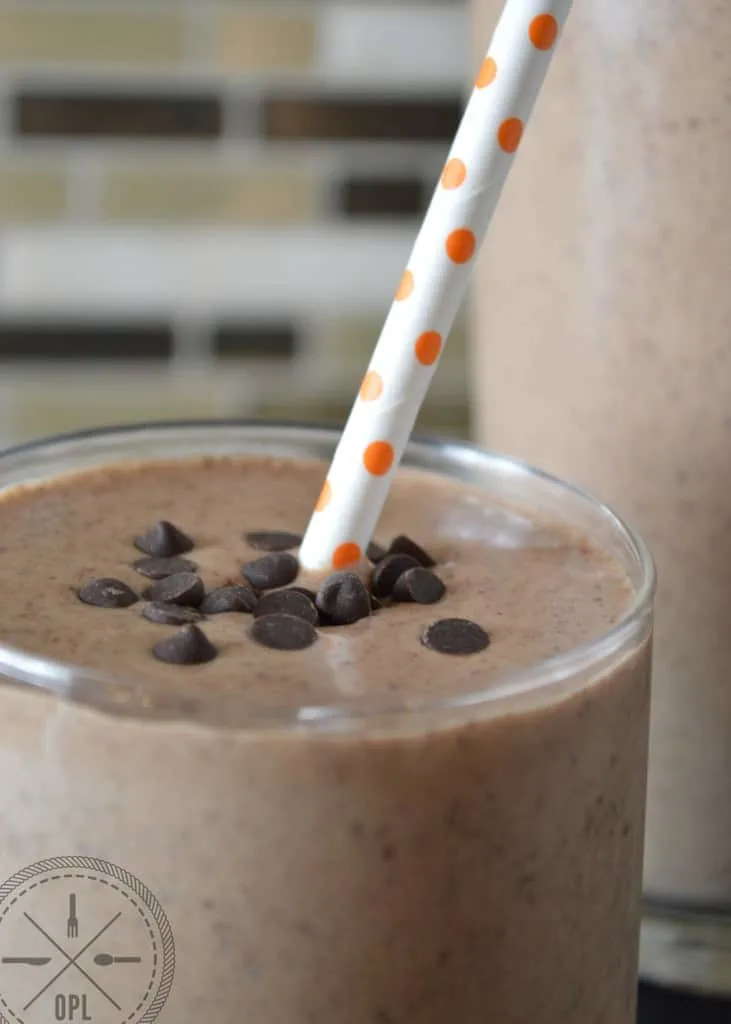 Elvis Smoothie
Let it be known that I think there is no better combination of flavors than the King's favorites: banana, peanut butter, and chocolate. Why not combine those things into the greatest tasting smoothie of all time. Okay then.
Ingredients
3 Frozen Bananas
1 cup Almond Butter, or peanut butter** if you like to live on the edge!
2 Tbsp Honey, optional
2 Tbsp Cocoa Powder
1/2 cup Enjoy Life Chocolate Chips
2-3 cups Unsweetened Almond Milk, preferably homemade
2 cups Ice
Instructions
Add all ingredients to the blender in the order listed. Start with the 2 cups of almond milk, you can always add more later.
If you're using a Blendtec, run the "Smoothie" cycle once and you're done.
If you're using another blender, run on high until smooth.
If you notice the smoothie is too thick during blending, add a bit more almond milk while it's running to get your desired consistency.
Pour into individual glasses and garnish with a few extra chocolate chips (optional, but very adorable).
Elvis Popsicles
After you're made the smoothie, mix in a few more chocolate chips, if desired, and pour into popsicle molds. Freeze overnight.
Notes
Peanut butter is NOT paleo, but we do eat it sometimes. Use your favorite nut butter in this smoothie.
Nutrition Information
Yield

4
Amount Per Serving
Calories

693
Total Fat

48g
Saturated Fat

9g
Unsaturated Fat

0g
Cholesterol

1mg
Sodium

212mg
Carbohydrates

58g
Fiber

12g
Sugar

33g
Protein

17g
Nutrition is calculated by a third party and may not be 100% accurate
Save