I'm not a chocolatey person. I never have been. I would always take the vanilla ice cream or yellow cake or the fruity desserts over anything with chocolate. Maybe that was weird, but it's just what I did. Actually, I say I'm not (currently) a chocolatey person, but I think I might be converting. I've noticed I tend to choose that over most other treats now. Oh my gosh, does that mean I'm getting old? Even worse, I really, like really, love dark chocolate. Uh oh…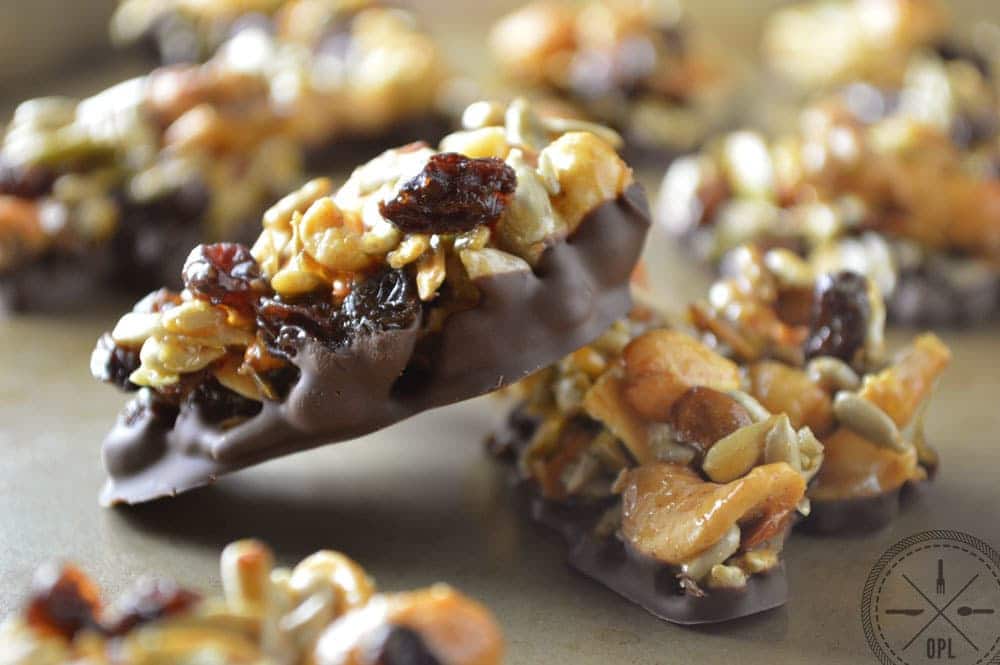 I suppose I better embrace it. The gray hairs have been around for over a decade (darn genetics, but I still love you, mom), and I'm starting to get laugh lines and I worry about the way the skin on my hands look, but at least I love chocolate.
Speaking of getting old and chocolate, I found something awesome on Pinterest a few weeks ago. I was looking for a dry shampoo option for post-gym and in-between hair washing, but didn't like most of the DIY options because I have dark hair (with stupid white roots) and the last thing I needed was some white powder to make me look like I had even more white hair. Then I came across one that added cocoa powder and I was like "heck yes!". Rob couldn't believe I was putting chocolate in my hair but dirty hair don't care.
I dabbed that stuff on and not only did it make my hair not look so after-the-gym grody, but it actually disguised my gray roots just a bit. Double score. So yeah, say what you want, but cocoa is not only made for eating.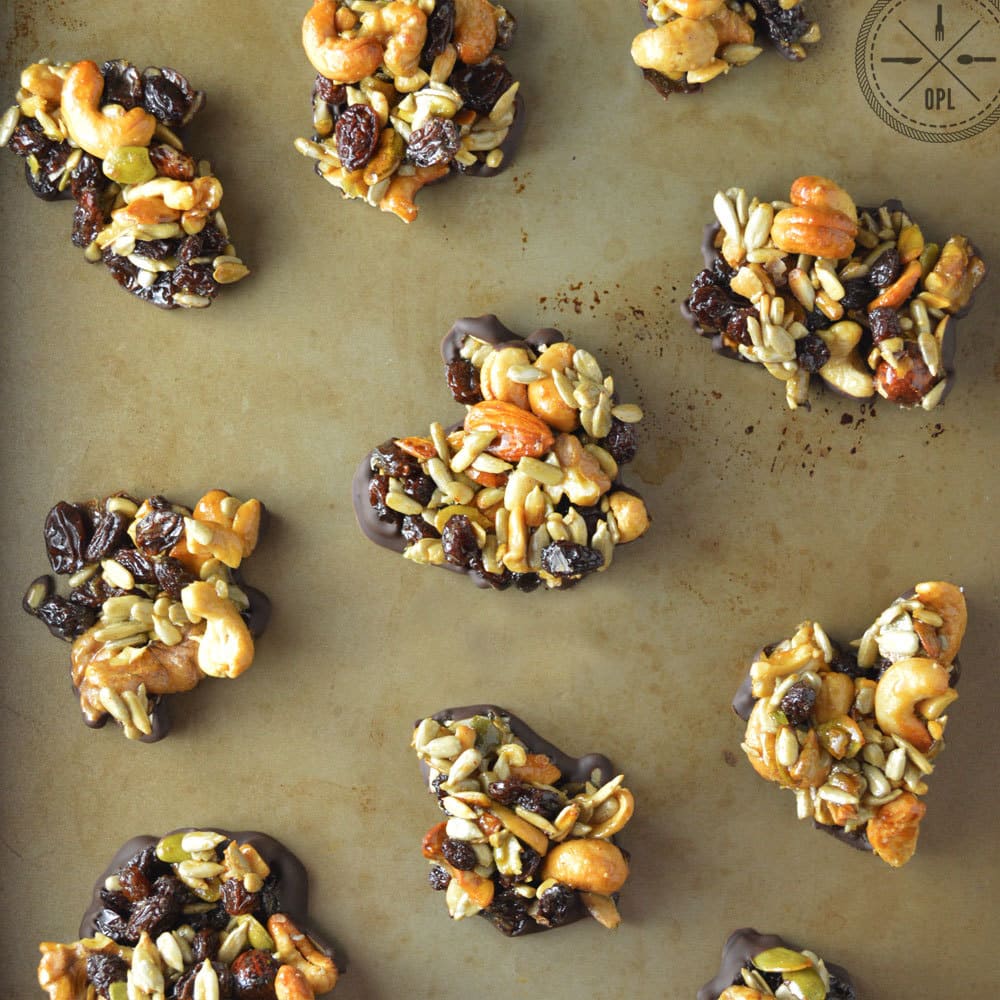 And I guess I should give credit where credit is due. I 100% did not come up with this recipe. Rob is always looking for new treat and snack ideas, and this one is yet again another brain child of his. Luckily for him, he's got a super awesome wife that knows her way around the kitchen and can make his dreams a reality. We're talking about food here, people.
These are really simple to make, and if you buy a nut-seed-fruit mix (like in the bulk section at Whole Foods), then half the work is already done for you.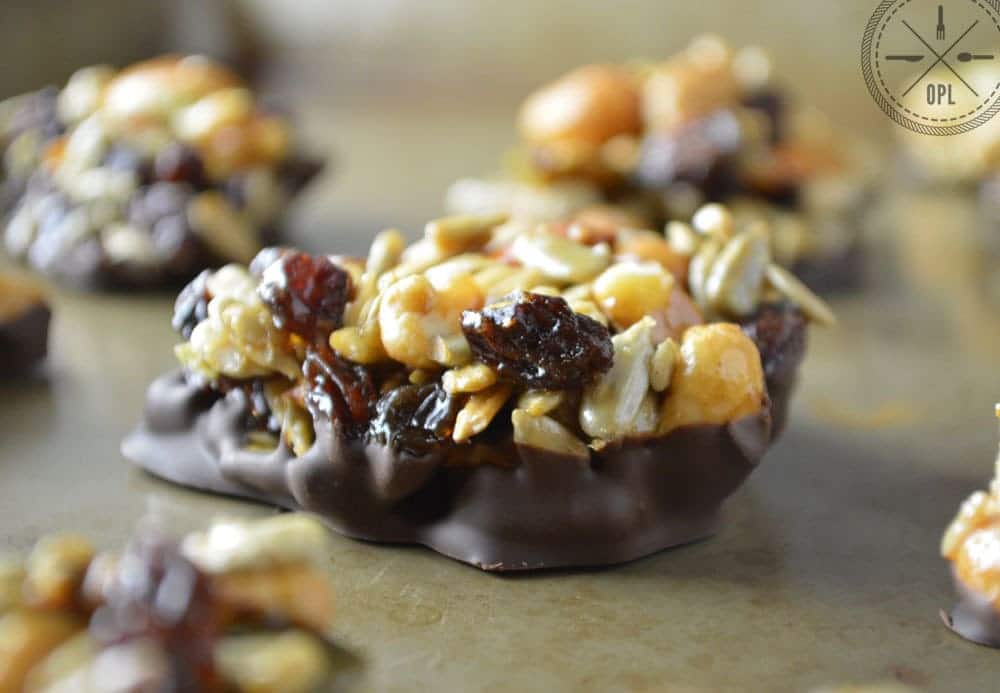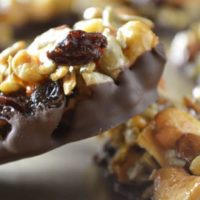 Back Country Clusters
Trail mix is so last year. Chocolate dipped clusters are what's in right now. Or do you not follow food style trends? Yeah, me neither, but these things are so good and so much more fun to eat than trail mix, so why not make them?
Ingredients
3 cups Nut/Seed/Dried Fruit Mix*, make your own or buy a pre-made mix -- make sure it's no-salt and no-sugar added though
1/2 cup Honey
1/2 tsp Sea Salt, if your nut/seed/fruit mix has salt, reduce this to about 1/4 tsp
1/2 tsp Cinnamon
1/2 cup Enjoy Life Chocolate Chips
1 tsp Vegan Shortening
Nut/Seed/Dried Fruit Mix (any combination of the following):
Pumpkin Seeds
Sunflower Seeds
Hemp Seeds
Sesame Seeds
Almonds
Cashews
Pecans
Walnuts
Hazelnuts
Dried Blueberries
Dried Cranberries
Raisins
Dried Strawberries
Anything else you can dream up!
Instructions
Preheat oven to 350°F. Line a rimmed baking sheet with parchment paper. Set aside.
In a large bowl, combine all ingredients except chocolate chips. Stir to combine everything evenly.
Pour the nut mixture onto the prepared baking sheet and spread it out so it's about 1/2" thick. Try to keep it away from the edges, as the honey will spread.
Bake in the preheated oven for 20 minutes.
Remove and let cool completely on a wire rack.
Once it's completely cool and hardened, break the nuts into clusters.
Melt the chocolate chips and shortening in the microwave in 30 second increments, stirring until smooth.
Dip the bottom of each cluster in the melted chocolate, pressing down so it comes up the sides just a little bit.
Set chocolate-dipped cluster on a piece of parchment. Once all clusters are dipped, put them in the fridge for a few minutes to harden the chocolate. Store in an airtight container.
Notes
I am baking at a high elevation (6,000ft above sea level). Boiling and candy baking times are shorter up here. In order to have your honey harden enough to make these clusters work at lower elevations/sea level, you may need to add a couple minutes to your bake time. Just keep an eagle eye on them to be sure they don't burn towards the end.
Nutrition Information
Yield

12
Serving Size

1 cluster
Amount Per Serving
Calories

318
Total Fat

22g
Saturated Fat

5g
Trans Fat

0g
Unsaturated Fat

16g
Cholesterol

0mg
Sodium

294mg
Carbohydrates

29g
Fiber

4g
Sugar

21g
Protein

8g
Nutrition is calculated by a third party and may not be 100% accurate