A friend recently told me that my children were "freakish" (in the nicest way possible of course). Why did she say this? Because I told her they like, actually they love, Brussels sprouts. Which I can see as making perfect sense, since I certainly would have never eaten them as a kid, and it's not necessarily the veggie that comes to mind when you think of something kids actually enjoy.
So let me tell you a little story that illustrates my children's obsession with these little green sprouts. First, I'll admit that we sometimes go out to eat at restaurants. While I try to stay close to paleo, it's not always possible. We were out just recently and the menu options didn't really include much for those with food restrictions, so I offered my kids a few options from the menu. When I turned to my 3-year-old to see what she wanted, she completely ignored the options I gave her, turned to the server and said "I want Brussels sprouts". The woman turned and looked at me like my child had 3 heads, and I said "Yeah, she said Brussels sprouts". The woman shook her head a little, slightly bewildered, and then asked what she really wanted.
While that moment made me extremely proud, it also made me sad. How sad that it's not "normal" for a child to want healthy food in lieu of burgers and fries. We wound up getting her little sausages wrapped in pretzels and she took the sausage out and left the bread on the plate. I'm considering that a parenting success as well.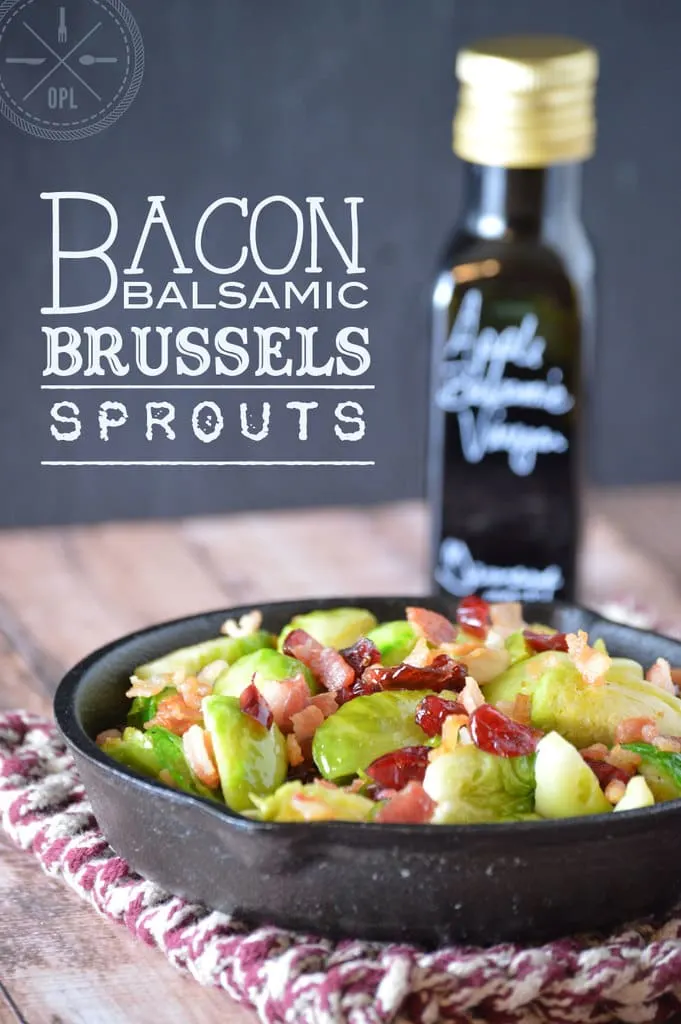 Now don't get me wrong. My kids don't always make the best choices with their food, we're still learning and growing and progressing on this paleo journey as a family. They understand the "shoulds" and "should nots" of eating, but that doesn't always translate into action, though they're always trying to do better. I don't ever want to give the impression that we are a perfect paleo family and it's just so easy, because it's not and it most likely won't be for you either. This is a process. My kids didn't like Brussels sprouts the first time I made them. By figuring out the method of cooking them that makes them crave such a healthy vegetable, I'm able to get one step closer to a healthier future for them, but it's always a process, always a game, always a gamble.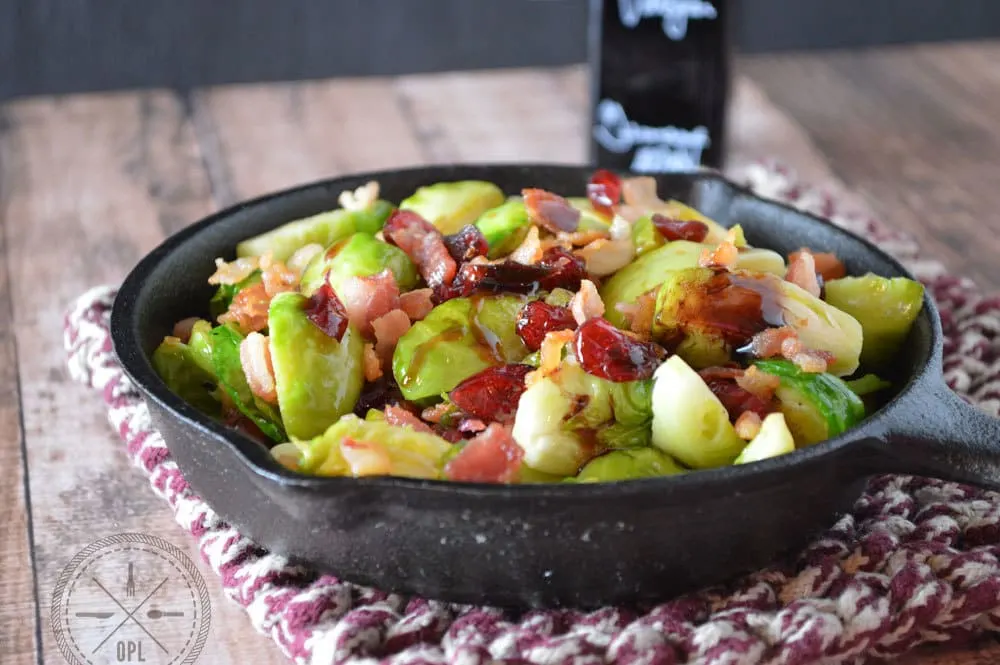 When you take an iffy veggie like Brussels sprouts and add bacon, balsamic vinegar, and cranberries to the mix, you are bound to have a dish that everyone will love, kid or not. I have made these sprouts with and without the cranberries and they are delicious both ways, so don't stress if you don't have any or forget them at the store, this will still taste amazing. But don't forget the balsamic, it's a key ingredient for sure. It adds so much depth and flavor and yum that you'll be sorry if you leave it out. I don't always reduce the vinegar, and it's not necessary, but I love when it actually sticks to the sprouts instead of running into a watery puddle at the bottom.
So make these, watch your kids love them, and don't be surprised if you're walking through the produce department and you hear them say "Mom, can we please get some Brussels sprouts?".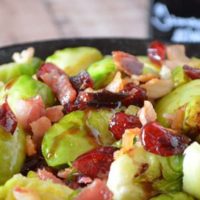 Bacon Balsamic Brussels Sprouts
An often overlooked veggie due to it's "weirdness", Brussels sprouts are surprisingly delicious and the most-requested vegetable in our home. Why? Because I cook them in bacon and drizzle it with balsamic vinegar. Doesn't get much better than that.
Ingredients
8 oz Bacon
2-3 lbs Brussels Sprouts
3/4 cup Dried Cranberries, apple-juice sweetened
Splash Chicken or Vegetable Broth
Sea Salt, to taste
Fresh Ground Black Pepper, to taste
3/4 cup Balsamic Vinegar, we love fruit balsamics**, especially pomegranate and raspberry
Instructions
Add the balsamic vinegar to a small saucepan. Turn the heat up to medium and let simmer until reduced by about half. Do this first and it should be done by the time the sprouts are ready.
Using kitchen shears (or a knife, but using shears is much easier), cut the bacon into small pieces, about 1/2".
Place the bacon in a large, cold skillet. Turn heat up to medium-high and cook the bacon, stirring occasionally so it doesn't burn.
While the bacon is cooking, cut the bottom off each sprout (where it connected to the stem), remove the outer leaves, and cut in half (or quarter them if they're big). Set aside.
When the bacon is almost done (not all the way crispy, but close), remove with a slotted spoon and drain on paper towels. Keep as much bacon grease in the pan as possible.
Add the Brussels sprouts to the pan with the bacon grease, reduce heat to medium, and stir to coat all sprouts with the bacon fat. If your bacon didn't product much fat, add more if you have any reserved from previously cooking bacon, or add a bit of olive oil. You just need enough to make sure the sprouts aren't cooking in a dry pan.
Place a lid on the pan, and let cook for 5 minutes. Remove lid, stir sprouts and add a splash of broth. Put the lid back on and cook for another 5 minutes.
Remove the lid again, stir and check to be sure the sprouts are fork-tender. If not, cook a bit longer until they are.
Add the cooked bacon bits, cranberries, salt, and pepper to the pan. Stir to combine everything.
Serve hot with the balsamic reduction poured over it.
Notes
For Whole30, leave out the cranberries and maybe use a non-fruit balsamic.
Nutrition Information
Yield

6
Amount Per Serving
Calories

315
Total Fat

15g
Saturated Fat

5g
Unsaturated Fat

0g
Cholesterol

25mg
Sodium

312mg
Carbohydrates

35g
Fiber

8g
Sugar

18g
Protein

11g
Nutrition is calculated by a third party and may not be 100% accurate