This recipe was originally posted in 2017 and updated in the summer of 2020.
Pot roast is a braised beef entree, made by browning a roast-sized piece of beef then slow-cooking in or over liquid – in this case (in an Instant Pot).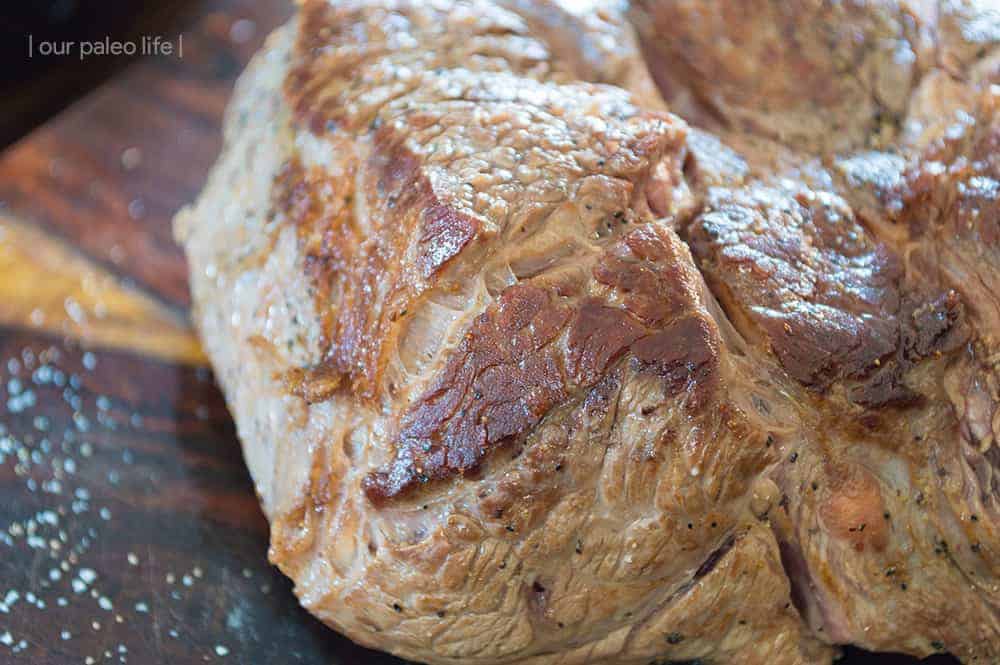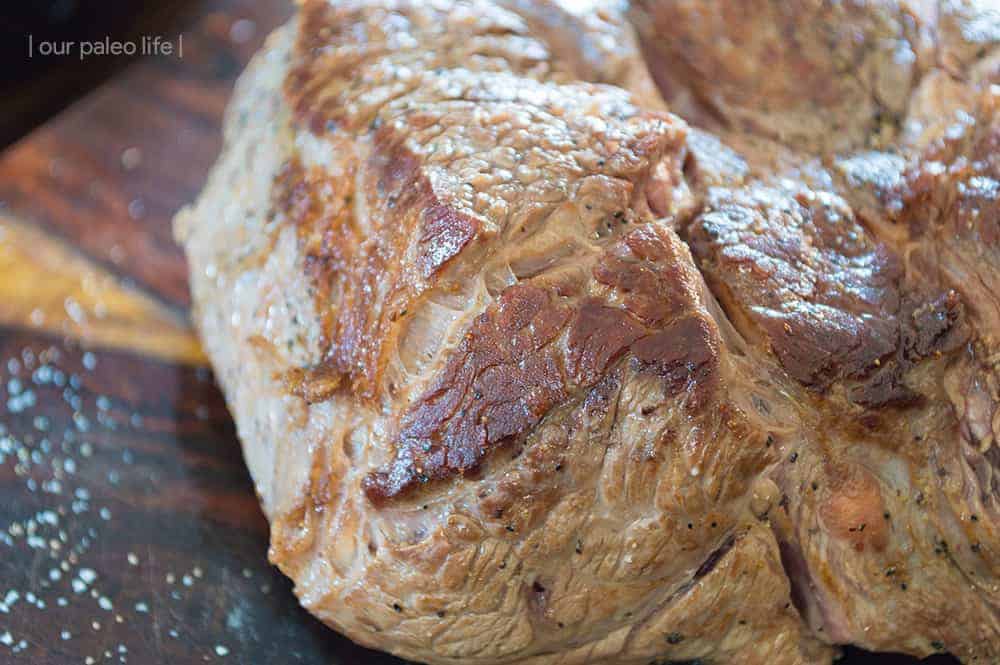 Easy Instant Pot – Pot Roast Recipe
Typically, tougher cuts such as a chuck steak and boneless chuck roast are cooked using this method. The toughness of their fibers (in these cuts) makes them less than desirable for oven roasting, Instant Pot cooking tenderizes them and makes these cuts incredibly delicious.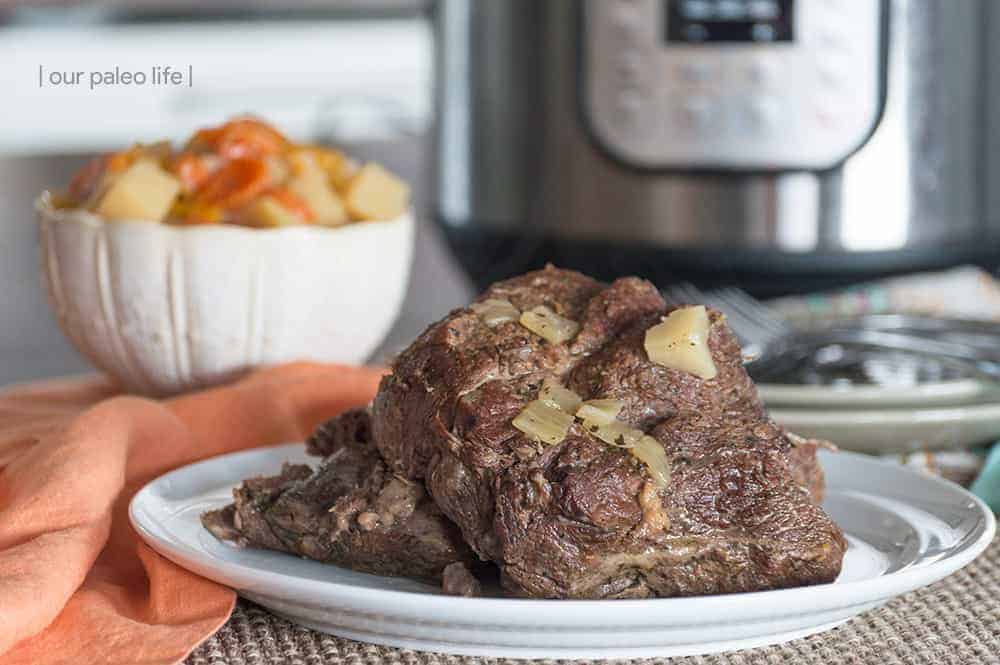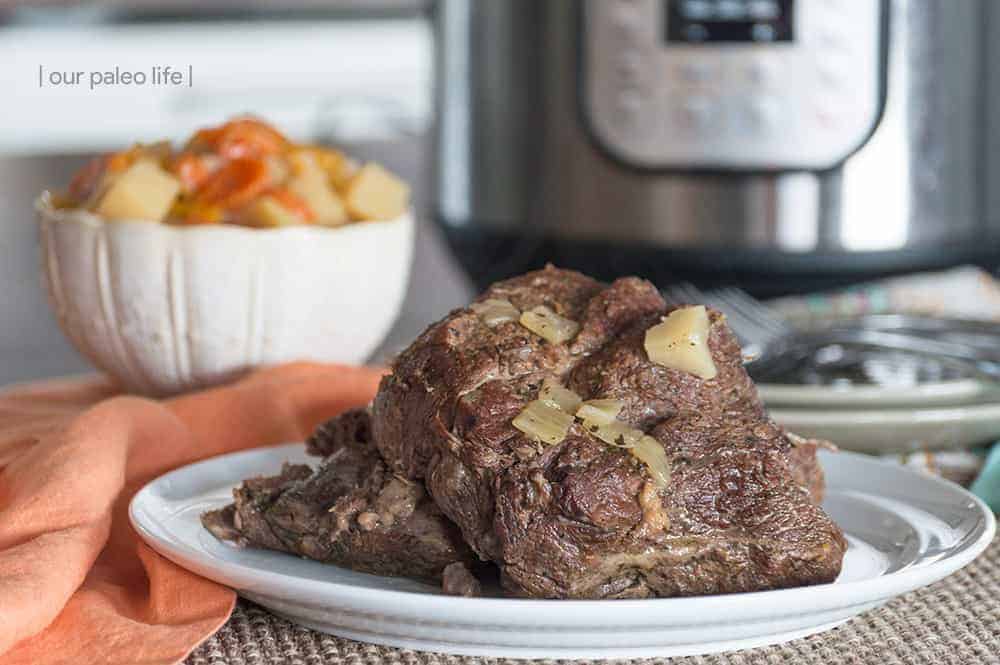 The final result of this Instant Pot Pot Roast is a tender, succulent meat with a rich liquid that lends itself to gravy.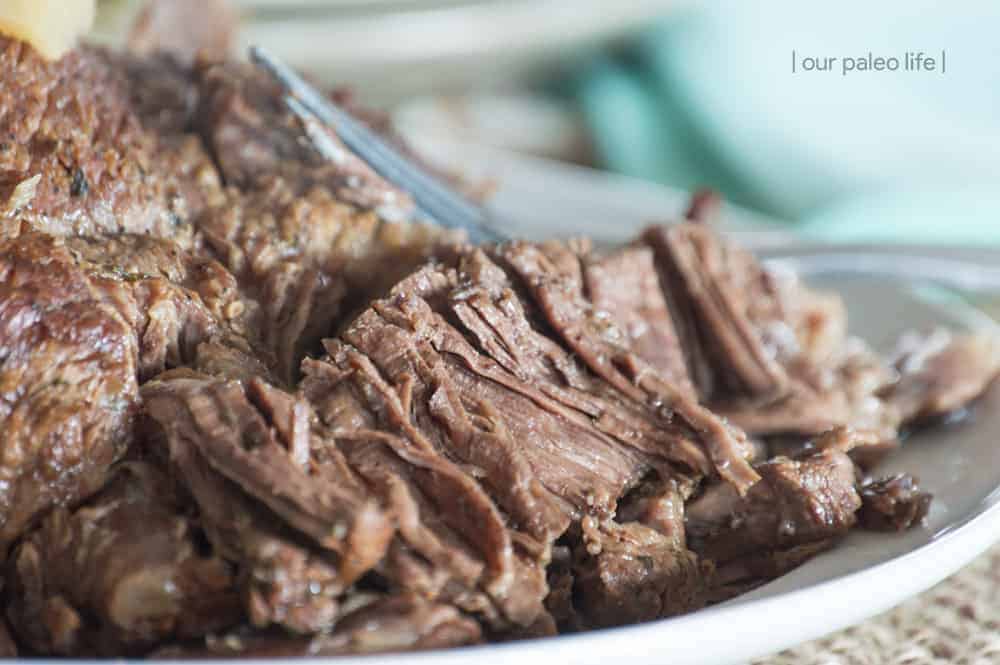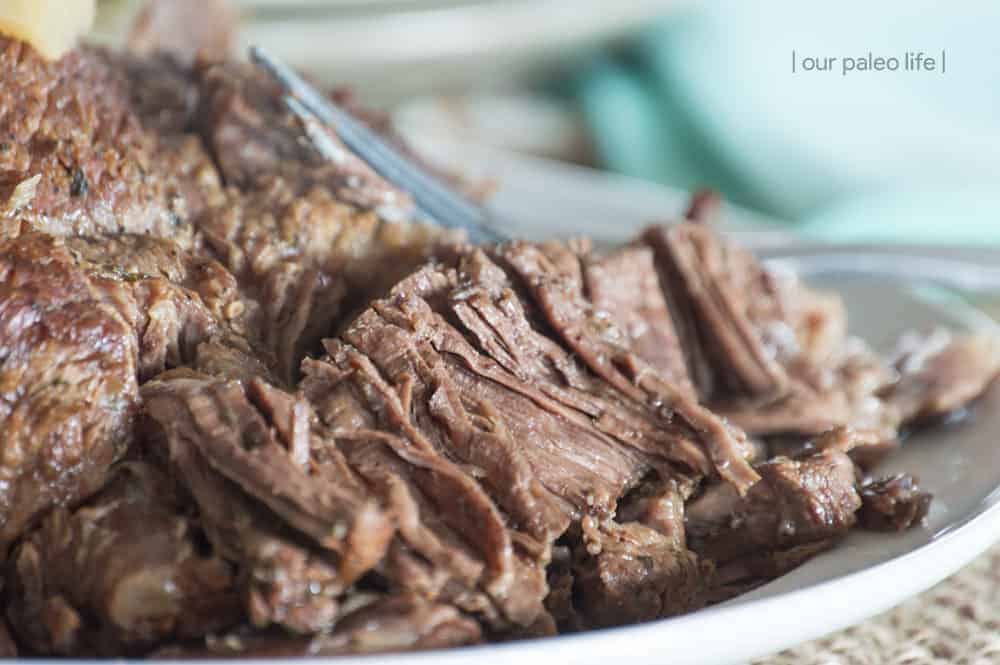 Instant Pot Pot Roast
Typically, a pot roast is served with vegetables like carrots, potatoes and sometimes onions, all cooked together in the Instant Pot. This is fine in when Paleo. If you're Keto, add our delicious cauliflower dish to reduce the total carb count of the meal.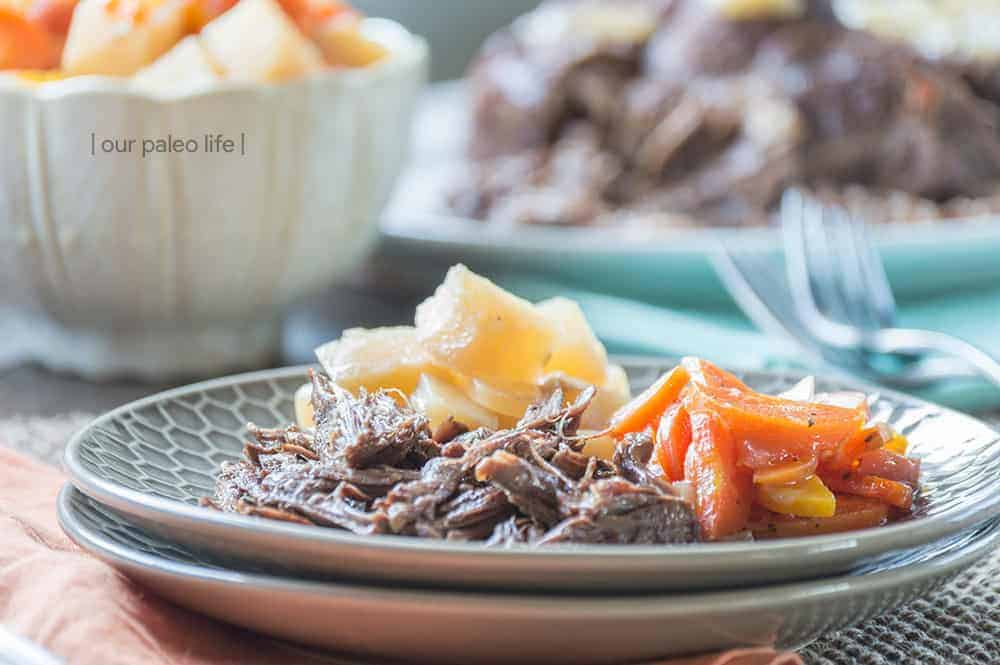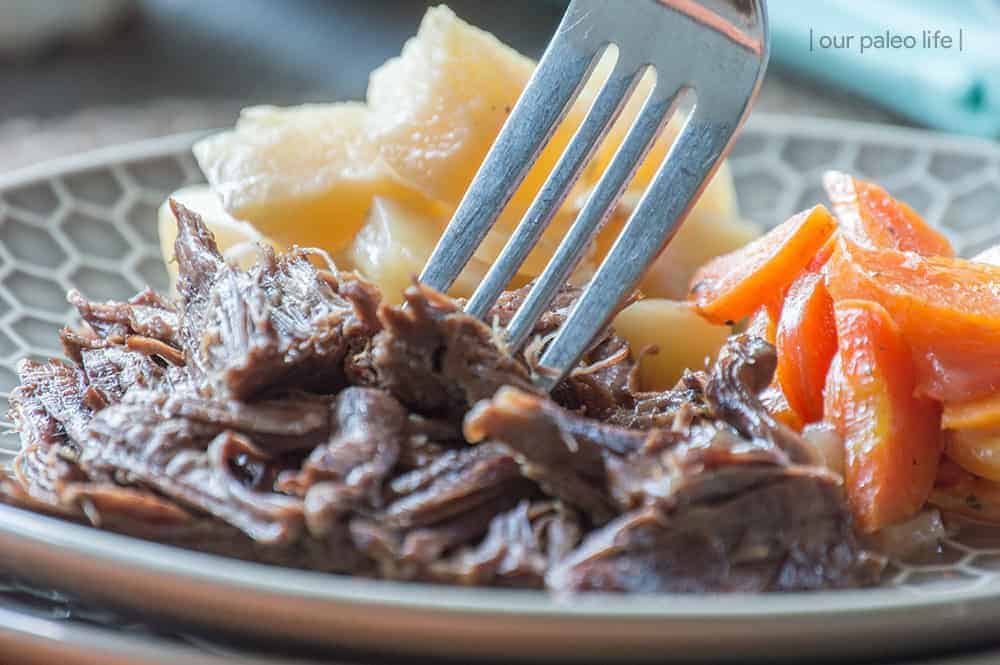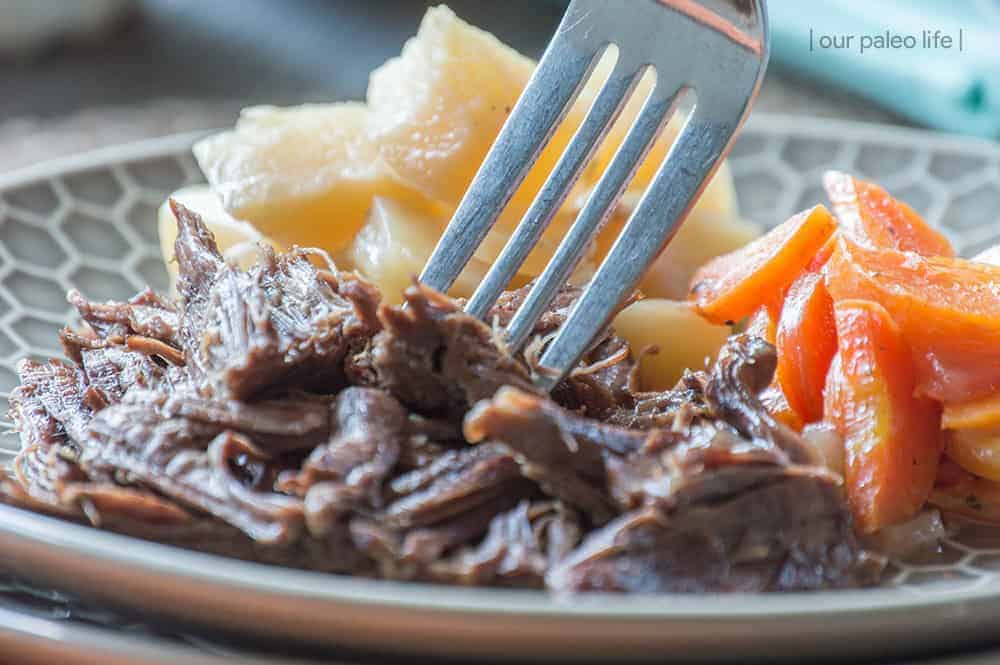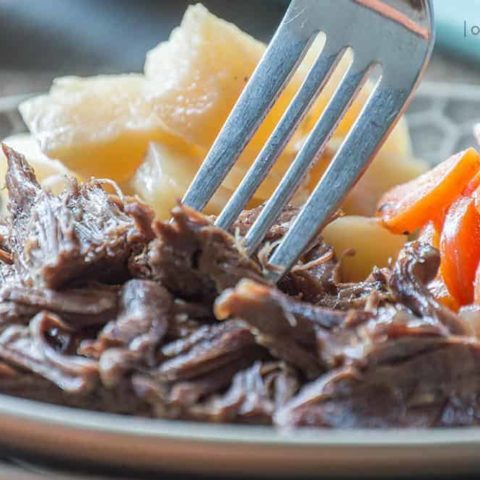 Perfect Pot Roast in the Instant Pot
Cook Time:
1 hour
30 minutes
Total Time:
1 hour
45 minutes
Ingredients
Roast & Veggies
2 Tbsp Avocado Oil, or olive oil, divided
3 lb Chuck Roast
Salt
Ground Black Pepper
1 small Yellow Onions, cut into large chunks
3 cloves Garlic, peeled and minced
4-5 Carrots, cut into bite-sized pieces
12-15 Baby Red Potatoes, halved
2 tsp Dried Parsley
1 tsp Dried Basil
1 Bay Leaf, 2 if they're small
1/2 cup Red Wine, replace with beef stock for Whole30 compliance
1-1/2 cups Beef Stock or Bone Broth
Gravy
3 Tbsp Grass-Fed Butter or Ghee
3 Tbsp Otto's Cassava Flour
Liquid from the Instant Pot, amount will vary
Salt, to taste
Ground Black Pepper, to taste
Instructions
Roast & Veggies
Lightly coat the roast with salt and pepper on both sides. Set aside.
Press the "Saute" button on the Instant Pot and add 1 TBSP of the oil to the inner pot. When the display says "HOT" and the oil is shimmering, add the roast and brown on each side for about 3 minutes, or until it forms a nice crust and you can easily remove it from the inner pot's surface. Be sure to brown all sides as well, not just the top and bottom. Remove the roast and set aside.
Add the remaining 1 TBSP of oil to the still-hot Instant Pot. Add the onions and garlic, sauté until slightly softened, about 2 minutes. Press the "CANCEL" button on the Instant Pot. Remove the onions and set aside.
Add the carrots and potatoes to the pot and pour in the beef stock and red wine, as well as the basil, parsley, and bay leaf (stir lightly). Place the roast on top of the veggies and top the roast with the sautéed onions. Lock the lid in place and close the pressure valve. Press the "MANUAL" button and increase the time to 70 minutes for a 3lb roast, 80 minutes for a 3.5lb roast, or 90 minutes for a 4lb roast.
When the time is up, you can do either natural pressure release (NPR) or quick pressure release (QPR). Turn off the Instant Pot. Remove the roast and let rest while you make the gravy (do not cut into it for at least 10 minutes). Remove the veggies with a slotted spoon so you have easier access to the juices to make the gravy.
Gravy
In a medium saucepan, melt the butter/ghee over medium-low heat. Whisk in the cassava flour to form a thin roux.
Start adding the liquid from the Instant Pot 1/4 cup at a time, whisking and letting it gently simmer to thicken. Continue until you get your preferred gravy thickness (this is about 2-ish cups for me). Season with salt and pepper to taste (you may not need it at all so taste it first).
Serving
Slice the roast against the grain or pull apart with 2 forks (it will be tender enough to do this). Serve hot with a scoop of veggies and a dousing of gravy.
Notes
Nutrition Facts are for the Roast only (does not include gravy or carrots/potatoes since the amounts eaten of those may not match the portion mentioned in the recipe).
Total Cook/Prep Times do not include the time it takes the pressure cooker to come to pressure (this can vary from pot-to-pot, also depending on your location).
Nutrition Information
Yield

8
Amount Per Serving
Calories

342
Total Fat

23g
Saturated Fat

8g
Unsaturated Fat

0g
Cholesterol

117mg
Sodium

138mg
Carbohydrates

1g
Protein

32g
Nutrition is calculated by a third party and may not be 100% accurate