This 6-layer keto dessert is decadent and sure to impress even your non-keto family and friends. And it's so easy to put together!
What is a Trifle?
The word trifle has a few meanings… but when it comes to dessert it also has a few meanings. Helpful? For sake of this recipe, it's a layered dessert in a little individual container. This one… now this one is special – 100% diabetic friendly, Keto approved: and the texture and taste are perfect!
If you've got the cardnl caramel sauce on hand, make this today!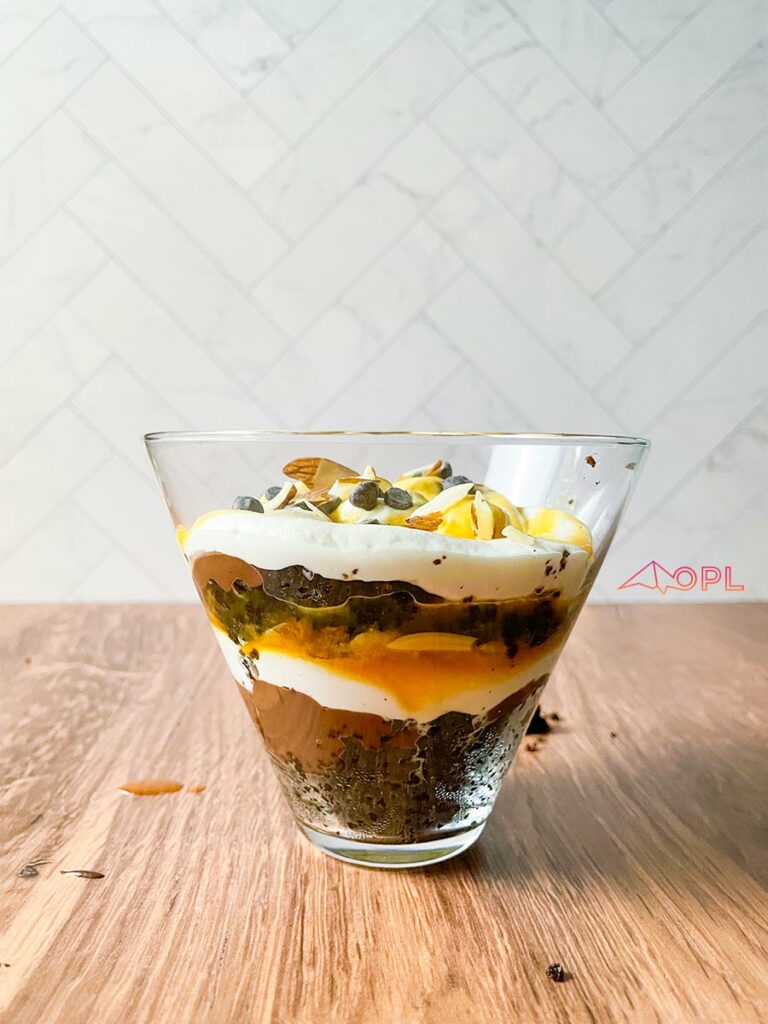 Chocolate Trifle
After years of admiring these beautiful layered desserts but not having a need for a full on centerpiece dessert, I decided it was time to make some individual trifle cups. And naturally, it had to be chocolate and caramel because that's one of the greatest flavor combinations that exist. Don't even bother arguing…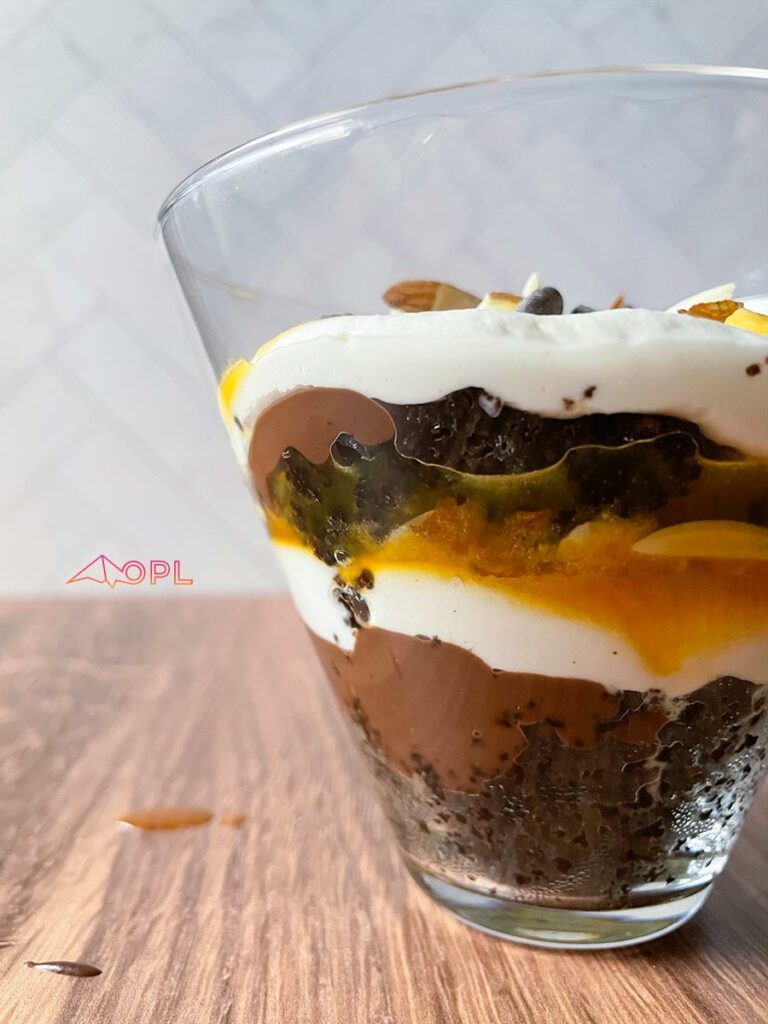 Rather than reinvent the wheel, I went back to my favorite keto-friendly Brownie Cups recipe and baked it in a baking pan instead of wasting cupcake liners. Worked like a charm and made it super easy to crumble the brownies.
6 Layer Trifle Cups
Chocolate Ganache
Caramel Whipped Cream
Slivered Almonds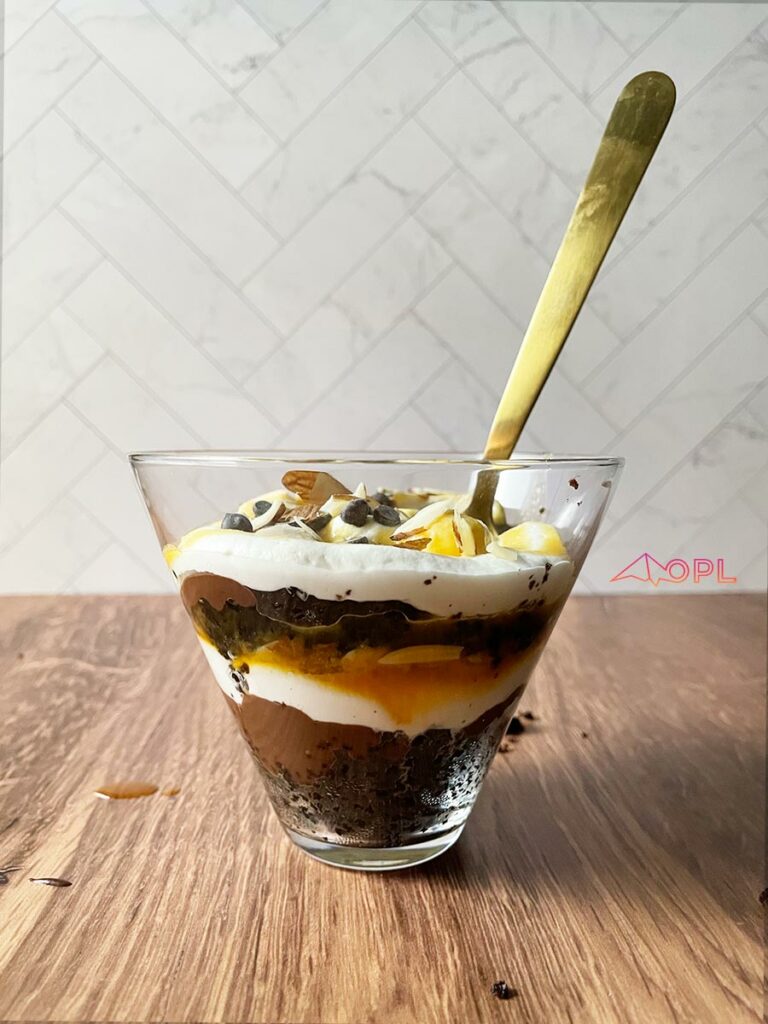 Keto Whipped Cream & Ganache
While the brownies bake and cool, you can prep the ganache and whipped cream. This dessert is decadent and sure to impress even your non-keto family and friends. And it's so easy to put together but looks so fancy.
I think these would be adorable in mini dessert cups and served at a buffet! Complete with mini golden spoons, so perfect!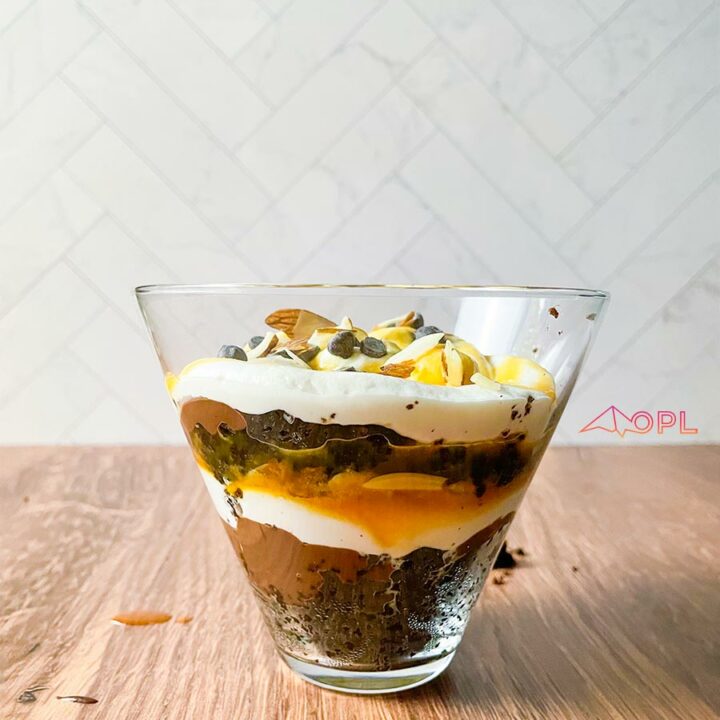 Keto Brownie Trifle Cups
Ingredients
Chocolate Ganache
Whipped Cream
Layers
Instructions
Brownies
Preheat oven to 325°F. Line an 8x8 baking dish with parchment paper, leaving flaps overhanging the edges. Set aside.
Prepare the brownie cup batter as directed. Rather than baking in cupcake or tart liners, pour batter into the prepared 8x8 baking pan and bake in the preheated oven for 35 minutes. Remove and let cool while you prepare the ganache and whipped cream.
Chocolate Ganache
Add chocolate chips to a heat-safe bowl. In a separate heat-safe bowl, add the 1 cup heavy cream and microwave on high for 30-45 minutes, or until steamy, but not boiling. Pour hot cream over the chocolate chips and let sit for a minute to soften the chocolate.
Stir until fully smooth and glossy. Set aside.
Whipped Cream
Add the 2 cups heavy cream to a mixing bowl, then add the 3 tablespoons Caramel Sauce. Using a hand mixer, beat the cream on low at first, gradually incresing the speed as it thickens. If you start right away on high speed, you'll have a splattery mess!
Continue beating until the cream is fluffy and doubled in size. Set aside.
Assembly
When the brownies are cool enough to touch, crumble them up in the pan with a spoon (or your hands, if you prefer).
Add 2 spoonfuls of brownie pieces, top with a spoonful of ganache, a layer of whipped cream, 1-2 spoonfuls of caramel sauce, and a sprinkle of almonds and chocolate chips.
Repeat all layers again. Top with additional whipped cream if desired.
Serve right away, or chill for up to 2 hours before serving.