These chocolate Keto crunch bars are easy to make and they've got a great taste and texture. Have these on hand for any sweet cravings you might get, perfect snack on a Paleo or Keto meal plan.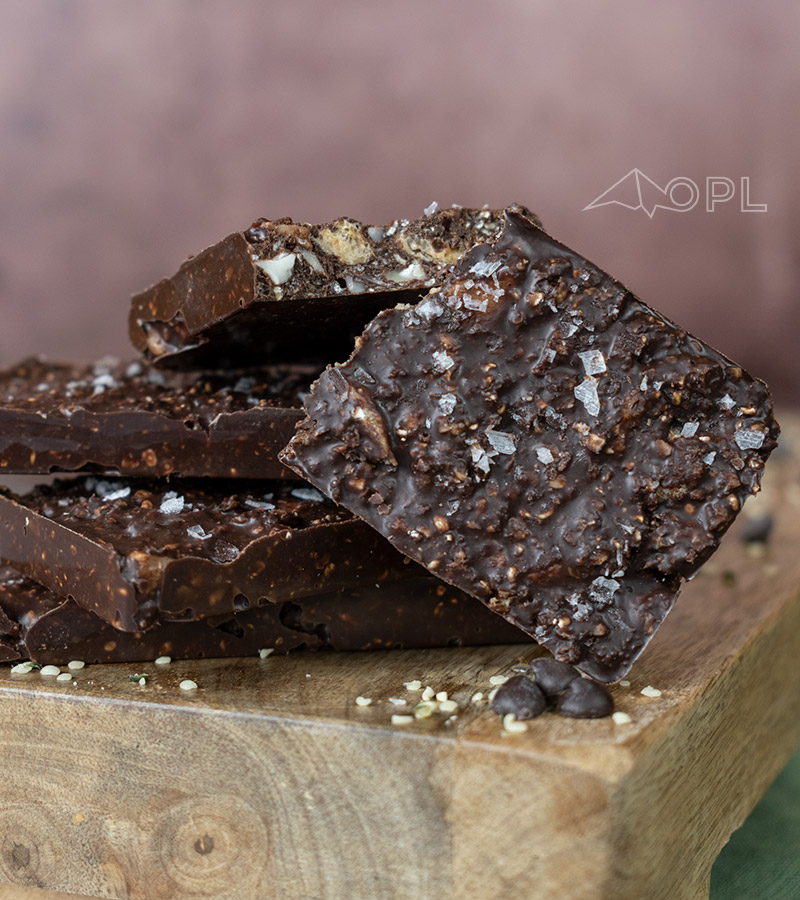 Why Make Keto Crunch Bars?
In order to find success with reducing and removing sugar from your diet, we've found that having tasty replacements makes it much easier. These crunch bars are an inexpensive way to have treats on hand. You'll know exactly what's in them and that you can rest assured there's no blood sugar spike.
If you're on a Keto diet for health reasons, avoiding sugar is one key in finding success. Make delicious snacks that you crave and that'll help you feel full and stick to your goals.
These bars do just that: satisfy cravings, helps you stick to your goals, feel full.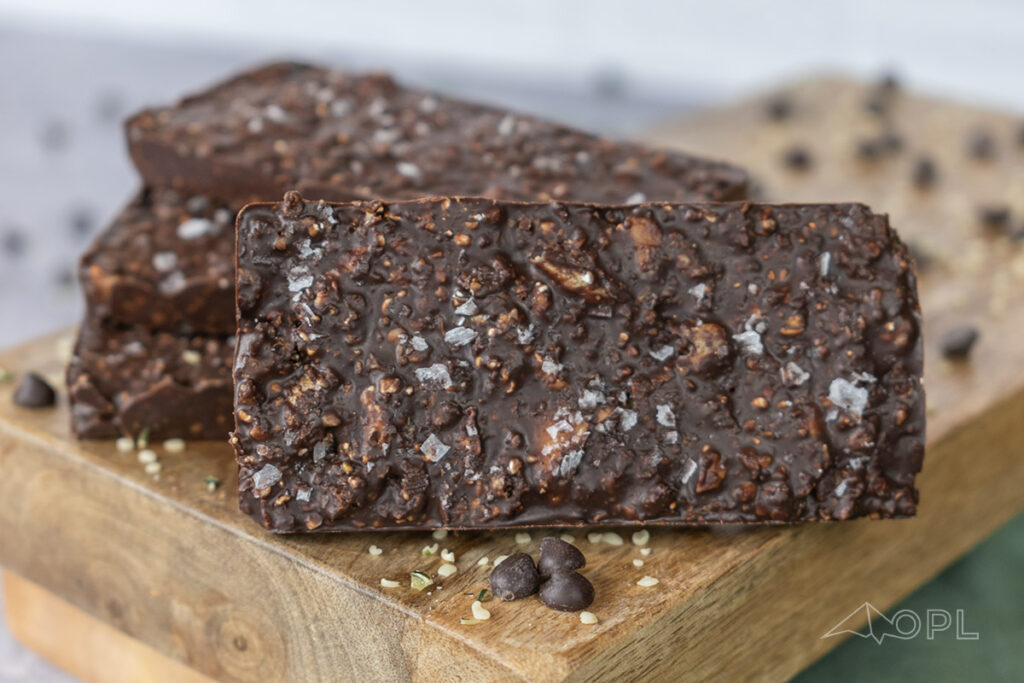 Ingredients in these Keto Crunch Bars
Let's start off with the basics in this recipe:
Now… if you want to make adjustments, go for it. There are so many different varieties for ingredients that are considered "Keto safe". I feel as though the trick to making these bars just right is in the size of the add-in's – go small and add a lot!
Other ingredients to personalize your Keto Crunch Bar:
Slivered Almonds
Freeze Dried Berries
Sunflower Seeds
Peanuts (though we don't advise eating legumes)
Coconut
Store Bought Protein Chips or Puffs
Store Bought Keto Cereals
Let us know in the comments any other ingredients that are working well for you!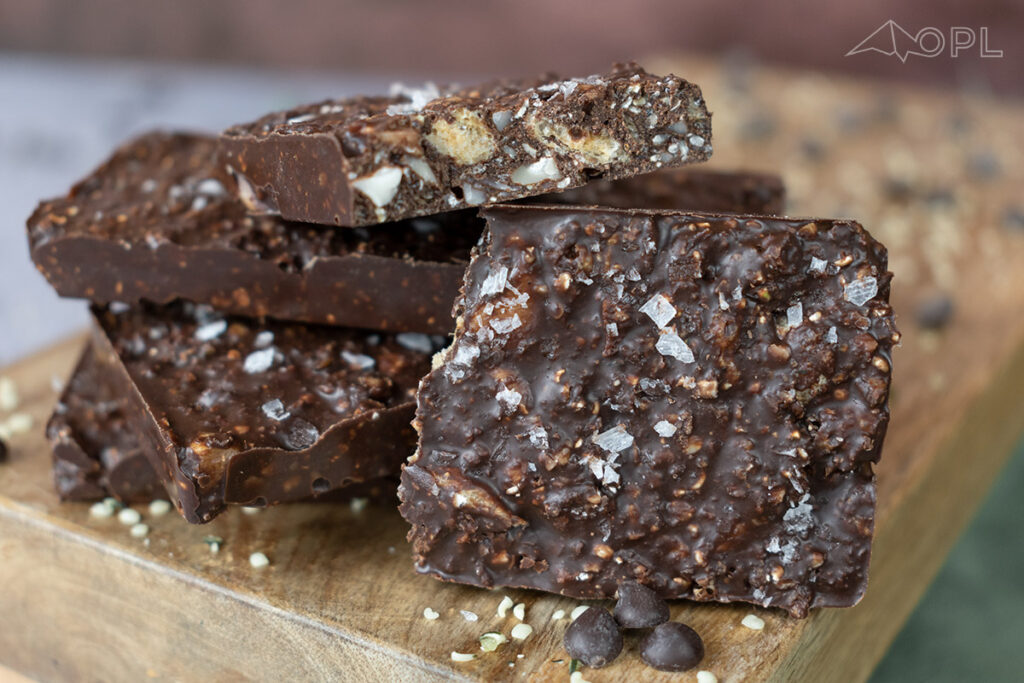 Enjoying a crunchy Keto bar that you made is amazing! Personalize the bar to fit your exact taste requirements.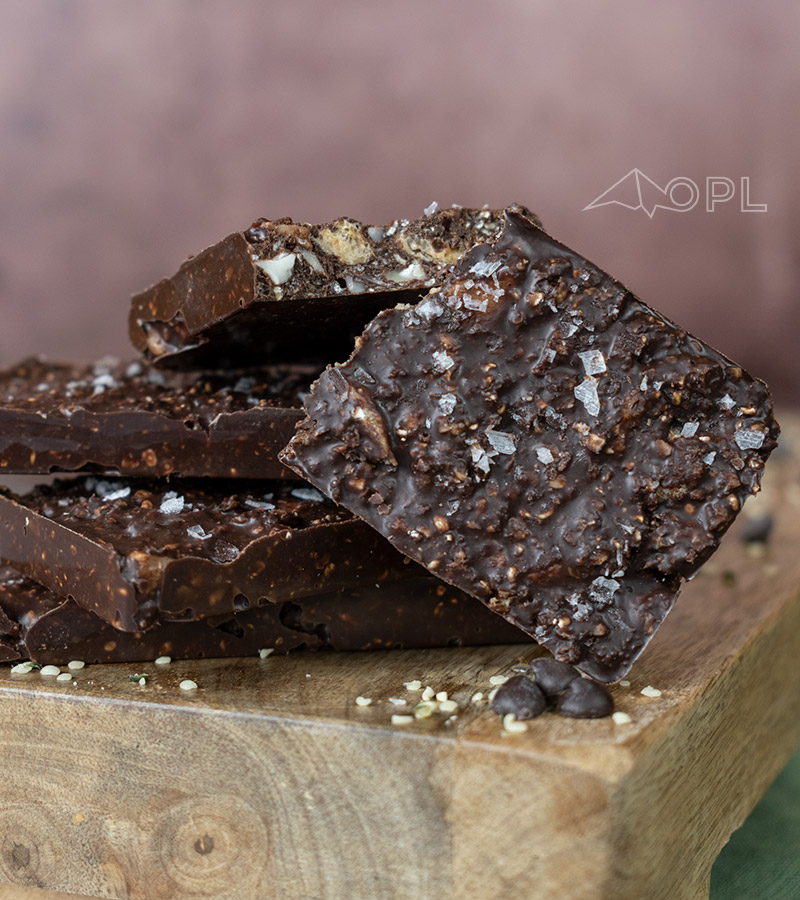 Adding Pork Rinds
One of the standout ingredients in this recipe are the pork rinds. Get creative with different flavors! Our favorite pork rind brand is Porking Good. Give it a try!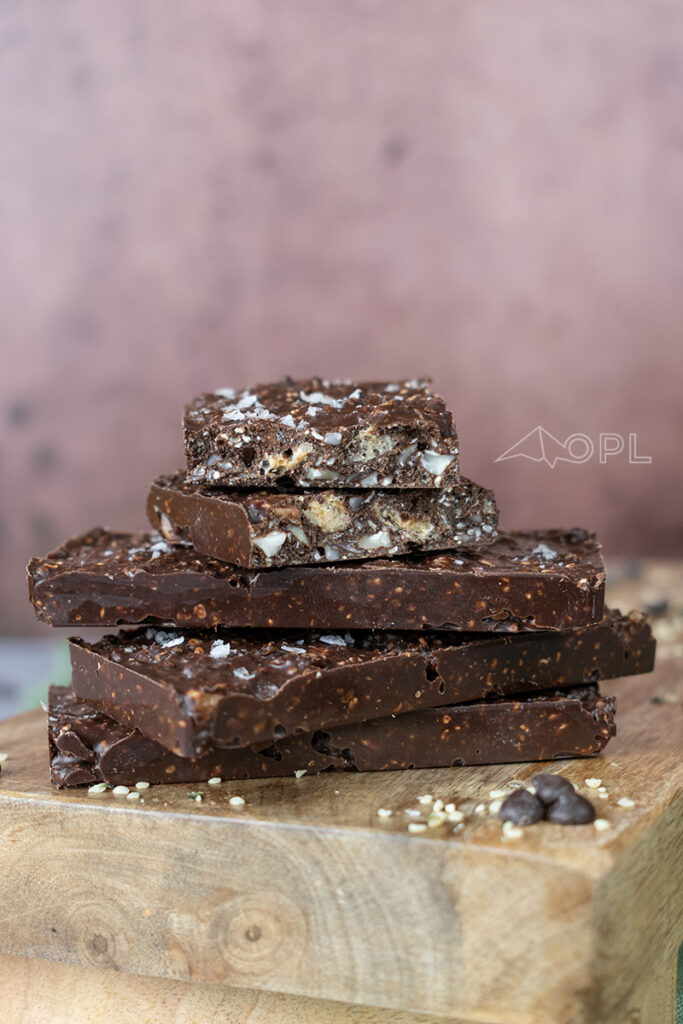 This recipe is perfectly suitable for healthy meal plans. Enjoy!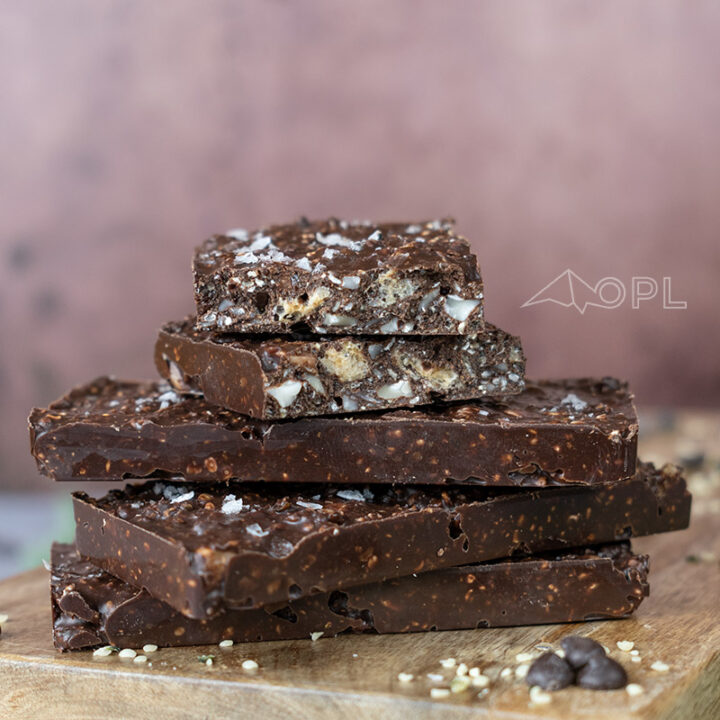 Keto Chocolate Crunch Bars
Additional Time:
30 minutes
Ingredients
3/4 cup Sugar-Free Dark Chocolate Chips
1/4 cup Salted Macadamia Nuts, chopped
1 cup Pork Rinds (measured after crushing), see notes
2 Tbsp Hemp Hearts
Instructions
Place pork rinds in a plastic bag, zip it shut, and crush them into small pieces (no more than 1/4"). You can use your hands, a wooden spoon, a measuring cup, anything that isn't too sharp that could puncture the bag. Set aside.
In a microwave-safe bowl, melt the chocolate chips in 30-second intervals, stirring between each, until fully melted. This usually takes about 3-4 intervals.
Add the pork rinds, macadamia nuts, and hemp hearts to the melted chocolate. Stir well to completely coat eveything with the chocolate.
You can either spread the mixture onto a parchment lined pan and cut/break apart after it's been chilled, or spread into a bar mold.
Place in the freezer to let hardeen for about 30 minutes. Once firm, remove from freezer and cut/break into bars (if you didn't use a mold).
Store in the fridge in a tightly sealed container for up to 2 weeks.
Notes
If you don't have pork rind crumbs, just take whole (unflavored) pork rinds and put them in a zip-top bag, press out as much air as you can, seal it up, and crush until there are pretty small pieces. You can use your hands, a can, a rolling pin, whatever gets the job done.
Nutrition Information
Yield

6
Serving Size

1
Amount Per Serving
Calories

160
Total Fat

9g
Saturated Fat

3g
Trans Fat

0g
Unsaturated Fat

6g
Cholesterol

6mg
Sodium

99mg
Carbohydrates

14g
Net Carbohydrates

2g
Fiber

2g
Sugar

0g
Sugar Alcohols

10g
Protein

5g