Last Updated on July 31, 2021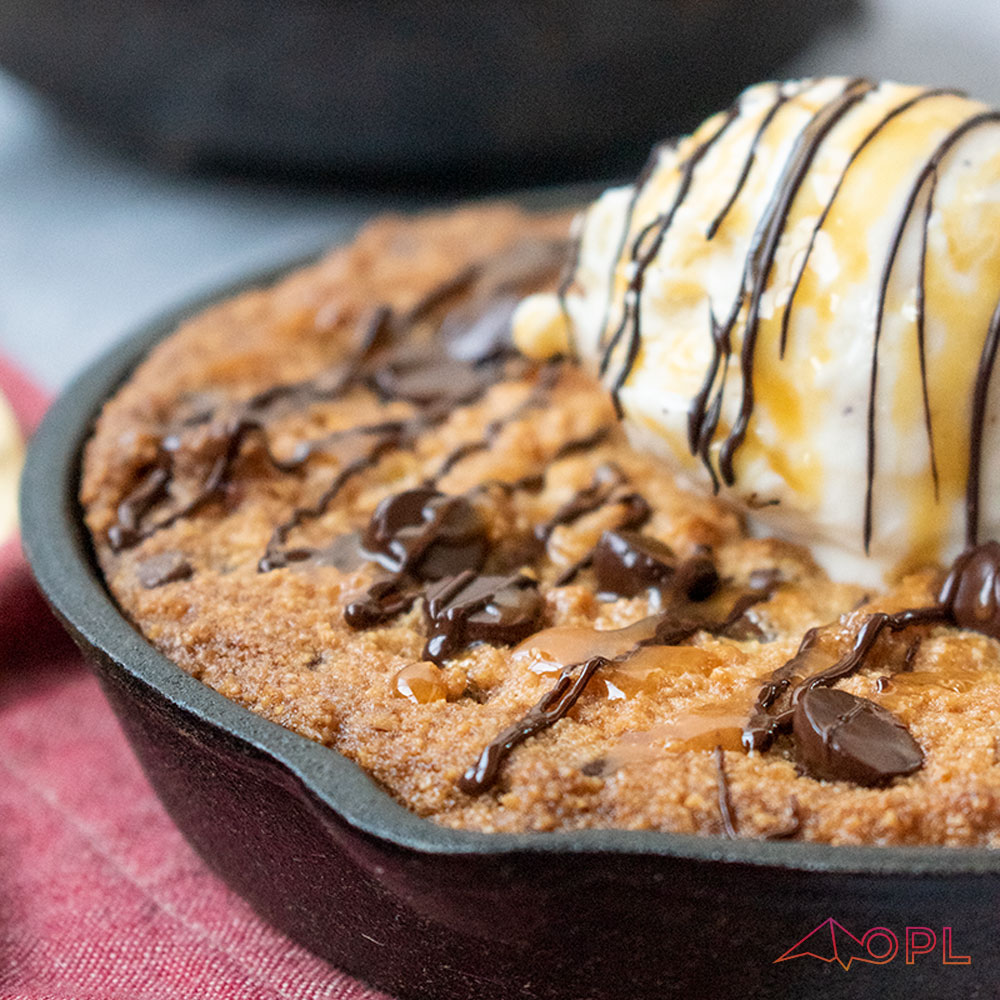 Pizookie is one of those words that you feel absolutely ridiculous saying, but there really is no other word to describe what it actually is. A pizookie is a cookie baked in a skillet like a deep dish pizza. It's soft and gooey on the inside, topped with a heaping scoop of ice cream.
Pizookie Copy-Cat from BJ's (keto Style)
From what I can find, BJ's Restaurant & Brewhouse is the mastermind behind the pizookie. And it's actually where we first discovered it as well. We let our kids choose a restaurant each year on their birthdays for their "family birthday night". BJ's is a popular choice among the kiddos simply because of the pizookie.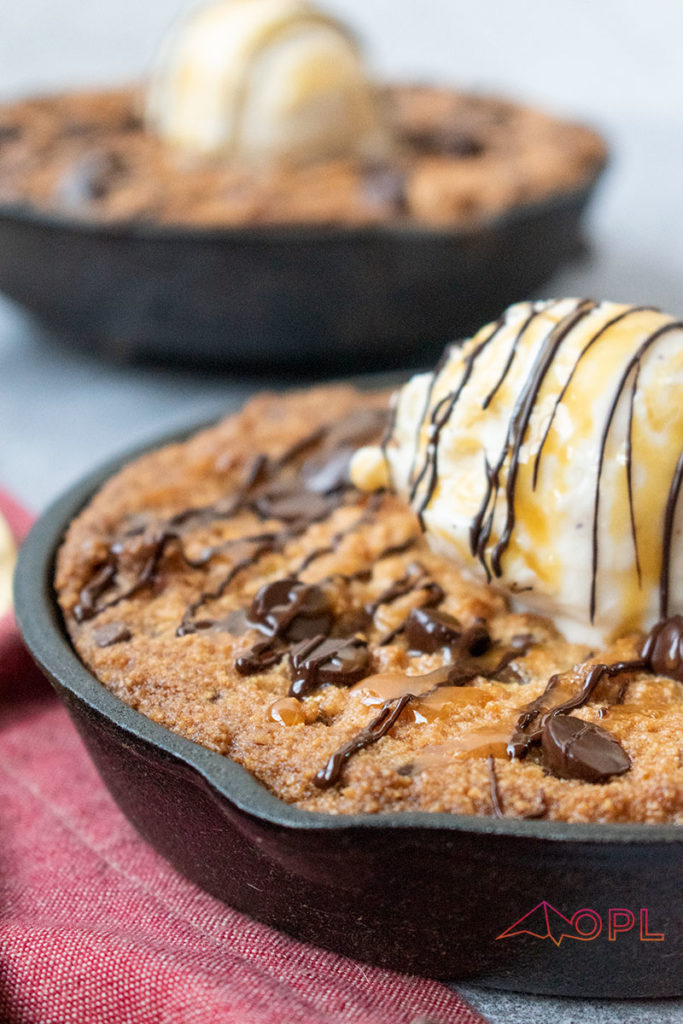 The problem is, we felt absolutely awful after eating it. The momentary pleasure while eating it wasn't worth the physical pain and suffering afterward. So obviously, the next and most logical step would be to recreate a version that was just as tasty but fits in with our preferred way of eating (low-carb).
Don't Over Bake the Pizookie
In order to get the best texture in your Keto Pizookie, you'll need to be sure to watch it carefully towards the end of the baking cycle so you don't overbake it. An overbaked pizookie is a crumbly, dry, sad pizookie. It can be mildly salvaged with enough ice cream, but who wants a salvaged pizookie? Not me.
Keto Pizookie Ingredient List
Butter
Vanilla
Egg
Chopped Pecans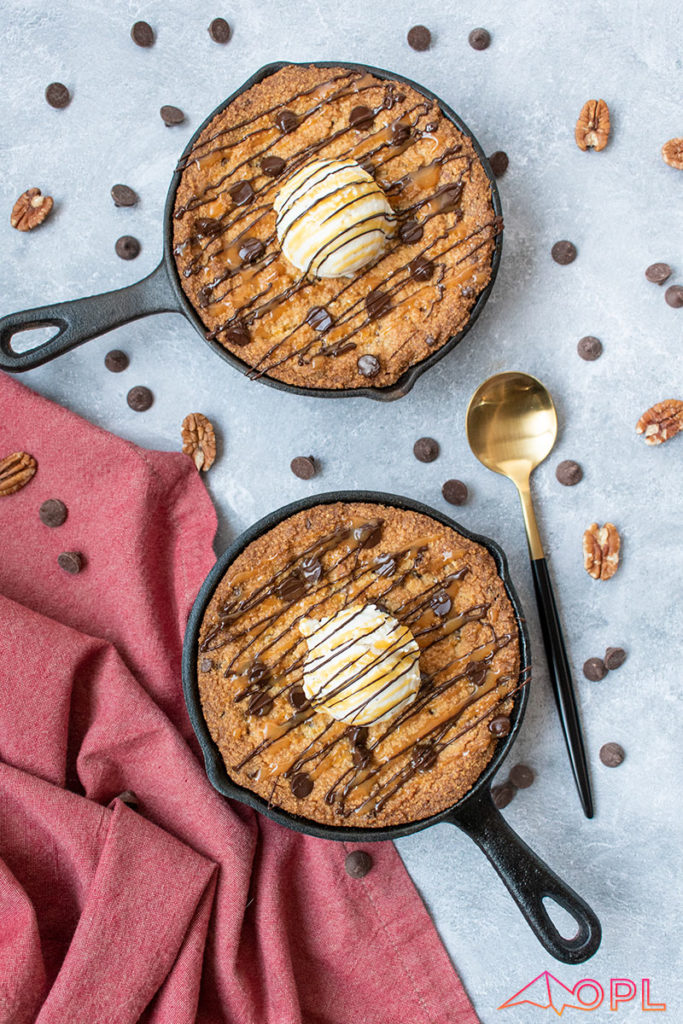 I'd suggest playing around with flavors and add-ins once you give this a try for the first time. I absolutely love anything with pecans and chocolate chips, but there are a few flavor combos I really can't wait to try:
White Chocolate Macadamia
Funfetti
Cinnamon Roll
Double Chocolate
The flavor of ice cream and toppings you add will also allow you endless possibilities. I went simple with Halo Top Vanilla Bean ice cream, because I really wanted to taste the chocolate and salted caramel drizzle. It's a classic flavor combo that works really well together and makes this a dessert everyone can enjoy.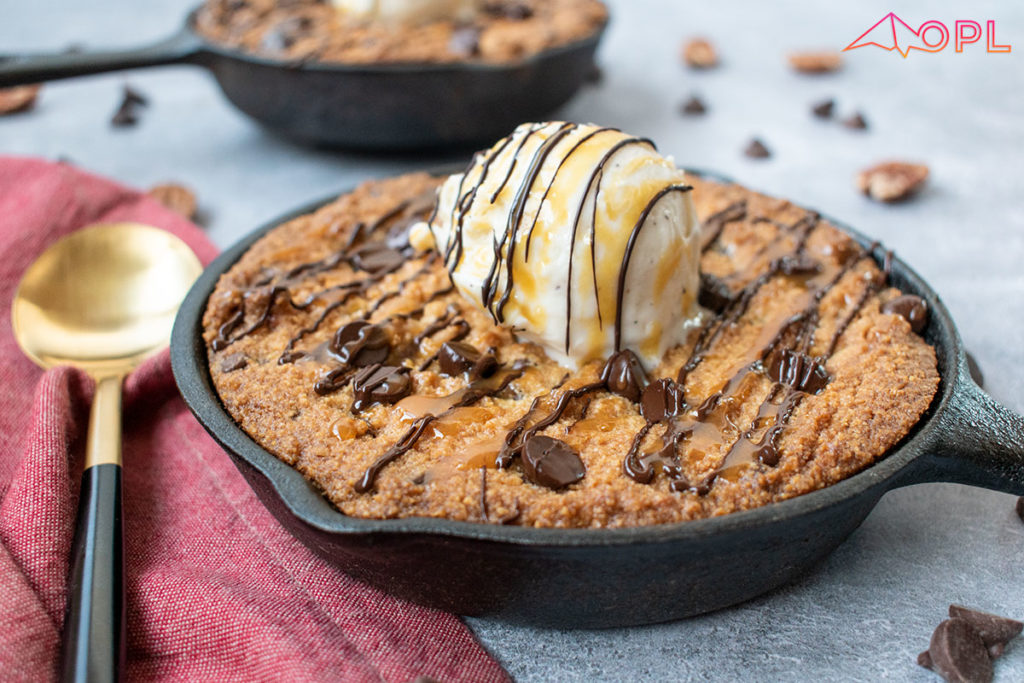 And when I say everyone, I mean it. I had barely taken these photos before spoons were coming in from all angles to get a bite. The 5 of us devoured these 2 pizookies in record time, so be ready to share.
Amazing with: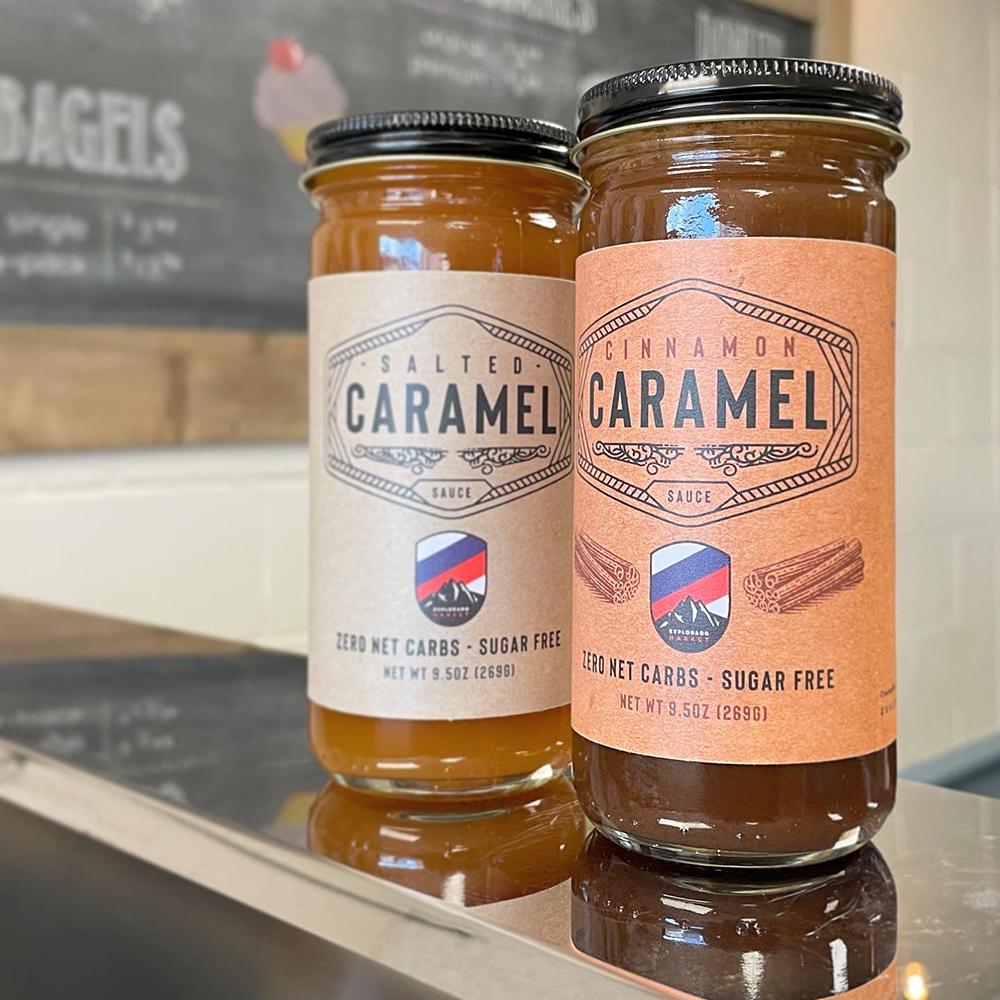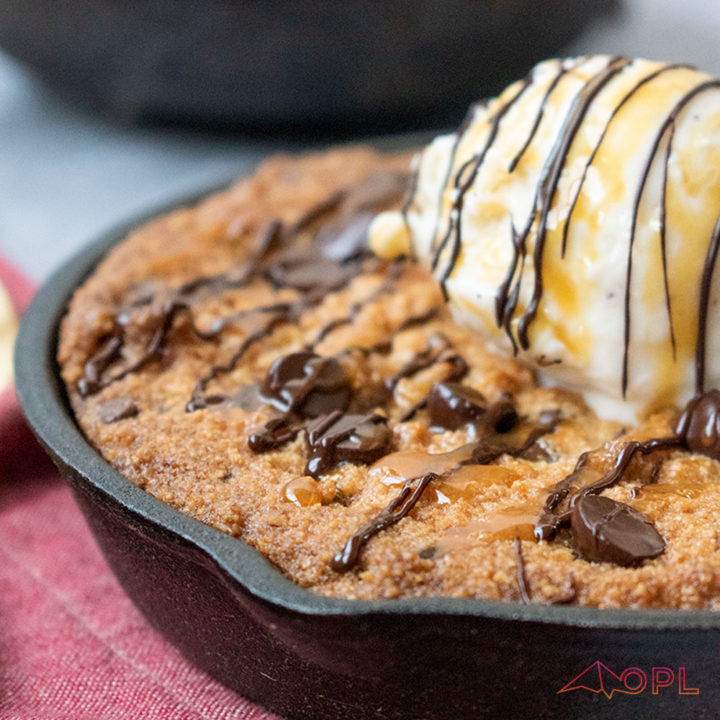 Keto Pizookies
Ingredients
6 Tbsp Butter, room temp (plus more for greasing skillets)
1 tsp Vanilla Extract
1 large Egg
1/2 cup Pecans, chopped
Instructions
Preheat the oven to 350°F. Coat 2 (6") cast iron skillets with extra softened butter and set aside.
Using a hand mixer, blend together the softened butter, almond butter, and vanilla until smooth. You can do this by hand, but it will take longer.
Add in the egg and mix until smooth. Add in the Sweet Keto Baking Mix and blend until smooth.
Fold in the chocolate chips and chopped pecans. Divide the cookie dough between both prepared skillets and smooth the tops.
Bake in the preheated oven for 20-25 minutes, or until the edges are lightly browned and the center is still slightly undercooked. Do NOT overbake, the cookies will be dry.
Carefully remove from oven and serve with a scoop of your favorite low carb ice cream, a drizzle of melted chocolate chips, and some Salted Caramel Sauce.
Nutrition Information
Yield

4
Serving Size

1/2 skillet
Amount Per Serving
Calories

680
Total Fat

65g
Carbohydrates

37g
Net Carbohydrates

6g
Fiber

9g
Sugar

2g
Sugar Alcohols

22g
Protein

15g