Two Big Announcements!
Check out the incredible Keto Meal Plan with recipes, grocery lists and macro counts! It took a long time to create, it's truly awesome.
And we're getting ready to launch Fat Fit Go (at Paleo f(x)) in April. Check it out and pre-order today.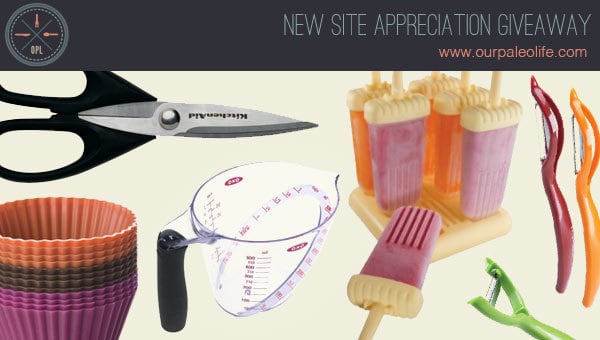 ** This giveaway is now closed. **
We have been so grateful to everyone that has shared and passed our site along. It gets me excited that so many people are interested in improving their health through their diets and I love being a small part of that.
We have seen a lot of growth on this site in the past month and decided to give the site a facelift, which you have no doubt noticed. In honor of our new look and to express our appreciation to all of you, we are offering a giveaway of some of our favorite tools in the kitchen. Enter using the widget below to win:
(1) Magnetic Peelers, set of 3
(1) Silicone Baking Cups, set of 12
(1) OXO Good Grips Angled Measuring Cup, 2 cup capacity
(1) KitchenAid Classic Kitchen Shears
(1) Tovolo Groovy Ice Pop Molds, set of 6
The giveaway will run until 11:59pm MST on Thursday, May 23rd. The randomly chosen winner will be notified within 48 hours of the giveaway closing.