One day, many months ago, as our family was shopping for an upcoming camping trip, we stumbled across a bottle of Heinz ketchup. But this was no ordinary ketchup, it was balsamic vinegar ketchup. Now, full-disclosure here, we totally bought it because balsamic vinegar. Also, it was all in the name of science, er, recipe testing. I had to know what it tasted like because clearly, continuing to purchase Heinz was out of the question, so a copycat paleo version was basically a requirement.
I though about making this recipe for a long time but never got around to it. When I finally did, I went through about 3-4 different variations before I got to the one that was just right. Yeah, we went through a lot of ketchup. Good thing my family is a good sport even with the recipe "failures".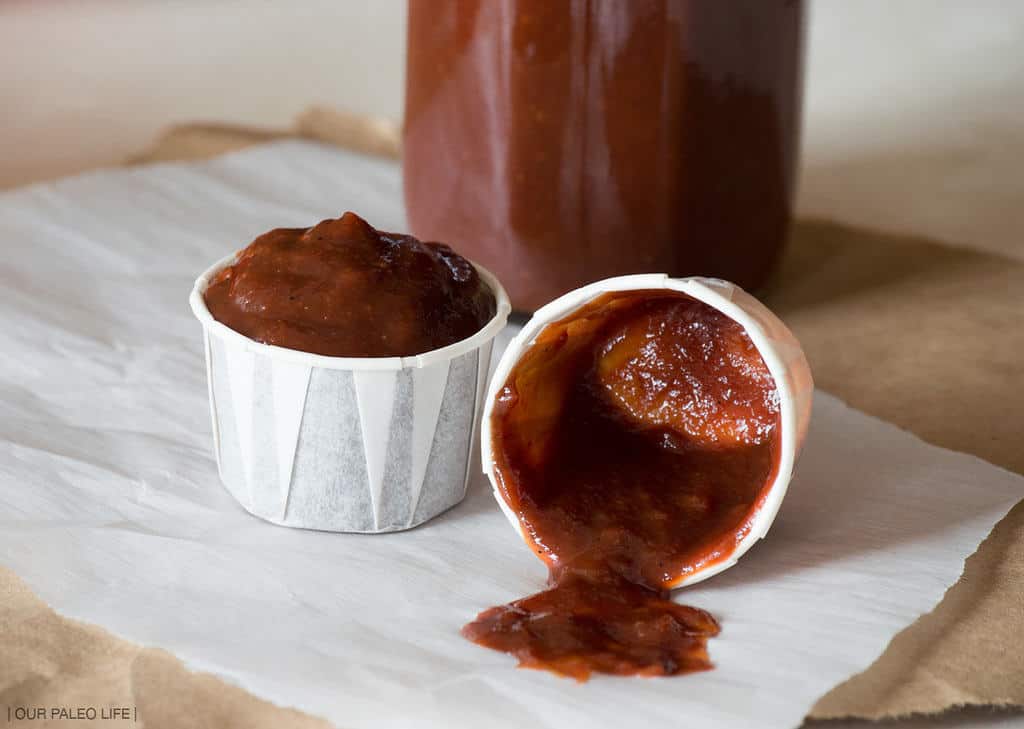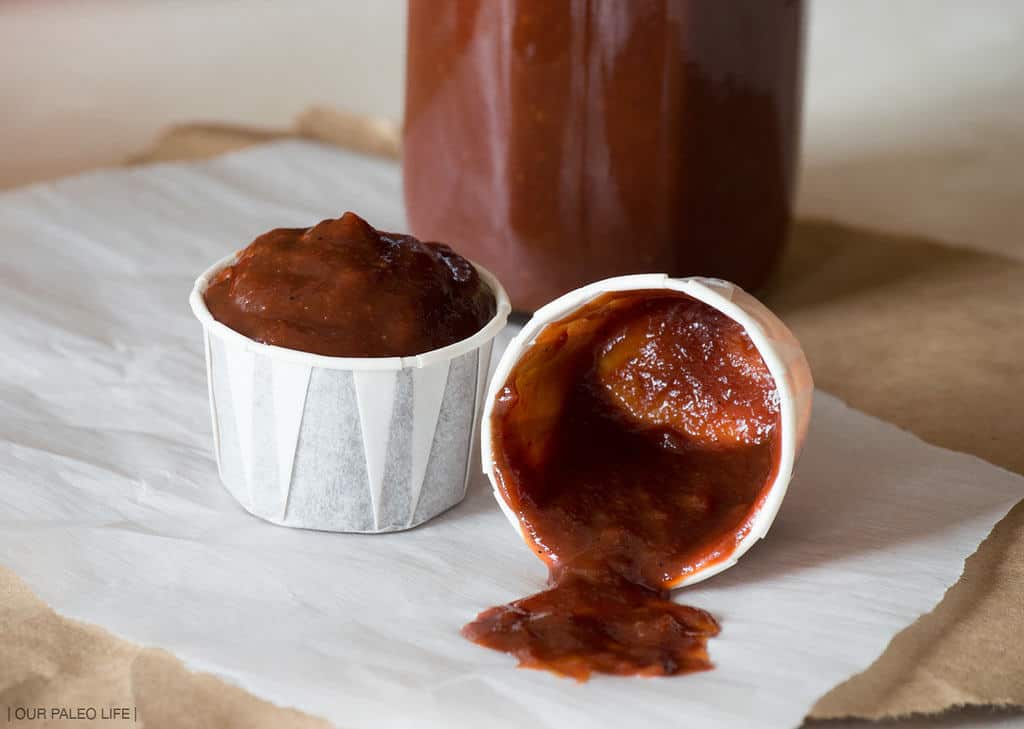 I've actually been hanging on to the "success" recipe for some time now, again, just never got around to actually posting it. But now that I'm on day 4 of my Whole30, and working on my meal plan, I realized I needed sugar-less ketchup in my life and so do you.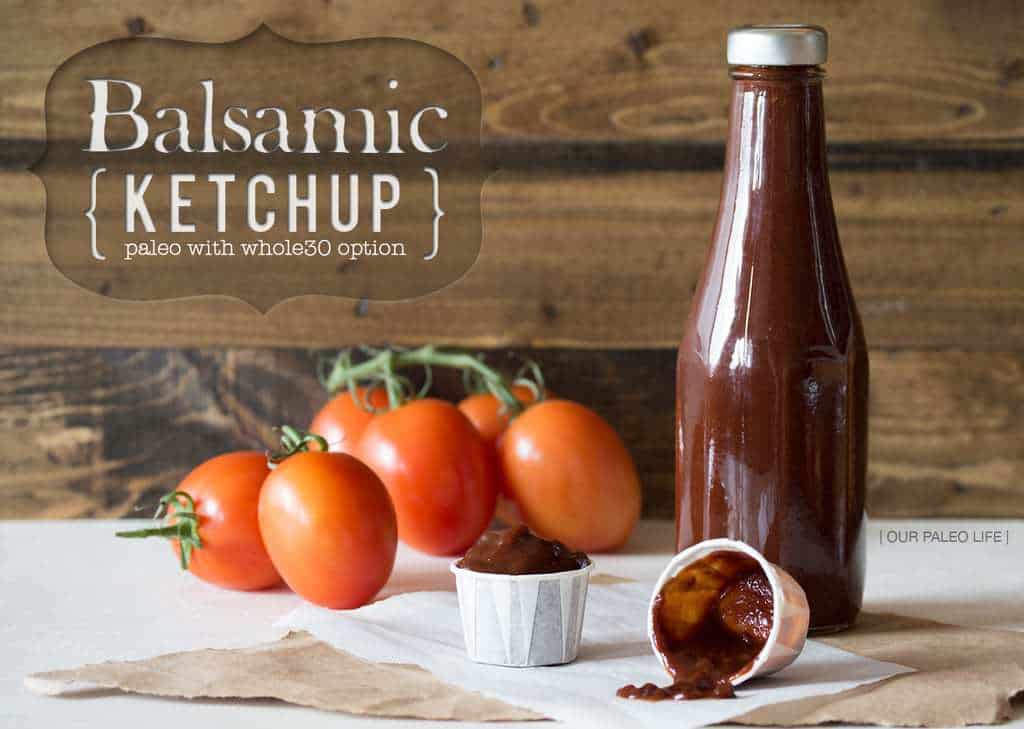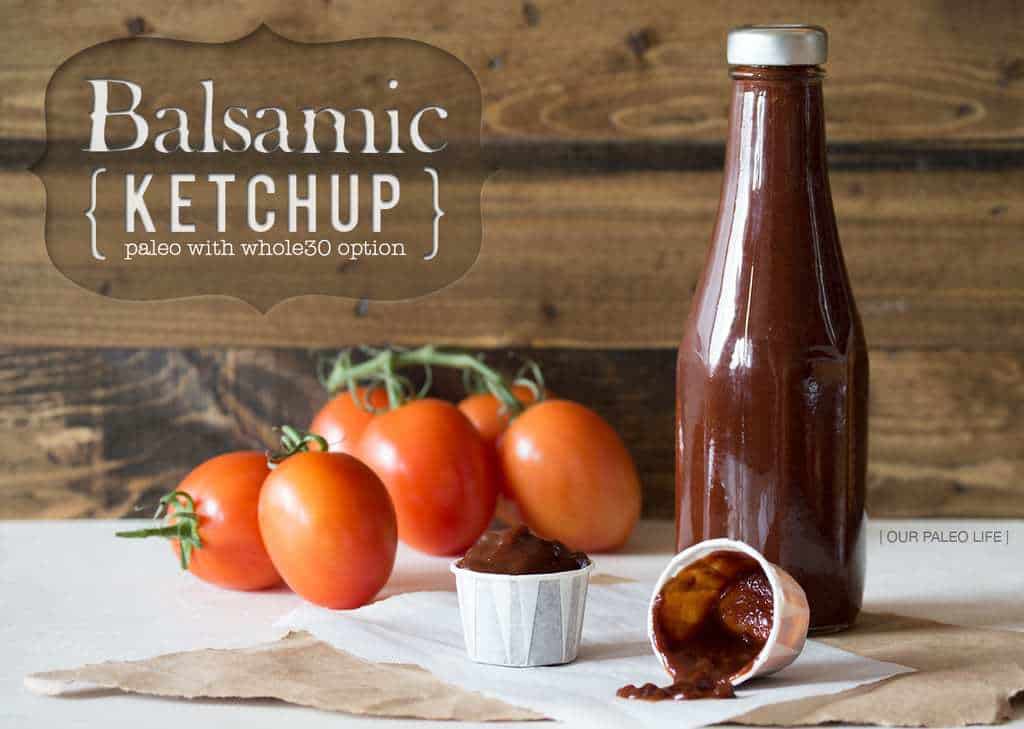 While this recipe uses honey, you can totally leave it out for Whole30-compliance. The tomatoes are sweet enough and if the ketchup is stored in the fridge for long enough, all the flavors meld really well and the sweetness in the tomatoes really comes through. So go honey-less with your ketchup, enjoy that perfect balsamic flavor, and revel in the fact that you'll never have to buy ketchup again.
PS: I lurve mixing this ketchup with Paleo Lime Mayo for an awesome burger/fry sauce. Try it!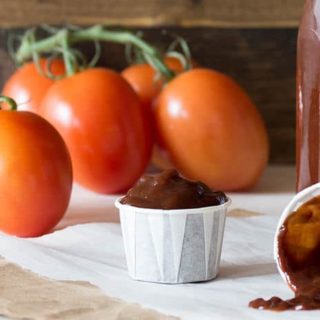 Balsamic Ketchup
It's basically impossible to find any ketchup in the store without some form of added refined sugar or weird preservatives, so make your own. This recipe not only leaves out the nasty stuff and is only sweetened with honey (you may also opt to not sweeten it at all), but it has the perfect blend of flavors from tomatoes and balsamic vinegar.
Ingredients
2 (6 oz) cans Tomato Paste
1 cup Water
2/3 cup Balsamic Vinegar
1/4 cup Honey, omit for Whole30
1/2 tsp Garlic Powder
1/2 tsp Onion Powder
1/4 tsp Allspice
1/8 tsp Sea Salt
Instructions
Combine all ingredients in a medium saucepan over medium heat. Use a whisk to combine everything evenly and get rid of any lumps.
Bring to a simmer and continue cooking for 10 minutes, stirring occasionally.
Remove from heat and pour into a glass storage container of your choice (I love using recycled sauce/ketchup bottles).
Store in the refrigerator.
Notes
This ketchup becomes sweeter the longer it is left in the fridge. If you anticipate using all of it within a week, maybe 2, I would recommend using all the honey. If you are making this for future consumption, only use about half of the honey listed.
As mentioned above, this ketchup becomes sweeter the longer it is stored. It will even be sweet without the honey if stored for too long. Try to use it early on to avoid an overly sweet condiment.
If you omit the honey, carbs are 3g per serving with 18 calories.
Nutrition Information
Yield

3
Serving Size

2 Tbsp
Amount Per Serving
Calories

30
Unsaturated Fat

0g
Sodium

126mg
Carbohydrates

6g
Sugar

5g
Nutrition is calculated by a third party and may not be 100% accurate