Last Updated on July 24, 2020
Ground beef is one of those ingredients that I like to keep on hand in the freezer for a "just-in-case" night. I don't usually go beyond the basics when cooking with it, never really venturing out of my comfort zone. It's either burgers, tacos, casseroles, or meatloaf with the lean ground beef. Sometimes meatballs, but those are really just mini meatloaves. But if I have a freezer full of ground beef, then I feel comfortable with a backup plan in case my meal plan falls through due to our ever-changing schedule.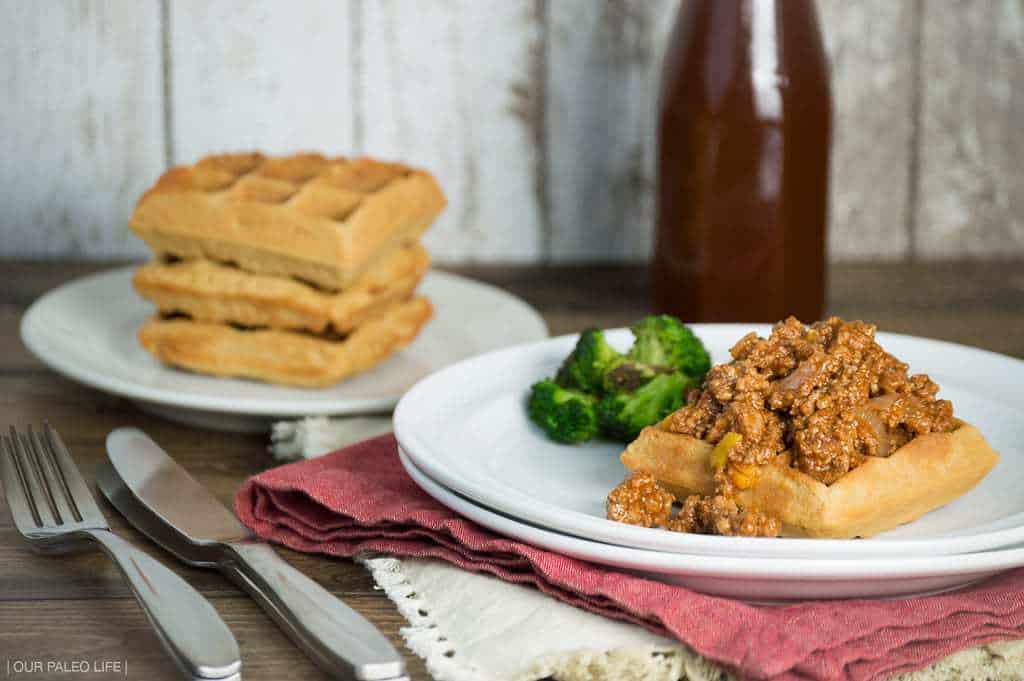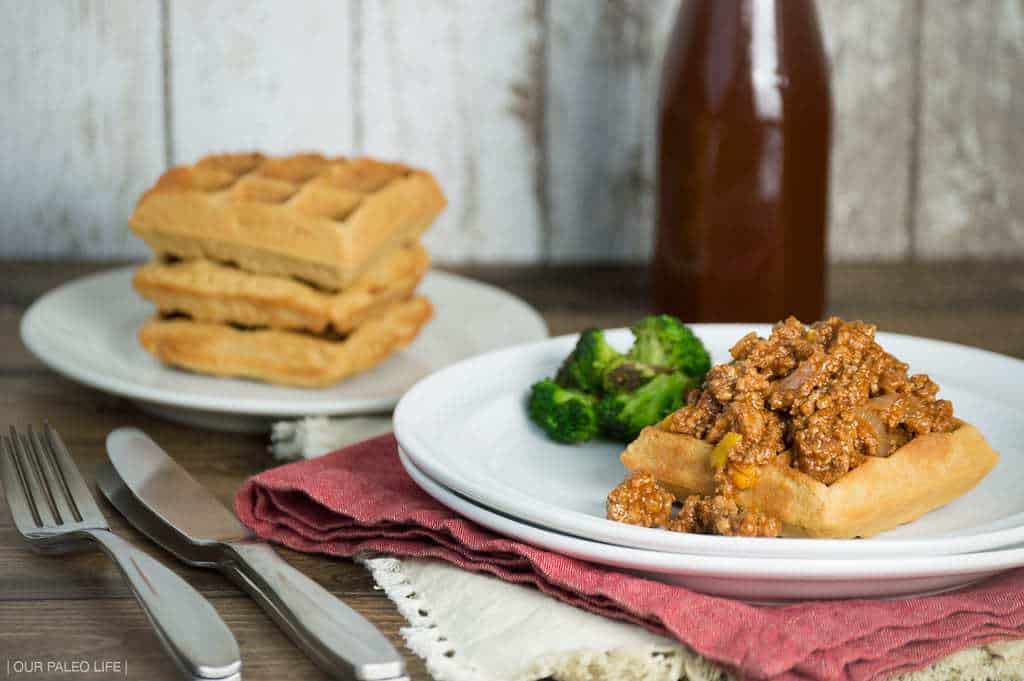 Recently, my husband requested that I make paleo sloppy joes. When I heard that my immediate reaction was "No way!". As a kid, I actually really disliked homemade sloppy joes. He thought I was crazy when I told him that. What kid doesn't like homemade sloppy joes flavour?! Apparently, me. But because I love him, and my children too, I figured it was worth a shot to try doing some paleo sloppy joes, even if I was the only one who didn't want to eat it, and, I had lean gound beef on the freezer!
Well, as usual, Rob was right. Turns out, I do like sloppy joes flavour. At least the way I make them, I guess. I'd like to think that it's the fantastic Paleo Balsamic Ketchup sauce that really sets it apart, but it's possible I was just a picky kid and sloppy joes really have been good all this time. Also, I think it helps to serve them on a waffle, because waffles make everything better, and you can do a Paleo Sloppy Joes version.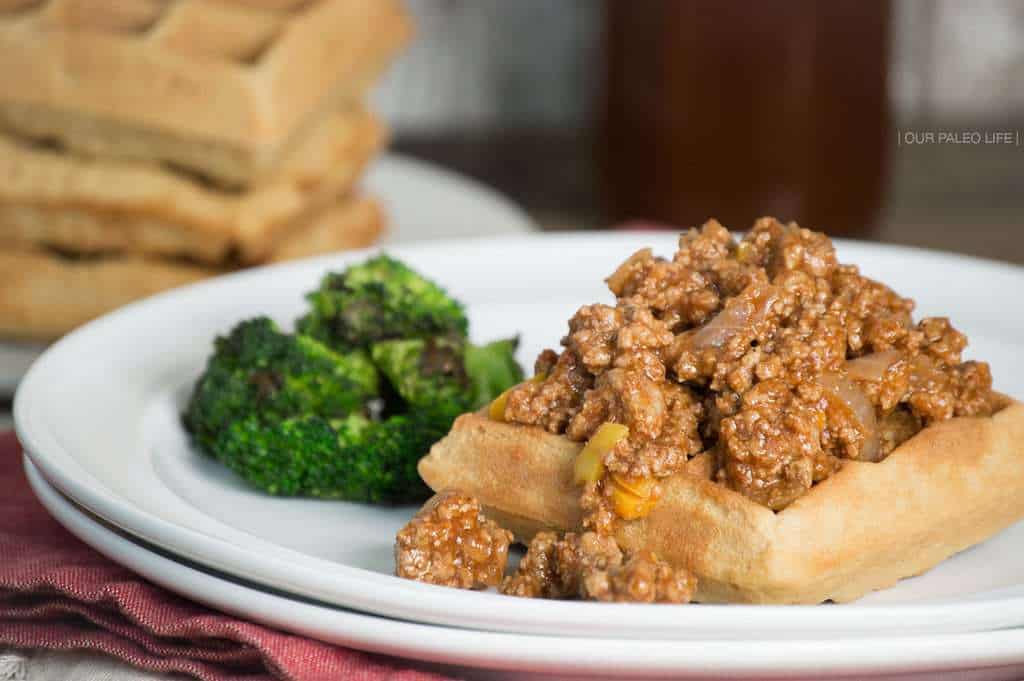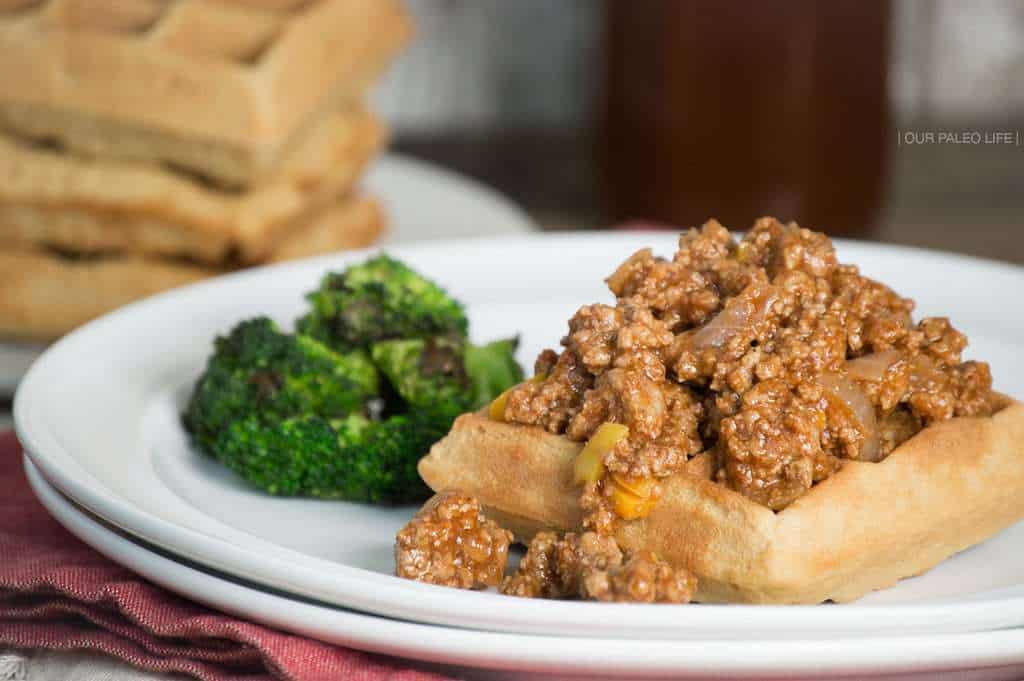 Helpful tip: make a ton of waffles at one time and keep them in the freezer between sheets of parchment. They thaw best in the microwave (they tend to get a little crumbly and dried out in the toaster oven). Then you can have waffles anytime! And who wouldn't want that? Plus, with some Paleo Sloppy Joes and sloppy joe sauce for a great dinner time!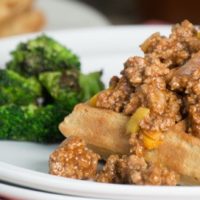 Sloppy Joe's
Traditionally made with brown sugar, this paleo version relies on the natural sweetness of tomatoes and maybe a bit of coconut sugar if you prefer. Piled on top of paleo waffle, this is about as perfect a comfort food as you can get.
Ingredients
2 lbs Grass-Fed Ground Beef
1/2 Yellow Onion, chopped
1/2 Bell Pepper, any color, chopped
1 tsp Garlic Powder
2 tsp Yellow Mustard
1 1/2 cup Paleo Balsamic Ketchup, for Whole30, make the ketchup without honey
2 Tbsp Coconut Sugar, optional, leave out for Whole30
Sea Salt, to taste
Ground Black Pepper, to taste
Paleo Waffles, optional, leave out for Whole30
Instructions
In a large skillet over a medium flame, cook the ground beef, onion, and bell pepper until the beef is completely browned and the veggies have softened.
Stir in the garlic powder, mustard, ketchup, and coconut sugar until evenly combined.
Reduce heat to medium-low and simmer for 10-20 minutes, or until thickened and spoonable. Season with salt and pepper to taste.
Serve in a bowl (for Whole30) or open-faced over a single waffle (our non-Whole30 preferred method of eating this dish).
Notes
Nutrition Facts do not include waffles
Nutrition Information
Yield

6
Serving Size

1 g
Amount Per Serving
Calories

306
Total Fat

9g
Saturated Fat

4g
Trans Fat

0g
Unsaturated Fat

4g
Cholesterol

74mg
Sodium

278mg
Carbohydrates

21g
Fiber

0g
Sugar

18g
Protein

32g
Nutrition is calculated by a third party and may not be 100% accurate