Last Updated on July 6, 2020
I think that Pad Thai is the only dish I have ever gotten at a Thai Food restaurant. It's so good, I don't see any reason why I should ever try anything else. It's peanuty goodness wrapped up in noodles. What's not to like about this Thai recipe? But that's not a super paleo-friendly dish, so I said goodbye to the traditional Pad Thai.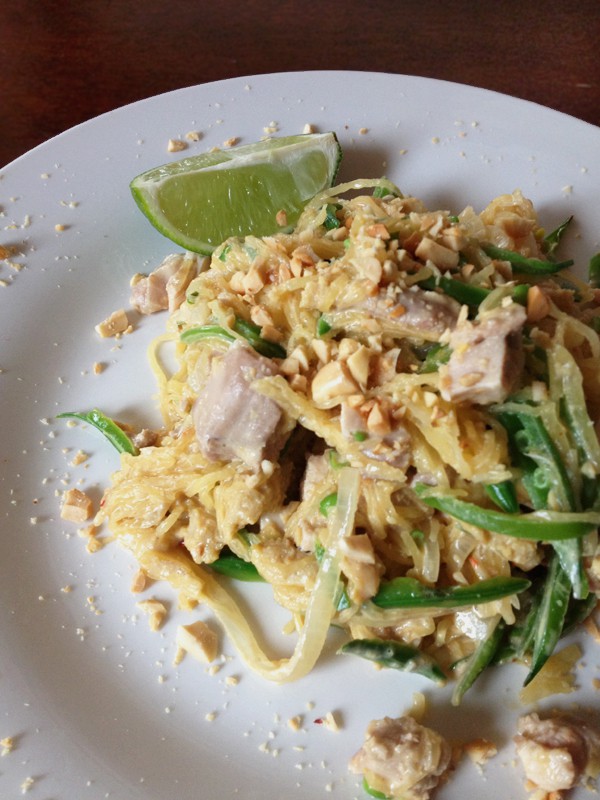 But I found this Thai Food recipe from Melissa over at The Clothes Make The Girl, and got all excited. While it certainly doesn't match the taste of the peanutty goodness or the texture of real glutinous noodles, it's still a pretty delicious meal with tons of flavour. So good, in fact, that all 3 kids requested seconds. That's 66% more than usually ask for more, so I would consider this a huge success and a recipe that will have to find it's way into our regular rotation.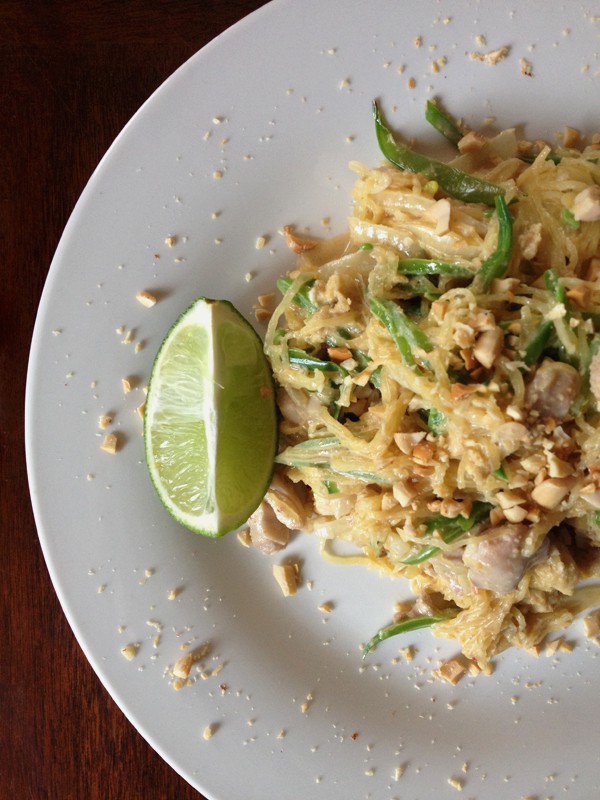 I doubled Melissa's recipe, and it made plenty for our family of 5 with enough for lunch for 2 the next day. Keep that in mind, in case you don't need that much. Probably cutting it in half would be good.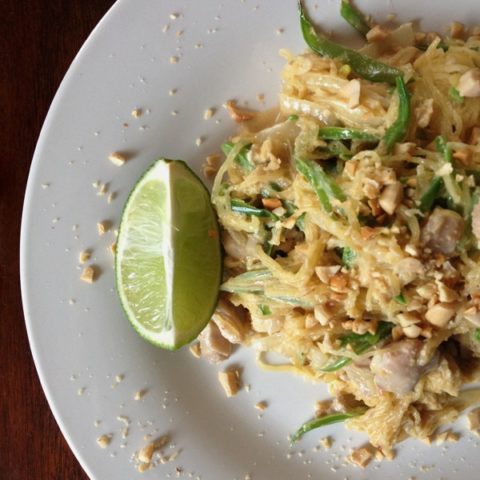 Paleo Pad Thai
Ingredients
Sauce
4 Tbsp Lime Juice
3 cloves Garlic, minced
1 tsp Crushed Red Pepper Flakes
1 Tbsp Coconut Aminos
1" piece of Fresh Ginger, finely chopped
1 tsp Rice Vinegar
1/2 cup Almond Butter
Pad Thai
1/2 cup Coconut Milk, canned
4 large Eggs
4 tsp Coconut Aminos
Coconut Oil, for cooking/frying
1 medium Onion, thinly sliced
2 cups Sugar Snap Peas, thinly sliced lengthwise
4 cups cooked Spaghetti Squash, shredded
2 lbs Chicken Thighs, cooked & diced
Instructions
Place all the ingredients from 4 Tbsp Lime Juice all the way to 1/2 cup Almond Butter in a food processor or blender and pulse until well blended and smooth.
Scrape down the sides of the bowl with a rubber spatula, then add the coconut milk. Pulse until it's blended and smooth. Set aside. This is your sauce.
Crack the eggs into a bowl, and scramble them with the coconut aminos.
Heat a large skillet over medium-high heat, about 3 minutes. Add 4 teaspoons of coconut oil to the skillet, and when it's melted, pour in the eggs and let them spread like a pancake. Reduce the heat to medium and cover with a lid, letting the eggs cook until they're set and beginning to brown on the bottom, about 3-4 minutes.
Flip and lightly brown the other side. Remove the eggs from the pan and cut into strips with a sharp knife. Alternately, you could just scramble the eggs.
Using the same pan, increase heat to medium-high and add 2 teaspoons of coconut oil. Sauté the onion and sugar snap peas, stirring with a wooden spoon, until they're crisp-tender. I prefer mine more tender than crisp.
Add the spaghetti squash, chicken, and cooked egg to the pan and, stirring with a wooden spoon, cook until heated through, about 3 minutes.
Add the thai sauce to the pan and mix until everything is well-blended and hot.
Spoon onto plates and sprinkle with crushed cashews (or peanuts if you're being bad) and quirt with a lime wedge for a complete thai recipe.
Nutrition Information
Yield

4
Amount Per Serving
Calories

939
Total Fat

64g
Saturated Fat

21g
Trans Fat

0g
Unsaturated Fat

40g
Cholesterol

476mg
Sodium

661mg
Carbohydrates

30g
Fiber

8g
Sugar

12g
Protein

71g
Nutrition is calculated by a third party and may not be 100% accurate