Peppermint Chocolate Truffle Recipe
French cuisine is known for it's exquisite, luxurious chocolate creations. Rich chocolate mousse and chocolate éclairs are just two of the famous chocolate creations that were created in France. And the chocolate truffle comes out of that same tradition of culinary greatness.
In true competitive fashion, two stories circulate about how chocolate truffles were invented. Both involve famous French bakers, and regardless of which story you choose to believe, they have one thing in common: Both believed that their creation looked like a wild mushroom, so they named it truffle.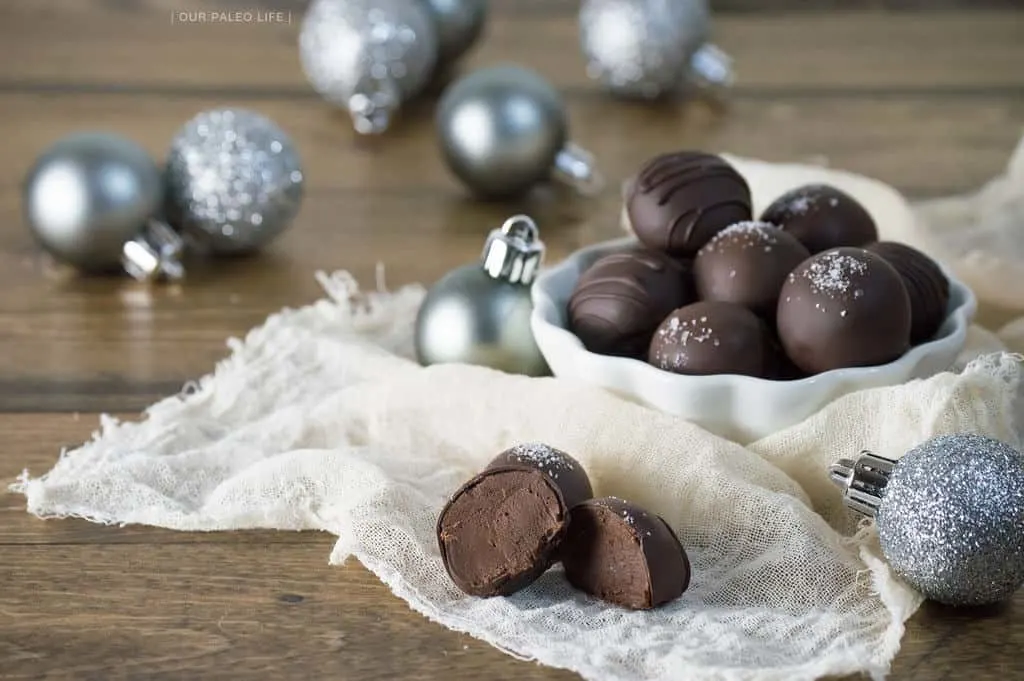 What is Ganache?
True chocolate truffles must contain a ganache filling. Ganache is (most likely) a French concoction made with chocolate and cream. Some claim that it originated in Switzerland, and others claim that it originated at Paris' Patisserie Sarvadin. One thing we can be pretty sure about is that it was created during the 18th Century.
Ganache is usually used as frosting for cakes, or as a filling for other pastries. As chocolate grew in popularity, pastry chefs experimented with other flavors to add to ganache to create truffles that had different and distinct tastes. For example, adding peppermint to your truffle creation can create a delicious treat, reminiscent of all of the good memories from the holiday season.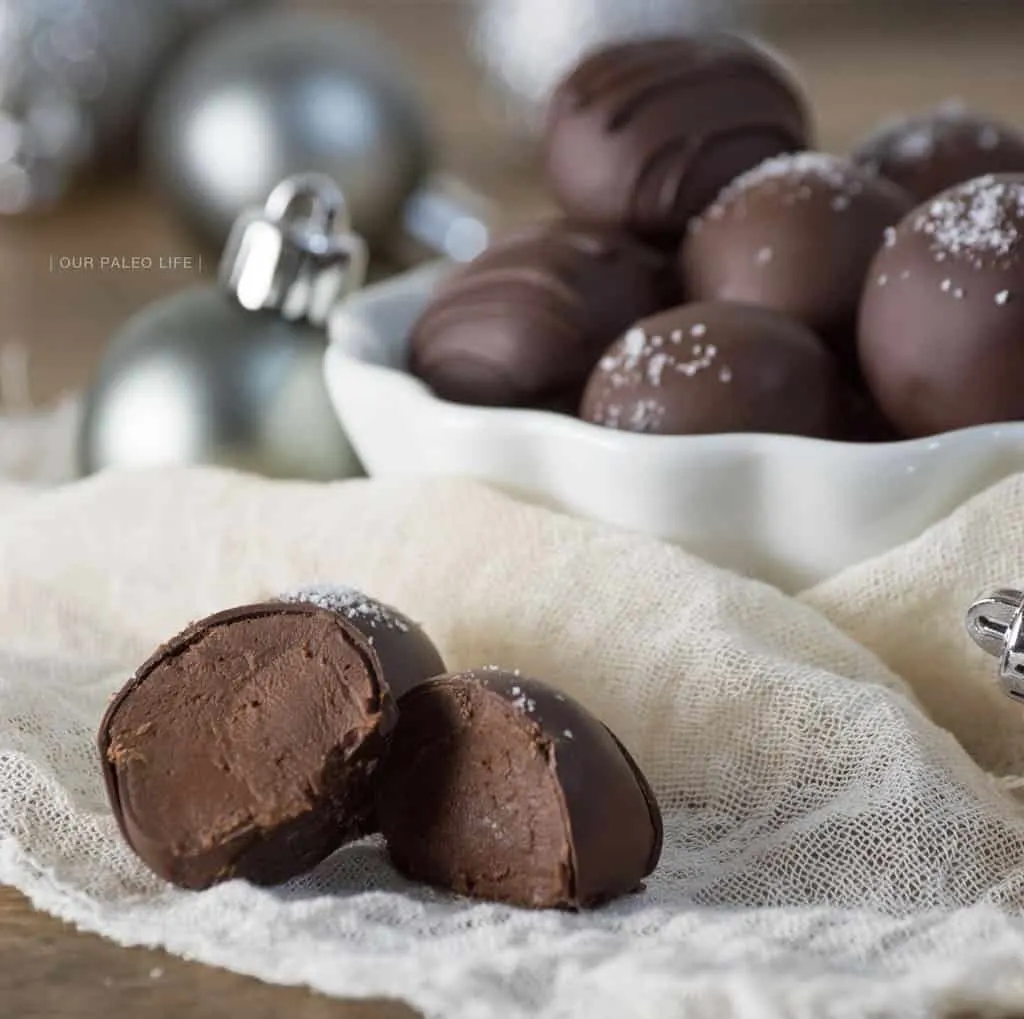 Dairy Free Truffle Recipe
Typically, truffles are made with dairy, utilizing heavy cream to make the thick ganache filling. But for those of us with dairy-intolerances or that just follow the paleo diet for overall health, this can be a problem. To keep these dairy-free, we use full-fat coconut milk, which ensures that we're dairy-free but still get all that creamy deliciousness in our ganache.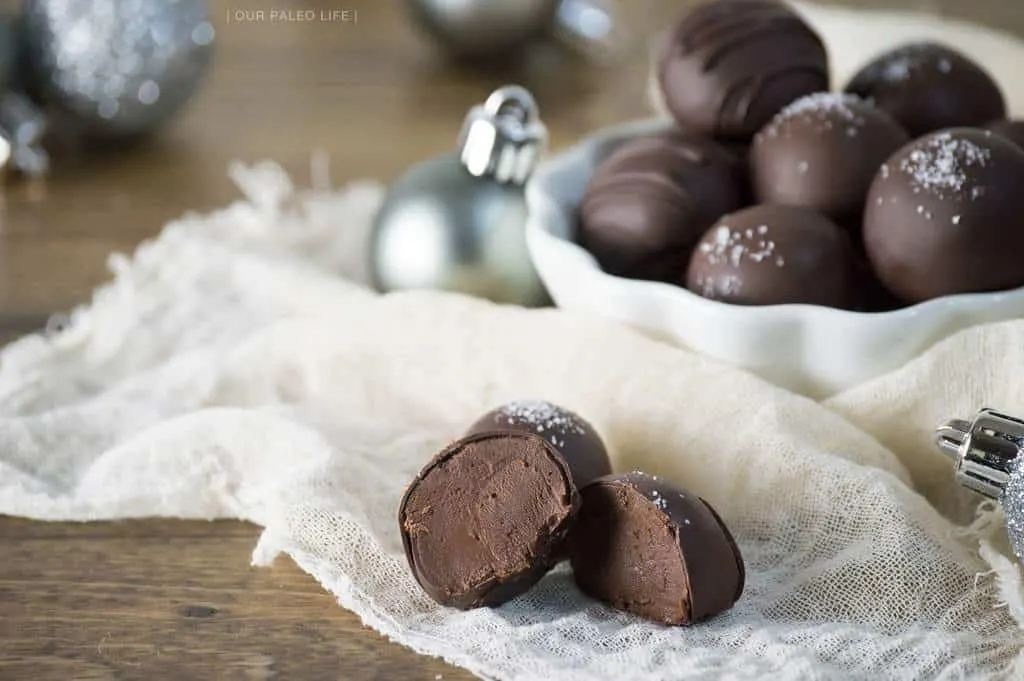 Paleo Peppermint Chocolate Truffles
Add the peppermint truffle as a holiday tradition. These truffles are rich in flavor and always a beautiful centerpiece at any holiday get-together. And you'll be surprised at how these are received from even the most experienced chocolate lover in your life.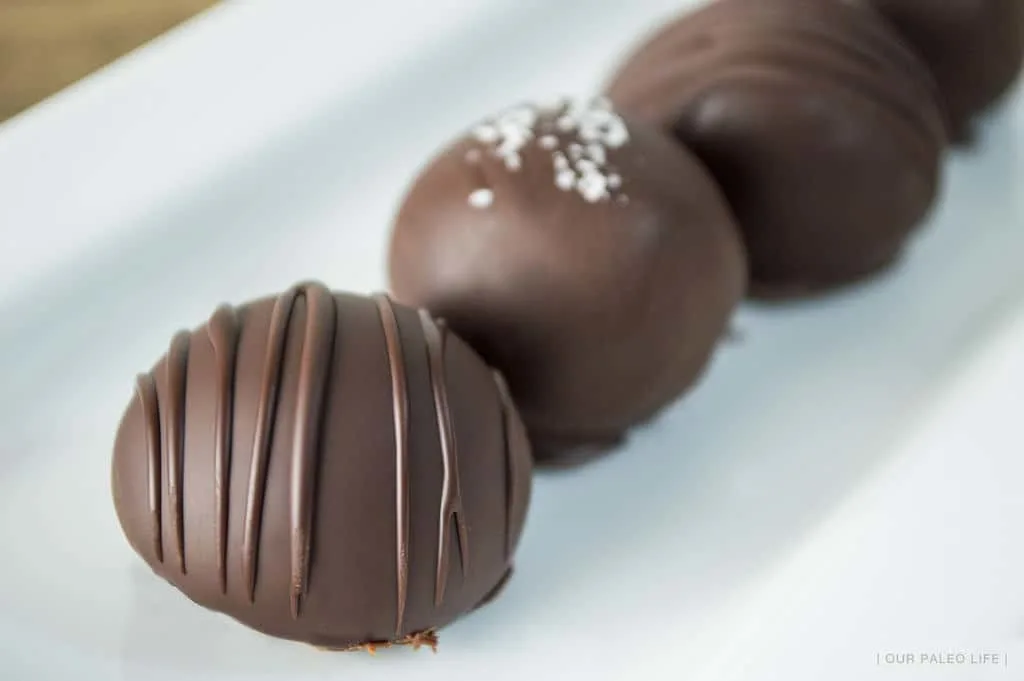 Dark chocolatey, pepperminty, smooth and creamy truffles. Yes, please and thank you. No heavy cream and white sugar in these luscious paleo peppermint chocolate truffles. No way. Just full-fat coconut milk, a little coconut oil or ghee, and dark chocolate perfection.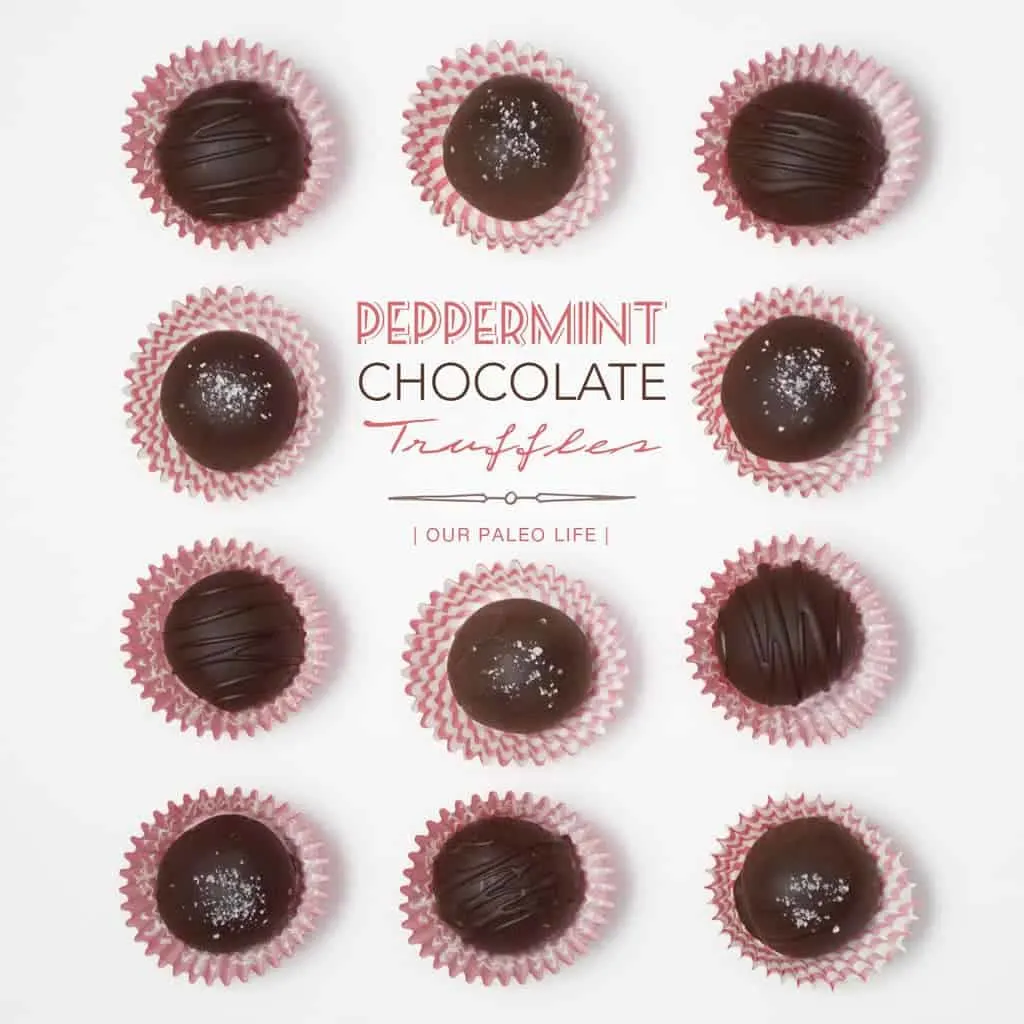 Truffle Making Process
The actual truffle-making process isn't too complicated, but getting the dipping just right can prove to be challenging. Keeping your truffles smooth and round can take somewhat of a learning curve, so don't get discouraged at first. Once the ganache has thickened to the right consistency, simply scoop, roll, dip, and decorate.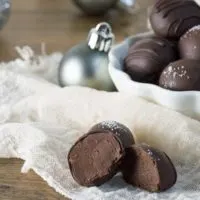 Peppermint Chocolate Truffles
Prep Time:
1 hour
45 minutes
Total Time:
1 hour
55 minutes
Ingredients
Truffles
1/2 cup Full-Fat Coconut Milk or Coconut Cream
2 Tbsp Coconut Oil, or Ghee or Grass-Fed Butter
1/4 tsp Peppermint Extract
Pinch Sea Salt
Coating Options
Coarse Sea Salt
Finely Chopped Nuts of your choice, I prefer blanched almonds
Instructions
Truffles
Pour the chocolate chips in a 1 qt glass bowl. If using a chocolate bar, grate the chocolate like cheese into the bowl. Smaller pieces will help the chocolate melt easier.
Add peppermint extract to the chocolate chips and set the bowl aside.
Add the coconut milk, butter, and salt to a small saucepan. Heat over medium heat until butter is melted and mixture is warm, but not hot. It shouldn't come to a simmer, but should be just warm enough to melt the chocolate.
Remove from heat and pour the coconut milk over the chocolate chips in the bowl. Let it sit for a minute or two to soften the chocolate.
Using a wooden spoon or a silicone spatula, stir to even melt the chocolate. It will look grainy at first, but as the chocolate melts, it will become smooth and glossy.
Cover the bowl with plastic wrap (or a lid if it you have one that fits) and place it in the fridge to cool. Stir the chocolate every 10-15 minutes to ensure it cools evenly. As it cools, it will harden, so stir about every 5 minutes towards the end.
The chocolate is cool enough and ready to use when it can be scooped with a spoon and doesn't lose it's form. This can take an hour or more.
Using a small cookie scoop (about 1 tablespoon), scoop ganache into small balls. Roll between the palms of your hands to smooth them out and form uniform balls.
Place the truffles on a parchment-lined baking sheet and place in the fridge to cool down again (they warmed up in your hands).
While the truffles are cooling, prepare your coating.
Coating (option 1)
Place the 3/4 of the chocolate chips into a heat-safe bowl. Microwave on high for 30 seconds. Stir. Microwave for another 30 seconds and stir again. The chocolate should be 115°F. If not, microwave for 15 seconds and stir until completely melted. Do not let the chocolate get above 115°F.
Add in remaining 1/4 of the chocolate chips and stir until melted. Continue stirring until the chocolate has cooled to 90°F.
Don't skip these steps, it's tempering the chocolate which will make sure it sets correctly and doesn't melt in your fingers when you pick up the truffles.
Remove the truffles from the fridge. Dip the tines of a fork in the melted chocolate. Place one truffle on the edge of the dipped fork and hold it over the melted chocolate in the bowl. Spoon melted chocolate over the truffle to cover it completely. Gently tap off excess chocolate and slide the truffle off the fork and onto the parchment paper (you may need to use a toothpick to help slide it off without making a mess). Repeat with all truffles until they are all coated.
Sprinkle a bit of coarse sea salt on the tops before the chocolate coating sets.
Place back in the fridge to harden the chocolate coating (optional, but I'm impatient, so...).
Coating (option 2)
Dip the naked truffles in the cocoa powder or chopped nuts, rolling to coat the entire thing.
Serving and Storing
Refrigerator storing: You can store truffles in an airtight container in the fridge for up to 6 months. An airtight container is key, you don't want them absorbing other flavors in the fridge (ew, gross).
Freezer storing: If you have a FoodSaver-type machine, use that to seal out air/moisture. You can then freeze your truffles for 6 months to a year.
Serving: Truffles are best served at room temperature. If you've refrigerated them, let them sit out for at least 30 minutes before serving. If you've frozen them, let them sit in the refrigerator for 24 hours, and then at room temp for 30 minutes before serving.
Nutrition Information
Yield

30
Serving Size

1 truffle
Amount Per Serving
Calories

96
Total Fat

6g
Saturated Fat

4g
Unsaturated Fat

0g
Carbohydrates

9g
Fiber

1g
Sugar

7g
Protein

1g
Nutrition is calculated by a third party and may not be 100% accurate