Pumpkin has a way of making the consistency of any keto baked dessert better. And if you don't use too much pumpkin, you don't need to worry about blood sugar or impacting Ketosis. These pumpkin chocolate chip cookie bites are so delicious and they're "fun sized" for useful portion control.
Clean Ingredient Approved
Keto Approved
Egg Free
Vegan
Dairy Free
Gluten Free
No Added Sugars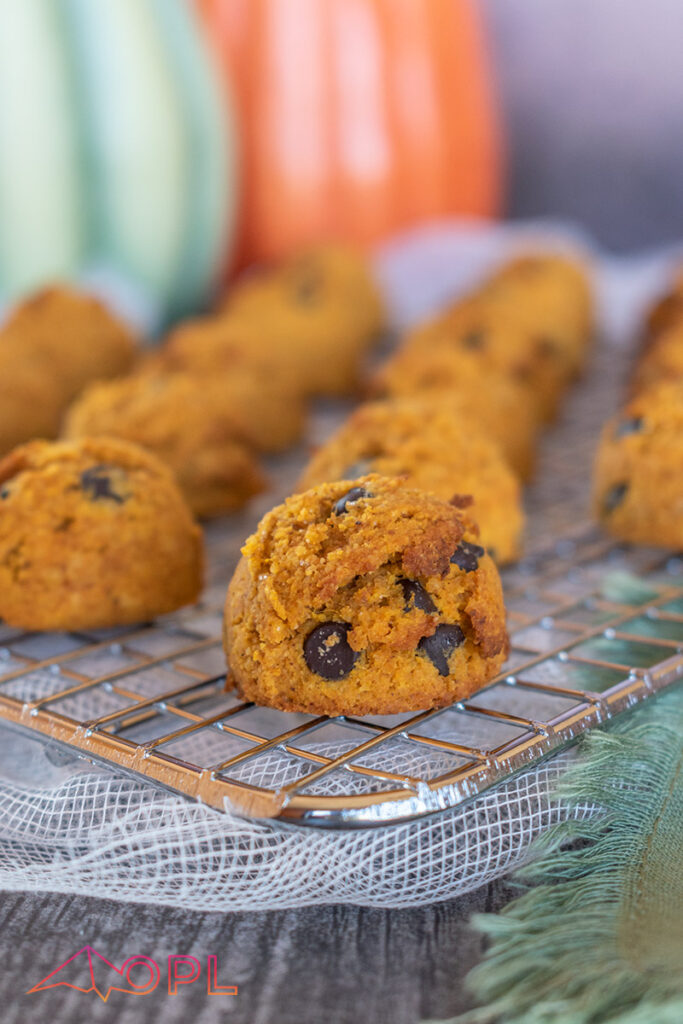 Pumpkin Puree and Keto
This recipe only uses a little over half of a can of pumpkin puree, so you'll have extra to add in to your homemade donuts, pancakes, or smoothies all season long.
Carbs in Pumpkin
In 100 grams of canned pumpkin (not pumpkin pie filling) there are 7 grams of carbohydrate. The fiber content in 100 grams of pumpkin is a little less than 1 gram. This means, when you consume 100 grams of pumpkin, you're getting about 6 net carbs.
In each cookie bite made with this recipe there are 5 grams of canned pumpkin. This means, if you eat 1 pumpkin chocolate chip cookie bite, the amount of net carbs in the cookie equals less than 1/2 of a carb. All good!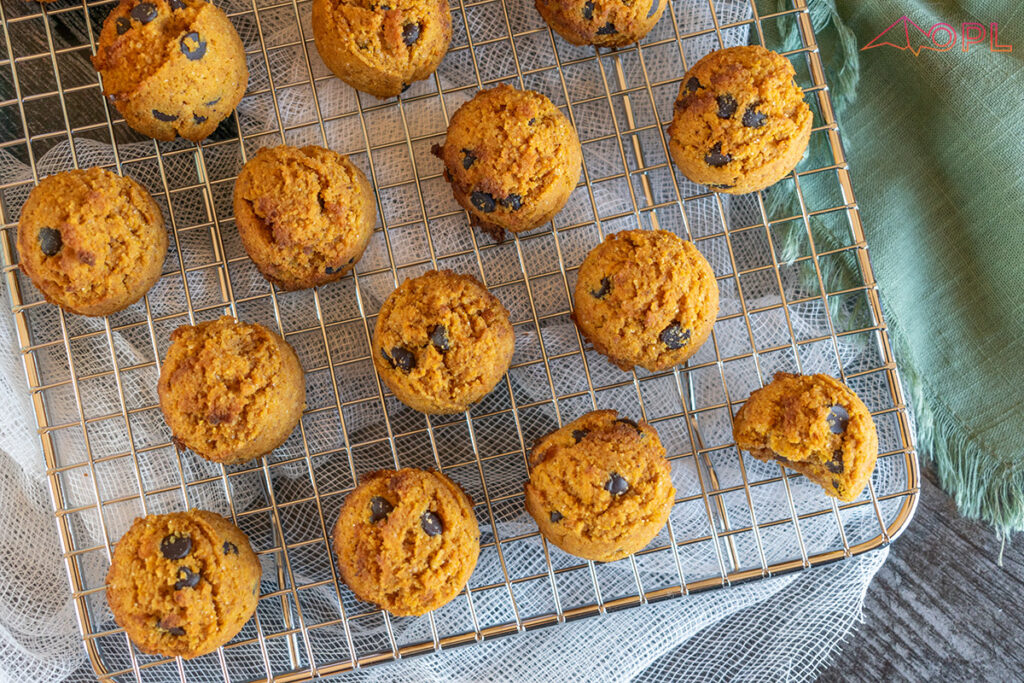 Simple Pumpkin Cookie Recipe
In addition to pumpkin puree, this recipe only has 3 more ingredients (I know, how simple can it get):
Pumpkin Pie Spice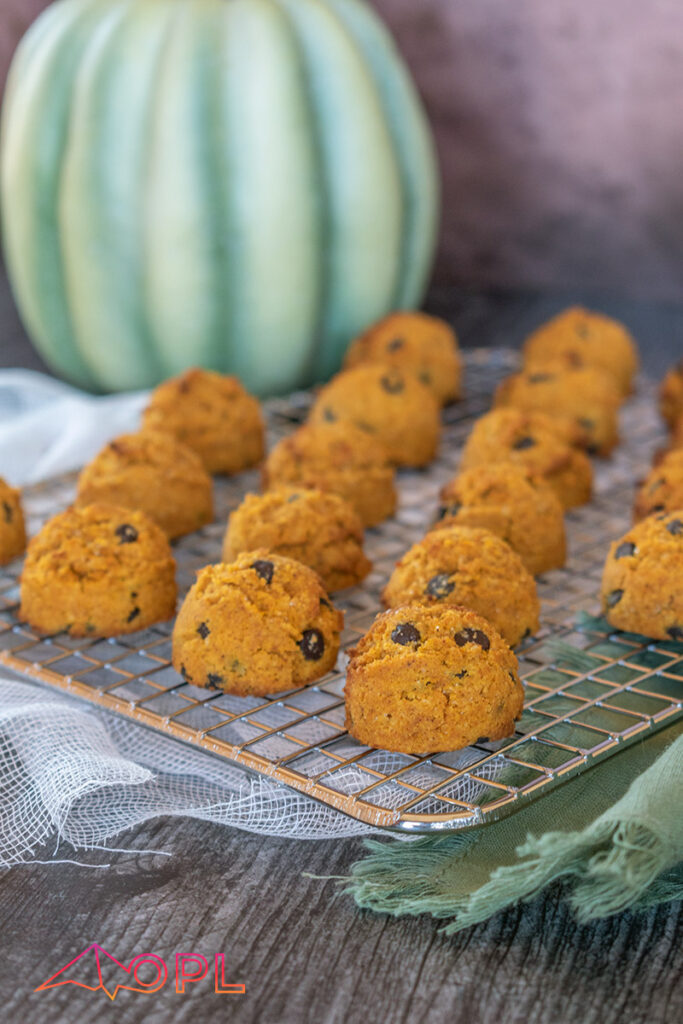 Egg Free Cookie Recipe
Do you notice a standard cookie ingredient that's missing? Yup, no eggs here. Not only are these low-carb (only 1g net carb per cookie) and gluten-free, but they're egg-free and vegan as well.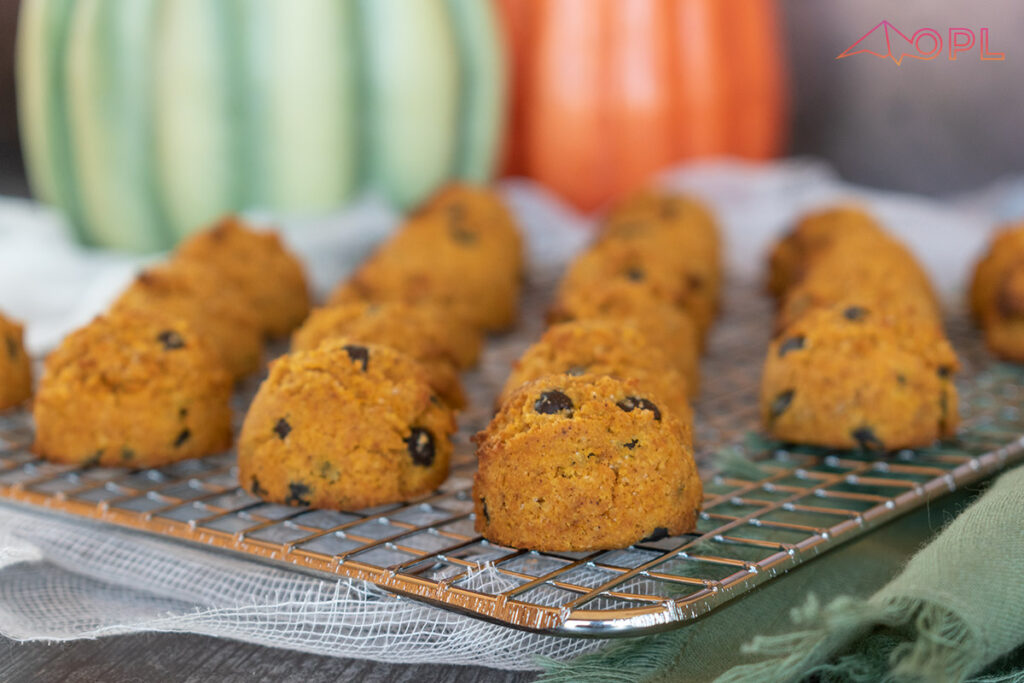 These little bites are perfect to serve at parties or send in school lunch boxes as a special treat. The pumpkin puree keeps them from drying out and gives them a great texture. Grab a handful and indulge away without the guilt.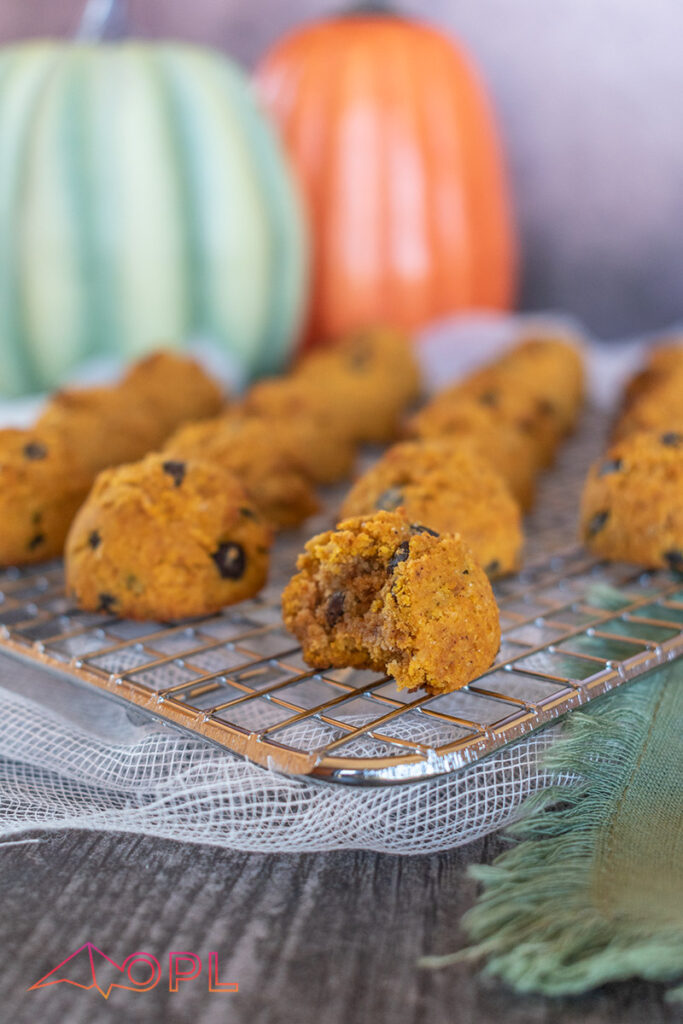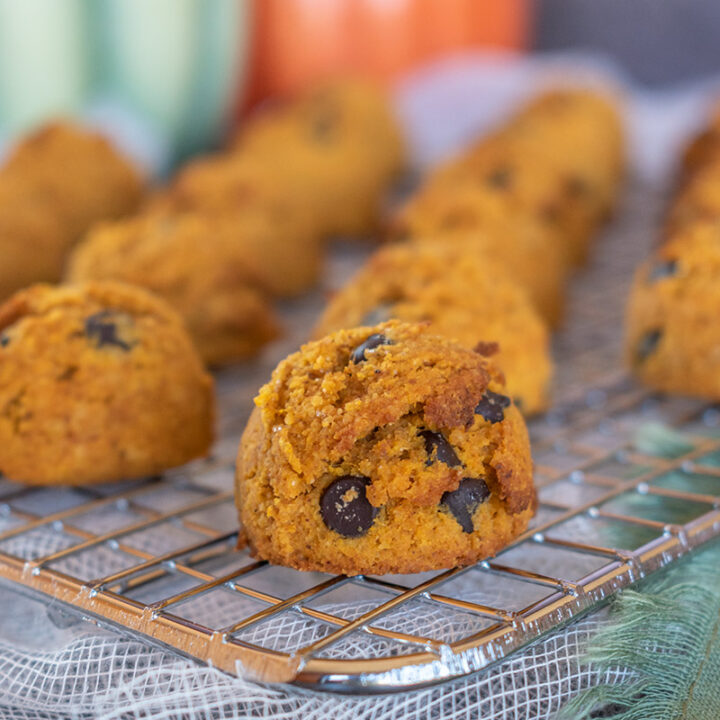 Pumpkin Chocolate Chip Cookie Bites
Ingredients
1 cup Pumpkin Puree
2 tsp Pumpkin Pie Spice
Instructions
Preheat oven to 350°F. Line a baking sheet with parchment paper. Set aside.
Combine all ingredients in a mixing bowl and stir to combine. Use wither a wooden spoon, silicone spatula, or Danish Whisk (my preferred method).
Use a small cookie scoop (about 1 Tbsp-sized) to drop dough onto prepared baking sheet, at least 1" apart.
Bake in the preheated oven for 18 minutes. Let cool a couple minutes, then remove to cool completely on a wire rack.
Store in an airtight container at room temperature for up to a week.
Nutrition Information
Yield

48
Serving Size

1 cookie
Amount Per Serving
Calories

43
Total Fat

4g
Saturated Fat

0.65g
Trans Fat

0g
Unsaturated Fat

0g
Cholesterol

0mg
Sodium

40mg
Carbohydrates

4.5g
Net Carbohydrates

1g
Fiber

1g
Sugar

<1g
Sugar Alcohols

2.5g
Protein

1.5g