Last Updated on July 24, 2020
Easy Pear Galette Recipe
A galette is a term used in French cuisine and is basically a freeform pie that is made on a flat surface and not in an actual pie plate. One of the benefits to making a galette (or 'rustic tart', as they are also known) rather than a pie is that they are expected to look imperfect, rustic, and slightly messy. This is perfect for when you need an impressive dessert but are low on time, or are new to pie-making.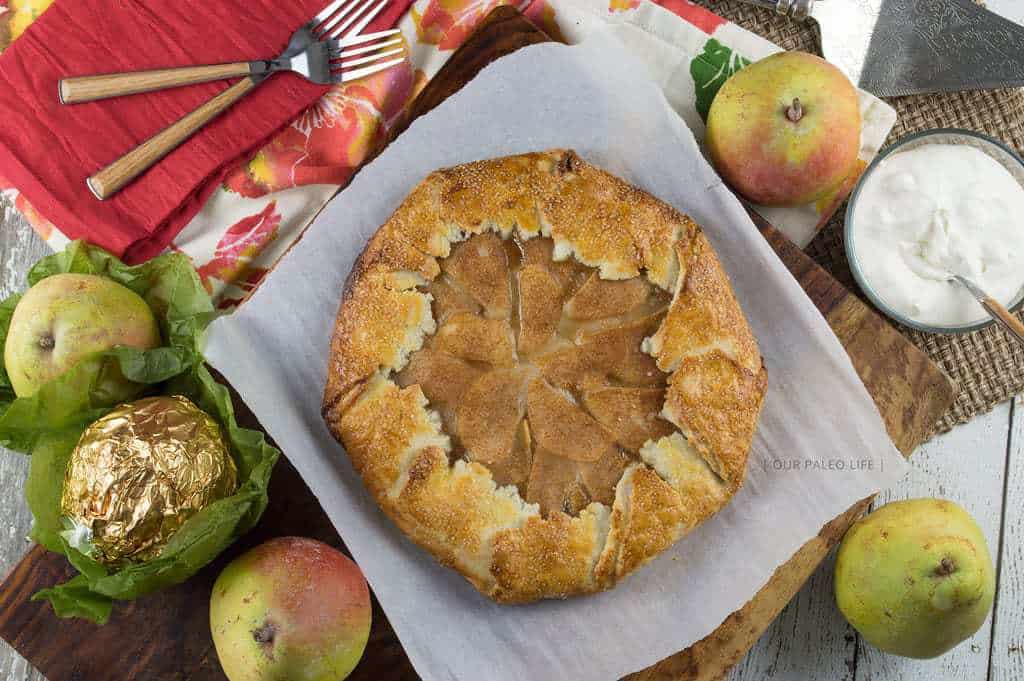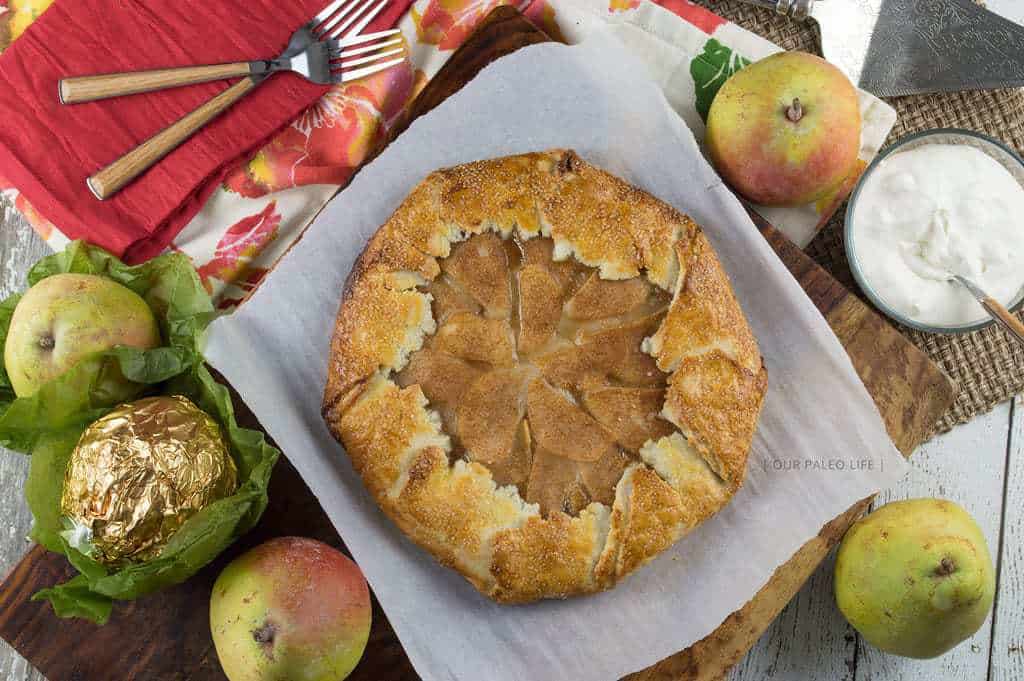 The Minimalist Galette
While fruit pies are typically piled high with filling, galettes are quite the opposite. They are the low-key, minimalist cousin of the pie. With a crust that is rolled to 1/8″ thick and filling that is piled about an inch high, this rustic pear Galette is a low-profile dessert that is just enough to satisfy that post-dinner sweet tooth.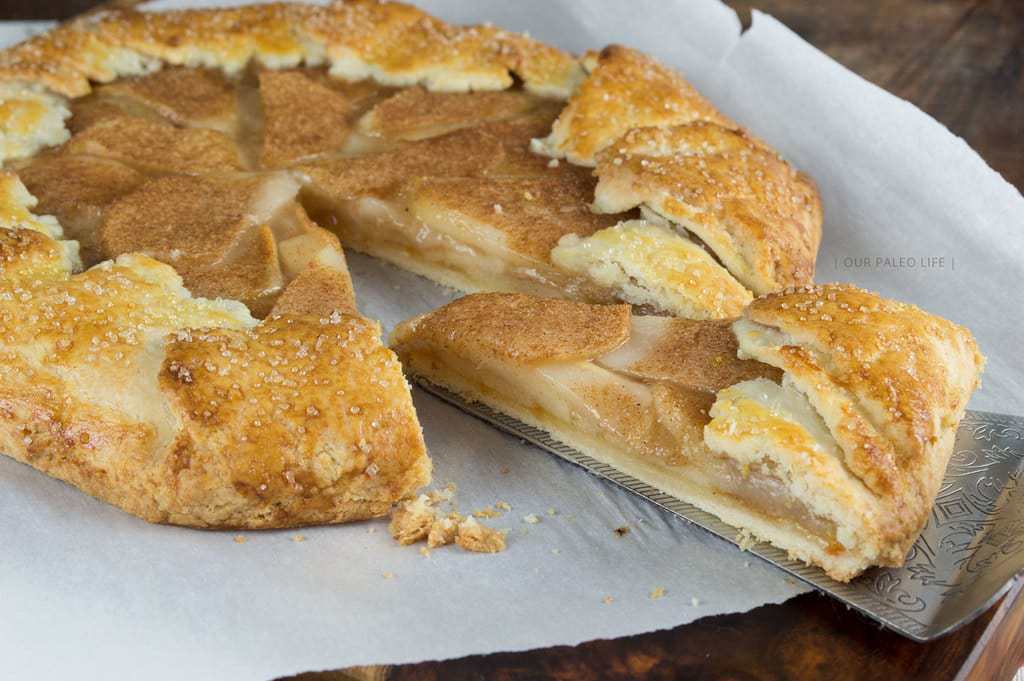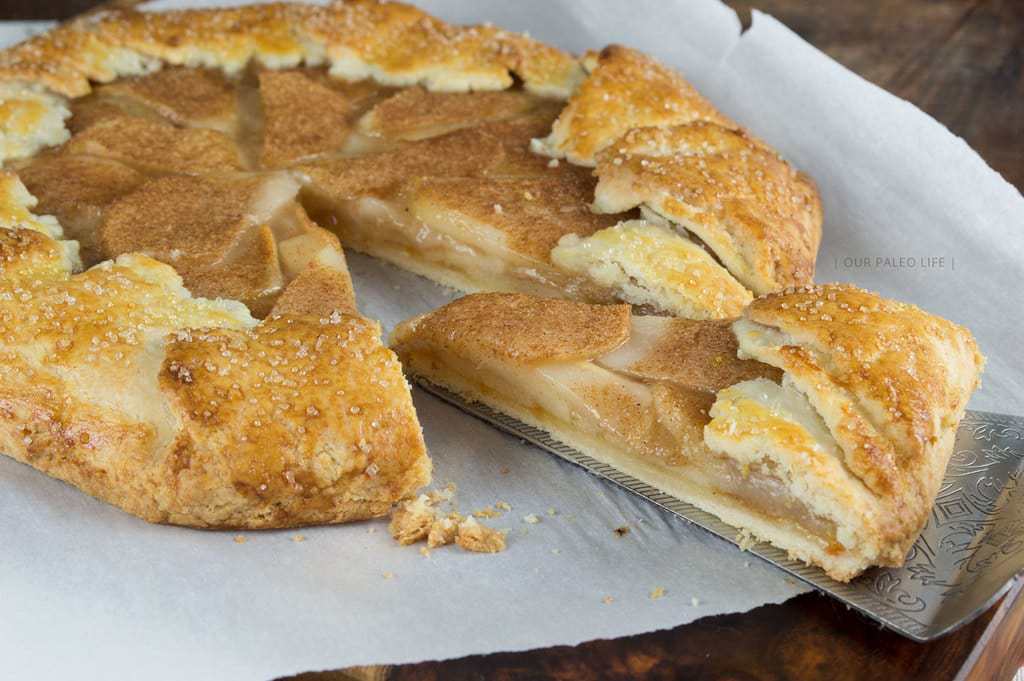 Maple Sugar
Rather than the heavily processed white sugar usually found in pie and tart fillings, this subtly sweet pear galette uses maple sugar for 2 reasons:
Flavor, because maple wins over sickeningly sweet white sugar any day
It is a cleaner, more natural ingredient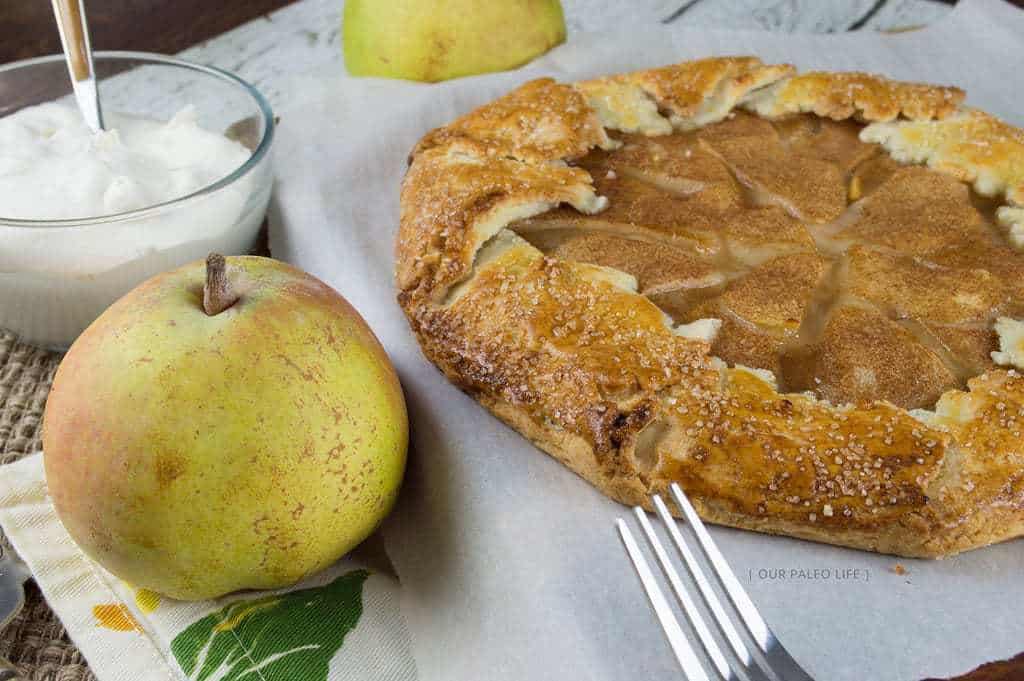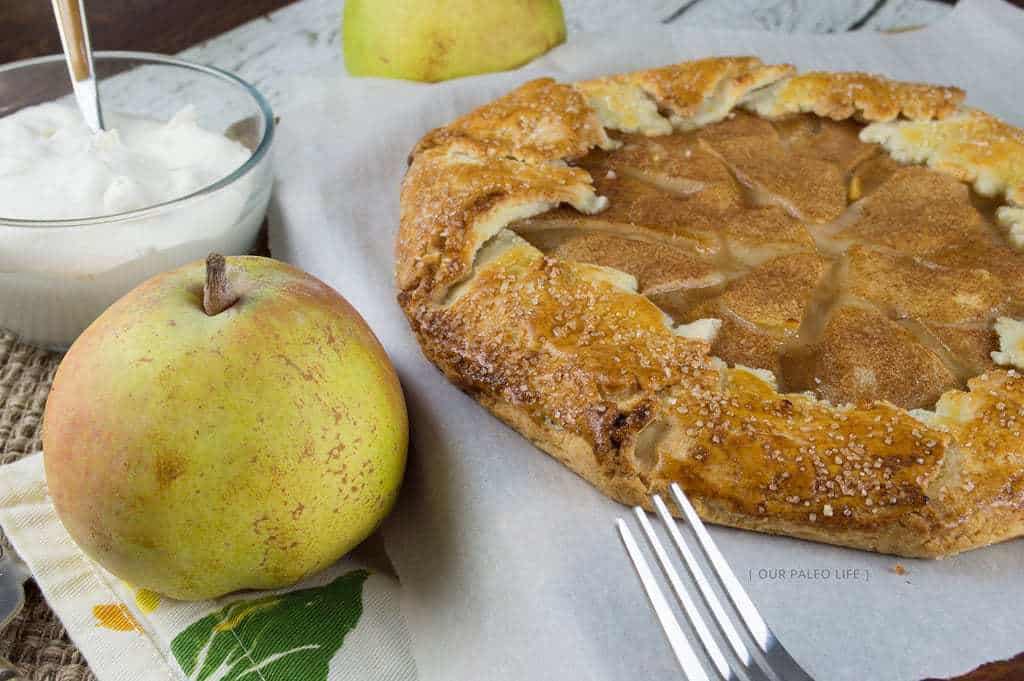 Paleo Galettes, a Truly Delicious Dessert
The galette in these photos has a sprinkling of organic cane sugar on the egg-washed crust. Because it's such a small amount of sugar, and it adds interest to the look of the galette, I'm personally okay with it. However, the cane sugar can be replaced with extra maple sugar, it will just have a slightly different appearance and texture.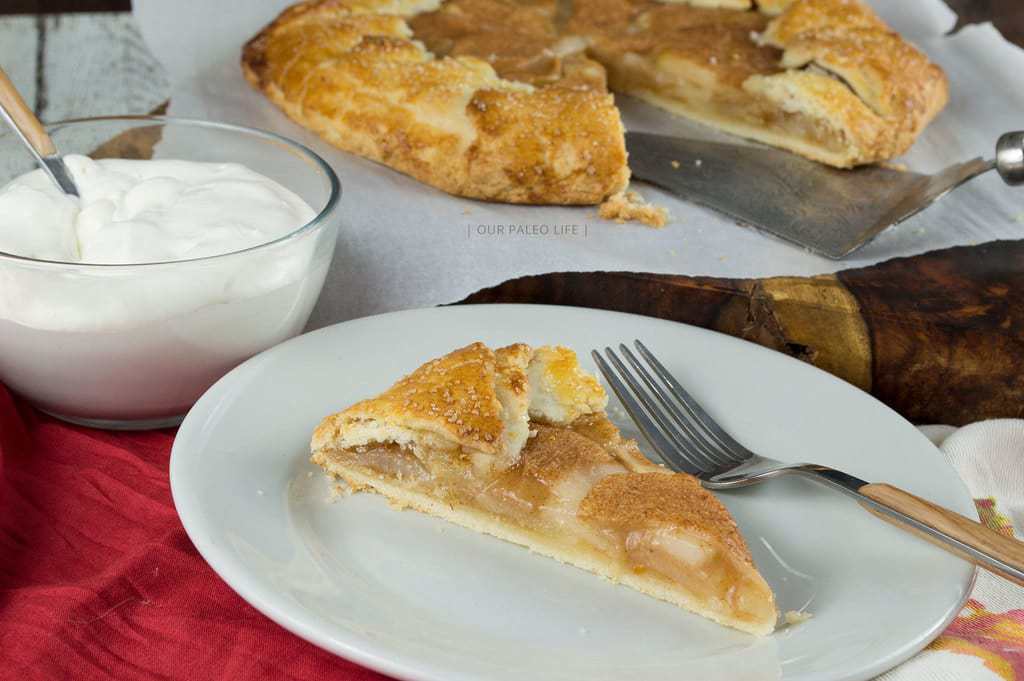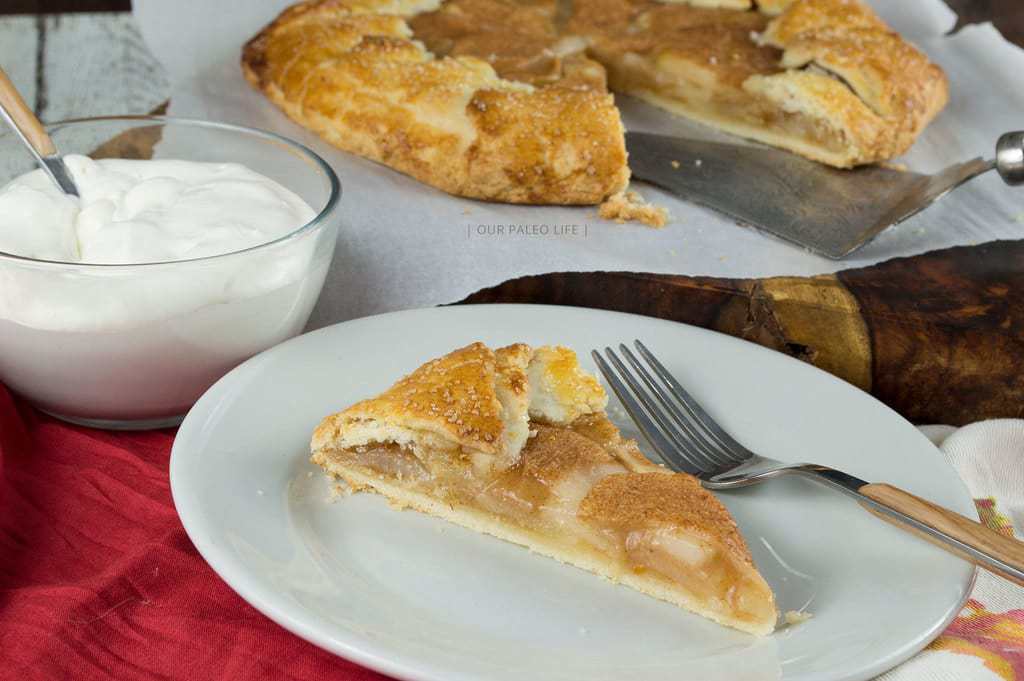 For Thanksgiving, I made a Paleo Apple Pie and because I made a lattice-top pattern instead of using a solid crust top, there was a substantial amount of pie crust leftover. Then a box of beautiful Harry & David pears arrived on our doorstep (thanks, Aunt Deb!) and it was like a sign. I've been wanting to make a galette for a while and that was just the motivation I needed.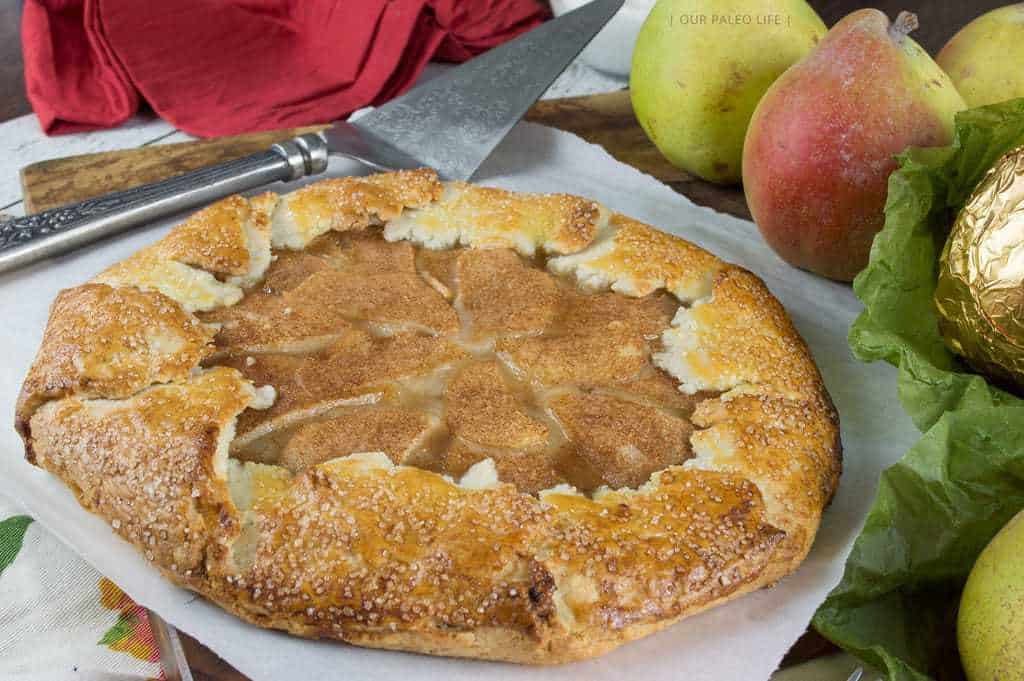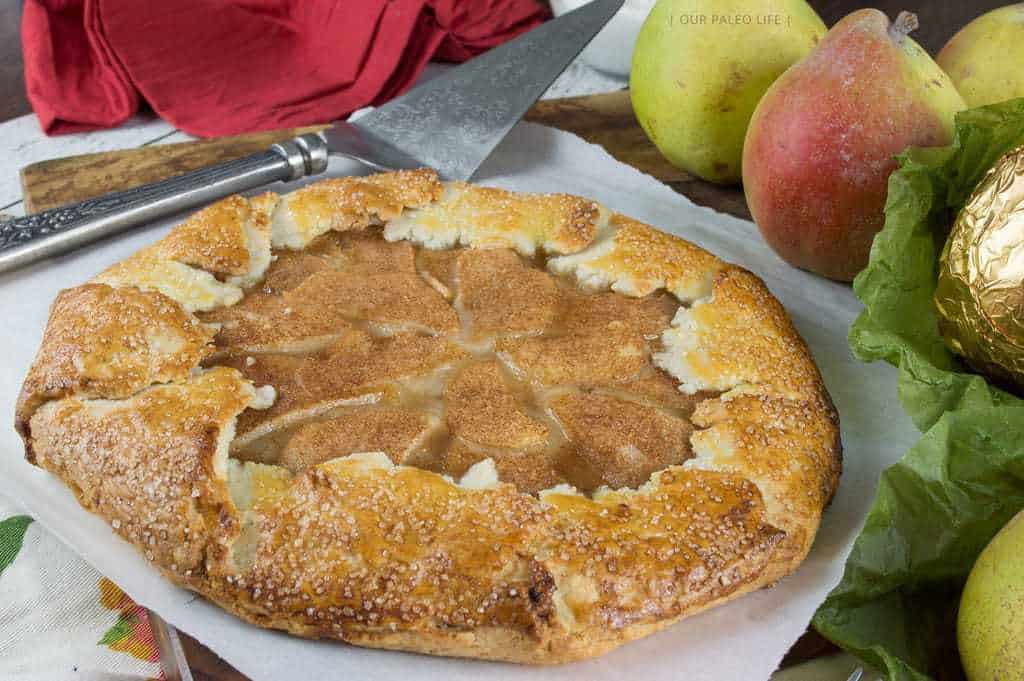 If you're primal, or simply just trying to avoid grains or gluten, but dairy is still on the menu, definitely add a dollop of sweetened whipped cream to your slice. But if you're strict paleo and dairy-free, try this stabilized dairy-free whipped coconut cream from the Spunky Coconut.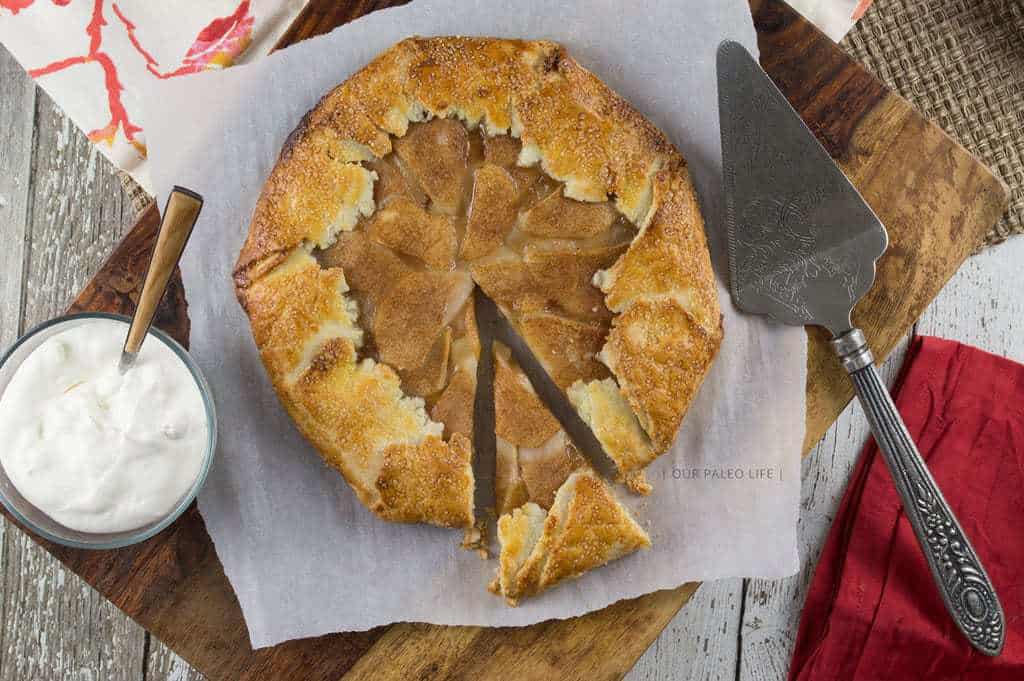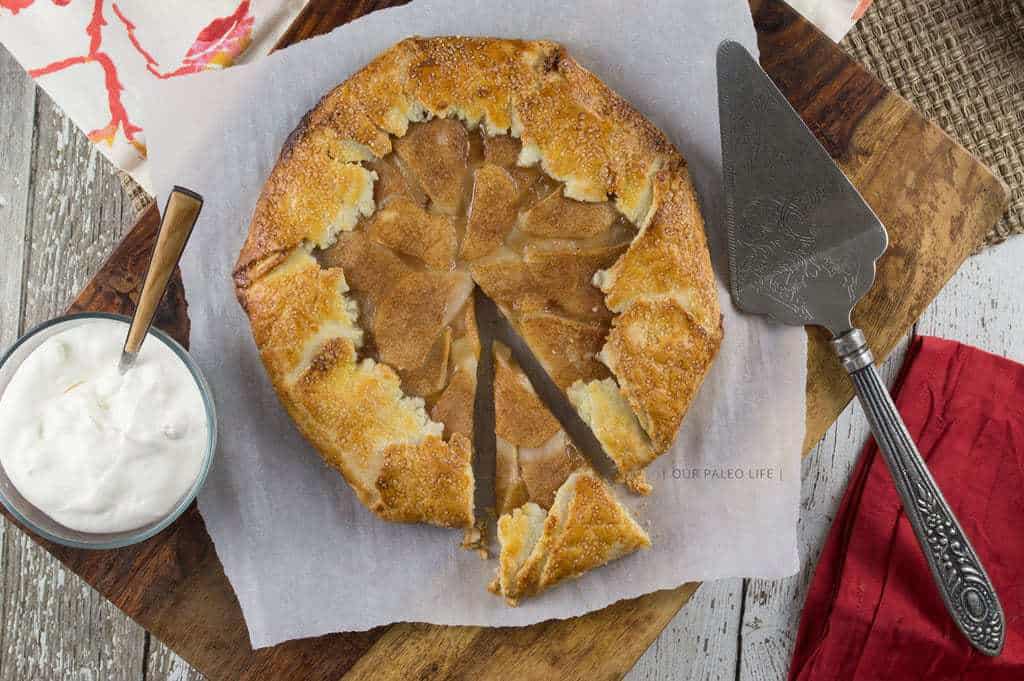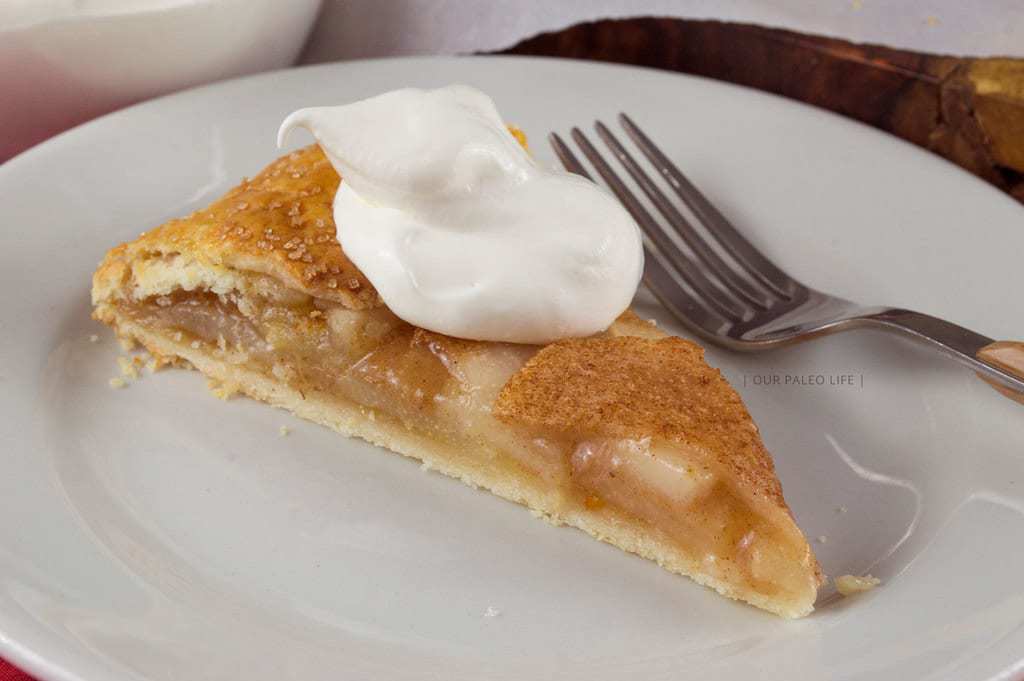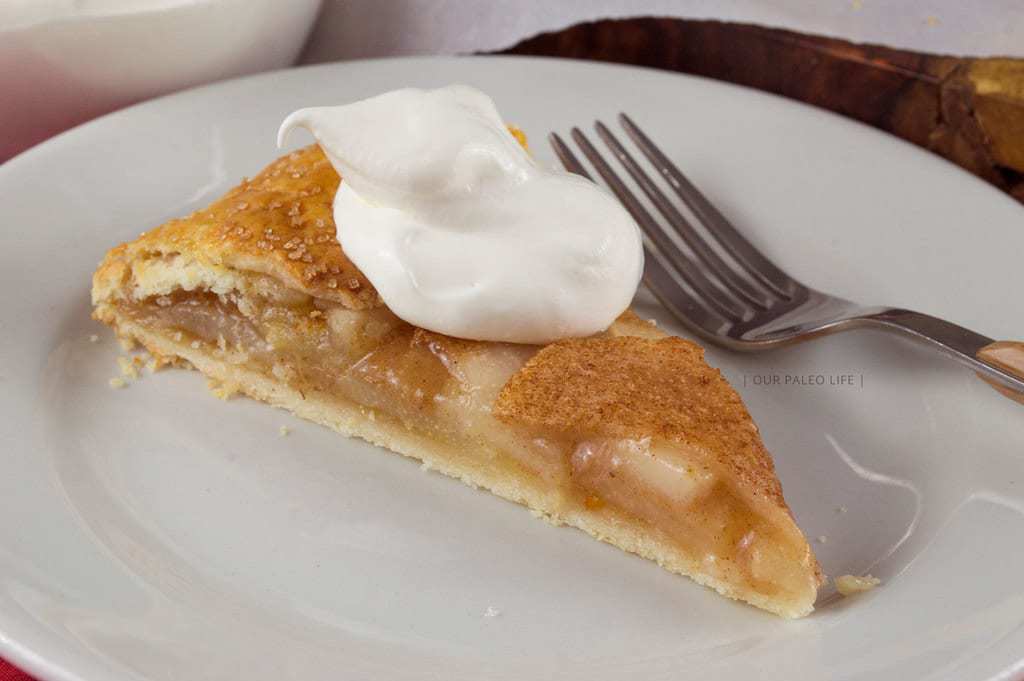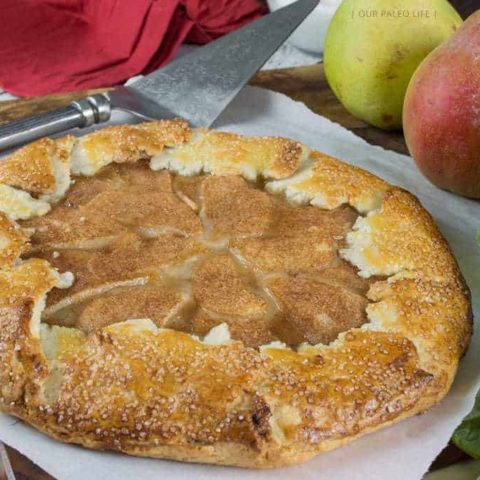 Rustic Pear Galette
Instructions
Preheat the oven to 400°F.
Prepare the crust according to the directions. Roll it out in a circle to about 1/8" thick on a piece of parchment paper on a baking sheet or pizza stone. Spread the marmalade in a thin layer on the rolled out crust, leaving an inch around the edge. Set aside.
Peel and core the pears. Cut in half and then thinly slice them. Set aside 1/4 of the pear slices.
In a bowl, mix 3/4 of the pear slices, lemon juice, starch, salt, maple sugar, cinnamon, and nutmeg. Stir gently to completely coat the pear slices. Using a slotted spoon, scoop the pears out of the bowl and spread them out in the center of the prepared crust, leaving a space of 3-4 inches between the pears and the edge.
Lay the remaining 1/4 pear slices in a decorative pattern on top of the filling. Sprinkle with additional cinnamon, if desired.
Very gently, fold the edges over the top of the pears, overlapping sections as you go. Brush the whisked egg onto the pie crust and sprinkle with raw sugar, if desired.
Bake in the preheated oven for 25 minutes, or until the crust is golden brown and the pears are soft.
Remove from oven and let cool for about 10-15 minutes before serving. This allows the filling to firm up so it isn't runny when you cut into it.
Nutrition Information
Yield

8
Serving Size

1 slice
Amount Per Serving
Calories

312
Total Fat

17g
Saturated Fat

7g
Unsaturated Fat

4g
Cholesterol

35mg
Sodium

265mg
Carbohydrates

38g
Fiber

3g
Sugar

14g
Protein

1g
Nutrition is calculated by a third party and may not be 100% accurate