Last Updated on July 8, 2020
Do you ever get completely and utterly bored with breakfast? I do. All the time. It's so easy to just throw some eggs in a skillet and scramble them, that I often get in a breakfast rut due to the rush of getting the kids ready for school every morning. But spicing things up a little and getting past the rut is actually pretty easy.
I've posted a quite few breakfast recipes lately, because honestly, I like the change. I may not be a huge fan of scrambled eggs on their own, but with sauteed veggies in them, they are totally delicious. I also sometimes just eat the eggs because it's all I have time to make in the morning, which is why I love the Country Potatoes recipe. It's so easy to make in advance and then just reheat, and they're just as good the next day (or even a week later).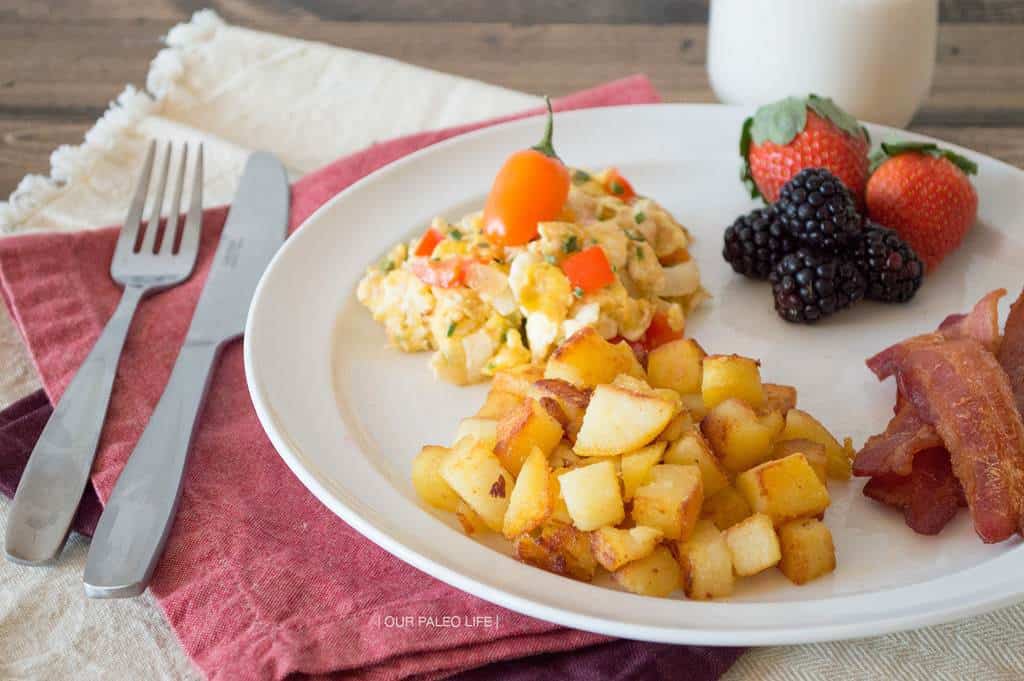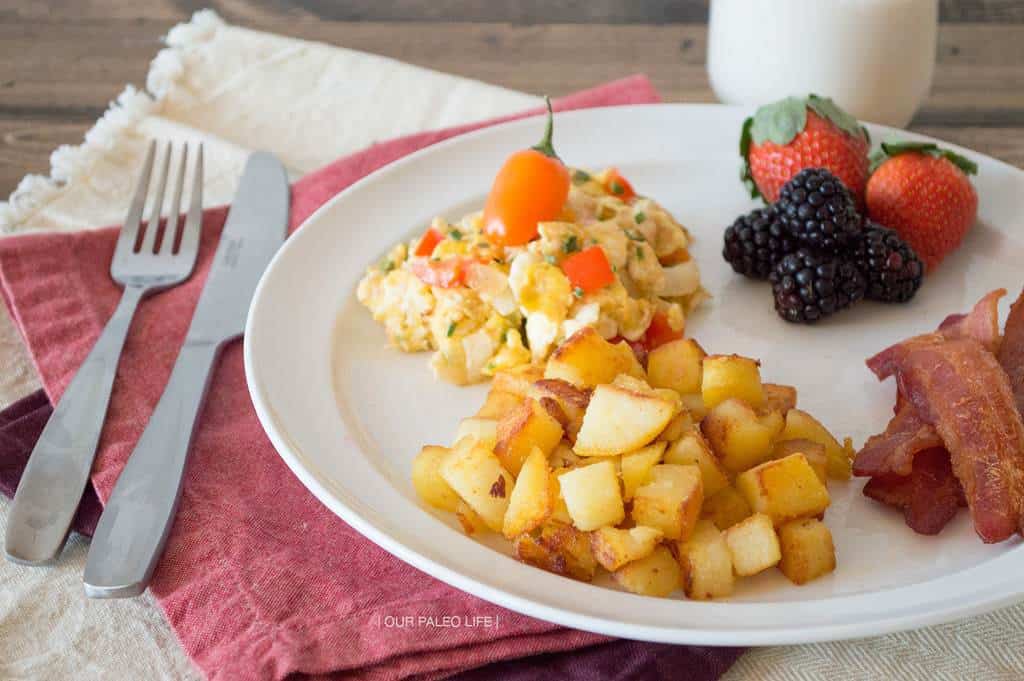 Bacon is also another thing that's easy to make in advance and just reheat (or even eat cold, if you're into that). Add some fresh berries, and you've got a deliciously easy breakfast that is anything but a pile of boring eggs. Our kids love when they get a "fancy" breakfast like this, makes them feel like we're out at a restaurant. I love that it really doesn't take that much more time than plain scrambled eggs if I do a little prep work the day before.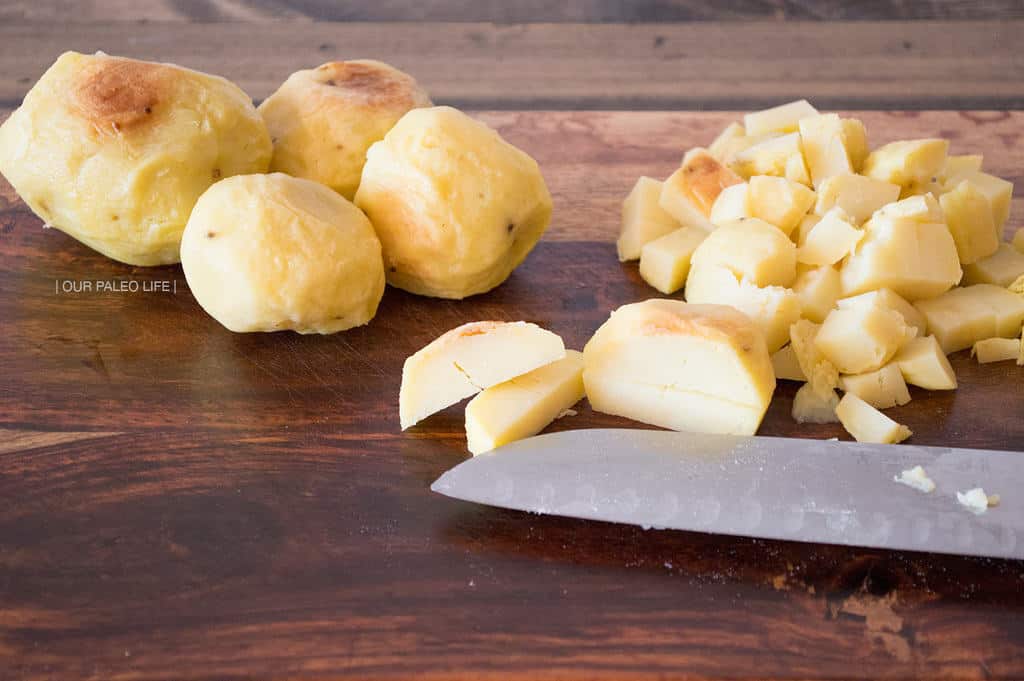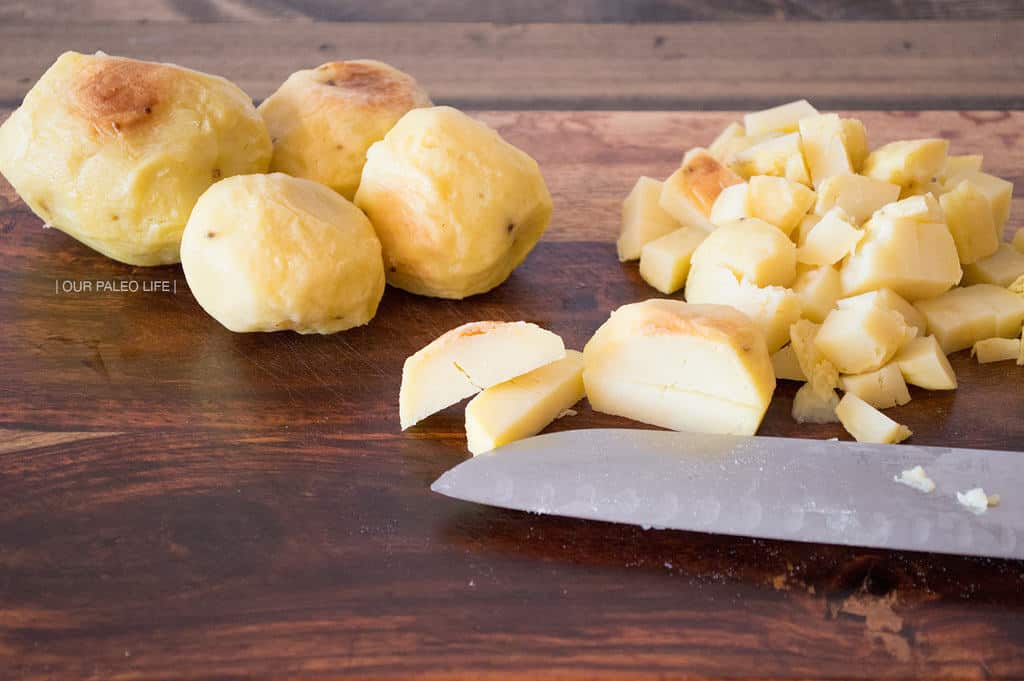 So what are you waiting for? Have a restaurant-style breakfast right in your own kitchen.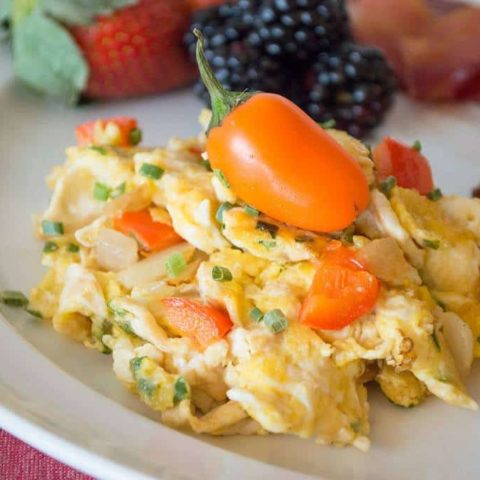 Fiesta Scrambled Eggs
Spice up your boring breakfast with flavorful sauteed peppers and onions, and a sprinkle of fresh chives. These are the easiest and tastiest scrambled eggs.
Ingredients
2 Tbsp Olive Oil, divided
1/2 Red Bell Pepper, diced
1/2 Yellow Onion, diced
Handful Chives, chopped
8 large Eggs
Sea Salt, to taste
Ground Black Pepper, to taste
Country Potatoes, recipe below
Instructions
Heat 1 tablespoon olive oil in a large skillet over medium-high heat. Add diced peppers and onions and saute until soft and translucent. Remove from skillet and set aside.
Heat remaining tablespoon olive oil in the same skillet. Add the eggs and scramble while they cook. Add in the chives and sauteed peppers and onions before the eggs cook completely. Continue scrambling until the eggs are cooked through.
Sat and pepper to taste, serve right away with Fiesta Scrambled Eggs (recipe below).
Nutrition Information
Yield

4
Amount Per Serving
Calories

214
Total Fat

16g
Saturated Fat

4g
Unsaturated Fat

0g
Cholesterol

372mg
Sodium

143mg
Carbohydrates

2g
Sugar

1g
Protein

12g
Nutrition is calculated by a third party and may not be 100% accurate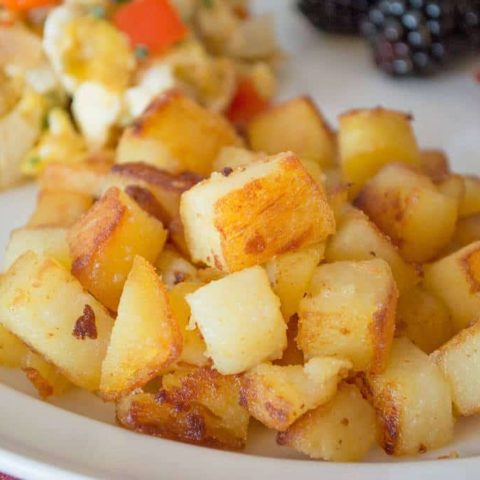 Country Potatoes
Cook Time:
2 hours
20 minutes
Total Time:
2 hours
25 minutes
Restaurant-style crispy potatoes are so easy to make right at home and you control the fat that they're cooked in.
Ingredients
4-6 medium Yukon Gold Potatoes, peeled
3 Tbsp Cooking Fat of choice, bacon fat, ghee, and avocado oil are our favorites
Sea Salt, to taste
Instructions
Wrap peeled potatoes in tin foil and cook using one of the following two methods: (1) slowcook - our preferred method; or (2) bake.
If you'll be baking them, preheat the oven to 400°F. Bake for 1.5 hours.
Once the potatoes are cooked, remove from foil, and refrigerate in a covered container for at least an hour to cool, or as long as one week.
Dice the cooled, cooked potatoes in bite-size cubes.
In a large skillet, heat cooking fat over medium-high flame. Add potatoes to the skillet and stir to coat with cooking fat. Cook, gently stirring occasionally, until crispy on the outsides, about 20 minutes.
Remove from heat, salt to taste, and serve right away. Can be made in advance and reheated in the toaster oven or in a warm skillet.
Notes
Prep Time does not include baking the potatoes in advance (time depends on the method you choose).
Nutrition Information
Amount Per Serving
Unsaturated Fat

0g