I'm always wanting to try new Larabar wannabes. As I've mentioned before, I'm not a huge fan of the store-bought brand, but caved one day out of hunger and grabbed an Apple Pie Larabar. I actually liked it and decided I could make it at home. So I did, duh. And by making them at home, I can control the appley, cinnamony flavor to my preference. Because cinnamon is awesome and should be used in everything.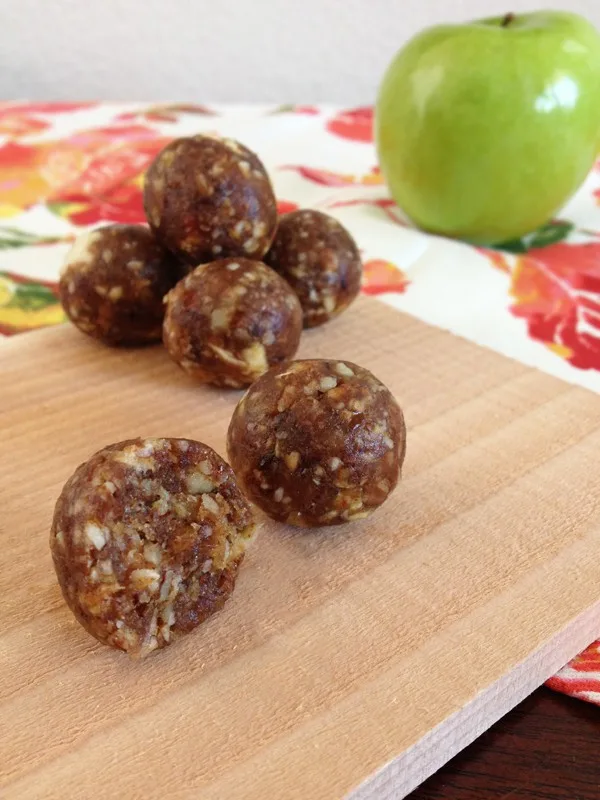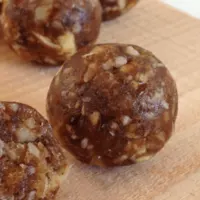 Apple Pie Bites
Ingredients
1 cup Pecans
1/2 cup Raw Almonds
1-1/2 cups Medjool Dates, about 10-12 dates, pitted
3/4 cup Dried Soft Apple Rings, no sugar added, not apple chips
1/2 tsp Cinnamon
Pinch Sea Salt
Instructions
Combine all ingredients (except water), in the order listed, in the bowl of a food processor.
Process until mixture resembles coarse gravel.
While the processor is running, add a thin stream of water, about 1 tsp, maybe less depending on the moistness of your dates.
Stop the processor and check the mixture inside. If it sticks together when you smush it, then you've got the right consistency. If it's still crumbly, add more water. You don't want to add too much water because the bites will be too sticky.
When you've got the right consistency, roll mixture into tablespoon-size balls. Yield varies depending on how much you eat while you're rolling them.
Store in an airtight container in the refrigerator for a week or so, if they last that long.