I recently discovered Zucchini Noodles. Once that happened, I knew I had to find a paleo spaghetti sauce to go on it. Then I thought "That's dumb, I could just make my own". I happened to have a bunch of tomato products in the pantry one day so I grabbed what I had and made a sauce for my new pasta recipe. And it was a fantastic taste! Too bad I didn't have enough zucchini to make spaghetti for the family, so I ate it all myself. I'm generous like that.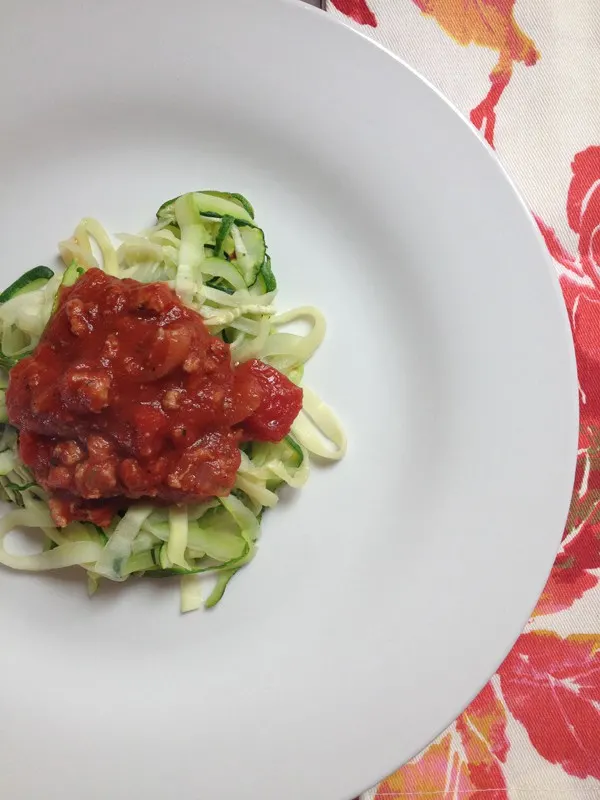 This paleo spaghetti sauce recipe makes approximately 8 cups of paleo friendly delicious sauce, so cut in half if you won't need that much. OR, you could preserve the rest by canning it, if you're into that sort of thing.
Sterilize your jars, lids, and rings.
Fill the jars to within ¼-inch of the top, seat the lid and hand-tighten the ring around them.
Put the jars in a canner and keep them covered with at least 1 inch of water.
Keep the water boiling.
Process the jars in a boiling-water bath for 35 minutes for pints and 40 minutes for quarts.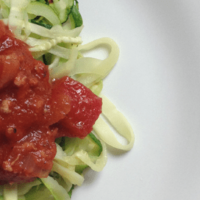 Paleo Spaghetti Sauce
Cook Time:
1 hour
30 minutes
Total Time:
1 hour
35 minutes
Ingredients
2 lb Ground Meat, Beef, Italian Sausage, Turkey, Bison, etc.
1 Yellow Onion, diced
3 cloves Garlic, minced
1 (15 oz) can Tomato Sauce
2 (14 oz) can Diced Tomatoes, drained, juice reserved
1 (6 oz) can Tomato Paste
1 Tbsp Dried Basil
1 tsp Dried Oregano
2-1/2 Tbsp Garlic Powder
2 Tbsp Onion Powder
1 Tbsp Italian Seasoning
1-2 tsp Sea Salt, start with 1 tsp, add more if you like it saltier
Instructions
In a large saucepan over medium-high heat, brown the ground meat until cooked through. Drain excess fat.
Reduce heat to medium and add diced onion and garlic to the meat. Cook until onions are slightly translucent, about 5 minutes.
Add tomato sauce, diced tomatoes, and tomato paste and stir to mix well.
Add basil, oregano, garlic powder, onion powder, Italian seasoning, and salt. Stir well to combine.
Reduce heat to Low, cover, and let simmer for about 1 hour. If you can wait 2 hours, that's even better. The flavors will mix together even more.
If your sauce is too thick, you can add some of that reserved juice from the diced tomatoes. I found that I didn't need to but it's a personal preference.
Serve over Zucchini Noodles for the perfect Paleo Spaghetti.
Nutrition Information
Serving Size

1 g
Amount Per Serving
Unsaturated Fat

0g