Oh my gosh, I know! I said I was going to start a Whole30 and here I am posting yet another totally NOT Whole30 recipe. Have no fear, I have not given up before I have even started, but I did want to get this recipe posted before the 15th. Now it's up to you if you want to make it now, all quicklike, before you start your Whole30 with me (because you are, right?) or wait until October 16th to give it a shot. I've got a couple recipes that I want to post, and it just so happens that they are not Whole30 approved (not even close).
This is one that I've made a few times, starting with this recipe from Danielle at Against All Grain. Maybe it's because I'm at a high altitude (5,000 ft) but I couldn't quite get these muffins to rise all pretty like she did. I made a few minor changes that really helped the texture for me, but the taste is just spot on. I have made these with and without chocolate chips in them, and while I'm a firm believer that all banana bread needs chocolate chips, these are really good without them as well.
I also modified the streusel topping a bit and absolutely loved it. It may or may not have inspired another recipe that I will be posting tomorrow (also not Whole30, so I won't be making it again anytime soon). These little muffins are so good right out of the oven, but I prefer the texture once they've cooled down. They are also the perfect little snack to throw in my kids' lunches and I'm sure they love getting something "bready" in their lunches for once.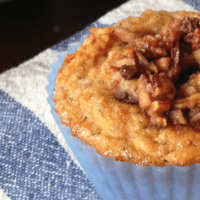 Banana Streusel Muffins
Ingredients
Muffin
3 Large Eggs, room temperature
2 Tbsp Raw Honey, optional
1 tsp Pure Vanilla Extract
2 Tbsp Coconut Oil, softened
1/2 tsp Apple Cider Vinegar
1/2 cup Coconut Flour
1/4 cup Almond Flour
1/2 tsp Cinnamon
2 tsp Baking Soda
1/2 tsp Sea Salt
3 Ripe Bananas, lots of brown spots, the more brown, the sweeter
1/4 cup Unsweetened Almond Milk
1/4 cup Enjoy Life Chocolate Chips or Chopped Pecans, optional
Streusel Topping
1/4 cup Pecans, chopped
1 Tbsp Raw Honey
1 tsp Cinnamon
1 Tbsp Cacao Nibs or Enjoy Life Chocolate Chips, cacao nibs offer more crunch
1 Tbsp Unsweetened Shredded Coconut
1 Tbsp Unsweetened Banana Chips, chopped
Instructions
Preheat oven to 350°F.
In a stand mixer with a paddle attachment, combine the honey, vanilla, and coconut oil and cream until light and slightly fluffy (it won't fluff up like butter and sugar). Alternately, you can whisk the ingredients in a large bowl.
Add in the eggs one at a time, mixing completely each time. Mix in the vinegar.
In a separate bowl, combine the flours, cinnamon, baking soda, and salt. Slowly incorporate the dry ingredients into the wet ingredients until combined.
In the same bowl you used to mix the dry ingredients (so we can save on dishes here) mash the bananas and almond milk together until smooth (you'll still have a few small lumps of banana).
Fold the bananas into the muffin mixture until evenly combined.
Add the chocolate chips or pecans, if using them
Fill silicone muffin cups about 3/4 full. If you have extra batter beyond the 12 muffin cups, top off the 12 muffins with a bit more batter, it should be fine.
For the streusel topping, combine all those ingredients, except the honey. Stir to make sure everything is combined evenly.
Add the honey and use a fork to mix/mash/distribute everything evenly. Sprinkle the topping evenly among all 12 muffins.
Bake in the preheated oven for 15-20 minutes (closer to the 20 minute mark), or until a toothpick inserted in the center comes out clean.
Remove and let cool on a wire rack.
Store in an airtight container and eat within 4 days.
Nutrition Information:
Yield:

12
Serving Size:

1 muffin
Amount Per Serving:
Calories:

245
Total Fat:

17g
Saturated Fat:

6g
Trans Fat:

0g
Unsaturated Fat:

10g
Cholesterol:

47mg
Sodium:

329mg
Carbohydrates:

22g
Fiber:

4g
Sugar:

13g
Protein:

5g
Nutrition is calculated by a third party and may not be 100% accurate