In this post I review the benefits of dark chocolate, what to look for, and how many carbs are in dark chocolate.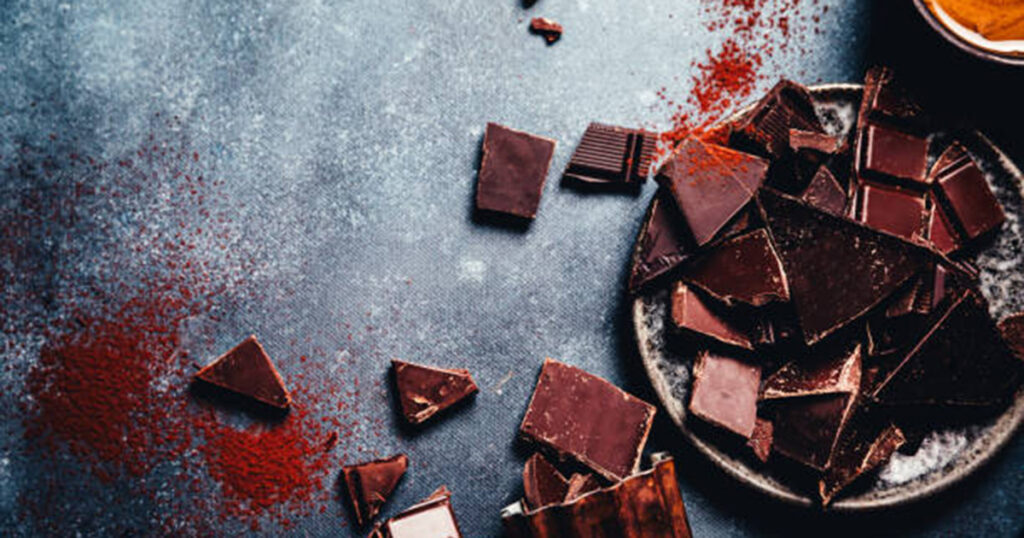 Types of Dark Chocolate
It's pretty easy to distinguish between the 3 types of dark chocolate, it's all about the taste and the percentage of cocoa solids. The cocoa content of commonly sold dark chocolate can range from 30% for sweet dark chocolate to 80% (or higher) for extremely dark (usually bitter) chocolate. Breaking down the 3 types of dark chocolate:
Semi-sweet
Semisweet chocolate is typically much sweeter than bittersweet dark chocolate. Semi Sweet typically contains about 50% sugar (by volume).
Bittersweet
Bittersweet chocolate is typically defined when cocoa concentration is above 60% and below 90%. Sugar content is typically 30% or less.
Unsweetened Dark Chocolate
Unsweetened chocolate is typically used in recipes (not as a snacking bar or chips). The cocoa content for unsweetened dark chocolate is very high: nearing 100%.
Health Benefits of Dark Chocolate
You may be surprised at all the health benefits of dark chocolate. With any pre-packaged food products, there's more to the story when it comes to all ingredients. All dark chocolate is not created equal. Dark chocolate bars have a variety of different ingredients you may need to be aware of. When we refer to the health benefits of dark chocolate, this does not validate or differentiate from all the other ingredients that may cause health issues (not benefits). Dark chocolate alone can provide solid health benefits like:
How Many Carbs in Dark Chocolate?
Carb content can range depending on the ingredients and percentage of cocoa. Here are a few examples of how many carbs are in dark chocolate bars.
Here are two examples of how many carbs in dark chocolate in each of our categories including: Unsweetened, Bittersweet, and Semi-Sweet. With these examples I highlight the net carb count of each of the bars. Visit this article for detailed explanation on net carbs.
Carbs in 100% Dark Chocolate (Unsweetened)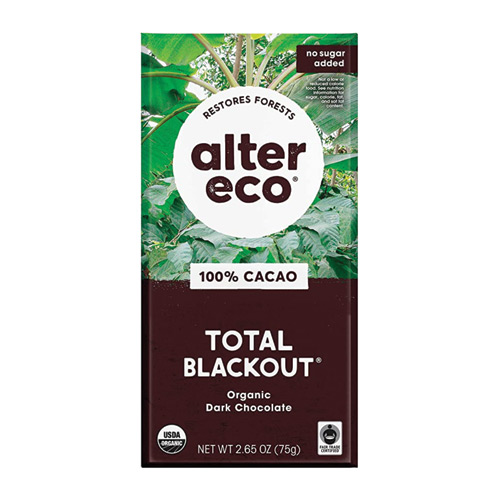 Ingredients: Cacao Beans, Cocoa Butter
Carbs: 8g (5g of Fiber) = 3g net carbs per serving.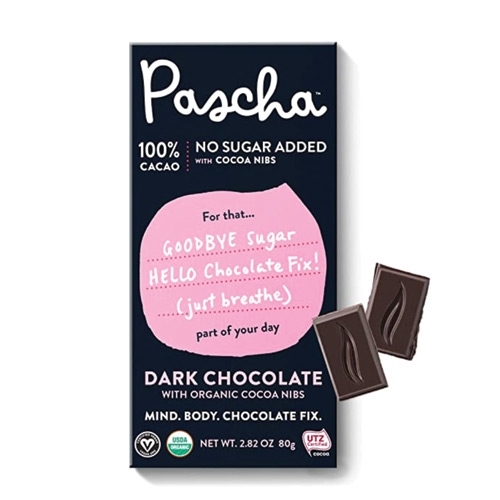 Ingredients: Chocolate Liquor, Cacao Nibs
Carbs: 8g (4g of Fiber) = 4g net carbs per serving.
Carbs in 60% to 90% Dark Chocolate (Bittersweet)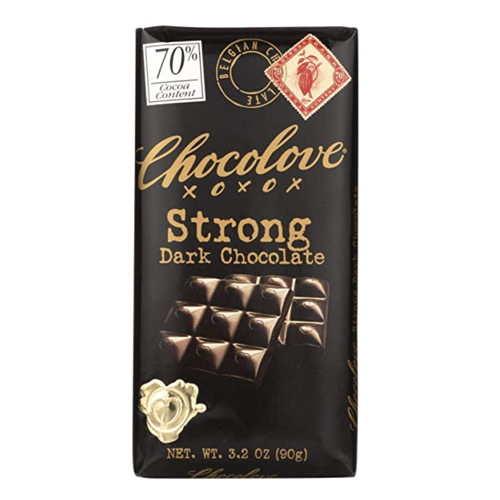 Ingredients: cocoa butter, cocoa liquor, soy lecithin, sugar, vanilla
Carbs: 14g (3g of Fiber) = 11g net carbs per serving.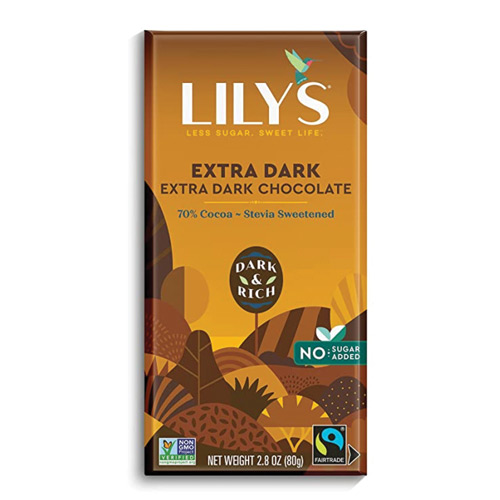 Ingredients: Unsweetened Chocolate, Erythritol, Inulin, Cocoa Butter, Stevia Extract, Organic Soy Lecthin, Vanilla
Carbs: 15g (8g of Fiber & 5g of Erythritol) = 2g net carbs per serving.
Carbs in Under 60% Dark Chocolate (Semisweet)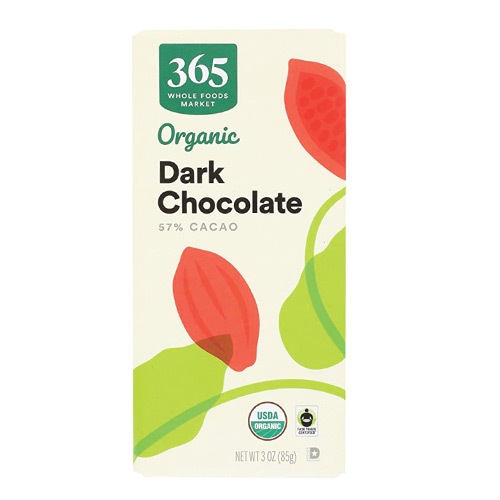 Ingredients: Organic Dark Chocolate (Organic Cane Sugar, Organic Chocolate Liquor, Organic Cocoa Butter, Organic Cocoa Powder [Processed With Alkali], Organic Ground Vanilla Beans).
Carbs: 18g (3g of Fiber) = 15g net carbs per serving.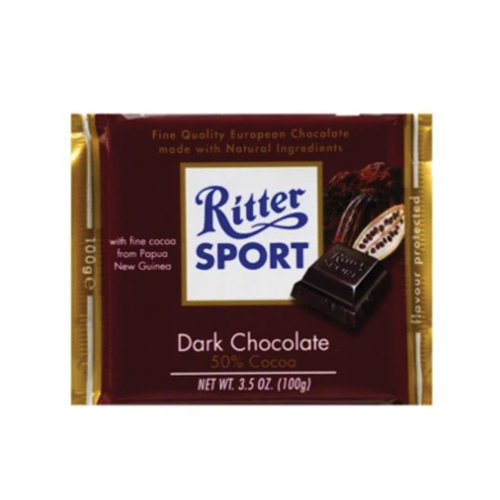 Ingredients: Sugar, Chocolate Liquor, Cocoa Butter, Soy Lecithin (Emulsifier), Natural Flavor.
Carbs: 22g (2g of Fiber) = 20g net carbs per serving.
The higher the cocoa concentration per serving, the more likely the carbohydrate content will be very low. The higher the percentage of cocoa/cacao, the more likely the dark chocolate will be safe on a low carb or ketogenic diet.
Low Carb Sweeteners Used in Dark Chocolate Products
When looking for low carb, keto, and diabetic friendly dark chocolate, these are a few of the sweeteners that you'll want to look for.
Erythritol
Erythritol is an alternative sweetener found in many keto "low-carb" packaged goods and is referred to as a sugar alcohol. Erythritol is available in granular or powdered options and is usually accompanied by Monk Fruit for baking or sweetener applications. Read this: What is Erythritol? And is it safe?
Stevia
All of the Stevia variations are brought to you by the leaves of the Stevia rebaudiana (Bertoni) plant, an herbal shrub. Its leaves and extracts have been sold as dietary supplements for many years. The sweet purified extract is called steviol glycosides and is considered to be safe by the FDA. Read this: Is Stevia Safe?
Soluble Corn Fiber
In theory: resistant dextrin will not spike blood sugar. SCF is made by heating it and adding acid to high-fructose corn syrup. It's rendered down and "sugars" are removed. Be careful, mislabeling on this ingredient is plausible with some brands. Resistant Dextrin should generally be considered safe on a Keto diet. Read this: Keto Product & Lifestyle Testing w/CGM
Monk Fruit
Monk Fruit does not raise blood sugar and is usually added to products (in a very small amount). Alone, Monk Fruit does NOT taste very good.
Allulose
Allulose is an alternative sweetener that tastes a lot like sugar. Allulose does not metabolize as a sugar in the human body and is safe for diabetics and those on a Ketogenic diet to consume due to the fact that it doesn't raise blood sugar. Allulose is a zero on the glycemic index and does not impact insulin production as it does not raise glucose levels. Read this: What is Allulose? Keto & Diabetic Sweetener
High Carb Sweeteners Used in Dark Chocolate
Even if it's dark chocolate, it might be high in sugar. Here are a few ingredients that you may want to avoid if you're attempting to limit carbs:
Sugar
Cane Sugar
Maltodextrin
Dextrose
Coconut Sugar
Honey
If you're trying to manage your blood sugar, it's a good idea to get informed on the glycemic index, check this out: Glycemic Index for Sweeteners
Pin it: