I'm confused. How is it possibly 1 day away from February? I don't even know what happened to the last 30 days. I hope the rest of the year isn't like this, or I will need 48 hours in a day. I've been a bit swamped with work stuffs (yeah, stuffs, that's no typo), which is always a good thing because job security is awesome and all that.
My baby is turning 3 in February. I absolutely love this age, though she's currently in a very headstrong, independent, I'll-say-no-to-everything-you-say-just-to-be-a-jerk-even-if-I-really-want-that-banana stage, which is pretty frustrating. But she's so freaking cute that I can't help but laugh when she defiantly crosses her arms, humphs, and turns away when she doesn't get what she wants.
February can be a pretty gloomy month in the colder parts of the world, and when we lived in Minnesota, we were all "yeah, let's go to Florida for the month" and it was so great, hearing about the massive snowstorm that closed the schools in half the state while we were on the beach. I don't even like the beach but that was pretty great. But we're in Colorado now, so we get these glorious breaks in the weather where we'll have a few 60 degree days between snowstorms, and I can live with that. But I do love me a good snowstorm so long as I've got nowhere to go.
Blizzards also conjure happy feelings for me. Our almost-3-year-old was born in the middle of a blizzard, at home, and it was quite possibly one of the most amazing experiences of my life. Watching the snow fall outside a big picture window reminds me of all those beautiful moments and the emotions that came with them, and I love it. So bring on the snow, but not the ice, because the ice pretty much sucks.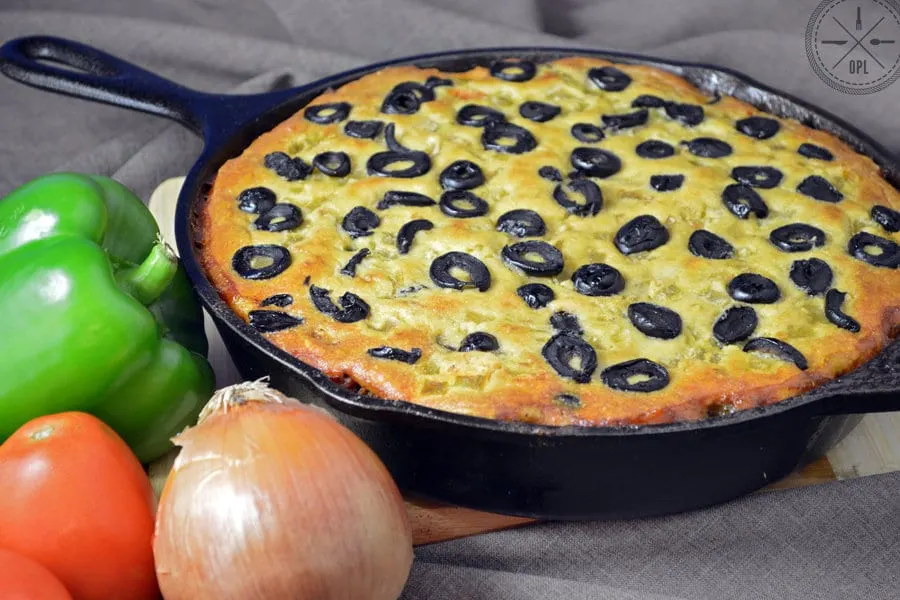 So, I'm one of those people that sees a pound of ground beef and immediately thinks "spaghetti" or "burgers". Totally from my pre-paleo brainwashing. I know there are a million other uses, but my brain just usually shuts down at that point. It's taken some time to get past that mental roadblock and realize there's more to ground beef than that.
One day, I went through my old recipe cards (yeah, I actually have a little plastic container of recipe cards) for some inspiration and came across this recipe for a Cowboy Casserole that I hadn't made in forever. I was kind of wanting some comfort food so I made (quite a few) alterations to it and came up with something fantastic! I have actually made this recipe about a dozen times, changing things up a bit here and there until it was just right. I also made it for non-paleo dinner guests and they loved it, so that's always good news.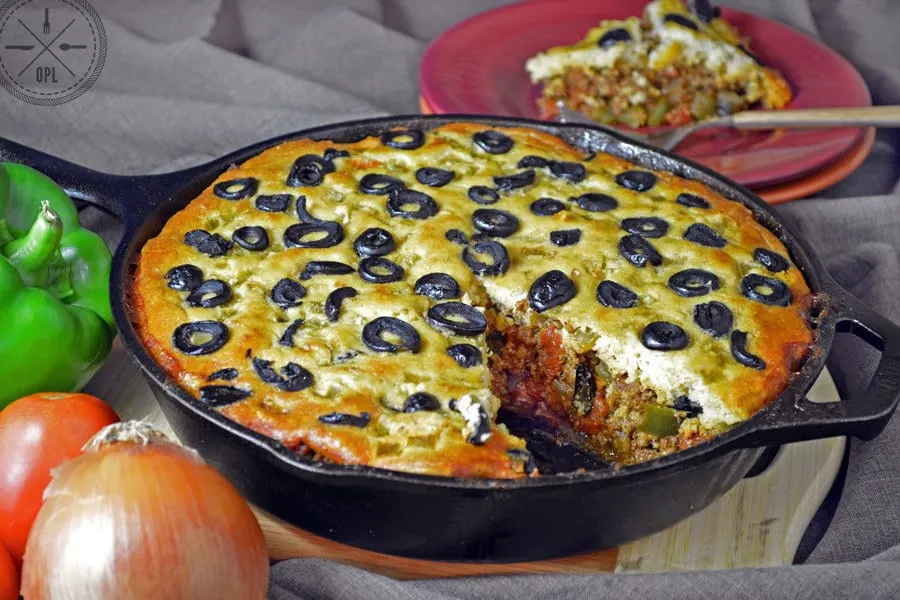 And yeah, since this is a paleo dish, I'm ditching the "cowboy" part and adding something a bit more appropriate, hence the "Caveboy Casserole". I know, I'm so totally clever. I wonder how old my kids will be when they start getting embarrassed by me…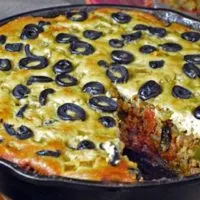 Caveboy Casserole
This is a grain-free spin on the classic cowboy casserole. Using corn-free cornbread as the topping, and perfectly seasoned ground beef mixed with sautéed veggies as the base. This will quickly become a family favorite.
Ingredients
2 lb Grass-Fed Ground Beef
2 batches Taco Seasoning
3 tsp Arrowroot Starch
1 Tbsp Olive Oil, optional
1 large Yellow Onion, diced
2 Bell Peppers, any color, diced
3 Plum Tomatoes, or one big Tomato, seeded and diced
1 can Black Olives, sliced
1 small can Diced Green Chiles, optional
1 batch Paleo Cornbread, leave out the honey
Instructions
Preheat the oven to 350°F.
In a large oven-safe skillet (preferably cast-iron), brown the beef completely, breaking up with the back of a wooden spoon. Remove the beef with a slotted spoon to a bowl and set aside.
In the same skillet you cooked the beef, add the olive oil (if there is not enough fat left over from the beef), then add the onions and peppers and stir-fry until translucent and fragrant, about 10 minutes.
Add the beef back into the skillet, along with ¾ of the olives and all of the tomatoes.
Combine the arrowroot starch and the Taco Seasoning then pour into the skillet and stir to combine everything.
Pour the prepared Cornbread batter over everything in the baking dish. Spread to cover evenly, all the way to the edges. Top with the remaining sliced olives and diced green chiles, if desired. I like to add the chiles to only half of the skillet so there is a mild side available.
Bake in the preheated oven for 35 minutes, or until cornbread is completely cooked through.
Serve with a dollop of grass-fed sour cream (for primal, not paleo).
Notes
NOTE about quantity: This makes a lot of food, enough for our family of 5 plus leftovers. Cut in half if you don't need that much.
Nutrition Information
Yield

8
Serving Size

1 g
Amount Per Serving
Calories

571
Total Fat

44g
Saturated Fat

15g
Unsaturated Fat

0g
Cholesterol

151mg
Sodium

1729mg
Carbohydrates

17g
Fiber

4g
Sugar

7g
Protein

24g
Nutrition is calculated by a third party and may not be 100% accurate