Last Updated on July 9, 2020
You know what my favorite part of the day is? Getting into bed at night. I used to be an insomniac, I mean, it would be 4am and I'd still be wide awake. I was like that for as long as I can remember. I would stay up all night and read because sleep would never come. As a teenager, I probably got about 2-3 hours of sleep a night. I don't know how I survived.
By my 3rd pregnancy, the insomnia mysteriously disappeared. For the past 3-ish years, I've basically fallen asleep as soon as my head hits the pillow and it's the most glorious thing. Ever. Recently, we acquired the world's most amazing blankets, and I seriously never want to get out of bed now. It's like sleeping on a cloud surrounded by clouds that are wrapped in clouds. Also, we have about 12 pillows in our bed. Not the decorative-type pillows, but regular, full-size pillows. I use about 7 of them, and Rob kicks at least 2 on the floor every night. He thinks it's strange that I need that many. I think it's perfectly normal. If it's not normal, you can just keep that to yourself. However, if you agree with me, feel free to share your love of pillows in the comments so I don't feel so odd.

So, pillows and amazing blankets don't really have anything to do with salads, but it was on my mind, since I'm writing this at 9pm and my almost-3-year-old is still awake, 1.5 hours past bedtime, playing on the couch, wrapped up in my most wonderfullest of blankets. I'm jealous, not even angry.
Back to the salad. If you didn't see the Chicken Nugget recipe from yesterday, go check it out and make them right away. I had them as leftovers again for lunch today and they're just so good, all the time.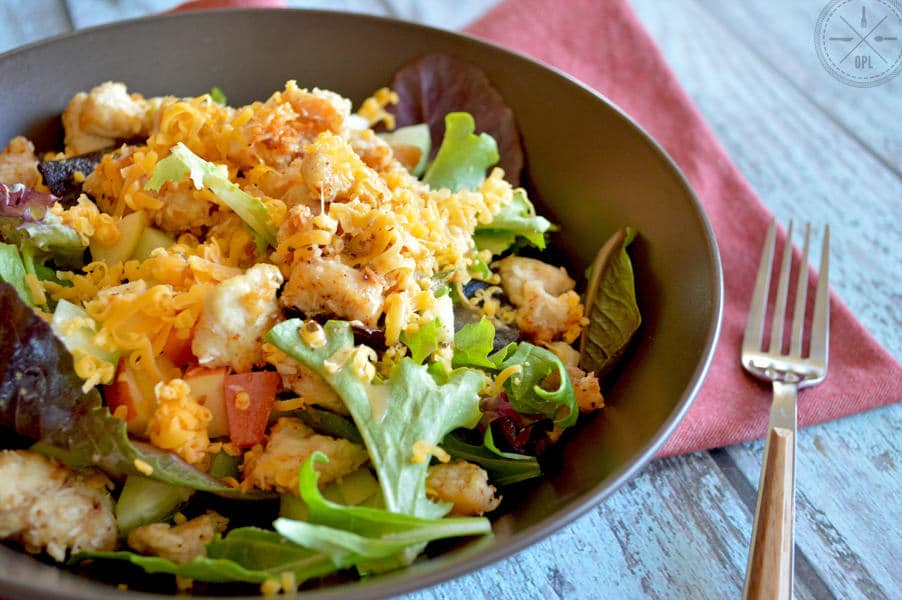 I always forget that salads count as meals and are actually pretty dang delicious. So I finally remembered to grab some mixed greens from the store last week and thought I'd just be lazy and throw in the regular veggies. But I'm a meat-eater, I kind of have to have meat at every meal or it doesn't really feel like a meal. Every now and then, I'll leave it out, but for the most part, that's my protein of choice. So when I had this pretty, green, colorful salad just waiting to be devoured, I felt it was just a bit incomplete.
Enter leftover Chicken Nuggets. I popped them in the toaster oven to heat them back up and get them a little more crispy, tossed them in the salad, sprinkled some cheese (we've recently been adding a bit of cheese back into our diet, you can totally leave it out if you want) and drizzled on some Tessamae's Red Wine Vinaigrette. So good. I also love the Honey Mustard Sauce as a dressing, it's equally as (but differently) delicious. I highly suggest you give both options a try.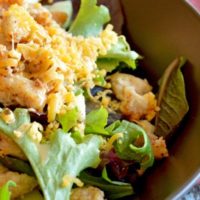 Crispy Chicken Salad
Leftover Paleo Chicken Nuggets are the star in this salad, but if you don't have any, they're worth making a fresh batch. This is a salad that even the kids will want to eat. Don't forget the Honey Mustard Dressing.
Ingredients
Leftover Grain-Free Chicken Nuggets, or you could just make new nuggets for this tasty salad if you don't have any leftovers
Mixed Salad Greens
Sweet Apple
Cucumber
Plum Tomato
Apple Juice-Sweetened Dried Cranberries
Salad Dressing of choice, a simple oil/vinegar or leftover Honey Mustard from your nuggets would be perfect
Shredded Cheese, totally optional, if you can tolerate dairy
Instructions
Heat a toaster oven to 400°F (or the big oven if you don't have a toaster oven). Reheat the Chicken Nuggets in the oven for about 5-10 minutes.
While the chicken is reheating, chop the cucumbers, apples, and tomato.
Toss the chopped produce and cranberries with the mixed salad greens.
Top your salad with your reheated crispy chicken pieces, a little shredded cheese (if you're primal and/or consuming dairy), and the dressing of your choice.
Enjoy the heck out of your deliciously easy meal.
Notes
*NOTE: If you're on a Whole30, leave out the cranberries and cheese, and stick to a simple oil/vinegar dressing with no sugars or honey added.